Cookies and Cream-Stuffed Brownies
A rich and fudgy brownie, packed with white chocolate chips with a layer of whole cookies and cream biscuits through the middle
There's a cookie per slice and cookie pieces on top, so you'll always get a bite that's bursting with different flavours and textures! Absolutely delicious.
Cooking Time
1 hour + overnight chilling
Ingredients
170g unsalted butter, melted and cooled slightly
100g light brown sugar
150g caster sugar
2 large eggs
125g dark chocolate (at least 50% cocoa), broken into pieces, melted and cooled slightly
100g plain flour
30g cocoa powder
1 tsp salt
200g white chocolate chips
22 cookies and cream biscuits (I use Oreos), 16 whole + 6 broken into small pieces for the topping
Method
Preheat the oven to 190C/170C fan/375F/gas mark 5 and line a 20cm square baking tin with nonstick baking paper. Put the melted butter and both sugars into a large mixing bowl and beat together with an electric hand mixer for about two to three minutes until fully combined and no lumps remain. Add the eggs and continue to beat until thick and fluffy (this could take from a few minutes up to 15 minutes, depending on the temperature of the ingredients and your equipment). Mix in the melted chocolate until just combined.
Sift in the flour, cocoa powder and salt, then gently fold in with a wooden spoon or rubber spatula until no streaks of flour remain. Fold in the white chocolate chips until evenly distributed. Transfer half the batter into your prepared tin and smooth it out to the edges. Place the 16 biscuits in lines across the batter. There will be one biscuit per square. Scoop the remaining brownie batter on top of the biscuits, smoothing it out gently. Sprinkle the broken biscuits evenly over the top of the batter.
Bake for 25–30 minutes until the edges are cracked and the middle no longer wobbles. Leave to cool completely in the tin, then chill in the refrigerator overnight for best results. Cut into 16 squares and enjoy!
Store in an airtight container at room temperature or in the refrigerator for up to five days.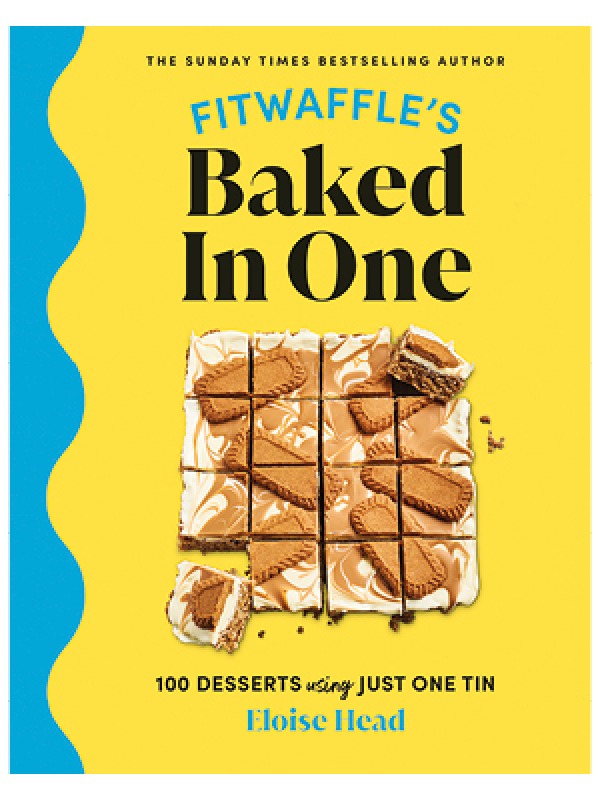 Extracted from Fitwaffle's Baked In One by Eloise Head (Ebury Press, £22) Photography by Faith Mason
This article contains affiliate links. We may receive a commission on any sales we generate from this piece.