No-Bake Chocolate Cream Pie
Gimme a buttery biscuit base, gimme a chocolate ganache, gimme whipped cream. What have you got?! You've got my no-bake chocolate cream pie. The layers in this dessert combine to create something really special - both in terms of flavour and texture - that I guarantee nobody will think was easy to make. Pretend it wasn't, pretend you worked hard on it all day, make them feel special! When really you just spent 20 minutes on it and had the rest of the day to yourself… Nobody needs to know that bit!!
Ingredients
For the base
350g gluten-free digestive biscuits
2 tbsp unsweetened cocoa powder
150g butter, melted
For the filling
300ml double cream
300g chocolate (I use half dark/bittersweet and half milk), broken into pieces
55g butter
To finish
200ml double cream
1 tbsp icing sugar
Chocolate, for grating
Method
Crush the biscuits into fine crumbs in a food processor (or place in a zip-lock bag and bash with a rolling pin), then mix in the cocoa powder until thoroughly combined. Add to a large bowl and pour in your melted butter. Mix well. Press into the base and sides of a 23cm loose-bottomed fluted tart tin and chill in the freezer for 20 minutes, or a little longer in the fridge.

For the filling, heat the cream in a saucepan until just boiling. Remove from the heat and add the chocolate and butter. Stir continuously until it's all melted, combined and creamy. Pour over the chilled base and place back in the fridge until set.

Finish by whipping the cream to soft peaks. Fold in the icing sugar and spoon it on top of the chocolate layer. Sprinkle some grated chocolate on top to finish.

TIP: You can also add a teaspoon of orange extract or mint extract to the filling mixture. The cream layer is optional – if freezing, only add the cream layer once defrosted.

Quick + Easy Gluten Free by Becky Excell (Quadrille, £20) Photography by Hannah Hughes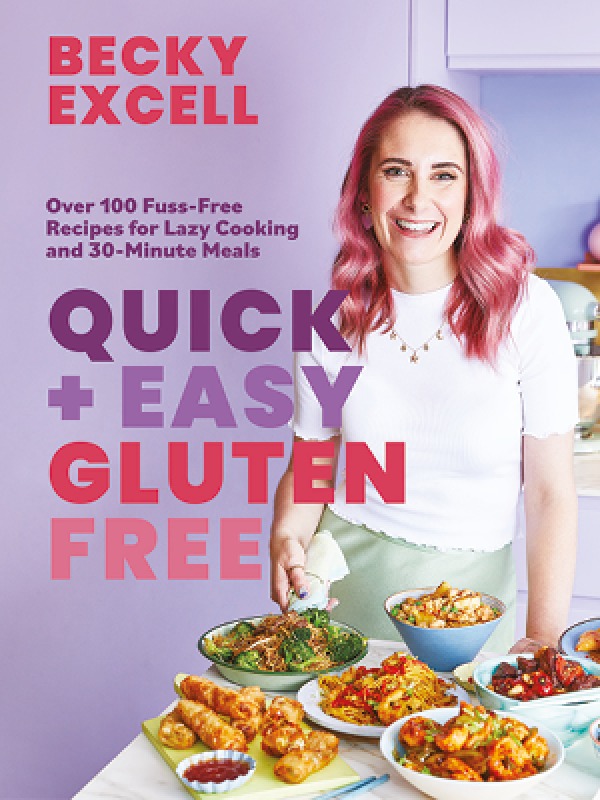 Quick + Easy Gluten Free by Becky Excell (Quadrille, £20) Photography by Hannah Hughes
This article contains affiliate links. We may receive a commission for products that are clicked on through our website.