Curate Your Workspace With Family-Run Business Avorium
Last year siblings Georgia, Tom and Olivia Calvert realised their dream of setting up their own business to help people curate their workspace
We caught up with them to find out more about Avorium, and to discover the benefits of running a family business in the centre of York.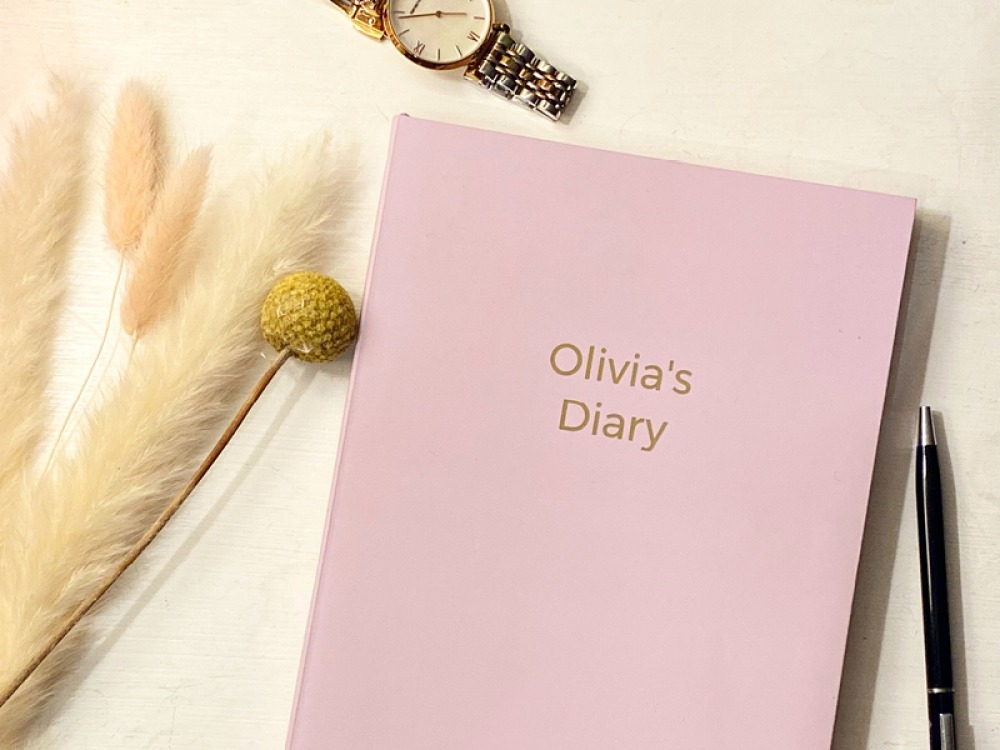 Tell us a bit about yourselves.
So there's me (Georgia) the COO, my brother Tom who's the CEO, and we work with our sister Olivia as well who is the head of social media and brand at the moment. We have a family business based in York selling luxury desk accessories in matching pastel colours. We started the company in February of 2021 and we launched online at the beginning of November. We opened our physical shop in York in the middle of the same month.
Where did the inspiration for Avorium come from?
My brother and I used to work for a stationery wholesaler and we really enjoyed it, but obviously during the pandemic things were really hard as all our customers shut down during lockdown. So we decided it would be a good opportunity for us to move away and do something by ourselves, but equally we wanted to do something that was a little bit more direct to customer, rather than business to business.
One of the reasons we wanted to go down the route of making things a little more colourful is that we saw this gap in the market where you can get nice, good quality stationery but it tends to be black and brown if it's leather, or quite boring colours for smart notebooks. Or if you want anything colourful it tends to be marketed towards children. A lot of my friends are in corporate jobs and while they want to be smart, they still want to show their personal style. Many of them agreed there was nothing out there that is high quality, smart but also feminine, so we thought we would go down the colourful pastel route to keep it all very classy and simple, but a little bit more feminine.
What is the concept behind Avorium?
We say luxury desk accessories because it's all about curating your desk rather than just being another stationery brand. We've given our products a lot of features that you wouldn't necessarily get elsewhere. For example, our notebooks and diaries have colour page edging, ribbon markers and 100 gms paper. All of these features make them a little bit more luxurious than those from traditional stationers.
Colour matching is probably one of our biggest assets just because it's so difficult to achieve with different materials. Different materials show colours differently, as well as the effect of different lighting on the colours so trying to get a balance of making it look all perfectly matching as a colour collection is a massive challenge, and because it is really difficult other people haven't done it. So we're extremely proud to have achieved it.
We then also personalise many of our products, including notebooks, folios, mouse pads, diaries and bookmarks with gold foil. So if you want your name or initials added, they'll be foiled in two minutes in-store. If someone was only here for the day it's not a case of ordering and having to come back for it or having it sent, they can have the personalisation done on the spot which has been really popular.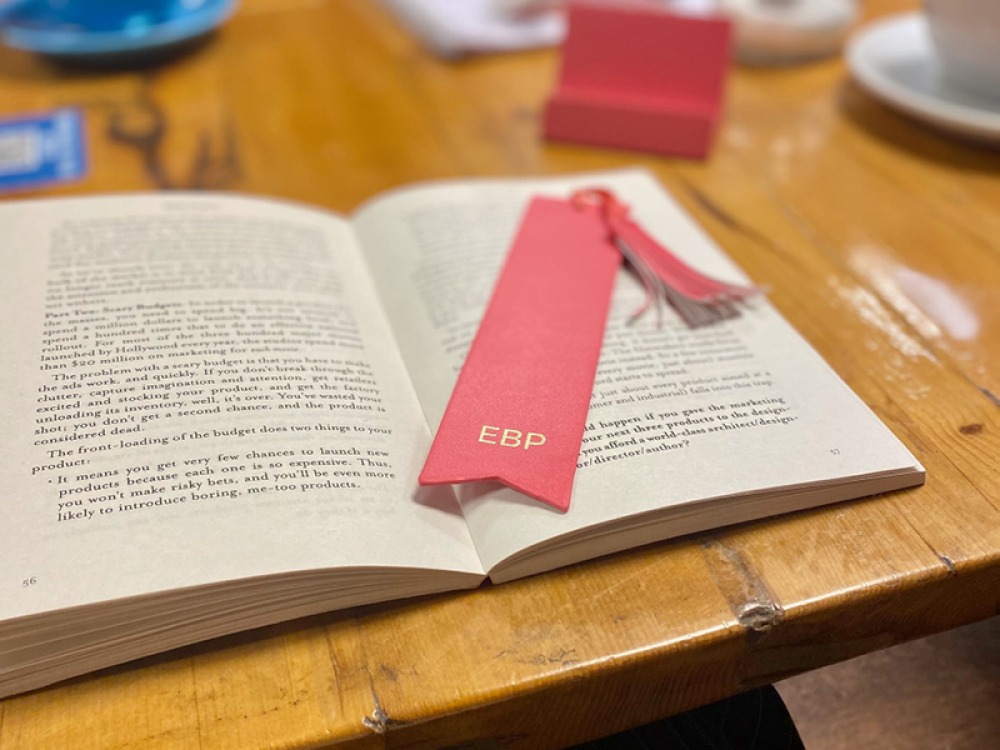 Do you take sustainability into account?
We think sustainability is really important. We try and make sure all of our production has the right credentials, so all of our 'leather' products are actually vegan leather and all of our paper is FSC approved, which means the paper is sourced sustainably from growing forests rather than from shrinking forests. We also carbon offset all our initial production carbon costs by 200 percent. We don't want to just say we do this to be sustainable, we want to actually put it into practice and not just greenwash. We want to do it right because we care about this stuff. We want to actively contribute to the recovery of the environment, not just do the bare minimum to keep our customers happy. We're not satisfied to just say we're green – we actually want to make an impact.
How was it starting a business during a pandemic?
In terms of timing the pandemic offered us the opportunity to rethink who we were, and the working from home element of it was perfect as it has helped to shape the type of products that we wanted to include in our collection. We decided to jump on the work from home bandwagon because everyone was trying to carve out their own workspace in their home, so we thought with a few of our little accessories you could set up your desk and it can all be matching.
One of the big struggles at the moment is with a physical shop as the footfall and tourism in York is a lot lower than normal. Without visitors coming from overseas, and also elsewhere in the UK, there just aren't as many people walking through York as there normally are. So we're trying to get a bit creative with our marketing and getting ourselves out there a little bit more.
'We want to actively contribute to the recovery of the environment, not just do the bare minimum to keep our customers happy'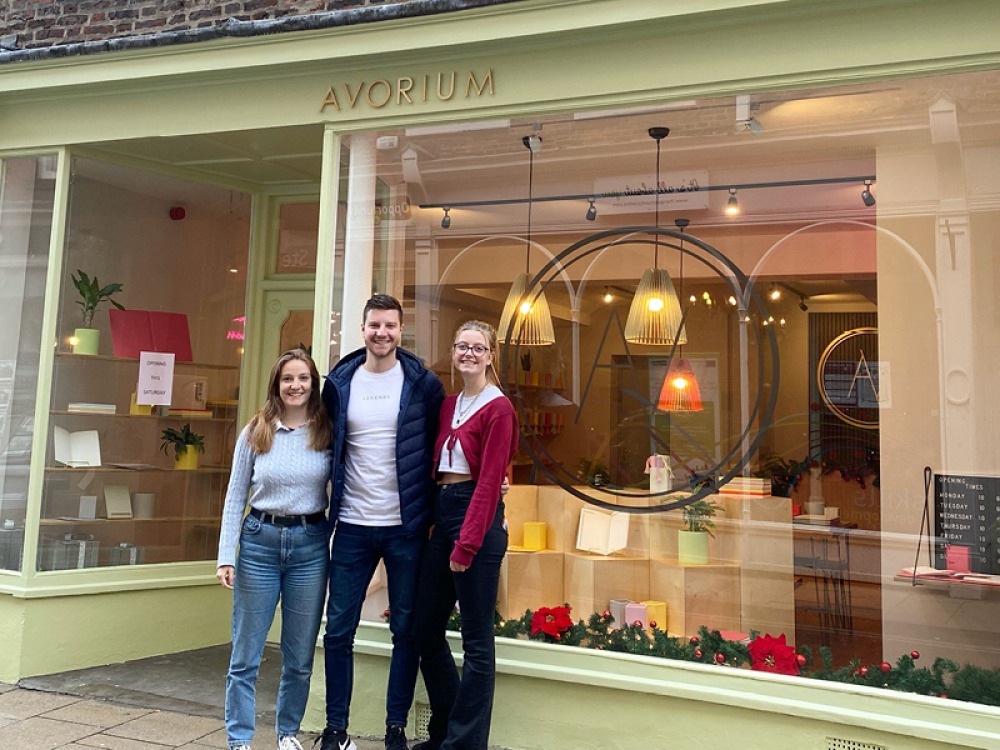 Tell us what it's like to run a business with your siblings.
A big advantage is obviously that we know each other so well, but we're also quite lucky in that we all have different skills. Olivia did a degree in International Business and we are currently trying to set up our international shipping, so her degree helps hugely. She also absolutely loves the aesthetic and social side of things so she does all of the social media planning, whereas I'd be terrible at that because I just don't have the skills. I did a physics degree and I look after all the production and the accounts so obviously there are some relevant skills there. And Tom did Ancient History, so that's helped with the amount of writing in terms of wording all of our content and writing about our business. In particular when trying to get our vibe over to our customers, that comes in really handy.
Obviously at the moment we're all living together as well which actually I think has proven to be quite positive, because especially when you're starting a business, eight or nine hours in the day often isn't enough, so the fact that we're able to just carry on working together, even if we're just discussing something over dinner or that kind of thing, it's been really useful for us.
I don't think we've really found any negatives yet. You hear a lot of horror stories but I think because our goals are so much aligned and the vision that we had from the beginning has been the same, it's been relatively easy for us to just agree on everything. Also as we've said, our skills are really quite varied so there's not really been much of a chance for us to step on each other's toes in different departments.
What are your most popular products?
It varies but products that can be personalised have been head and shoulders above the rest, so the folio, notebooks and diaries have probably been the most popular. I think a lot of that has been to do with Christmas buyers and being able to personalise something as a gift. Since Christmas, I don't know whether it's people trying to get more organised, but we've seen pen pots, phone stands and bookmarks catch up a little bit.
In terms of the colours it has been remarkably level between all eight we have. Although we did a fair amount of surveying and questioning people to find out our target market, you never really know what's going to be popular until you're actually a live business. Luckily there isn't one colour that has just not been popular.
What are your hopes for the future?
In the short term we really just want to build our online presence. Initially we were just going to be an online business but when looking at warehouse space in York we found that actually retail space was just as cost effective, so that's why we decided to open the shop as well. But we're really trying to build our online audience and trying to make the website self-sustaining, as at the moment the shop is the dominant sales tool for us.
As well as that, I think we're quite keen to branch out our location as well. The shop has been quite a success in York and there are lots of other opportunities in similar cities in the UK, or potentially Christmas markets and pop-ups, we'd really like to get involved with.
What do you guys love most about living and working in Yorkshire?
York in particular has a very vibrant independent shop community, so we're part of quite a few programmes and schemes where we've connected with other local businesses. And it's just a really nice place to live. We went to school in York so we know it really well. It's full of cafés, restaurants and pubs, there's lots of touristy activities and just loads of stuff to do. There is always something going on.