Gino D'Acampo Talks about the Launch of the New Spring-Summer Menu at his Newcastle Quayside Restaurant
Well known for his humour, charm and delicious dishes, both in the kitchen and on television, Gino D'Acampo is a true Italian
His restaurant, which opened in May last year, sits on Newcastle's iconic Quayside and has become a North East food and drink hotspot.
'In the last 20 years Newcastle has become more colourful, and the Quayside just reminds me of Italy. There are lots of canals in Venice and whenever I stay here it somehow gives me the idea that a gondola is going to pass by on the Tyne,' Gino says.
The restaurant, which is in collaboration with INNSiDE by Meliá Hotel, has floor-to-ceiling windows in the restaurant and bar which allow a picture-perfect view over the river and lots of natural light to flood in, creating the perfect dining atmosphere.
Gino is passionate about everything he does, and quickly explains that when it comes to designing a new menu there is a lot to think about. 'It's a really hard thing to do, and it's not an easy process. It usually takes around two to three months because all the recipes come from my books and the recipes from my books come from my family,' he explains. 'It's much easier to write recipes for people to follow in their own kitchen than it is to do it for a restaurant,' he continues. 'It's really quite complicated, and you also have to try and make everyone happy. For example, dishes for vegetarians, people who love meat and those who are gluten-free – it takes a lot of my time.'
Gino doesn't let the hard work put him off the task – in fact, although a big menu change is quite a daunting task for the Italian chef, he admits it's also very exciting. 'I know the amount of work we have to put behind it, but we do it because we like to, not because we have to,' he adds.
So what can we look forward to? 'There's always a change on the menu now because there are ingredients we can't get in the winter that we can later in the year. For example, this spring we are going to do a stuffed courgette where we open the courgette up and stuff it with buffalo ricotta and lemon zest and then we close it, fry it and drizzle with Sardinian honey,' he says. He prefers spring-summer menus because the dishes are much more vibrant and are full of fresh, colourful vegetables. 'For me, the spring and summer menu is all about showcasing Neapolitan dishes,' says Gino. 'So lots of seafood, vegetables and plenty of colour and light dressings. The dishes are perfect for sharing.'
Is there a dish on the new menu which he could pick as his favourite? 'That's like asking me to pick my favourite child! Actually, I could do that and it would be my daughter Mia, but I couldn't pick a favourite dish on my menu,' he laughs. After some deliberation, Gino admits his new stuffed courgette dish would have to be his favourite, as it reminds him of his mother. 'Whenever it was spring time my mum would buy the courgette flower and my job was to very delicately open the flower and take the stem from the inside. She would then make a ricotta cheese and I had to put it in the courgette and she would tell me off when I put in too much or too little. The dish reminds me of the beauty of being together and also the argument we used to get into – it's a dish which is very close to my heart.' We can also expect a new, highly anticipated pizza dessert on the new menu which Gino is keen for us to try. 'It's called the naughty pizza, which involves a Neapolitan pizza base topped with Nutella, sliced banana, toasted crushed hazelnuts and vanilla icing sugar. You've got the salty base of the pizza with a really indulgent topping – delicious,' he says.
Gino and his team have plans to open more restaurants across the UK, including Leeds, and Sheffield later this year. As for Newcastle, Gino believes that we should visit his Quayside restaurant for more than a nice Italian meal. 'The first reason why people should join us is so they can finally taste some proper Italian food, and I think I'm allowed to say that after 22 years of being on TV and showing people how to cook Italian food,' he laughs. 'People should also visit the restaurant if they're looking for a good night, not just a great meal.' We can't help but agree.
Read our review of Gino D'Acampo's Quayside restaurant at livingnorth.com
QUICK FIRE THIS OR THAT
Arancini or bruschetta? Arancini because I'm a sucker for it!
Pizza or pasta? That's not fair! I'm going to go for pasta because I think pasta can be more versatile – with a pizza you can do the same things as with pasta, but can you really have a seafood pizza? No!
Risotto or meatballs? Risotto because again I can do so many things with a risotto.
Tiramisu or panna cotta? I love coffee so it has to be a tiramisu – unless there is a panna cotta with coffee and Baileys that we do? A tiramicotta or a cottamisu! This is how I get new ideas. I sometimes try two things at the same time, a mouthful of this and a mouthful of that and the two things taste amazing together. So, for this we'd have a panna cotta base with coffee syrup and perhaps serve it on top of Savoiardi biscuits and put cocoa powder on top – there you go, we've got a cottamisu!
Negroni or limoncello? Negroni and that's because I can drink it all year round – for me, limoncello is a summer drink.
Three delicious Italian recipes from Gino's latest cookbook Gino's Italian Family Adventure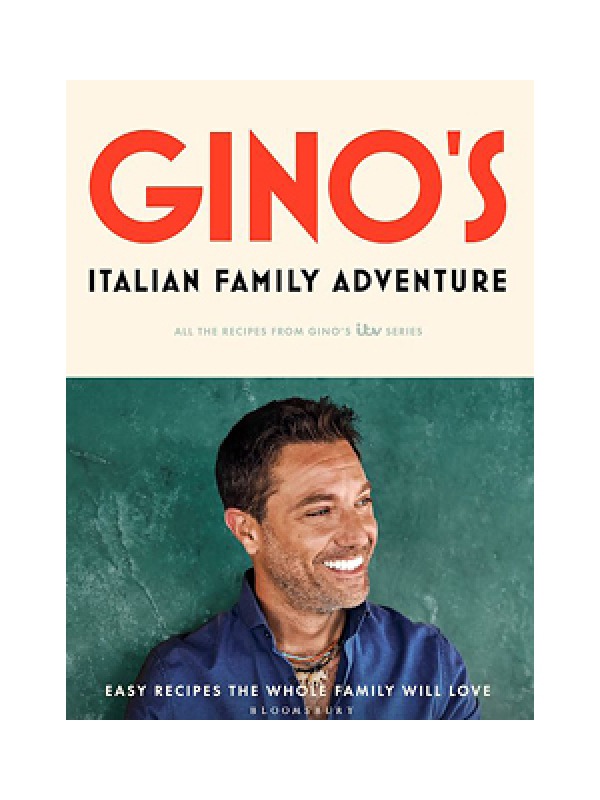 Gino's Italian Family Adventure by Gino D'Acampo (Bloomsbury Publishing, £22) is out now. Photography by Haarala Hamilton