Fajita No-Boil Pasta Bake
This throw-it-all-in pasta bake is the type of recipe you want when you haven't got much time to cook
It's comforting, creamy, flavourful and delicious.
Serves
2 adults and 3 children
Ingredients
2 low-salt chicken or vegetable stock cubes
500g boneless skinless chicken breasts or thighs, cut into strips or diced
1 red pepper, deseeded and sliced
1 yellow pepper, deseeded and sliced
2 tsp garlic granules
2 heaped tsp smoked paprika
1 tsp ground cumin
1 tsp ground coriander
350ml milk
500g tomato passata (strained tomatoes)
240g dried penne pasta
120g Cheddar cheese, grated freshly ground black pepper
To serve (optional)
guacamole
sour cream
lime wedges
Method
1. Preheat the oven to 180°C fan (200°C/400°F/Gas 6) and boil the kettle.
2. Crumble the stock cubes into a measuring jug, then add 100ml of boiling water from the kettle. Stir well, then leave for a minute or so before stirring again to allow the stock cubes to dissolve into a thick paste.
3. Meanwhile, add the chicken, peppers, garlic granules and all the herbs and spices to a large, high-sided baking dish (approximately 25 x 35cm).
4. Back to the stock in the jug, add the milk and stir to dissolve the stock paste before pouring this liquid into the baking dish. Stir well, then add the tomato passata, the pasta and half of the grated cheese. Stir again – as the dish is quite full it may be useful to use two wooden spoons to lift the ingredients and help mix them together until they are well combined. Ensure all the ingredients are submerged under the liquid, then cover the dish tightly with foil. Place on the middle shelf of the preheated oven and forget about it for 40 minutes – it will bubble away and cook on its own.
5. After 40 minutes, carefully check the pasta. If it's soft, remove the foil and give it all a good stir. If it's not, then re-cover and cook for a while longer. Top with the remaining grated cheese and a little black pepper. Turn the oven temperature up to 200°C fan (220°C/425°F/Gas 7) and place the uncovered dish back in the oven. Bake for a further 10–15 minutes, until the cheese has melted and the top of the pasta bake is beginning to char.
6. Serve with guacamole, sour cream, lime wedges and a sprinkle of salt for the adults. For little taste testers, cut the chicken into finger strips or blend up baby's portion with a little milk or water.
Veggie swaps
Replace the chicken with diced aubergines and use low-salt veggie stock cubes.
Love your leftovers
Leftovers will keep for up to two to three days, tightly covered, in the fridge. Add a splash of water over the pasta and bake, uncovered, at 180°C fan (200°C/400°F/ Gas 6) for around 15 minutes until piping hot throughout. You can also freeze leftovers for up to three months – add more water as above and bake from frozen for around 20–25 minutes until fully defrosted and piping hot throughout. Stir halfway to help it along.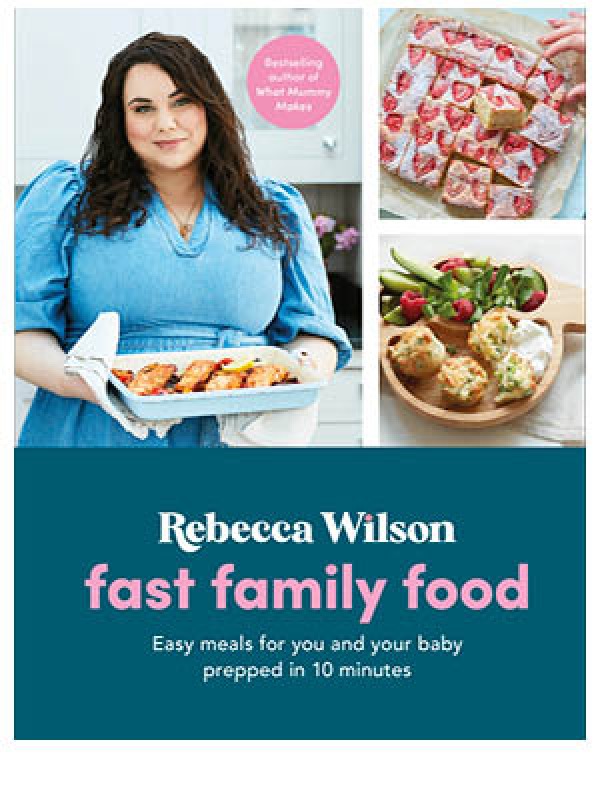 Fast Family Food by Rebecca Wilson is published by DK, 15 September. £18.99. dk.com Photographer Credit - Danielle Wood 2022.