Former Jockey Andy Bartlett is the Founder of Roam Local
Former jockey Andy Bartlett found himself regularly travelling around the UK and trying to find information about local independents and hidden gems in each new place, without much luck
We spoke to Andy about his time as jockey, why he changed career, and a how he believes the Roam app will help you navigate your plans this summer.
Tell us about yourself and your time as a jockey.
My name is Andy Bartlett, I'm 24 years old and from Darlington. I started my racing career in 2013 after being scouted by Alan Swinbank, who was a globally-recognised racehorse trainer. The racing lifestyle involves an incredible amount of adrenaline, hard physical labour, and you work seven days a week – I didn't mind though, as it's all part of the lifestyle choice and racing allowed me to travel to many parts of the UK. At the age of 18, I competed against the then champion jockey, Brian Hughes, at Southwell. My horse was 25-1, and had been pulled up in its four previous races. Brian Hughes was 3-1, and we were head-to-head from the off. As we came into the final furlong, I managed to squeeze my horse a-length-anda-half in front of Brian's – taking the win! But after two broken arms, two broken legs, and problems with three vertebrae in my back, I realised I was beginning my career with more injuries than most jockeys finish with.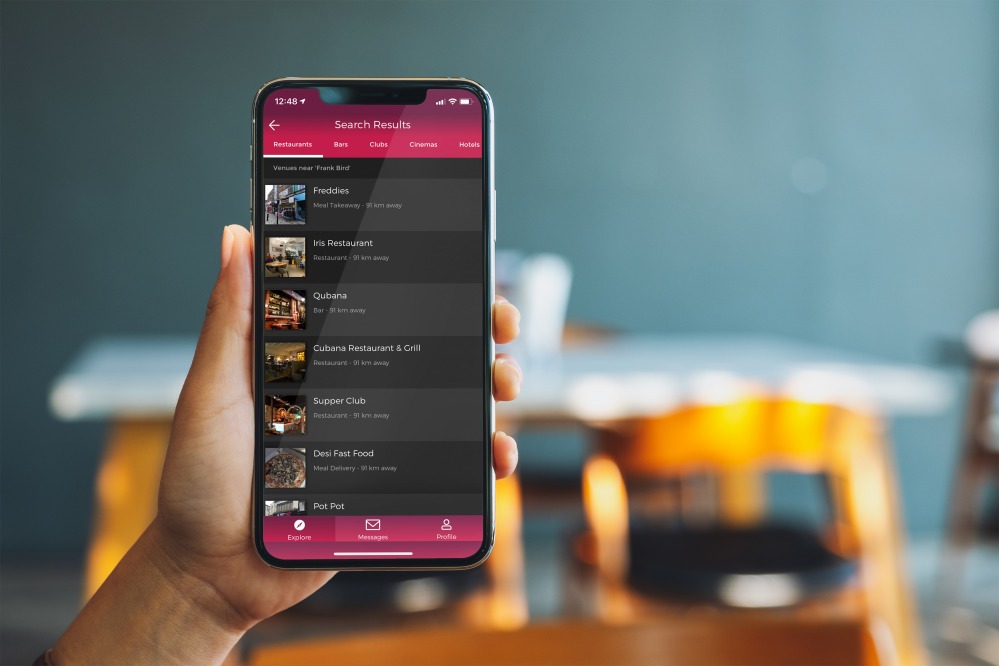 How did Roam Local come about and what inspired you to start the business?
The Roam journey really also began in 2013, as I found myself traveling to many parts of the UK for racing. When I was in each new location, it was difficult to find information tailored to each place and my individual needs. I would find myself spending hours researching on Google – instantly seeing big organisations, not really relevant to the location, paying for adverts and the best SEO. You then dive in deeper and by page five or so, you really started to pull back the layers of your location and find some amazing independent businesses that deserved so much more visibility.
What features does the Roam Local app have?
As a general user on the Roam Local app, you have access to all kinds of information based on your immediate location and your personal interests (you can search for a specific place or interest too.) The app highlights the amazing independent culture that is unique to every town and city.
How will the Roam app help us this summer?
Roam allows you to search and explore any location, create plans with friends and stay connected with the friend finder. You can #RoamSafely, should you enable the Friend Finder safety alerts – this allows friends to keep an eye on one another, and should one deviate (quite drastically) away from their plan, all friends involved will receive a notification to prompt them to re-engage with each other. The app not only lets you find all your favourite entertainment hotspots – like restaurants, pubs, wine bars and clubs – but also shows hotels, shopping and even bus stations and where to park your car. Our app can be customised to include whatever you're interested in, be it culture such as museums, galleries, cinemas, libraries and stadiums, or help to find parks, gyms and even medical centres.
'The app highlights the amazing independent culture that is unique to every town and city'
How has Roam helped local independent businesses?
Roam has definitely made places and independent culture far more accessible. It provides a sleek and seamless platform to explore places and access local businesses. We have also helped a lot of businesses get online, affordably.
Favourite place in the North East?
Durham – it is such a stunning city. Favourite place beyond the North East? You must find yourself inspired by the Roam app! London is amazing – for a short period! It's a total change and contrast from my everyday life.
What advice do you have for any other budding entrepreneurs?
Just get started – you have to start somewhere – and surround yourself with non-competitive, but certainly like-minded individuals.
What are your hopes for the future of Roam?
I'd love the Roam Local app to be the go-to app for exploring and shopping all things local. We have also launched Roam For Business, which is a personalised app that places businesses at the heart of their local community, offers engagement tools and contact-free shopping solutions for all bricks and mortar businesses.