Four Fab Destinations to Escape To
With the rules and regulations surrounding overseas travel in a constant state of flux, it's hard to know where (and if) to go
But if you need to get away, here's our pick of four fab destinations worth punting on.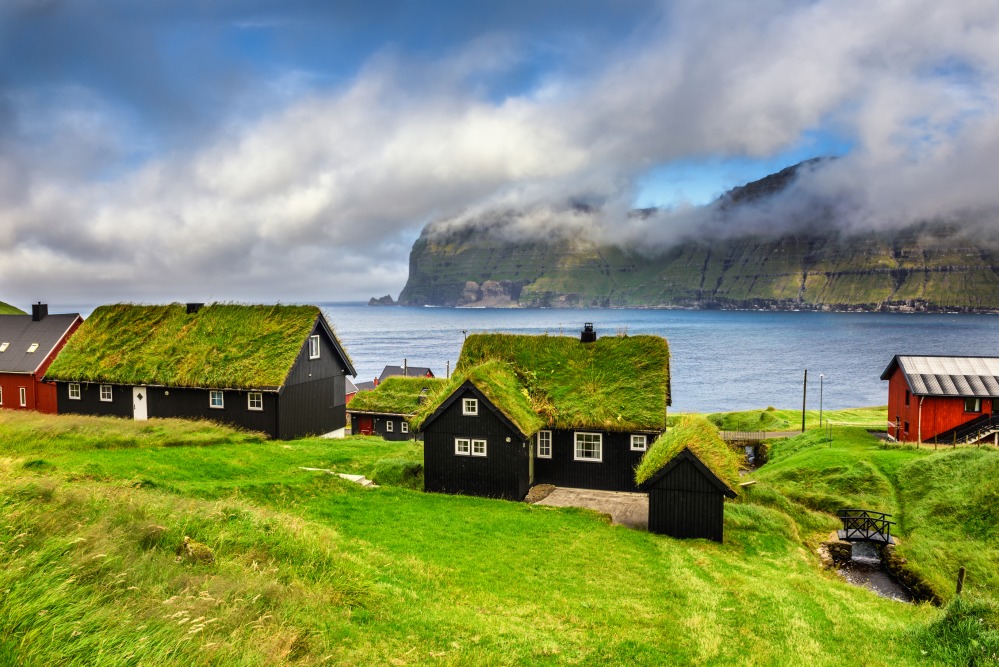 If you're looking for a slightly different trip away this year, why not head to the breathtaking Faroe Islands? Since their appearance on the coveted green list, holidaymakers have been rediscovering the previously little-known archipelago. Like Greenland, the Faroes are technically part of Denmark, but are self-governing and (despite having a population of less than 50,000) have their own language. Whilst they may seem like a remote or far-flung destination, the Faroe Islands actually sit north of the UK, nestled right in between Iceland and Norway – so they're a lot closer than you might think. In fact, there are even direct flights from Edinburgh that take less than two hours.
Despite being a little colder than your average summer holiday destination (think England in early spring), this cluster of 18 volcanic islands offers adventure and stunning scenery in equal measure. The islands are well connected by a combination of ferries, bridges, and road tunnels, allowing you to spread your visit across each one. Whether you want to capture the famous Múlafossur Waterfall on a photography tour, hike across the hills of Tórshavn, or catch a sunset on the puffin island of Mykines, there's something for everyone. If you're someone who likes their martini shaken, not stirred, it's also worth nothing that the 25th Bond film 'No Time to Die' used the islands as its backdrop this year, and fans can book a tour of all the filming locations.
Where to Stay
Seeing as you're already spending your summer holiday somewhere different, why not stay somewhere a little different too? There's a wide choice of hotels across the Faroe Islands – including a newly-built Hilton Garden Inn — but if you want to commit to the more unique holiday experience, local residents often rent out their lodges and summer houses to visitors as bed and breakfasts. This way, you can spend the week in a luxury boathouse in Eysturoyor, or a red-painted farmhouse in Tórshavn. The View is a typical Faroese house on the island of Vagar, sleeping four, with some of the best views and great hiking from the front door.
A Taste of the Faroes
Frida Kaffihus, Klaksvik
To set yourself up with a hearty breakfast and a caffeine fix before a long day's exploring, try Frida Kaffihus (in the correct Faroese spelling, 'Fríða Kaffihús'). Named after the first ship built by the Faroese people, the owners describe it as not just a café but a place for storytelling and experiencing real local food, where guests can get a feel for the culture of the Northern Faroe Islands. Its balcony overlooks the water and the old houses of the shipbuilder Nólsoyar Páll, which are now being rebuilt and restored as museums and monuments.
KOKS, Leynavatn
A somewhat unexpected addition to the Faroese mountains, KOKS is a Michelin-star restaurant where they create avant-garde tasting menus from the land around them. Striving towards sustainability, guests dine in their energy-efficient former farmhouse on organic vegetables and locally-caught seafood.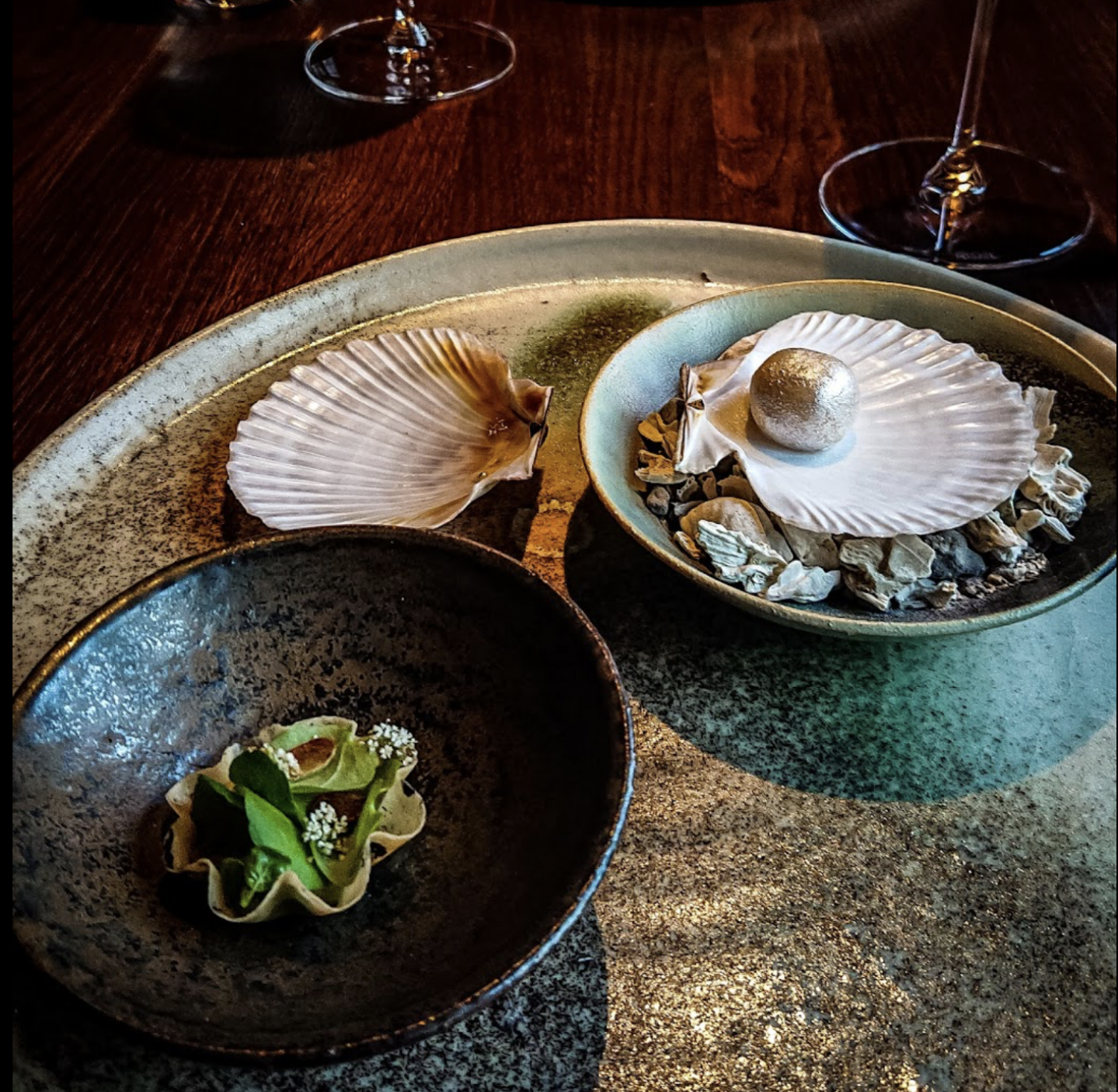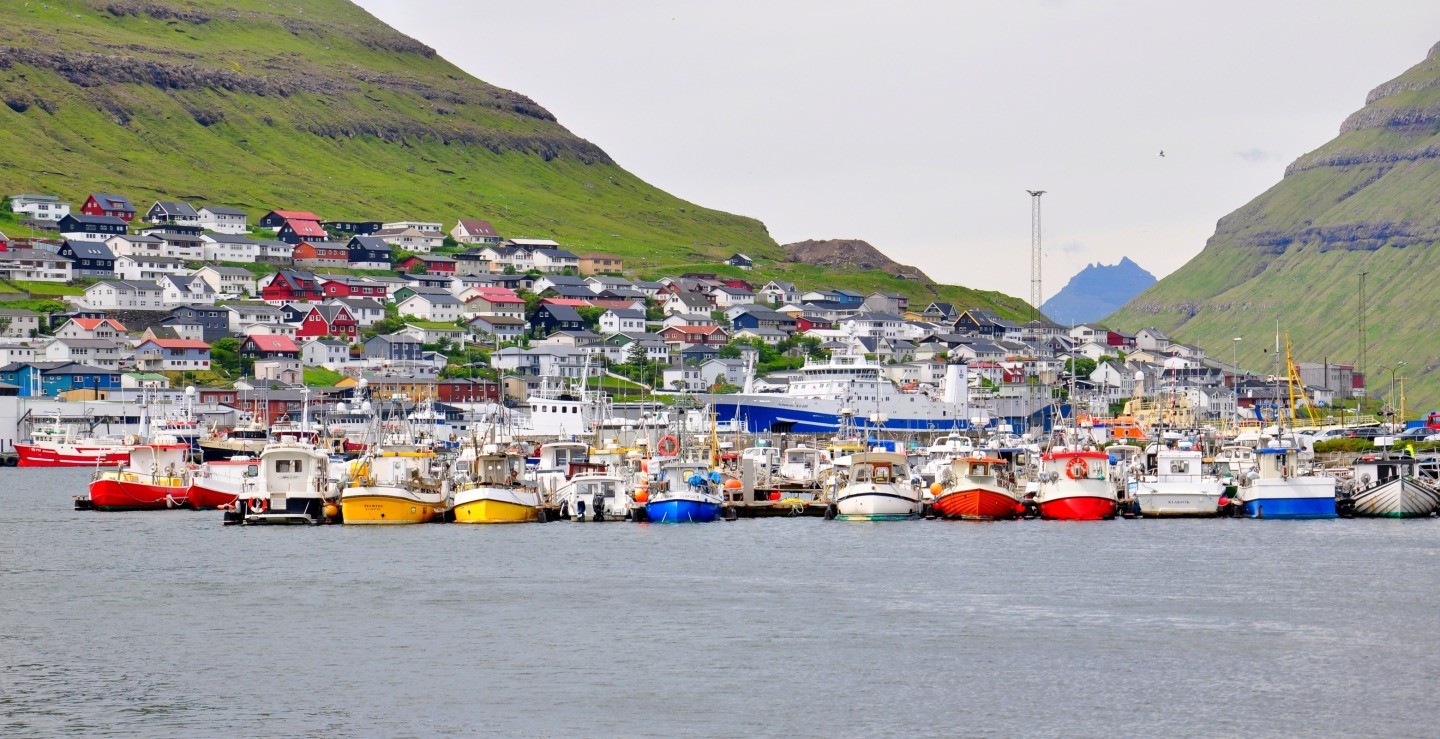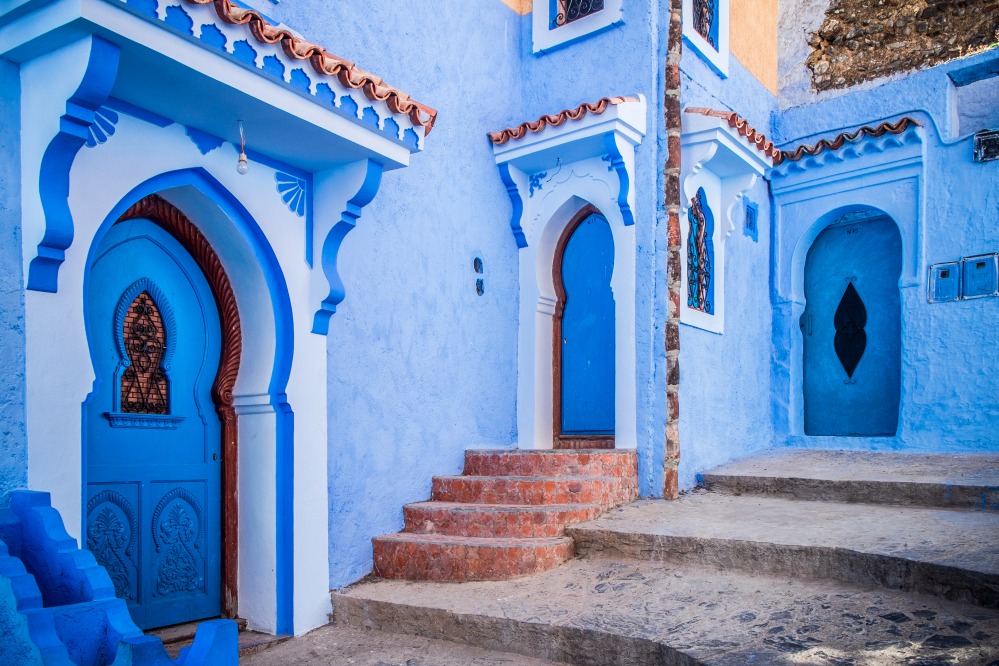 Morocco is known for its medinas; maze-like medieval quarters comprised of narrow alleyways, town squares, and bustling marketplaces that sell everything from spices to silver jewellery and leather goods to lanterns. Chefchaouen is a particularly breathtaking city in the Rif Mountains of north west Morocco, which is famous for its bright blue walls. The medina in Chefchaouen is a must-visit for those wanting to immerse themselves in the local culture and search out unique trinkets to take home. With a slightly quieter atmosphere than the more tourist-populated cities of Fes and Marrakesh, you can wander more freely and take in everything the azure city has to offer at your own pace.
Built by Grand Viziers in the late 19th century, Bahia Palace is a stunning piece of architecture in Marrakesh spanning 20 acres. The palace still houses the Moroccan royal family on occasion, but as it is mostly unfurnished the palace is generally home to tourists, who come to marvel at the vibrant tiling of the grand courtyards and the carved cedar ceilings of the harem.
The second largest functioning mosque in Africa and the seventh largest in the world, the Hassan II Mosque is another architectural sight to seek out. In Greater Casablanca, this awe-inspiring house of worship sits on a promontory looking over the Atlantic Ocean, nestled between the harbour and the El Hank lighthouse. It is a masterclass in Moroccan architecture: visit and you will witness a combination of Moorish horseshoe arches, swirling patterns of zellige tiles, Islamic calligraphy, and intricate muqarnas (ornamental vaulted ceilings).
A Taste of Morocco
Assaada, Chefchaouen
This rustic restaurant in Morocco's blue city offers authentic local cuisine and a lively, friendly atmosphere. Take your pick from the al fresco, rooftop, salon and outdoor dining areas, but we have to admit that dining al fresco underneath their courtyard's grape vines sounds like the obvious choice. Assaada's signature dish is its authentic couscous tagine, with lemon, chicken, and olives.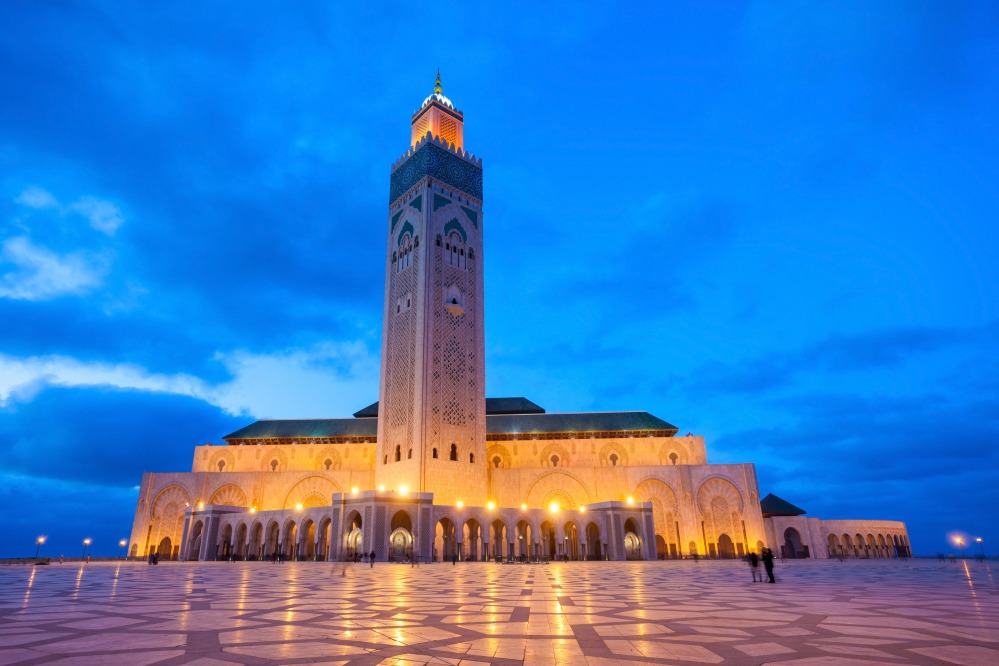 Where to Stay
Riad Dar Echchaouen Maison, Chefchaouen
Close to Chefchaouen's old medina and the Ras el Ma Airfield, suites at the Dar Echchaouen Maison are decorated in traditional Moroccan style and each have private bathroom complete with tadelakt tiles. Its grounds boast stunning, foliage-adorned archways, palm trees, and a swimming pool for guests to cool down in. For your evening meal you can sample their restaurant's classic Moroccan cuisine like couscous, tagine and pastille.
BCK Art Riad, Marrakesh
This charming hotel is ideally located in the medina district of Marrakesh, and offers its guests a restaurant, outdoor swimming pool, sun terrace, and a shared bar and lounge. Close to the popular tourist locations of Djemaa El Fna, Souk of the Medina and Majorelle Gardens, this riad not only boasts a prime location for sightseeing but (as its name suggests) is tastefully decorated with the work and portraits of famous international artists.
Les Deux Tours, Circuit de la Palmeraie, Marrakesh
A boutique resort in the heart of Marrakesh's palm grove, Les Deux Tours is the ultimate luxury stay. Their private suites are spread throughout a three-hectare park of Andalusian gardens, pools and fountains, and their lunch restaurant La Pergola seats you in a stunning garden next to the swimming pool. Dinner is served at the Salammbô terrace restaurant and you can even spend a day being pampered at their hammam (the Ottoman version of the thermal spa).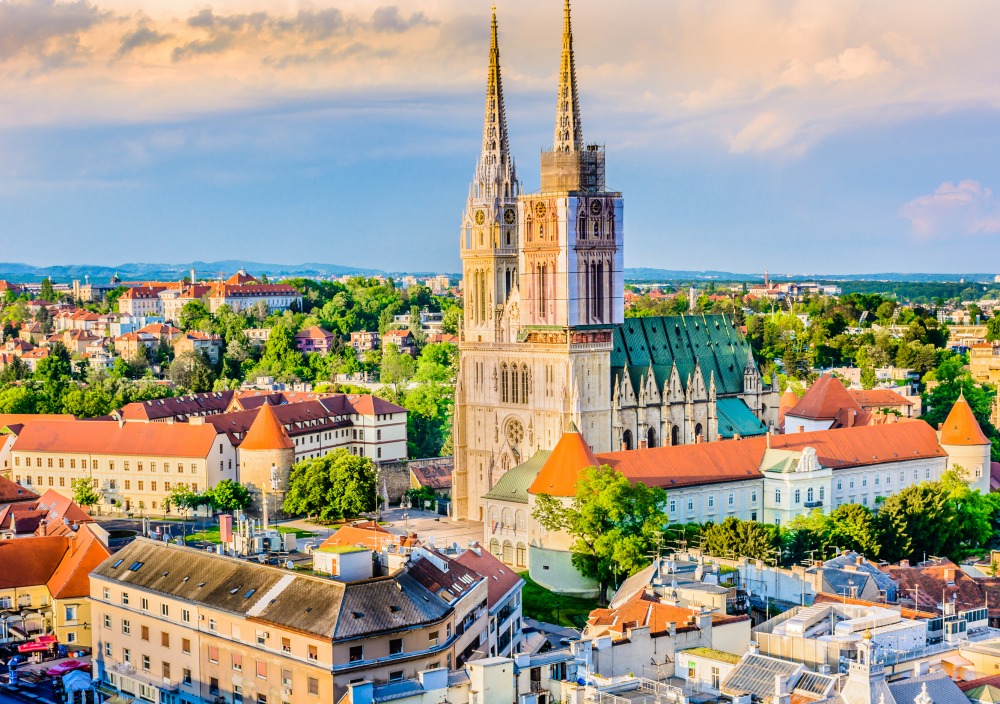 Croatia has been an increasingly popular holiday destination in the past few years, and lucky for us, it's just graduated to the green list. At the crossroads between Central and Southeast Europe, Croatia offers the perfect mix of coast, city, and a warm climate, and is only a couple of hours away (flights to Dubrovnik are available from Newcastle Airport).
The southern city of Dubrovnik boasts some fantastic history and culture, best showcased by its old city walls. You can spend hours roaming the stairs and courtyard fountains, but rest assured there are plenty of great places for refreshments en route if you're adventuring on a hot day. The Faroes aren't the only place getting the film star treatment either: in all their medieval majesty, Dubrovnik's city walls were home to the immensely popular fantasy series, Game of Thrones. Fans can book walking tours of the filming locations to experience King's Landing up close (minus the dragons). What's more, if you fancy letting your hair down after a long day of sightseeing, the city walls also house Revelin, an impressive hidden nightclub.
For nature lovers searching for a little more peace and quiet, there's no better place than Croatia's UNESCO World Heritage national parks. Krka National Park and Plitvice Lakes (in Southern and Central Croatia respectively) are the most popular choices for travellers, and for good reason; after a scenic boat ride to the parks you'll want to swim beneath their waterfalls and marvel at the wildlife.
A visit to Zagreb, Croatia's capital city, is an absolute must. Its wide streets are criss-crossed with tram lines and boast ornate, brightly-coloured architecture. With your pick of hostels, apartments, and hotels, time it right and you may be lucky enough to catch an open-air orchestra performance in Tomislav Park, or watch a live football screening in the town square. Amongst the cafés and bars is a hidden gem you simply can't miss: the Museum of Broken Relationships. As interesting as it sounds, in this museum you can simply pass through as a visitor, or donate some of your own items to its gallery for the ultimate post-breakup catharsis.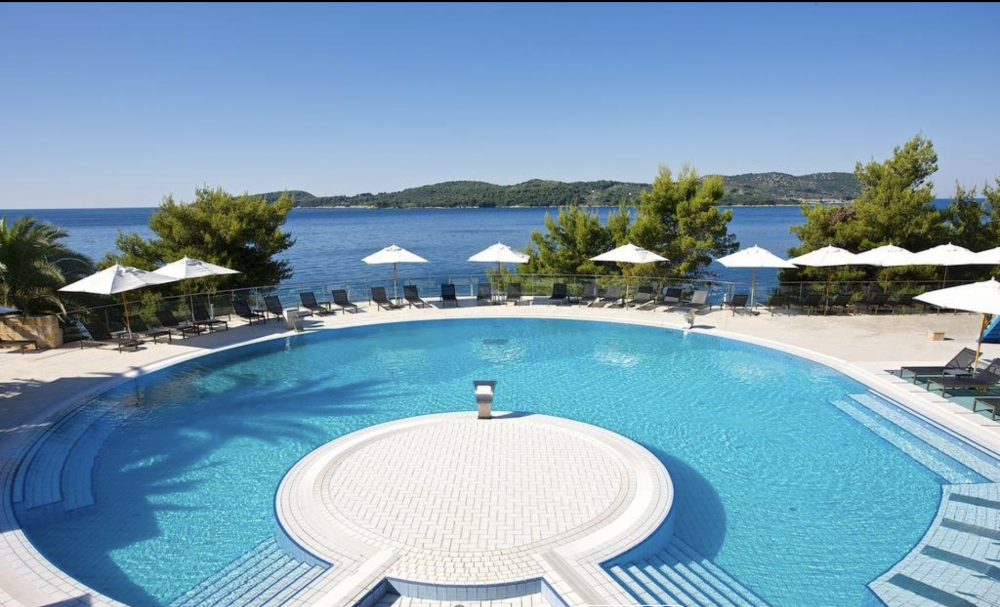 Where to Stay
Sun Gardens, Dubrovnik
A few miles north of Dubrovnik (the hotel runs a regular boat service to the city) this is a great family-friendly destination with a mix of accommodation, with self-catering an option as well as the hotel. Overlooking the Adriatic, there's a great sandy beach, an outstanding spa and lots of watersports available. Slick and modern, there are several restaurants and bars along the beachfront.
Esplanade Hotel, Zagreb
If you want to treat yourself to a luxurious few days of rest and relaxation, book into the Esplanade in Zagreb. A five-star hotel established in 1925, it has kept its art-nouveau style decor and is a stunning building in its own right, complete with a spa, gym, and complimentary L'Occitane cosmetics in every bathroom. In terms of food, the Esplanade offers its guests the choice of their Zinfandel restaurant for an evening meal, or for something more casual, Le Bistro with its blend of Croatian and French cuisine.
A Taste of the Dubrovnik
Trattoria Carmen
Nestled in the winding streets of the city walls, Trattoria Carmen is a small, family-owned restaurant that offers a secluded spot to unwind after a day's sightseeing. Using sea-to-table seafood and vegetables grown in small-scale local gardens, their menu changes daily, depending on the weather, the catch of the day, and what's available at the green market. Their mouthwatering specials include pašticada (Dalmatian marinated beef) with homemade gnocchi, pasta with Istrian truffles, or fresh fish.
Buza Bar
Dubrovnik is awash with great spots to watch the sun set with a drink in your hand, but one of the best has to be Buza Bar, built right into the cliffside. Despite this prime location, the bar is very reasonably priced. Best of all, what makes Buza Bar so unique is that you can climb down its outdoor staircase and jump straight into the sea for an impromptu dip.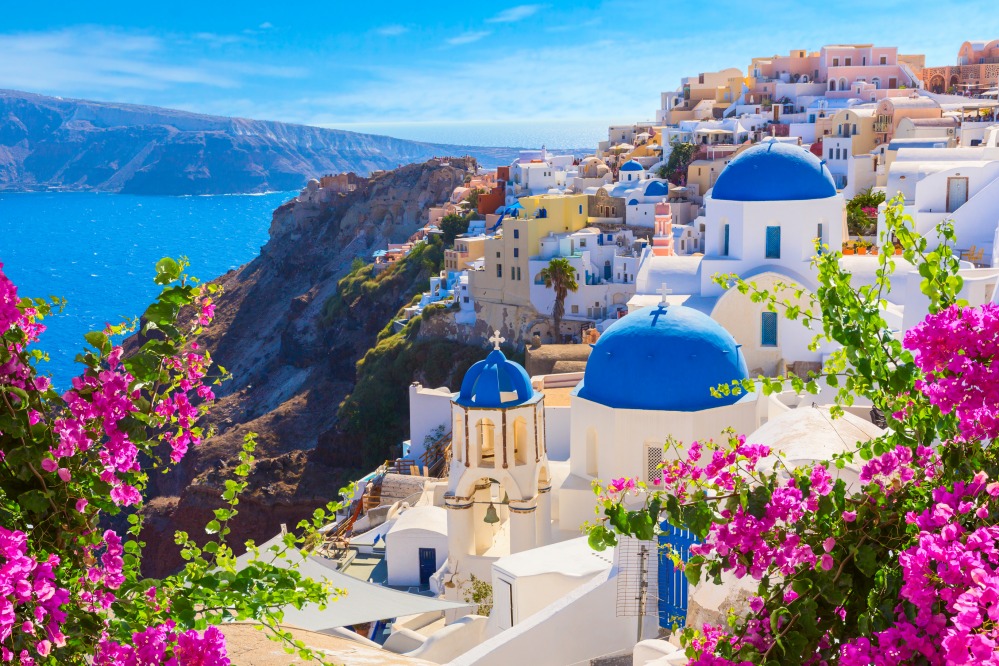 Greece and its surrounding islands have once again re-opened their doors to tourists. So if you're meticulously planning your island-hopping holiday or just want to feel as carefree Meryl Streep in Mamma Mia, here's a handful of places you should have on your radar.
Crete's capital Heraklion is a port city home to the famous Palace of Knossos, an archeological treasure that dates back to the Minoan era. Rich in history, Heraklion is guarded by the Koules Fortress and boasts fascinating archeological and natural history museums, as well as the Cathedral of St Minas. If total relaxation is more what you're after, head to Ammoudara Beach, or shop in the Old Town markets to escape the afternoon sun. From Heraklion you can take a boat trip to Gavdos, which is not only the most southerly Greek island, but actually the southernmost point of Europe. With a population of only 150, Gavdos is the ultimate island to get away from it all.
With a port that connects directly from Athens, Milos is the perfect island-hopping pit stop and one that you won't soon forget. Spend an afternoon sunning yourself on its volcanically-formed moonscape beaches, where white cliffs descend into the clear blue sea. To learn a little about the area visit its Roman Catacombs, or the Archeological Museum, then venture into the main town of Plaka for the evening.
Santorini is a firm favourite for travellers from across the world, and as the backdrop to the most enviable holiday snaps, it's easy to see why. Now its doors are back open to the public, why not treat yourself to a stay on the most popular of the Cyclades Islands? Its principal towns Fira and Oia have an incredible variety of luxury hotels built into the hillsides, offering guests cliff-edge swimming pools and magnificent views of the Santorini coastline and famous Caldera. We'll understand if you don't fancy coming home…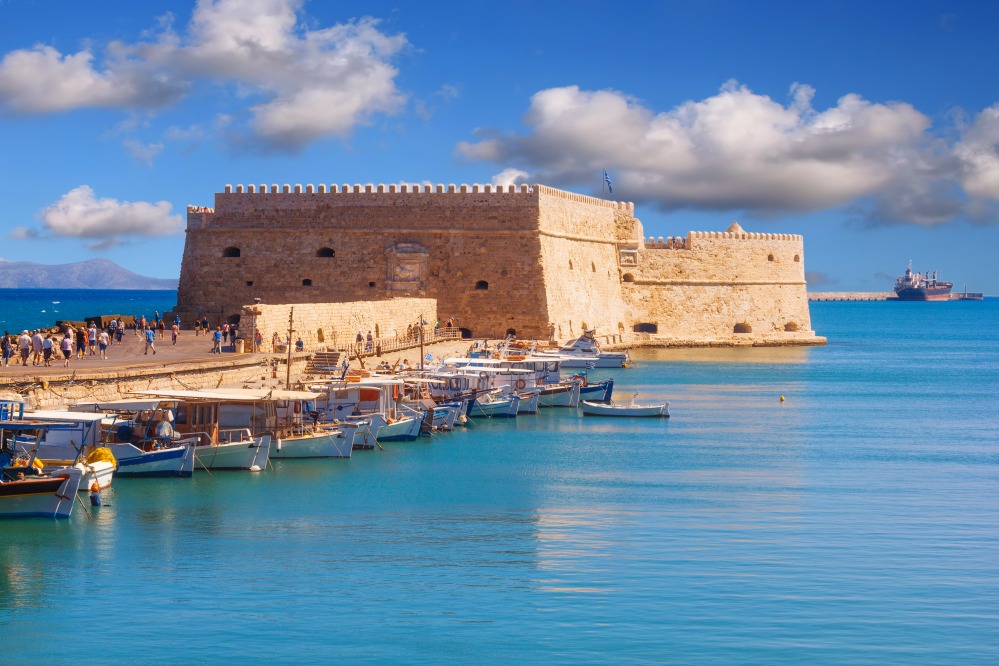 A Taste of the Greek Islands
King Scorpio Bar & Restaurant, Hersonissos
In Crete's cosmopolitan city of Hersonissos, King Scorpio is a modern bar and restaurant on a private sandy beach overlooking the sea. Complete with resident DJs, cocktails, and sun beds for daytime festivities, the Scorpio can take you seamlessly from breakfast to aperitifs and dinner, and serves a fusion of international cuisine including sushi, Mediterranean and local Greek dishes.
Throubi Restaurant in Imerovigli, Santorini
Located within the Adronis Concept resort, this sunset location combines stunning scenery overlooking the water with a holistic philosophy of health and wellness. Throubi Restaurant uses ingredients handpicked directly from the restaurant's purpose-built gardens and pairs them with an extensive wine list to create a luxury dining experience.
Where to Stay
Melidonia Suites, Santorini
High on the cliffs of Akrotiri, the Melidonia Suites are a mile away from Santorini's Red Beach and less than three miles from the White Beach and Akrotiri's archeological sites. Choose from a variety of chic, bright rooms, ranging from the couple's honeymoon suite to a family villa that sleeps six.
Esperides Resort Crete, Hersonissos
Inspired by the design of an amphitheatre, this impressive five-star resort is made up of an impressive 15 buildings and 105 suites with your choice of private hot tubs, private pools, or sea view rooms. Esperides Resort boasts a spa centre, outdoor gazebo and a compact gym area, so you can get sufficiently pampered, or party into the night – it's up to you. What's more, guests can choose from an international menu, as the resort has three on-site restaurants: Italian a la carte, Asian a la carte, and one traditional restaurant called the Monastery Eatery that serves Cretan cuisine.