Newcastle University archeology professor Chloë Duckworth speaks to Living North about the release of her new book
Teaching us how we can excavate our own gardens, and telling the tale of her travels across the country with Channel 4, looking for hidden treasures in unlikely places
When people think of archeology, they often imagine discovering ancient cities, happening upon jewels in a sandy trench, being chased by big boulders, whip in hand – or just examining remains in a city museum. What many people don't imagine is taking a trowel into their back garden and happening upon some Roman glassware, a coin last held by a soldier duty bound to the King, or an arrowhead from the Bronze Age. For those of us lucky enough to have them, our gardens can hide a myriad of potential treasures just begging to be discovered – something archeology professor Chloë Duckworth set out to highlight with the help of a Channel 4 film crew, two gifted archeologists, comedian Hugh Dennis and the ever-supportive British public (who let this muddy quartet of presenters dissect their gardens with extreme prejudice).

Taking 'work from home' possibly too seriously, Chloë and her crack team approached the public one by one at specially selected sites with the help of an archaeological company called Solstice Heritage; asking them politely to excavate their gardens and show them the wonders of their local history. In the North East, they started with sites in Benwell and South Shields, two very different digs which led to exciting discoveries.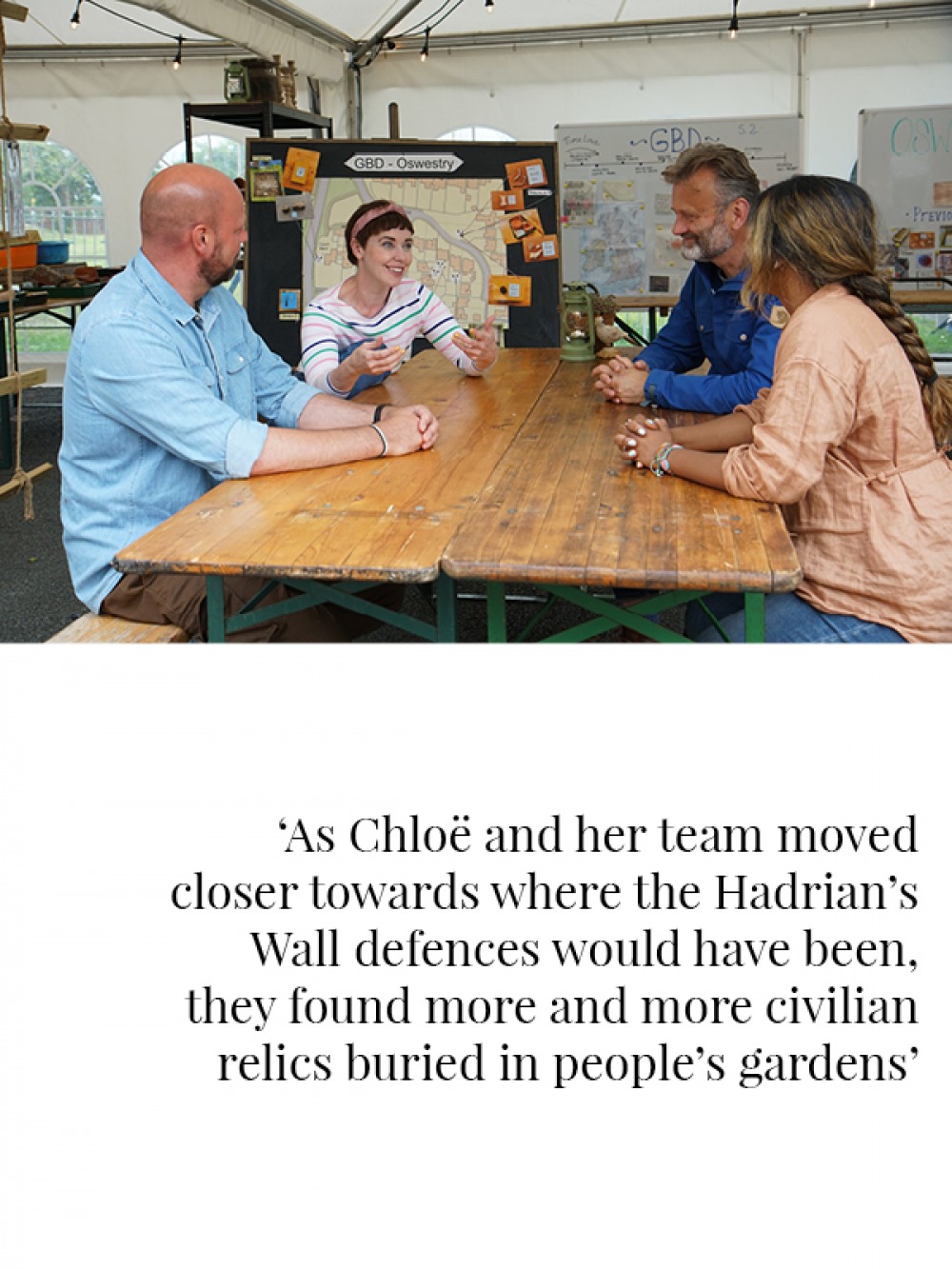 'I'd often tell people, "We'll go into your garden, take out a metre stick, not dig down very far, but we'll get loads of stuff out of it." If we can get so much out of such a tiny one metre space, think about how much we can get out of the whole garden!' Chloë explains, reflecting on the excitement of the dig at Benwell. 'We work on the show with Solstice Heritage – a company run by two Newcastle University graduates and based in the North East. They have a great sense of the best sites around here, so with them, we chose Benwell because of its connection to Hadrian's Wall,' she explains. 'I've come to understand Hadrian's Wall a lot differently. As a student you understand it as this big structure in the remote countryside, but it actually threads throughout the city too. It has a trail along the river, and forts elsewhere that are less wellpreserved. Going into people's gardens gave us the unique opportunity to finally look in new locations, which hasn't been possible as much of the original works are covered by houses.'

Hadrian's Wall is an iconic North East structure, celebrating its 1,900th birthday this year; an exciting milestone for North East archeologists. 'We've got so many celebrations for Hadrian's Wall going on, including the Council for British Archeology having their Festival of Archeology at Segedunum Fort in Wallsend. I've been asked to do a talk at it, which will be lovely,' says Chloë. Segedunum Fort is a Roman fort and museum that hosts talks on the North East's illustrious history.

As Chloë and her team moved closer towards where the Hadrian's Wall defences would have been, they found more and more civilian relics buried in people's gardens, suggesting a civilianisation of the area, possibly to home soldiers or to accommodate an expanding populace.

'We found some really beautiful objects, like nice glassware, things you'd be really well-off to be able to afford back then. You'd usually associate forts with soldiers and barracks, but actually over time we found it became a civilian place. This area in the Roman period was actually really cosmopolitan, it was a place of social activity and fun – people writing to each other and having dinner together. It makes you understand the area differently. That piece of glass we found, I could just imagine an officer using that while eating with his family – that was under a trampoline!' Chloë marvels.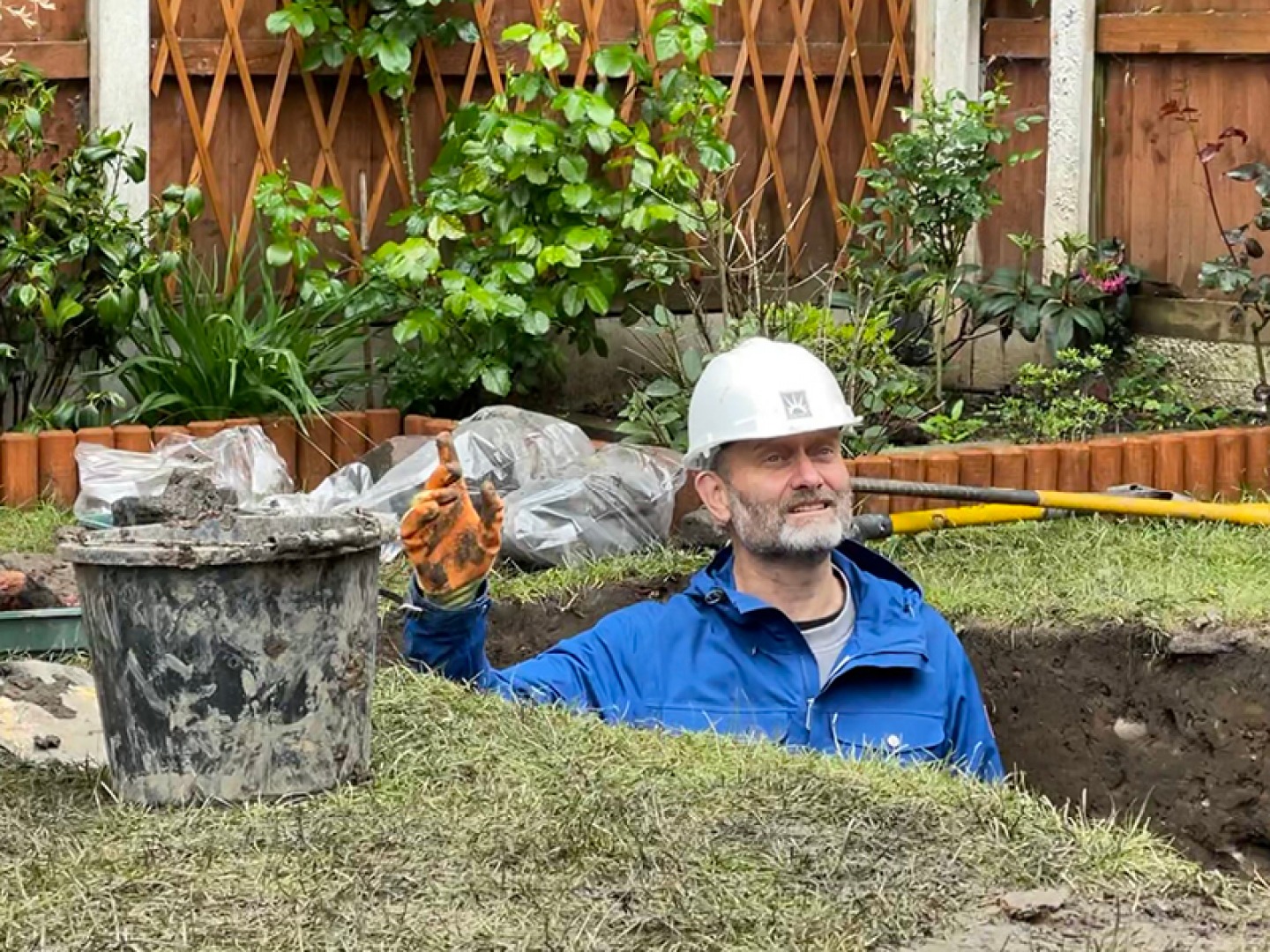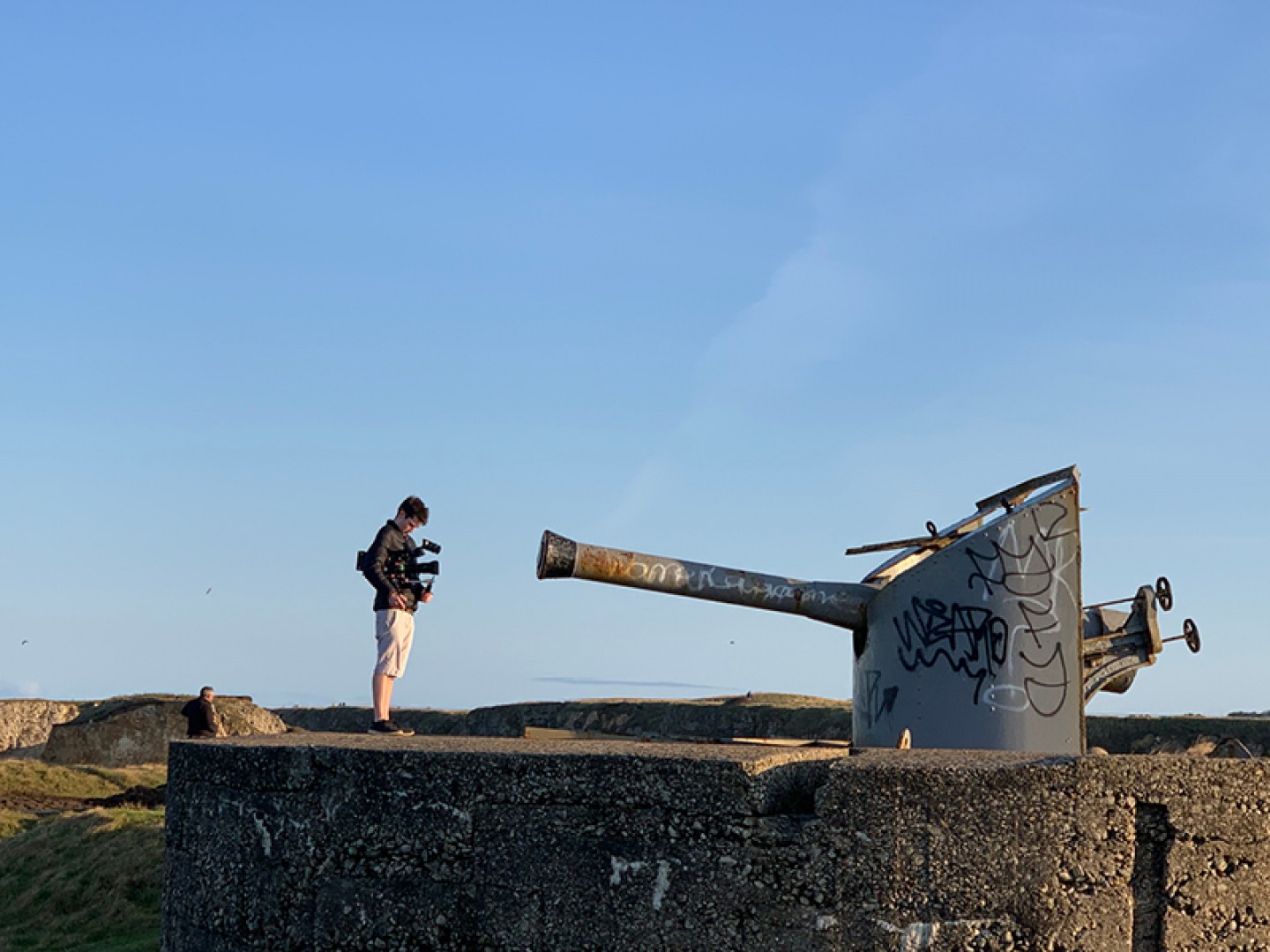 'You have to think four-dimensionally as an archeologist, you look around in a threedimensional space, but in reality you have to take a snapshot back in time and try to piece together how this has all come about. I hope that's something my book will help people understand. There are sections that teach people how to read a brick building's place in time, and how to spot clues in street names. If you do that, you'll never be bored again. You can look around the world and see all these human stories around you, which I love.'

So far, Chloë has had a fantastic archeological career, being shortlisted for the Outstanding Archeological Achievement Award in 2021 for her high profile media campaign to promote the positive benefits of archeology, and having the honour of contributing to some extremely important research.

'Something I'm particularly proud of is a job we did in South Spain at a place called Madinat al-Zahra, a 10th century location. There's so much beautiful architecture. At the height of the Spanish caliphate's power, this city they built had a massive 100 hectare area surrounding the main palace, which no one had really looked at,' Chloë explains. 'We didn't dig anything, we just surveyed using geophysics devices to see what was underneath the ground. We got the plans for the lost city – everything! The reason I'm so proud of that is that the work we did there contributed to it getting UNESCO World Heritage status. The work still isn't published yet, but that contribution is really important to me.'

Dragging along some fantastic company on her adventures, Chloë talks happily of her admiration for fellow archeologists Natasha Billson and Richard Taylor, as well as comedian Hugh Dennis and his charming habit of sneaking off in search of trinkets.

'Hugh's genuinely a lovely guy. He did a geography degree and was very interested in the same stuff we were. He'd just sort of bound off, like last summer in Oldham, we were looking for an old prisoner of war camp, but he'd just get distracted. Everyone gets in position ready to start filming because you're pressed for time, Hugh has to be filmed chatting with lots of different people – and what is he doing? He's looking at maps, running off, trying to find an old stream bed. Meanwhile the production are running around like, "where is he now!?" He was hilarious – great fun,' Chloë laughs.
'You can look around the world and see all these human stories around you, which I love'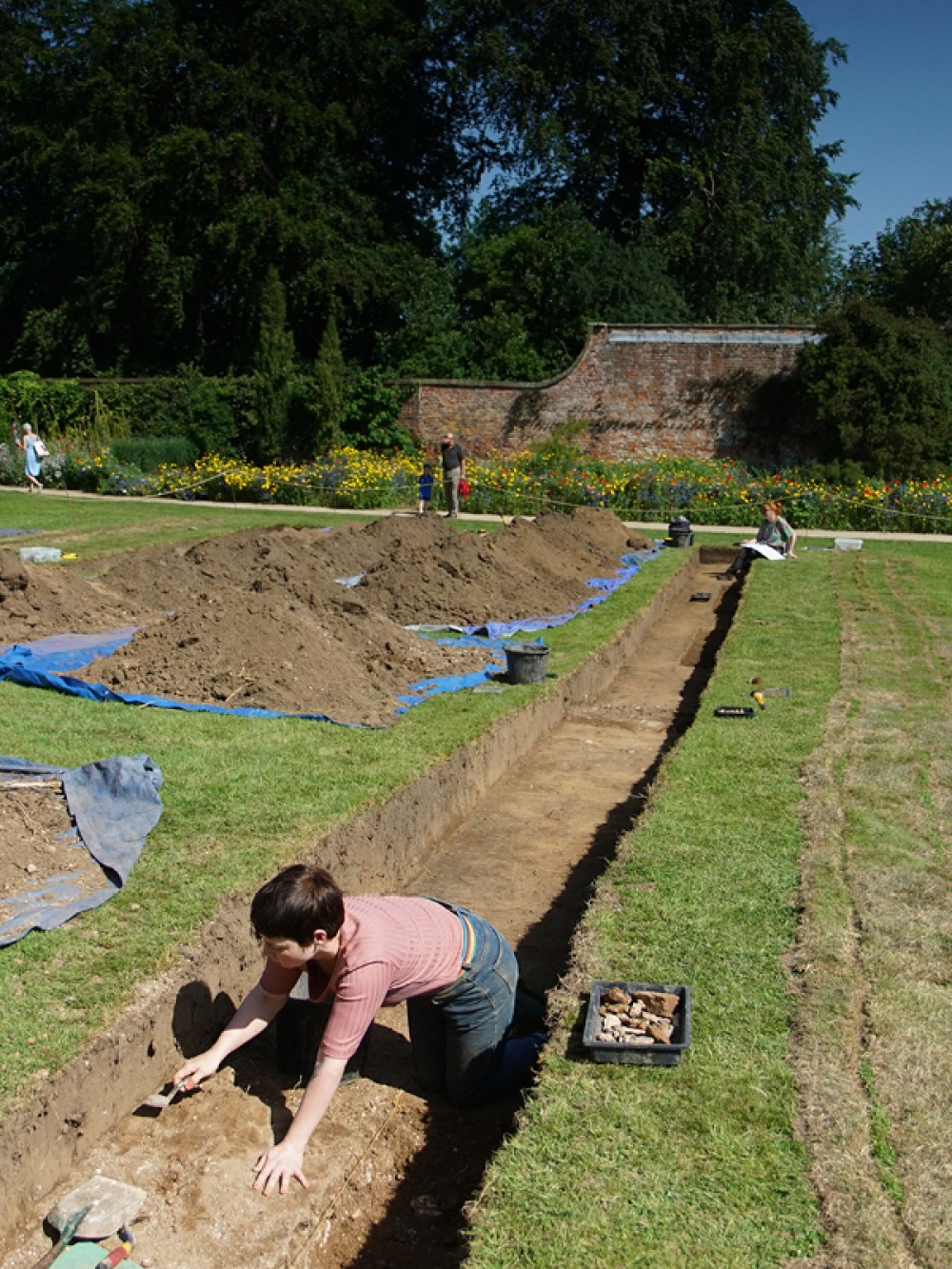 'He's a really smart bloke as well, but what I will say about him is that he's an absolute bu**er for stealing my jokes! I'm going to put it on my C.V, I could be his ghostwriter. Dad jokes have always been some of my favourites, and some of the stuff he says on screen he pinched from me! That's my claim to fame,' Chloë jokes.

South Shields presented a whole new challenge for the team – a time sensitive dig at Trow Point due to coastal erosion. Well aware of this predicament, Chloë and her team were keen to excavate the World War training site with the help of impassioned South Shields locals.

'Trow Point is under threat. Coastal erosion is rapid and we're looking at 100 or so years until a large part of what we were digging is under the sea. It gave us a unique opportunity to explore this ground that sorely needed investigation,' Chloë explains. 'Traditionally, most focus used to be put on ancient archeology, that's what people were most excited about. But now we are starting to realise that written history only tells us so much, and that recent history has a lot that can be really informative when dug up; especially military history. A lot was never recorded, like military secrets due to legal issues – there's load you can find.

'At the practice trenches at Trow Point you really do feel a physical connection with the poor lads who dug them out in the war. We found a 1908 penny, something which was last held by someone who was preparing to go to war. That was one of the hardest chapters of the book to write, it felt quite emotional,' Chloë reflects. 'You have to stand in someone else's shoes. You get this sense of it being quite arresting.

'Natasha got a superb find at Trow Point, a beautiful bottle from Riga in Latvia – at this time the North East had the Baltic trade, so this was a really rare find. It contained strong alcohol so we assume it must've had a medicinal purpose, but I loved that one because my grandfather is from Riga. He was born in 1908, so the Riga connection was really cool.'

With the conclusion of filming series two of The Great British Dig, and The Great British Dig book now available to purchase from Bloomsbury, Chloë is excited to continue her journey in archeology – hoping to spread her love for our region's illustrious past to as many people as she can. 'I'm hoping we'll do more on the show, and in the future I'm hoping to possibly write a kid's book about archeology – becoming archeological detectives and having an adventure finding clues –that'd be wonderful.'

If you want to catch-up with the Great British Dig and learn about the finds they made, head to channel4.com. Additionally, celebrate our local history and hear Chloë speak this July at festival.archaeologyuk.org in Wallsend.

The Great British Dig, £22.50 Bloomsbury