Head Teachers on the Future of Education
Following a challenging couple of years, things are looking brighter for students as the heads of local independent schools share their outlook on post-Covid education, and reflect on their successes.
When changes were made as Covid guidelines continued to develop, Cundall Manor School (where Stephen Fry briefly taught English) knew anything they altered needed to be sustainable for the foreseeable future. Headmistress Amanda Kirby speaks positively about the changes. 'We made sure that, that way we could minimise the impact on our pupils,' she explains. They installed outdoor wash stations and changed the format of their timetable to allow the pupils in bubbles (which were operating at the time) to be able to eat a hot, home-cooked meal in the dining room each day.
Christopher James-Roll, currently senior deputy head at Sherfield School in Hampshire, will take over as head here, following the retirement of Mrs Amanda Kirby, after almost 20 years with the school. With a Bsc(Hons) in Science and IT, Christopher James-Roll has held a number of senior positions in co-educational independent school settings. 'I have long admired Cundall's reputation for creating happy, well-rounded children, where academic excellence can sit alongside an individual learning experience and my family and I are very much looking forward to moving to this idyllic setting in North Yorkshire and working with its excellent team,' he says.
A number of events are planned to celebrate the achievements of current head, Amanda Kirby. 'Our senior school has gone from strength to strength and we have one of the best added value scores for GCSEs in the independent sector,' says Amanda. 'I am confident that, with Chris' leadership, it is very well placed to face the challenges of the years ahead.' Christopher will be available to meet all prospective parents at the schools forthcoming open mornings.
Queen Ethelburga's Collegiate (QE) similarly focus on delivering pastoral care of the highest standard for their students. 'We understand there is a real need to support students with the transition from having had to follow clear rules for the last two years, to having to take a greater level of personal responsibility for their own decisions and the impact that they have on themselves and others,' says acting principal Daniel Machin.
'Our award-nominated THRIVE@QE programme provides them with a high level of support with personal decision making, wellbeing, relationships and care for others. Guidance is there to help students with their decision making and to provide support for those who have different opinions to others, providing a school community where everybody can thrive.'
Throughout the pandemic Repton School were able to educate students wherever they were in the world. 'Thanks to the commitment of our teaching and support staff, as well as a new integrated IT system, the continuity of education at Repton was flawless since day one of lockdown,' explains James Wilton, deputy head (admissions and marketing) and director of digital development. 'With the same high quality of live lessons taken care of, adding value and interest to our pupils' educational experience was our objective over these challenging months.'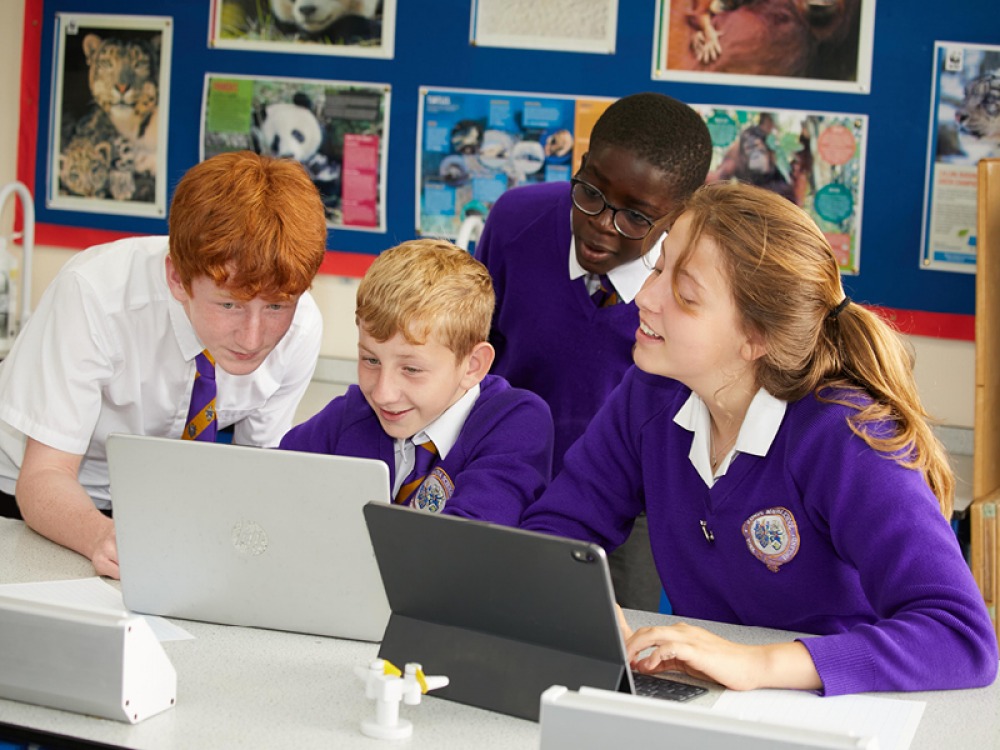 Repton's choirs, house sport matches, gallery tours and visiting speakers all continued remotely. As pupils were welcomed back to school, 50 Covid-safe bubbles were also developed for co-curricular events, from house cookery challenges to an online International Universities evening with speakers from leading seats of learning across the world.
'Our pupil wellbeing survey confirmed that 96 percent of pupils reported either no or very low levels of anxiety from home-schooling,' James reveals. 'In fact, Repton's response to the pandemic was award winning.' The school was awarded the Education Business Award for outstanding remote learning provision during the pandemic.
Looking ahead, James is sure this hard work will pay off. 'All of this means that nothing has been lost; live lessons were recorded, collaborative class notes made live were stored and distributed digitally,' he adds. 'The result? A purposeful, optimistic pupil body mentally, emotionally and academically ready for the next chapter.'
Repton's pupils are now back in the classroom. 'There is a clear sense of purpose and momentum as we ensure that our pupils get to experience their curriculum through supplementary trips and visits,' James continues. 'We remain focused on academic rigour and creativity with a range of talks and seminars delivered in-person by professionals, whilst our sports teams are back to competing on a national field.'
Tranby School's digital offering was equally successful. When lockdown hit, headmistress Alex Wilson says Microsoft Teams and One Note were things the school wanted to bring in gradually but soon they were a vital vehicle to drive online schooling. 'In a short weekend, staff re-learned how to teach, re-planned lessons and thought how to engage pupils (some of whom were just four years old) in a method of teaching and online school never before experienced, using technology they had only 48 hours to learn,' she recalls. Not an easy task.
'I am proud to say that throughout both national lockdowns we provided online live teaching mirroring the normal school day for our pupils. We committed to teaching every student every day in every subject. This was a bold undertaking but one which sought to ensure all pupils were fully engaged with their teachers and peers every day at a time when we were all living in isolation. The perseverance shown by staff to totally rethink how to inspire passion and continue to teach and connect with pupils online was not to be underestimated.'
Looking back, Alex admires the determination, discipline and strength of character her pupils showed. 'As a school we were determined that the pastoral care and wider opportunities offered to pupils would continue throughout the lockdown period. Our online timetable adapted to include practical science lessons conducted in kitchens across East Yorkshire and ensured PE lessons continued in gardens. Alongside this, we also continued to run our extensive extracurricular programme of activities.
'However, whilst reacting to the situation we found ourselves in, I also had to ensure that strategic thinking and planning for the future did not falter. Whilst my staff and students adjusted to a new normal, I considered how as a school, we needed to continue to develop once "normal" life resumed.' This led to the school's decision to re-brand to reflect their educational offer, history and location. The school was previously known as Hull Collegiate School but is now known as Tranby. Under this re-brand, Alex looks to 'an exciting future' as she shows confidence in the academic, pastoral, and extra-curricular provision for the post-pandemic school.
The biggest change noticed at Giggleswick School is 'fresh opportunity' according to headmaster Sam Hart. 'The end of Covid-19 restrictions in school has brought fresh hope of establishing a new and better "normal",' he elaborates. 'The last two years have been restrictive, and we are now starting to enjoy a return to full levels of activity across our curriculum and co-curriculum programme. The pupils are rising to the challenge, and I am impressed by the initiatives that senior pupils are driving forward. I recently read a proposal for bee keeping, written by one of the Heads of School.'
As he looks to the summer, Sam says there is excitement for public exams, sport, music, drama and outdoor pursuits – a full and varied programme to enrich the learning experience. 'These are exciting times, as the social programme continues to rebuild and fully interweave with these pillars of learning,' he says. 'We continue to encourage our pupils to be ambitious, to participate and be respectful. These are Giggleswick School values, and by promoting these in everything we do, we support and encourage our pupils to prepare themselves for the future.'
As a Microsoft Showcase School they are driving forward digital learning, and entrepreneurship, creativity and innovation are all embedded in their vision for the future. Their Creative, Active and Service programme is showing diversity and they are reinvigorating their medical centre to create a wellbeing centre that will support all pupils' physical and mental health needs. 'It is an exciting project which will be a great addition to our already outstanding pastoral care,' Sam concludes.
(featured image: Cundall Manor School)