How To Choose Your Wedding Flowers
We speak to Helen Mawson of Newcastle-based wedding and event florist, Bels Flowers to get her advice on everything from how and what to choose for wedding flowers, to how to budget correctly
Wedding flowers are a huge part of any wedding day and as a big part of your photographs will be with you for a lifetime. But whether you're wanting big, blousy blooms, or something more simple and elegant, here's how to make sure every petal plays its part.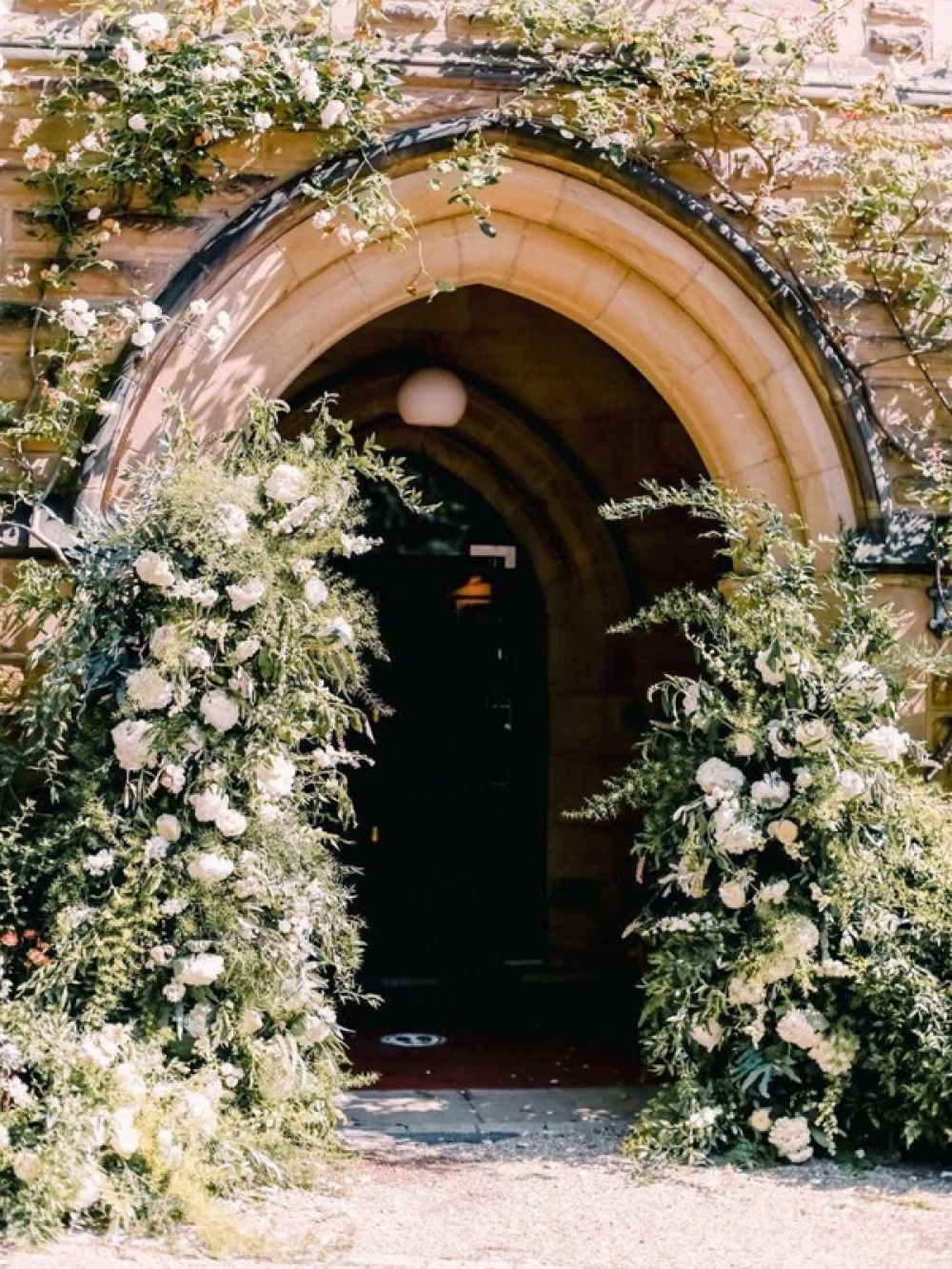 What do brides need to consider when choosing their flowers?
Firstly it's important to work out exactly what style and colours you like for your wedding flowers. Sounds simple enough, I know, but certain styles will suit different styles of flowers, for example a black tie country house wedding would work with slick, more full floral style, while a more relaxed barn wedding would suit more texture and foliage with big, blousy blooms. Once you have an idea for style, then see what will be in season and types of flowers and foliage which will be readily available, which helps with the cost, but your florist can work through all this with you.

How do you carry a theme easily through the wedding?
Your wedding should reflect you as a couple, and your venue and overall style that you want your day to reflect, will run throughout your wedding. So go with your gut! It's really helpful to have suppliers that have worked in your venue before as they will know what works and doesn't work. They'll also have lots of pictures which help you visualise the day. In the flowers, use the same combination throughout your wedding, from buttonholes to bouquets, to larger statement pieces. Keep to the same colour pallete throughout, no matter the balance of foliage to flowers, this will ensure everything ties together.

Where to spend and where to save – how do you get the most from your budget?
I would always recommend making sure you have your dream bridal party flowers. They will be in all your pictures and flowers are amazing for creating reminders of your big day, the scents can take you right back to a moment for years to come. But when it comes to where to save or spend it's always better to do less more impressively, than spreading the budget over too much and it all getting a bit lost. For example, if you want tall table centres with flower bombs but it's coming over budget to do every table, do half tall and half low, so both look fantastic. Also if the budget is being stretched forget the little add-on items which can all add up. Think about where your guests will be spending the most time and concentrate on making that look incredible.
'Once you have an idea for style, then see what will be in season and types of flowers and foliage which will be readily available, which helps with the cost'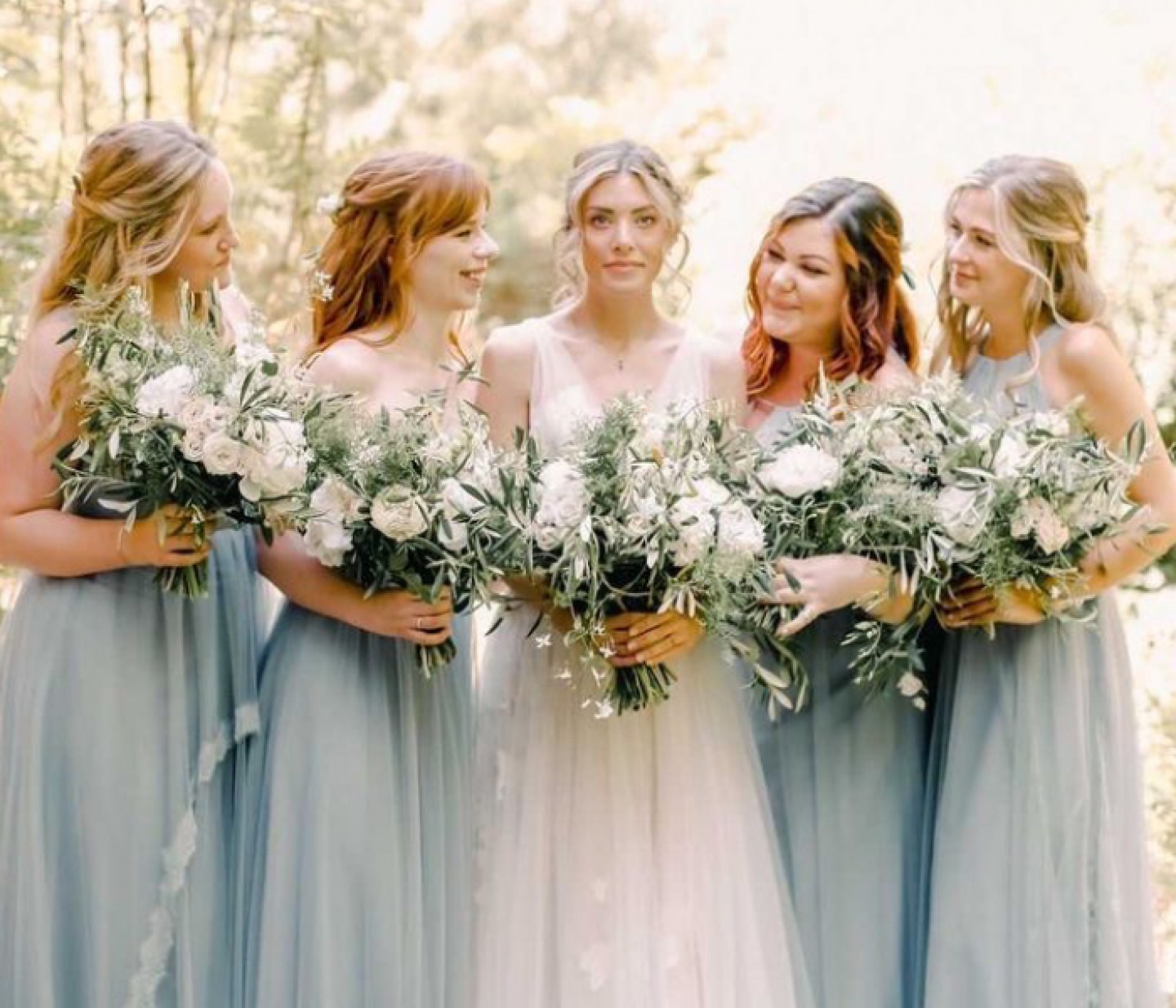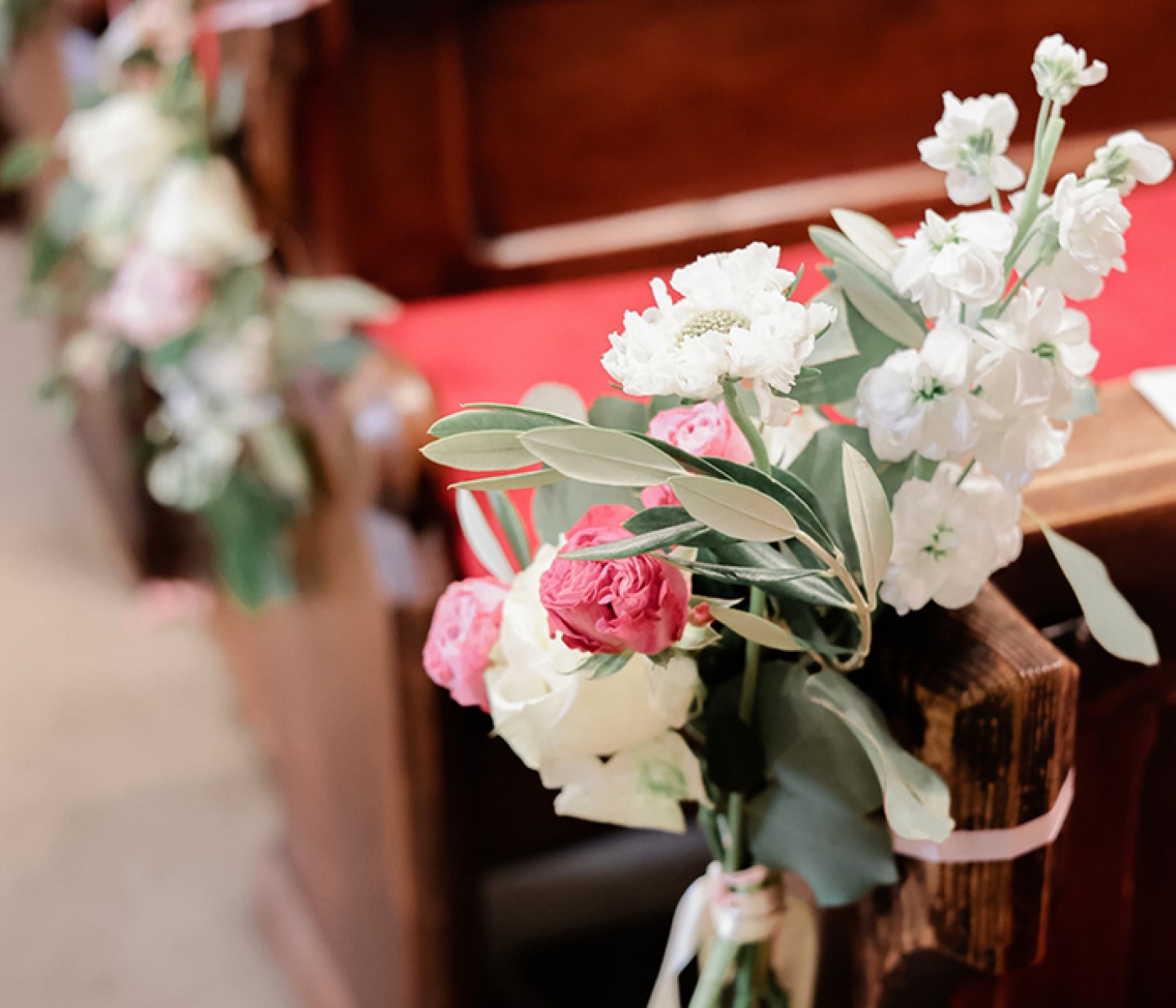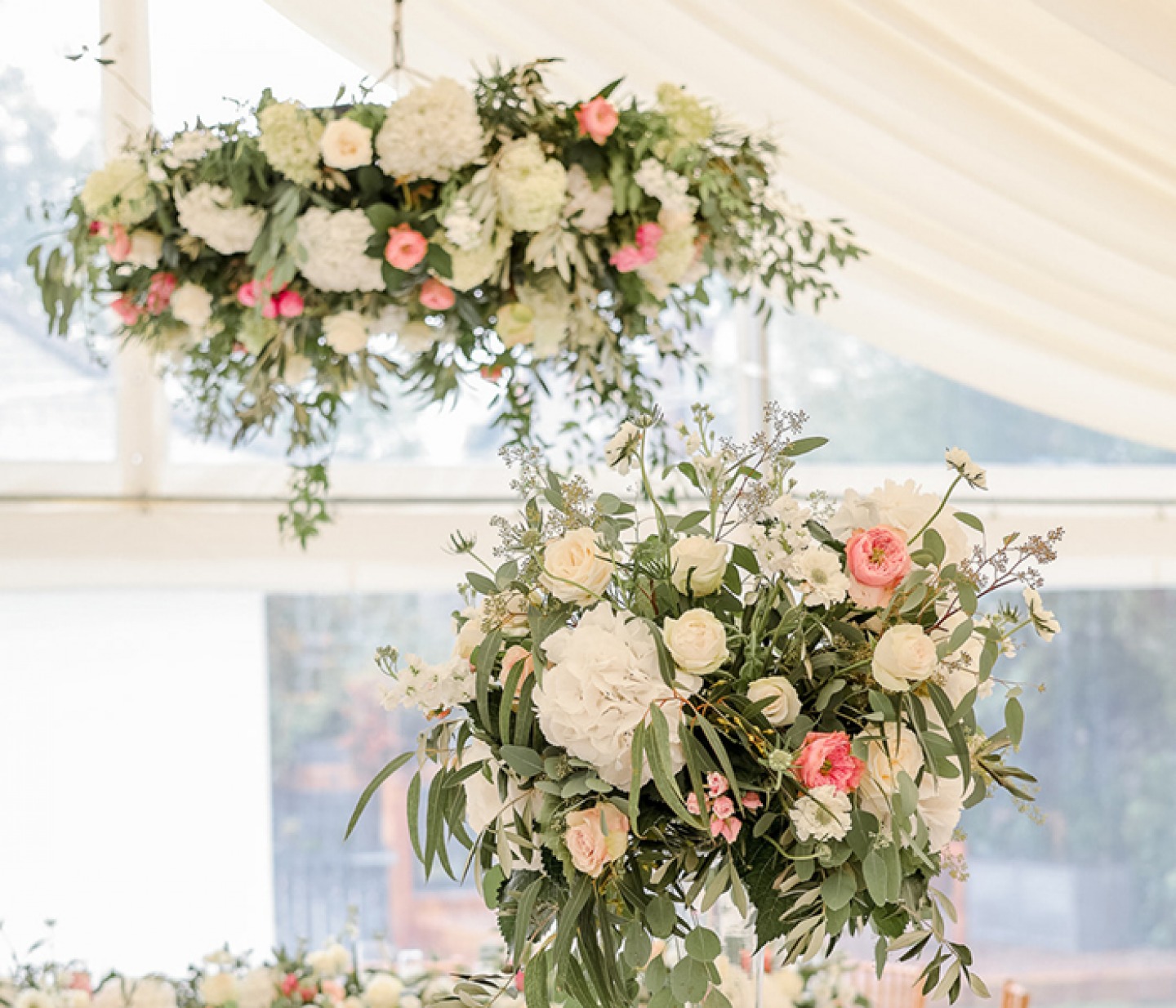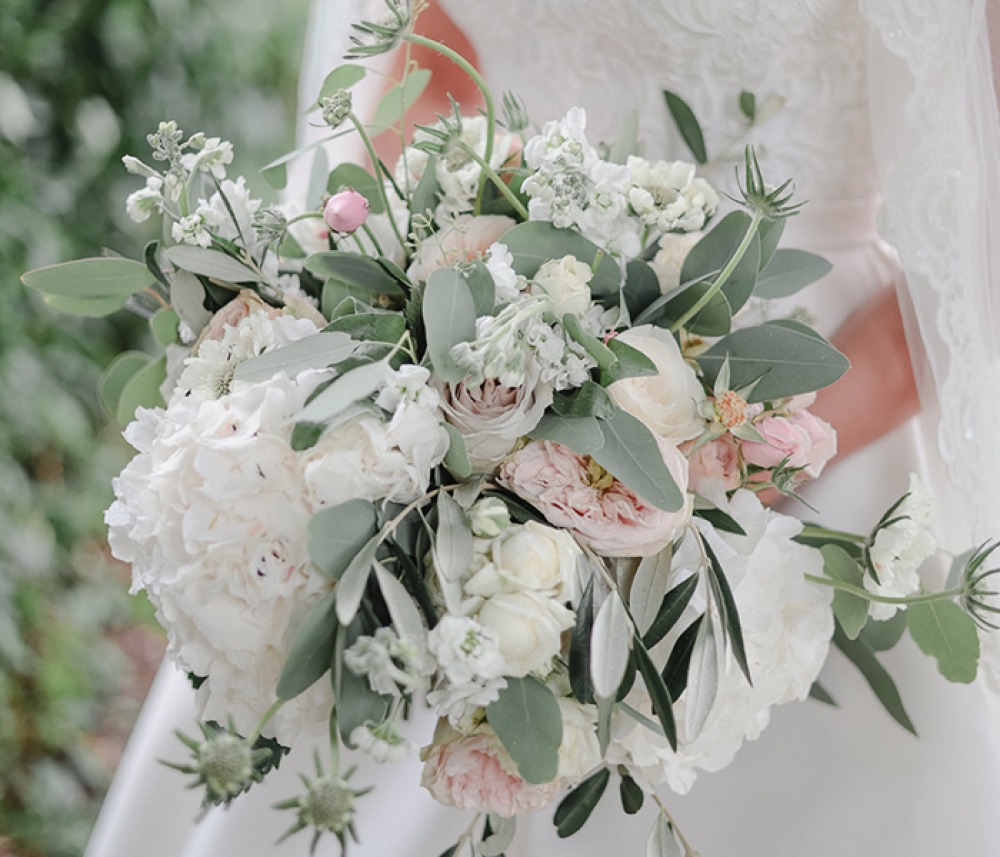 What flowers work best where?
Use flowers proportionally for the size of the arrangements you are having. If you're having an English country garden theme then there will be all sorts of component like garden roses, delphinium, hydrangea, stocks… some will work in bouquets better
than others and will be better for larger statement pieces like fireplaces or archways, where smaller-headed flowers may get lost.

Is there are key thing to avoid with wedding flowers?
The two key things when planning the flowers for your wedding are to not leave it too late booking your chosen florist, and budgeting how much to spend on the flowers. Popular dates get booked up years in advance and it's heartbreaking to turn people away when in their head they have already booked you! So secure the date as early as possible. When planning your budget, be realistic about what things cost and achieving the style you love. Flowers are expensive in the first place, and then a lot of work goes in to them – from the designing, ordering, conditioning and creating, to them look their best on your wedding day. Don't undervalue the skills and experience of your florist – or any supplier. Trust them, they want to make your day be best it can be.

How can a bride add some drama to her wedding scheme?
The best way is to take full advantage of the features of the venue and highlight them. An incredible archway to welcome guests can really set the atmosphere and feel for the day, making it magical, as well as providing an amazing backdrop for the wedding photography. Some venues lend the opportunity to have hanging flowers, using window lanterns, hanging pulleys or installing ropes to marquees – these really do create a huge wow factor for guests. Work with accessories to complement the flowers too, adding candlelight to centrepieces can really set off the atmosphere. Really pulling the style through all the d cor including stationery gives a wedding another level of class and style.

What mistakes do brides make?
Don't go for the lowest quote. They're not all like-for-like and wedding flowers can make – or break – a wedding venue. Pick the right florist for your style and listen to recommendations from friends and other suppliers, as well as your chosen venue. And do listen to your florist's advice. If something is expensive but a statement piece like a floral arch, there is a reason they are the price they are. If someone gives a lower price for a high value item, think what you might end up with on the day, having still spent a lot of money! If you have an abundant style to achieve you'll need a lot of flowers, and it will be totally worth it – flowers really make a wedding!


Jesmond Gardens, Jesmond NE2 2JN
07976 245853
belsflowers.co.uk