How this Historic Mill in Skipton is Helping to Re-establish a Rare Breed of Yorkshire Bees
Skipton's medieval High Corn Mill is at the centre of a sweet new initiative to re-establish a rare breed of Yorkshire bees in the Wharfe and Nidderdale valleys. We hear the buzz
Harry Brow first became inspired by bees when he was working in Australia in 2017 and spent part of his time helping out on a bee farm. 'I became interested in bees when I was living in Brisbane; I was fascinated by the art of beekeeping. I used to talk to local beekeepers for hours on end down at the Brisbane markets.'
Harry returned home with a passion to save local strains of endangered species, taking a bee-centred management approach which aims to protect the natural cycle of the honeybee, enabling a healthy colony to produce a small batch of raw, natural honey – straight from hive to jar. He focuses on providing geographically isolated beehives to locations around the Wharfe and Nidderdale valleys, including the Duke and Duchess of Devonshire's hives in the walled garden at Bolton Abbey.
'I read as many books as I could and started with six colonies of near-native Yorkshire Black Bees in 2018,' Harry says. 'I've now got 35 hives across the Wharfe and Nidderdale valleys – all thanks to natural expansion through collecting swarms and local mating. Within the UK there's around 250 solitary bee species, 25 bumble bee varieties and one type of honeybee, Apis Mellifera. Unfortunately, all of these species are under threat from monoculture, intensive farming, nutritional stresses and pesticides, and they're all in need of our care and attention.
'I'd encourage everyone interested to look past the conventional profit that can be made from beekeeping and honey production, and instead have a "beecentric" mindset and put the health of the colony first,' he continues. 'It will pay off in the long run and help save local populations from disease. It's really important that we breed honeybees locally, cutting shipments of queens and colonies from abroad and enabling British bees, and keepers, to thrive.'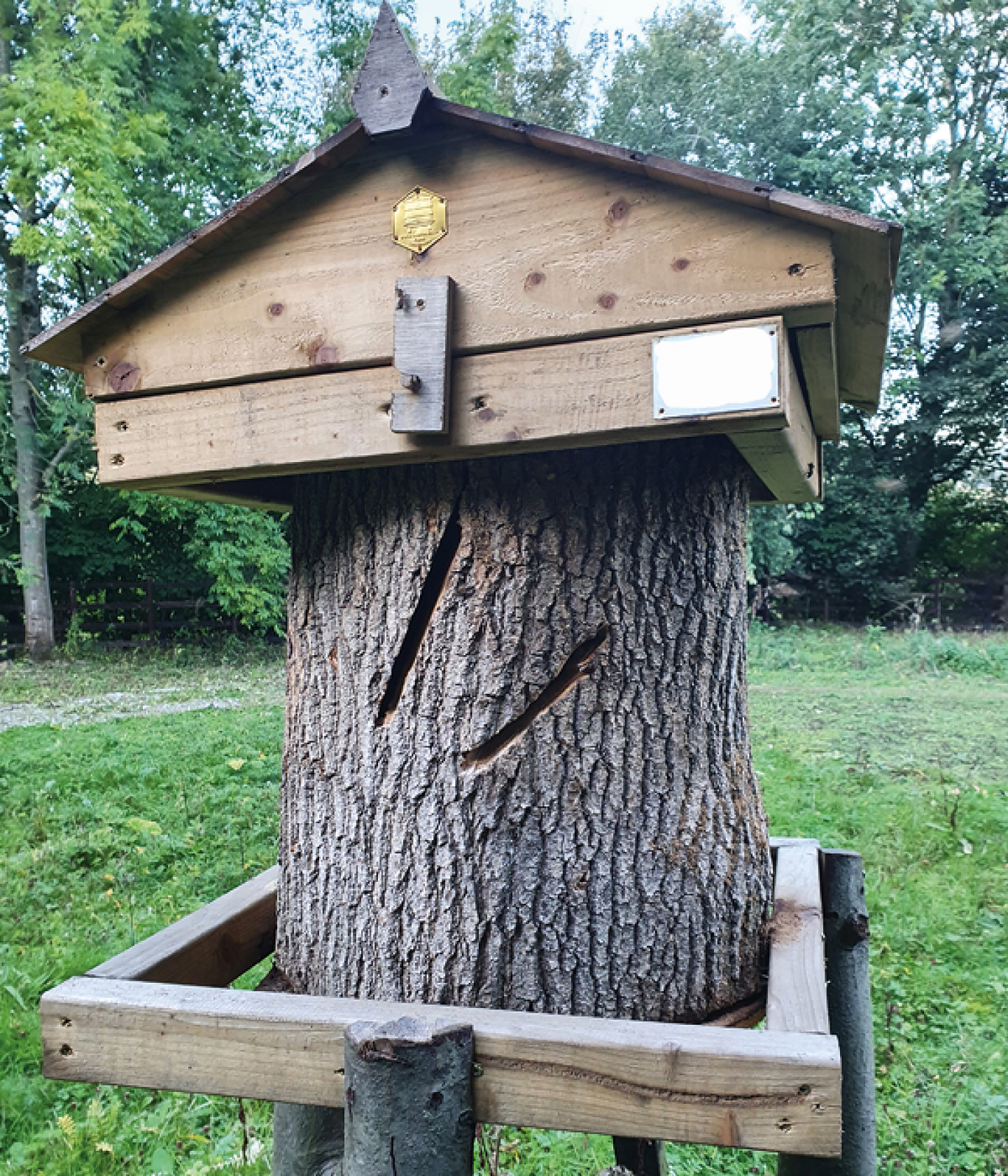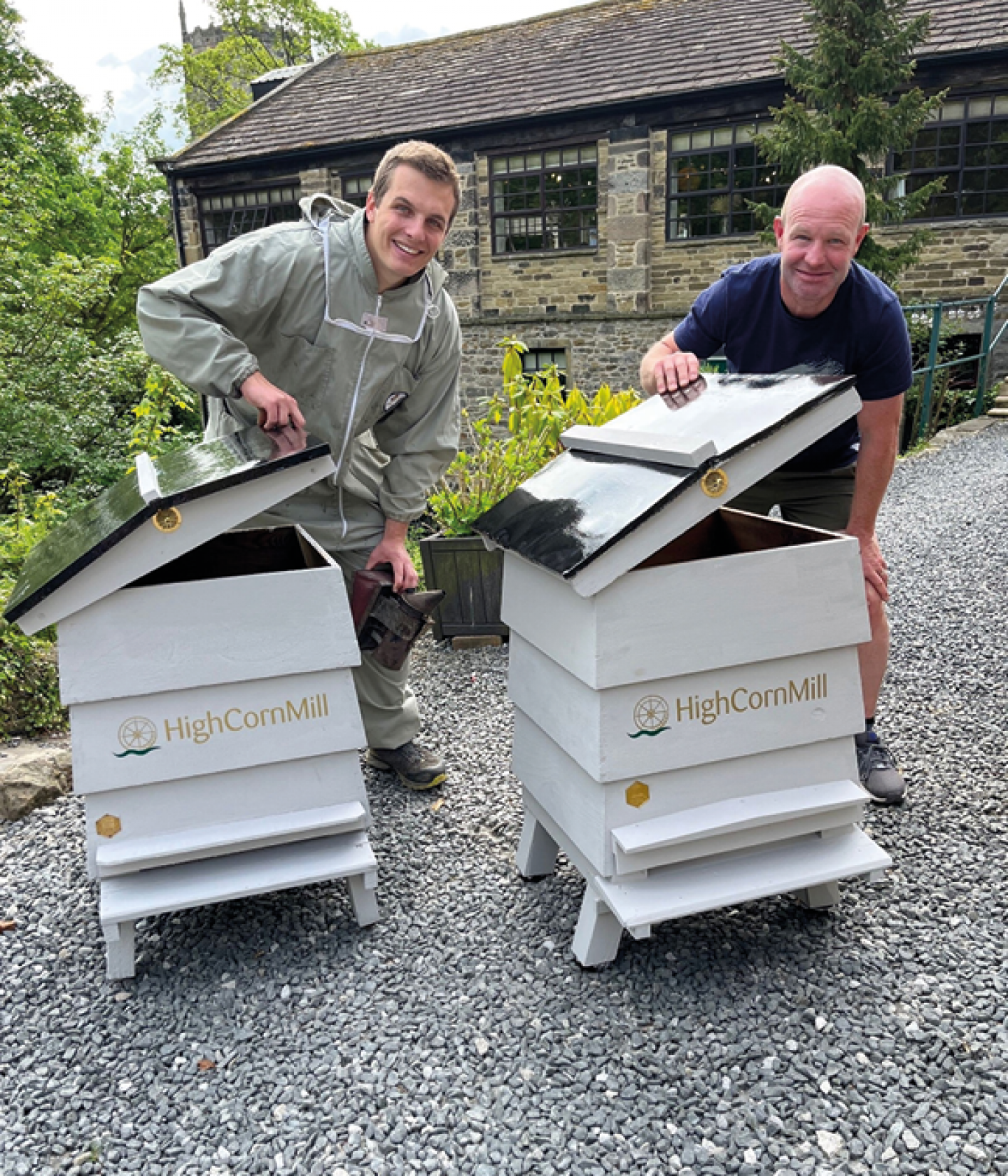 It was because these buzzy insects are at risk that landlord of High Corn Mill Andrew Mear, who has long run his West Yorkshire property portfolio with the environment in mind, decided to join forces with Harry. 'I'm always looking for the next stage of the evolution of the Corn Mill and during the planning for the holiday cottage bees came to mind,' Andrew explains. 'A friend of mine said ring Harry and I did, expecting some old beardy-weirdy turning up. But to my surprise Harry turned up, and his passion and knowledge leads me to believe we're onto a good thing.'
High Corn Mill is a fascinating historic building that now serves as a modern retail and office complex – the hydro-powered water mill is home to an abundance of health, home and wellbeing businesses. The mill is set along the picturesque Leeds-Liverpool canal in the heart of Skipton at the gateway to Skipton Castle Woods. This historic woodland, which was once part of a great hunting woodland that stretched across North Yorkshire, is now one of England's rare ancient woodland sites – and this makes it a great location for bees.
'The introduction of hives just seemed to be an obvious one,' says Andrew. 'I should have thought of it before. We have a half-mile strip of land untouched and the banks of the mill pond seemed an obvious place to enhance the environment even more with the introduction of hives. We have the space to expand and expand the bee population. I think this could be a success on all fronts, from an ecological point of view to a final bonus of honey that can be sold for charitable purposes.'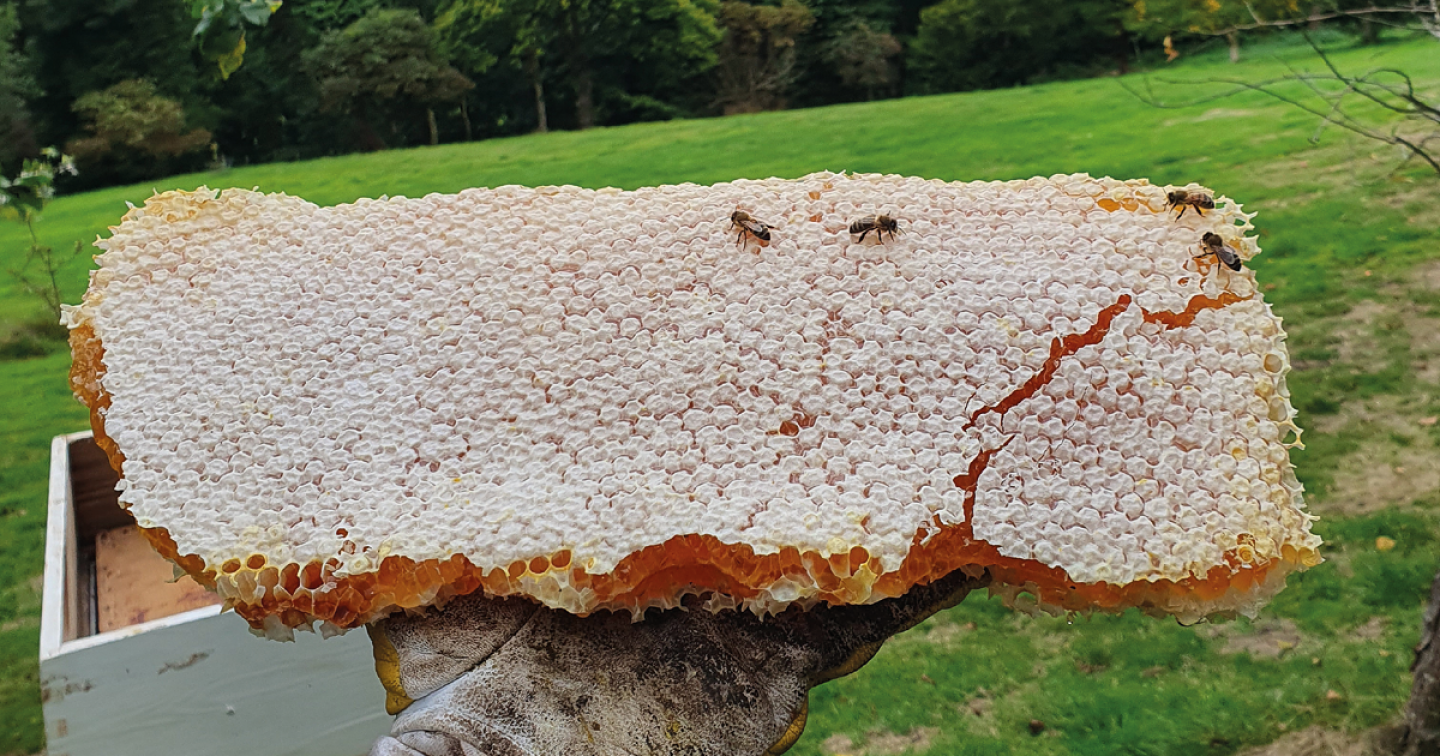 Two hives have just been installed at the historic mill, with a view to increasing the number of near native Yorkshire Black Bees in the area, improving local pollination rates and providing an exclusive local honey. 'The species of bee that we guardian today as beekeepers is called the Western Honey Bee,' explains Harry. 'But that's because most of the native British Black Bee were killed during an epidemic known as the Isle of Wight Disease around 1918. We shipped in millions of bees from Europe, Australia and other parts of the world to compensate and that is why the bees at High Corn Mill are so special.
'The bees that we are protecting at High Corn Mill are not an endangered species, but they are a special strain of near-native Yorkshire Black Bees. I cannot confirm the exact genetics of the bee (completed through a process called wing morphology... like reading a fingerprint!) but I can confirm they show fantastic genetic traits of the native bee; efficient with stores, Yorkshire weather hardy, great at overwintering and small in stature. They do have a swarm tendency, but don't produce as much honey as the regular Buckfast Bee that we all know today.'
Not only are the bees at the mill unique, they are being re-established in Harry's signature sustainable way. 'Andrew approached me when he heard of the sustainable approach I take to beekeeping,' explains Harry. 'I don't use any treatments or chemicals and allow the bees to live freely and swarm in natural cycles. High Corn Mill's bees will never be fed sugar syrup or baker's fondant and we wouldn't dream of marking queens or clipping their wings. It's a less profitable way of managing bees, but far more conducive to re-establishing the strain around the area.'
'It's a less profitable way of managing bees, but far more conducive to re-establishing the strain around the area'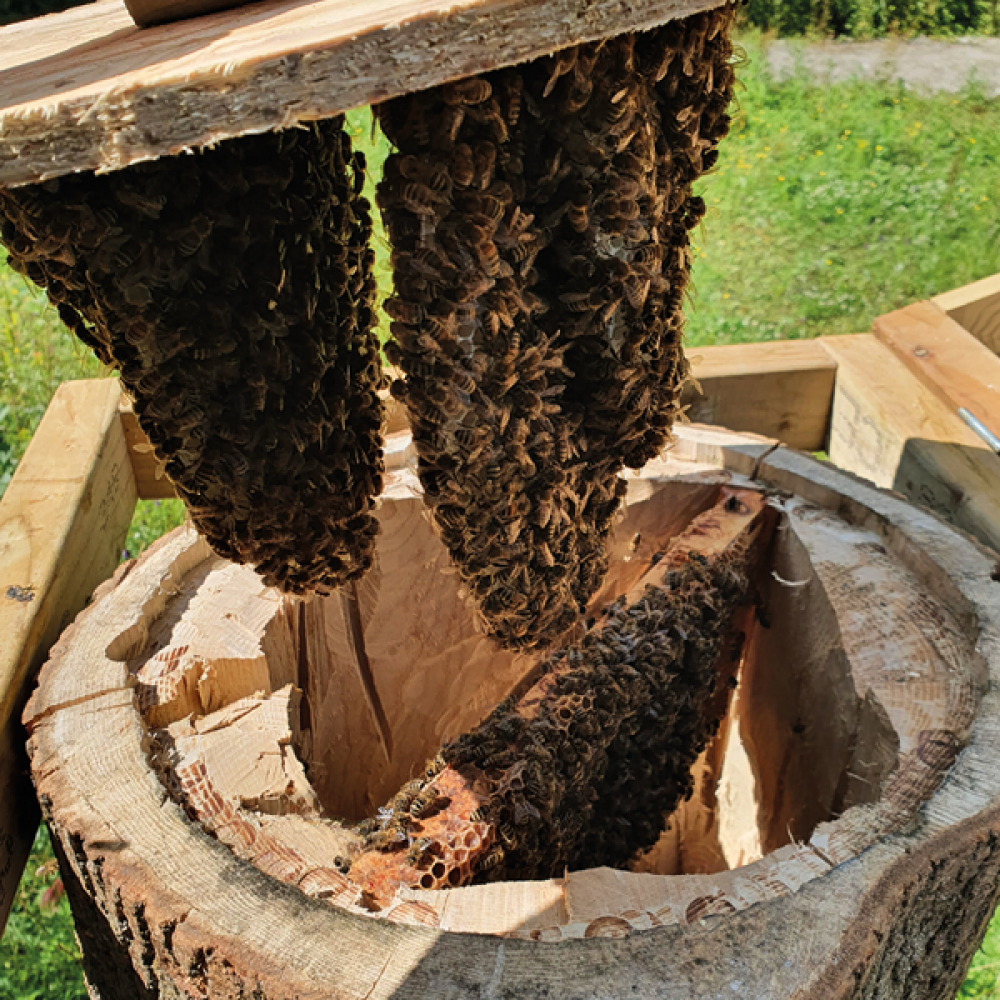 Re-establishing honeybees involves breeding local queens, allowing them to mate with a genetic bank of drones from the local area and not being so focused on making honey. 'It's really important that we focus on sustainable beekeeping practises and enabling the honeybee to live as close to natural cycles as possible,' explains Harry. 'Although some people view swarms as a nuisance, they allow the colony to halve and limit disease build up in the hive, and allow natural attrition and reproduction of the bees, as well as the potential to spread genetics across the natural three-mile habitat.
'We've created a small apiary by the side of the mill near the old waterwheel to house the bees – an endangered strain we can trace back in the valley for over 75 years. I like to think of the way we work as the rewilding approach to beekeeping, and it works perfectly with the ethos of High Corn Mill which has become something of a wellbeing hub in the area.'
They have installed two traditional, restored red cedar hives at High Corn Mill and the revenue from this project will support their work as one of the only apiaries in the UK to operate log hives; hollowed out fallen trees to enable natural comb creation. These bees are not aggressive so visitors to the mill won't even know they are there. They will swarm in trees in nearby woodland, and fly over a three-mile radius collecting nectar and pollen.
As well as being great for the nature and wildlife around the mill, the aim is to also give back to the local area, and there's a sweet benefit that comes with the initiative. 'We're incredibly excited about this new project which will increase pollination in the area, as well as provide one of the purest honeys is it possible to buy,' says Andrew. Having previously raised funds for Parkinsons UK, Andrew is planning to donate the profits from the honey to the same charity.
'The next step is to open a visitor centre at the mill to expand our charitable work, and obviously sell our honey. This will open up opportunities to do tours of this old building, showing the water wheel, its history and its environmental credentials. I also hope Harry can have his own beekeeping workshops showing everything to do with bees. It's all aimed at increasing the footfall to the area and increasing the awareness of this ancient part of Skipton.'
Explaining what will make High Corn Mill's honey so special, Harry says: 'The honey [these bees] will produce will be unique as they will collect from a wide variety of local botanicals – everything from hawthorn and horse chestnut to raspberry, blackberry, dandelion, rosebay willowherb and cross-leaved heather. We anticipate that they will produce around 40kg of honey a year, half of which will remain in the hives to nourish the bees and the other half – a Skipton Woodland Honey – will go on sale at the mill, probably from next year. In the meantime, I'll be supplying the mill with honey from my 35-hive apiary, so visitors to the mill will be able to get a taste of what's to come.'
To find out more visit High Corn Mill, Chapel Hill, Skipton BD23 1NL or check out their website highcornmill.com.