The Husband and Wife Team Who Make Botanically Led, Alcohol-free Spirits
With the planet in mind, husband and wife team Rose and Chris Bax create their own botanically led, alcohol-free spirits
We catch up with Rose to find out more about Bax Botanics.
Over the last 15 years, Rose and Chris Bax have been teaching and consulting chefs and food producers about flavours, predominantly wild flavours. 'We used to run a foraging school and used to teach people how different flavours balance together,' Rose explains. 'During our time teaching, people kept asking us "where can I buy some of your products you show and demonstrate?," but our aim was always to inspire others to forage and make things for themselves.'
Although that was what Rose and Chris continued to do, Rose admits there was alway a thought in the back of her mind that they could create something unique. 'We always thought that if we could do something which treads lightly on the planet that would be great, and when I came across the Organic Herb Trading Company, who work with Fair Trade farmers bringing organic herbs into the country, I knew I could use my knowledge of flavour, combined with these Fair Trade, sustainable herbs and create a new product for the market.'
With their passion for experimenting with complex foraged flavours, and a new-found way to create a unique product with sustainable herbs, Bax Botanics was born. And after years of infusing alcohol with natural ingredients, Rose and Chris swapped spirits for pure spring water. 'We thought there was a need for a really high-quality, alternative to alcohol – something which makes you feel like you're having a quality drink, but you don't get the effects of alcohol.'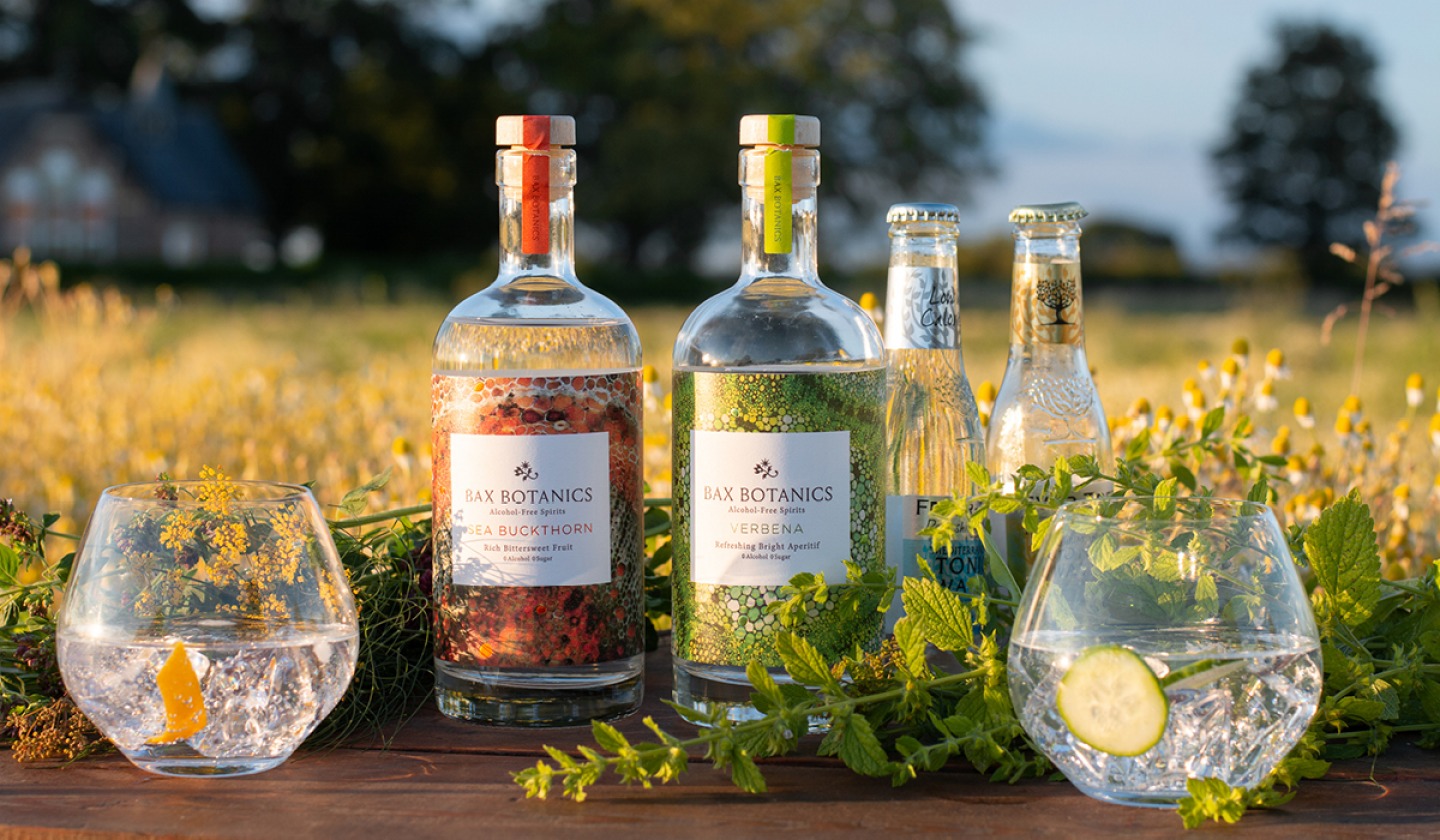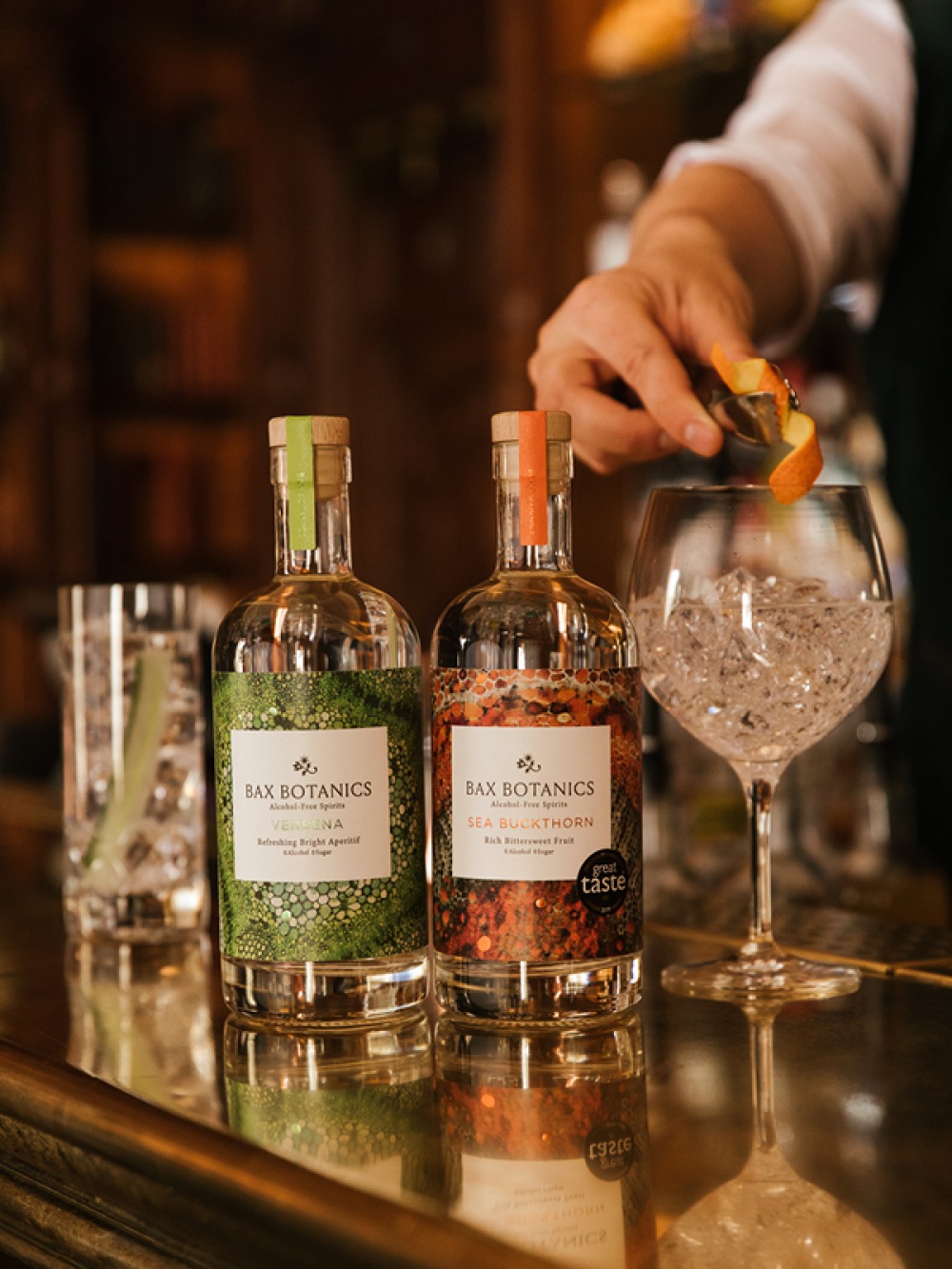 Unlike traditional spirits, where the intensity of alcohol can often overpower the more subtle, infused flavours, Bax Botanics' alcohol-free spirits allow room for more complex layers of taste. 'We wanted layers of flavour in there, so you'll get the start on your palate then the mid-range and then the length and depth of the drink,' explains Rose.
They've created two versatile drinks which are intended to be drunk at different times of the day. 'With the Verbena, I wanted it to be vibrant and sunny, and for it to feel like you're sitting in a garden or meadow on a sunny day,' says Rose. 'Whereas the Sea Buckthorn was created to be relaxing, almost like that sinking into an armchair at the end of the day feeling.'
Through the careful selection and blend of herbs, roots, berries and flowers, the couple have created a brand new type of spirit. 'I wasn't trying to recreate another alcoholic drink – they're not trying to be gin or vodka. It was all about a botanical alcohol-free spirit which stands on its own as an interesting drink,' Rose says. And because both the Verbena and Sea Buckthorn spirits are so versatile, they are great bases for non-alcoholic cocktails. 'They go with tonic and all sorts of mixers, plus you can make a really lovely mojito with Verbena using a bit of lemonade, mint and lime, or a sort of whiskey highball with Sea Buckthorn and ginger ale.'
Having a passion for all things wild and natural is at the heart of Bax Botanics, and ensuing their ingredients are ethically and sustainably sourced is the key for Rose and Chris. 'Our ingredients are as local as they can be, and we buy them all from the Organic Herb Trading Company,' Rose explains. The herbs are grown organically and certified by the Soil Association, meaning Rose and Chris know exactly where they're from. 'Sustainability is really important and we try and keep food miles down. Our bottlers are in Collingham, so just 10 minutes away from where we make the drinks, and the labels are made on bagasse [a husk fibre left over from the production of sugar]. The drinks are also free from both sugar and sweeteners, so make the perfect alternative to not only alcohol, but soft sugary drinks too.'
'I knew I could use my knowledge of flavour, combined with these Fair Trade, sustainable herbs'
When Bax Botanics launched in 2019, there were hardly any alcohol-free spirits available on the market – and that's still the case today. 'There are lots of alcoholic drink substitutes, but not many which are pure artisan, authentic drinks,' Rose says. Following the success of their spirits, Bax Botanics have now released two ready-to-drink canned versions of Verbena and Sea Buckthorn. 'They're versions of our spirits but mixed with tasty tonics,' Rose says. 'There's Zingy Lemon Verbena and Tonic, and Smooth Sea Buckthorn and Tonic.'
Creating a unique and sustainable product has gained Bax Botanics plenty of attention throughout Yorkshire, with local restaurants and retailers taking an interest in their non-alcoholic spirits. 'We're in Tattu Restaurant Group who have a restaurant in Leeds, and we're proud to have cocktails on the menu there. We've also had support from big hotels like Grantley Hall, and the guys at Skosh in York have Bax cocktails on their ever-changing seasonal menus too,' Rose says.
Retailers such as Booths also took an interest from the beginning and Rose says, for now, the focus for the business is to try and get their alcohol-free spirits into more retailers and hospitality venues. 'I would like our drinks more available because more and more people are not drinking [alcohol], but they want something nice and not just a water,' she says. And Bax Botanics is just that.
baxbotanics.com