Meet the Durham-Based Handywoman Flipping the Status Quo around Women in Trade
International Women's Day takes place on the 8th of March and one of the aims of the day is empowering women, while celebrating their capabilities and achievements
After three successful years in business, a great reputation, sustainable ethics, and a growing team of hammer yielding North East women, one Durham-based business is showing how to do just that. We caught up with Alex, the owner of Green Goddess Handywoman Services to find out more.
Tell us a bit about your background.
Born in Gateshead but raised nearby in Birtley, academically I was a high achiever and gained a degree in Archaeology from Liverpool University. This led to an interesting career in museum education but one in which I felt very trapped in the office environment and the restrictions of paid employment to the point where I needed a complete break as I wasn't happy.

I bought an old van and naively thought a couple of grand would pay to outfit it. Of course I was wrong. Even if tradespeople would have been available when I wanted to hire them (I was completely unaware of how busy and booked up such people are), they couldn't possibly have done the work on such a small budget as they rightly needed to be compensated for their skills and experience. There was no choice but to go for it and refit it myself.

The problem was I had no DIY experience. I had always rented and left any fixes to the landlord to deal with. I didn't even own a screwdriver! So I began a journey into the 'world of things': tools, materials, fixing, measuring, buying, designing and creating, and learned how satisfying it was to see the tangible results of your hard work at the end of the day. It was really tough, but I loved it.
When did you start Green Goddess Handywoman Services and why?
Once I finally had a renovated van – during this time I had also met my partner – we decided to travel Britain and Europe. A highlight for me was teaching myself to fish in the fjords of Norway but, I suppose as many of the more honest 'van lifers' you will see on YouTube will tell you, van life is much more expensive and sometimes more stressful than you would hope and we were spending more than we could bring in.

So, after a good run, we returned to my partner's home in Durham and got married and moved to Ushaw Moor. Even though I applied for jobs, I felt my particular character would do far better in the more stressful but more creatively free world of self employment. I wondered what I could start a business in and then it became really obvious; why not offer a handywoman service since I enjoyed the style of work so much and had gained so much experience fitting out my van? So in 2019 Green Goddess Handywoman Services was born.

I named the business after the van, which after a re-paint (which I did myself of course) went from purple to racing green hence was christened The Green Goddess. I also liked the reference to being green because part of the business model is to be ecologically aware and of course the reference to the feminine made sense too! I started small and did jobs for friends and acquaintances, slowly building up a customer base and reputation.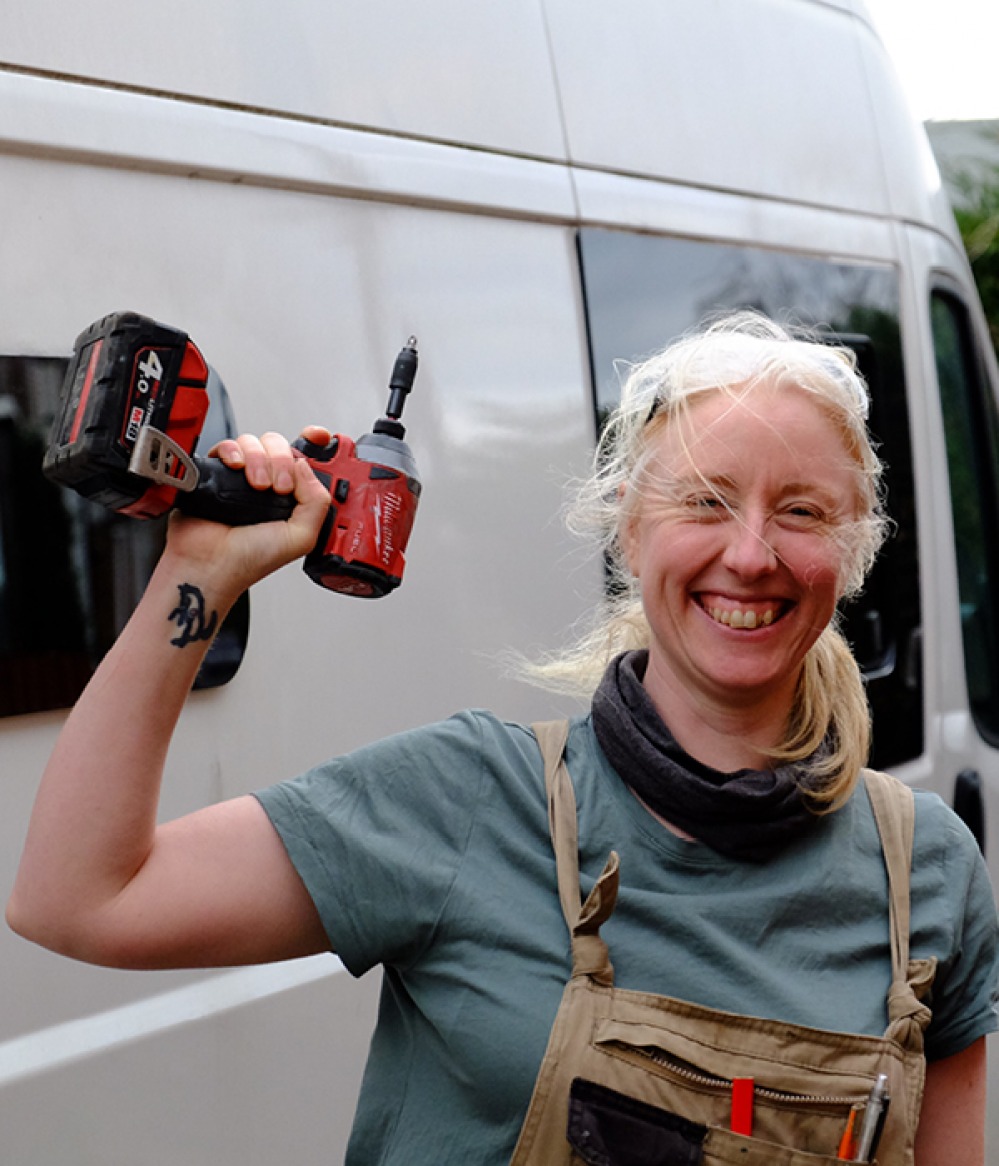 How would you describe the business now?
The business is currently a handywoman and joinery service operating in Durham and Tyne and Wear. We take on all aspects of handy jobs around the house like hanging heavy pictures, putting up shelves, replacing broken handles etc. But as my skills have built up over the last four years I have moved into joinery projects such as hanging doors, building stud walls, cladding, skirting boards and the like. Fay my new marketing manager has recently come on board too because I had lots of ambitions for the business but could never find the time to develop ideas or links, whilst building up a customer base and reacting to enquiries.

Have you always been interested in joinery?
No, not at all! I really didn't think anything practical was my thing for a long time. It was only when it became obvious that no one else was going to do it for me, that I realised how satisfying it was to fix and build things for yourself. It's really great for your mental health to see real results of the work you have just put in. I would recommend it to anyone, even if just doing a few small things around the home, if you are able to of course. This is why I really want to model this role for other women. Show that it is possible, in a 'if I can do it, you can do it' sort of way. It's also why I would like to be able to run courses in DIY the future.

You're also showing that woman are as capable as men – why is that so important to you?
I think in our modern age, where technology allows us to overcome the vast majority of our physical obstacles (not all of course), there is no reason why people can't pursue the career they are drawn to, regardless of their gender. I do acknowledge there are strength differences between most women and most men (working onsite with men, I can't ignore this) however I am able to overcome this generally with a bit of forward planning and tech help. It's not like any modern joiner is sawing away with a handsaw all day anyway, we all have our battery powered circular saws at our disposal. Plus I know we can bring other things to the table, to compensate and/or complement the more traditional workforce.
When being a woman in a 'man's world' seems like a disadvantage at first (the strength difference, the fact that at some point we are more likely to want to take maternity leave and need to shape work around childcare duties) it is still worth having a trained up female workforce because we can do the work it is harder for men to do, such as working with vulnerable people such as victims of domestic violence.
Tell us more about that.
Our offering is great for people who feel uncomfortable with workers in the house, and this is an area where our service can become more vital. We want all of those people who have felt nervous having workers in their home, to gain some reassurance by hiring us. Back to the not getting political or making assumptions again, (because the vast majority of trademen are perfectly safe) women are simply less of a physical risk and so, like it or not, fair or not, some people are going to feel happier about us coming into their private homes. Therefore, if the choice is either hiring us or not getting the jobs done at all, I would rather they hire us. This issue becomes even more important when it comes to working with women's shelters, which is an area we want to move into in the near future.
What do you think makes you stand out over other joiners?
Well, being self taught and still a relatively new joiner, the things I have going for me are humility and conscientious at this point! The world of woodworking is vast and the more I know, the more I realise I don't know, which I think is a good place to be.

Over other joiners I would say I am a competent small scale joiner who has learned from real world experience but also someone who can appreciate that really beautiful joinery is absolutely an art form which I am just about getting to grips with. If you called me for a complicated piece of work, I have made contacts with some outstanding craftsmen and so if I feel like I could not do the work myself, I would recommend you to them. So in short? I am a good small scale joiner and I am honest, with great industry contacts!
Plans or hopes for the future?
We plan on having a team of handy, competent, confident women fixing up the North East! We really want to fulfil that service and create work for others in our area. We want to provide the service to women's shelters across the North East and beyond, because that is where our service could be vitally important. We want to run courses that get women (or anyone low in confidence) into doing DIY. We live in uncertain times around the housing market and access to skilled labour, so I say invest in yourself and in improving the property you live in for now – those are two very sensible investments, in my humble opinion!

What do you love most about being based in the North East?
Apart from my days as a van lifer and studying in Liverpool, the North East has always been my home and most of my family still live here. I am very proud of where I come from, our history of being the powerhouse of the industrial revolution and all the art and culture that comes from here, maybe because of that, maybe despite of that? Plus I love our beautiful countryside, beaches and the older history we still have – the castles and the prehistoric rock art we can go and find for free! I also am really proud of how friendly and chatty we are. If the business were to expand out of the North East, I believe we would still credit our friendly, down to earth communicative style as having North Eastern roots!