Meet the Ethical Jewellery Maker inspired by the coast
Finding a successful career that combines your passion with your livelihood is pretty rare, but Geri Atkinson has done just that
Smugglers Treasures is an ethical jewellery brand inspired by her childhood days at the coast.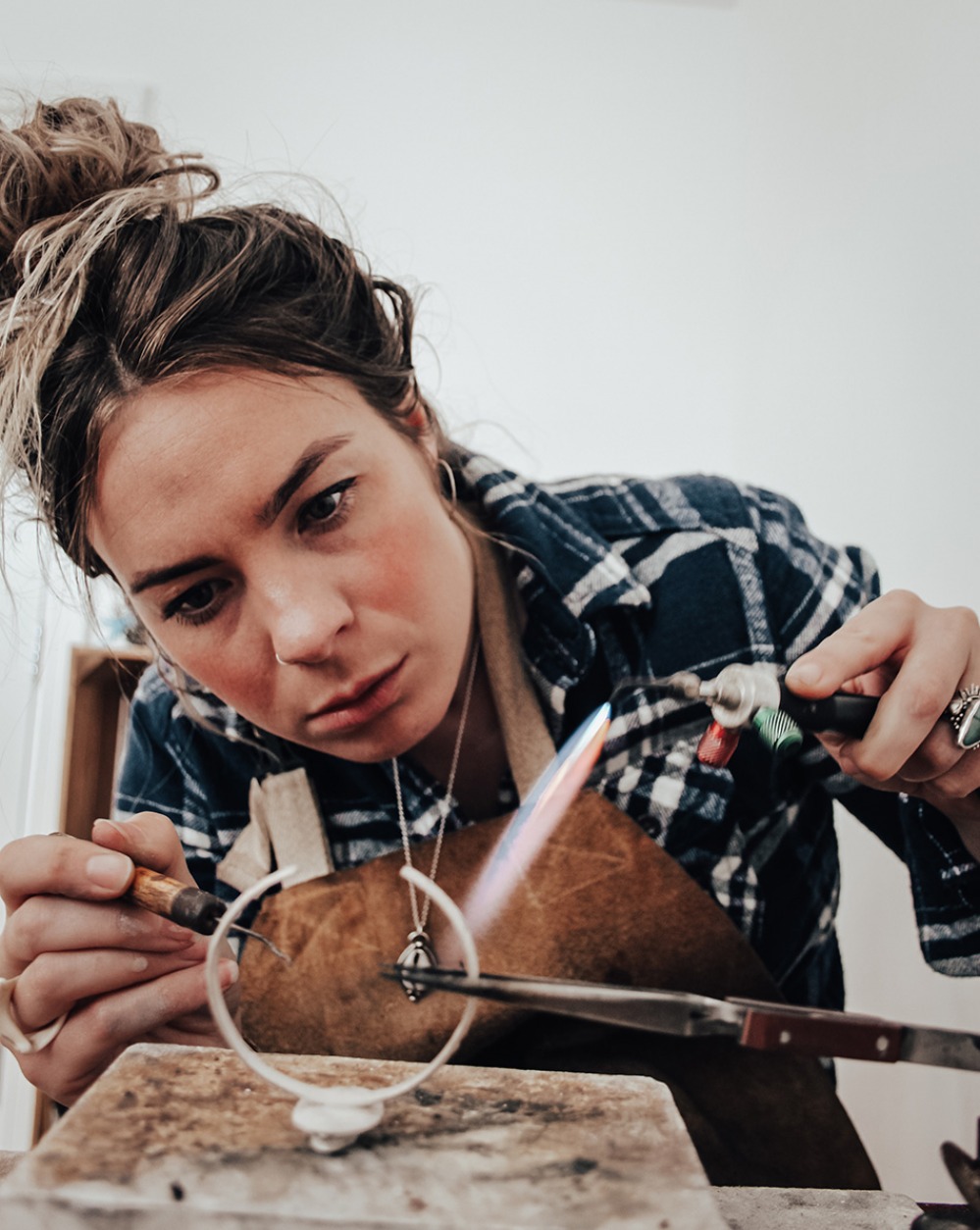 Tell us about your background.
I think growing up in Staithes has had a huge influence on me and the work I produce, because it gifted me so much freedom as child. I can remember running down the cobbled streets and alleyways barefoot and sandy, building dens in the cliffside and jumping off the tallest vantage points into the sea. I think these early experiences have embedded in me a need for the outdoors and an affinity with the ocean. As an adult I've been a keen traveller and have been fortunate enough to experience different countries and cultures with my husband. But it's really the cold waters of the North Sea that draw me in – it's a place of solace and where I spend a lot of my time.
How did Smugglers Treasures come about?
Jewellery making actually started as a sideline to my acting career, as it was a creative outlet that was flexible around auditions and acting jobs. I've always had a passion for jewellery and I remember rummaging through my mother's jewellery box, trying on her rings and bracelets, just fascinated by the different styles and textures. I used to work at The Bead Shop in Manchester and it occurred to me that I could use some of the beach glass I had collected over the years whilst beach-combing the shores. I've never had any formal training and when I first started the business and in the early days my designs were basic, using wire wrapping and beading techniques. As time went on I was keen to expand my skills and took a silversmithing course, which taught me techniques such as filing and soldering the silver.
What's the idea behind the business?
I want to give a new lease of life to objects I find along the beach and highlight their beauty and connection to the natural world. From the very beginning, I wanted my work to be as sustainable as possible – it wasn't a conscious decision as such, it was just the logical thing to do. The business was born from a love of nature, as well as a need to protect it. From the gemstones I source, to the recycled silver and gold I work with, right down to the packaging I use, I aim to tread as lightly as possible.
What inspires your work?
I find inspiration through art that I see, different cultural influences, symbolism throughout the ages, and of course the biggest one, mother nature herself. For me jewellery is so much more than just an accessory, it's a powerful thing that can help alter our mood. This all influences the way I work and design my pieces. Each piece tells a story and I see them as heirlooms – from starting in my hands at the bench, to then allowing the wearer to make their own interpretations. I'm not making fast fashion or throwaway accessories, it's much more than that. They're talismans that help guide and protect you.
'I want to give a new lease of life to objects I find along the beach and highlight their beauty and connection to the natural world'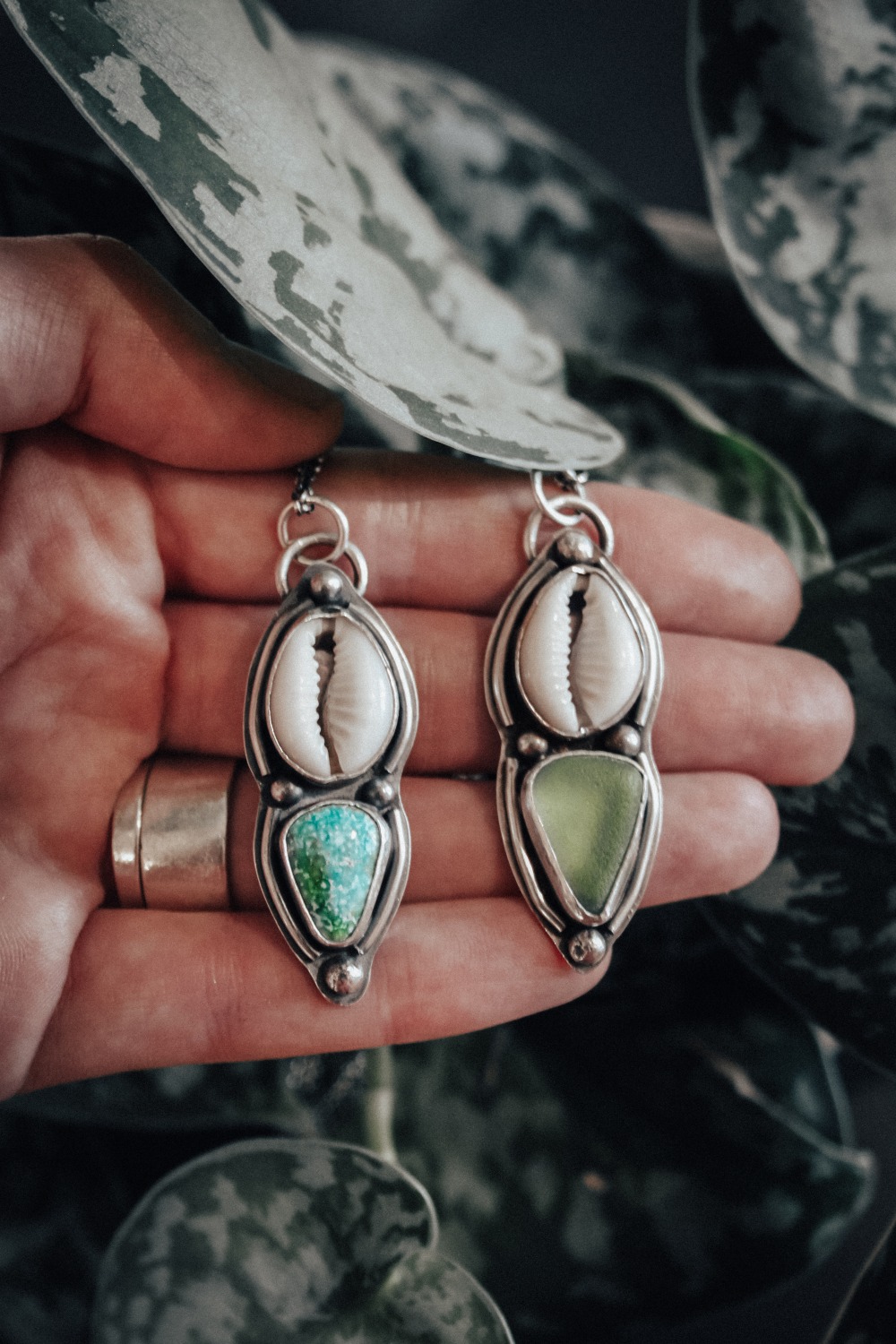 Talk us through the artistic process of making one of your pieces.
I keep a note of everything that comes into my head so when it comes to making a new collection I go through all of my ideas and see which ones I'm drawn to the most. From there I'll start to sketch them out, developing as I go. One of my favourite parts of the process is picking out the sea glass and stones I want to work with – seeing these laid out on my sketchbook with the design drawn around really helps bring the vision to life. When I start making the jewellery I really get into the flow of metal-smithing – it's something I find hard to stop once I've started. A lot of my work is textured and I like to add a patina to highlight the details, which initially makes the silver go black, but then when I polish it up its intricacies are finally recognisable.
What are you working on right now?
There's lots of wedding bands and engagement rings on the go at the minute, and I feel incredibly honoured to make such sentimental pieces that mark such significant chapters in people's lives. After that it's time to work on a new collection, which I'm eager to get started on.
Do you have a favourite piece?
That's a tough one because so much time is poured into each piece of jewellery and many of the designs are one of a kind – it's often hard to let them go. I do really love the organic collection that captures nature's fragility in precious metal. I also love to layer the necklaces, I often wear the Nusa Cowrie and Whitby Mussel Shell at the same time. And, I'm a sucker for anything with turquoise in it.
What does a typical day look like for you?
One of the things I love about my job is that no two days are the same. Because I work alone there's always something that needs to be done, whether that's admin, photography or social media, and they all take up so much time. But, I actually really enjoy every aspect of running my own business, and the more mundane jobs are just a nice distraction when my creativity isn't playing ball. Typically though, I will try and get outside and on the beach, having a scavenge for any sea glass that's washed ashore.
What's the best thing about what you do?
I feel incredibly grateful for the creative freedom that jewellery making offers me. It also allows me to spend time down at the beach and by the sea, and there aren't many jobs where your passions intertwine with your career. For me, Smugglers Treasures has allowed me to express my interests, whilst creating a platform to highlight the need for sustainability. I still blows my mind to see something I've created being worn and loved by others.