Meet Fairy Maker Samantha Bryan as She Celebrates 20 Years of her Creations
Samantha Bryan is known across Yorkshire for creating fun fairies. After all, she's been doing that for 20 years now
Samantha, who grew up in Dewsbury, West Yorkshire, is celebrating her work with a new picture book and an exhibition at Yorkshire Sculpture Park. She works from her studio at the bottom of her garden in Mirfield.

Referred to by some as 'Brain' because she spent much of her time in the metal workshop sporting a white coat and safety goggles, constructing wiry contraptions, Samantha's fairies are all unique characters. Built around a wire skeleton, their heads are moulded out of air-drying clay, and fairy bodies are hand stitched in fine gloving leather.

Collecting is a huge part of Samantha's making process. Frequenting second-hand markets, junk shops and car boot sales is intrinsic to her life as a maker and she gravitates towards the old fashioned, the oldy worldy and the retro. The difficulty is parting with the treasure. On her last count, she had 12 typewriters… but you always need back up, surely? We find out more.
How did you get into art?
Very, very early on (primary school age) I went to a lunchtime art club run by our head teacher. I remember it feeling very significant and special to have my own sketchbook. This was probably the thing that sparked a love of drawing and making things. I loved art and DT throughout school but it wasn't until my A Levels that it felt like something that I couldn't leave behind. So I applied to get onto a Pre BA foundation course at Dewsbury College whilst my friends moved away to university. Once the year was complete I went on to Hereford College of Art & Design to study Design Crafts (mixed media).
Why fairies?
Hereford was an unusual course: the time and the work made by graduates captured my imagination. There was no material specialism necessary, you could move between the various workshops (wood, ceramics, textiles and metal) as required. We were encouraged to delve into our past, to find what made us tick. I began exploring the stories that my nan told me as a child. She didn't read to me. She would customise fairy tales, and cobble them with our adventures and her imagination. She often failed to remember the plot and character specifics of my favourites so it became quite a collaborative process.
The first fairy came out of a project brief to create a witty Christmas character. I created quite a traditional fairy at first. It was gold, shiny and wore a flimsy skirt and ornate headdress. This then developed into a creature inspired by insect bodies, plants, flowers and seed pods. Eventually a species of fairies evolved. Having them as fairies enables me to use that to hinge the humour around.
How do you create them?
I describe my sculptures as mixed media; each employs a core blend of materials – leather, air drying clay, brass wire, brass sheet and wood. However, additional materials are introduced to the mix as and when design demands. The construction process is labour-intensive and involves a variety of skills. I incorporate small metalworking techniques, soldering and spot welding with woodworking.
My contraptions are mainly constructed in brass, that is manipulated into shape, and silver, soldered into place. The metal structures are then chemically treated to give the impression of age. Problem solving forms a large part of the process. For example, how to attach a long spot-welded tail to an old tin can when building a fairy helicopter. I enjoy the challenge.
You're marking two decades of your internationally successful creations. How does that feel?
It is actually hard to believe that it has been 20 years. I feel proud to have built up a successful creative practice that has stood the test of time. Against the odds, fairy making has continued to thrive. It feels wonderful to have collectors around the world
How does it feel to be honoured by the Yorkshire Sculpture Park (YSP) with The Adventure So Far?
The YSP has been a place close to my heart since my early collage days. It was also one of the first places that I exhibited. So to be able to share and celebrate this milestone with them is perfect.
You have a commemorative book coming out too?
Yes! It is so exciting; the book is with the printers as we speak. I have always wanted to release a picture book. It's a commemorative piece featuring a selection of my favourite sculptures. It combines early work, sketches and studio photography that visually narrate my journey as a maker so far. It is not a story book, more a compilation of 'best bits'. It has grown significantly during production as there were so many pieces that I wanted to share. It is now more than 170 pages as opposed to the planned 100 (oops). I wanted to put something out there for all the people who follow my work. In the end, it is actually funded by fairy followers worldwide. A successful Kickstarter campaign helped to raise the funds to self publish.
What have been your career highlights?
So many, but the things that stand out are also the biggest challenges. Creating a 3-metre-long fairy blimp for a local health centre, creating pieces for Moorfield Eye Hospital, teaching in Australia and New Zealand, and my largest solo show at Gallery Oldham. There are also the significant pieces, I have made some incredibly special pieces over the years. A fairy to carry an engagement ring, sculptures to remember special people, sculptures made as a lasting family legacy.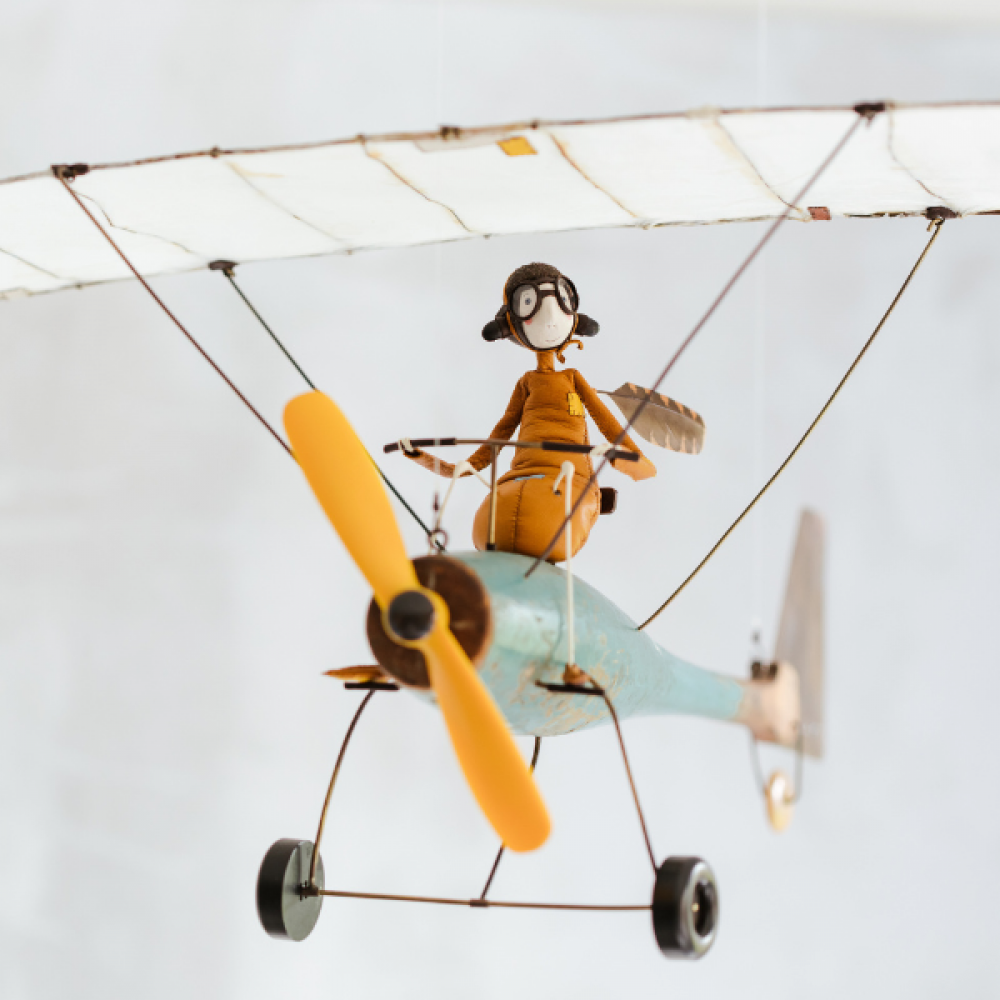 How do you feel the art industry has changed over the last two decades, both in the UK and in Yorkshire?
One of the biggest changes for me is access to customers. Much of my early career was spent working on exhibition pieces, rarely having any contact with my buyers. The development of the digital world has changed that significantly, with most of my work going directly to customers in recent years. It is now easy for people to find us and social media provides a means of creating an online community of buyers and peers. That said, galleries play a vital role.
Who inspires you?
Rowland Emett and Heath Robinson. Oliver Jeffers more recently.
Your favourite memories in Yorkshire?
Many happy memories have been made in Scarborough, when I myself was small, and new ones now that I have my boys. I'm happiest on North Bay Beach.
A peaceful place you like to go in Yorkshire?
I live around 20 minutes away from Yorkshire Sculpture Park. It has been one of my favourite places for many years.
Favourite place to eat in Yorkshire?
We have a gorgeous cakery in Mirfield – Qream T's Cakery and Pantry (I have a huge sweet tooth). Tommy makes the best chocolate orange brownies ever!
Your favourite song at the moment?
Grace by Bess Atwell, and for something more upbeat my all time get-your-feet-on-the-dancefloor track is Do You Love Me by The Contours.
The last book you read?
The Keeper of Lost Things by Ruth Hogan.
Where do you see your artwork going in the future?
I have a desire to make more picture books. A children's book in particular. And one day an animation I hope; I just need to find the right person/people to help.
Samantha Bryan: The Adventure So Far is at Yorkshire Sculpture Park until 23rd October 2022.