Meet the Gosforth Woman with MS Who is Taking on the Great North Run as this Disney Villain
Taking on the Great North Run dressed as a Disney villain, Sarah Atkinson is raising thousands for Morpeth-based MS Research and Relief Fund – a charity which has kept her going since her MS diagnosis
Sarah, who was previously a member of the Living North team, was given the life-changing diagnosis that she had Multiple Sclerosis (MS) in 2002 – and was told there is no known cure.
'MS is a difficult condition to first diagnose,' Sarah explains. 'It's different for every single person. One person with MS might be able to walk perfectly well, while another person might not. The first stage is called relapse and remitting – it's when you have a relapse when something happens. So, I would lose complete feeling in my legs and get a burning sensation in my legs, fingers and arms – that would go away and come back. Your nerves in your body are like an electric wire that sends signals, and when the immune system attacks itself, it's almost like a short circuit in electricity. At first your body can recover from that a little bit, but with each relapse you have, it can't protect itself as much. It's like a wire with the plastic coating eroding away.'
The second stage, which Sarah is now in, is called secondary progressive. 'That's when you have an attack that doesn't get better,' she says. 'I don't walk very well nowadays so I use aids to get around and I'm not as dextrous as I was. There's no medicine or drug available that is effective with secondary progressive. There's nothing out there that will re-coat your nerve again, so your only options are keeping a positive attitude (or trying to), exercising and undergoing certain therapies. Keeping social interaction going is so important to keep your mental wellbeing healthy.'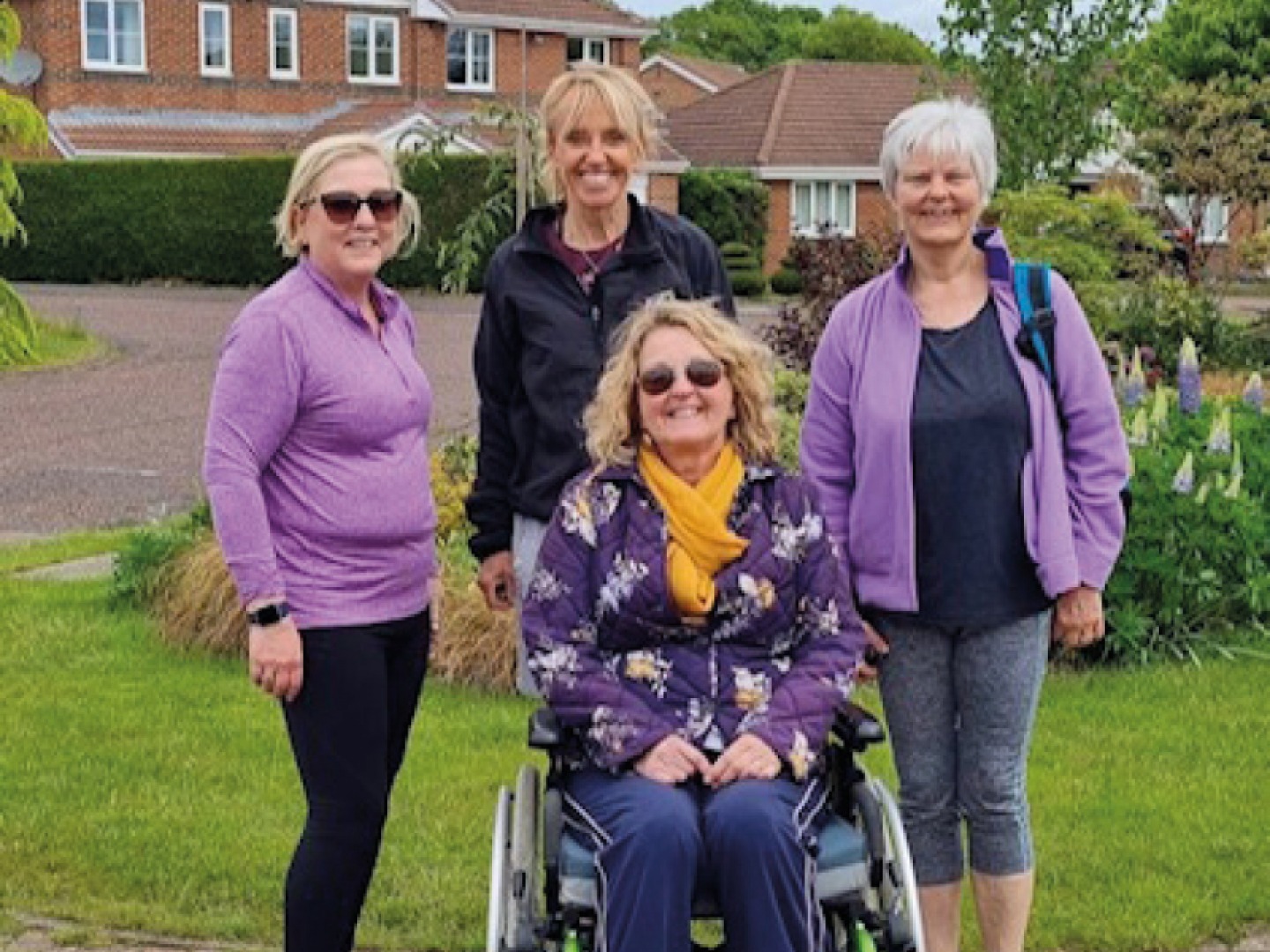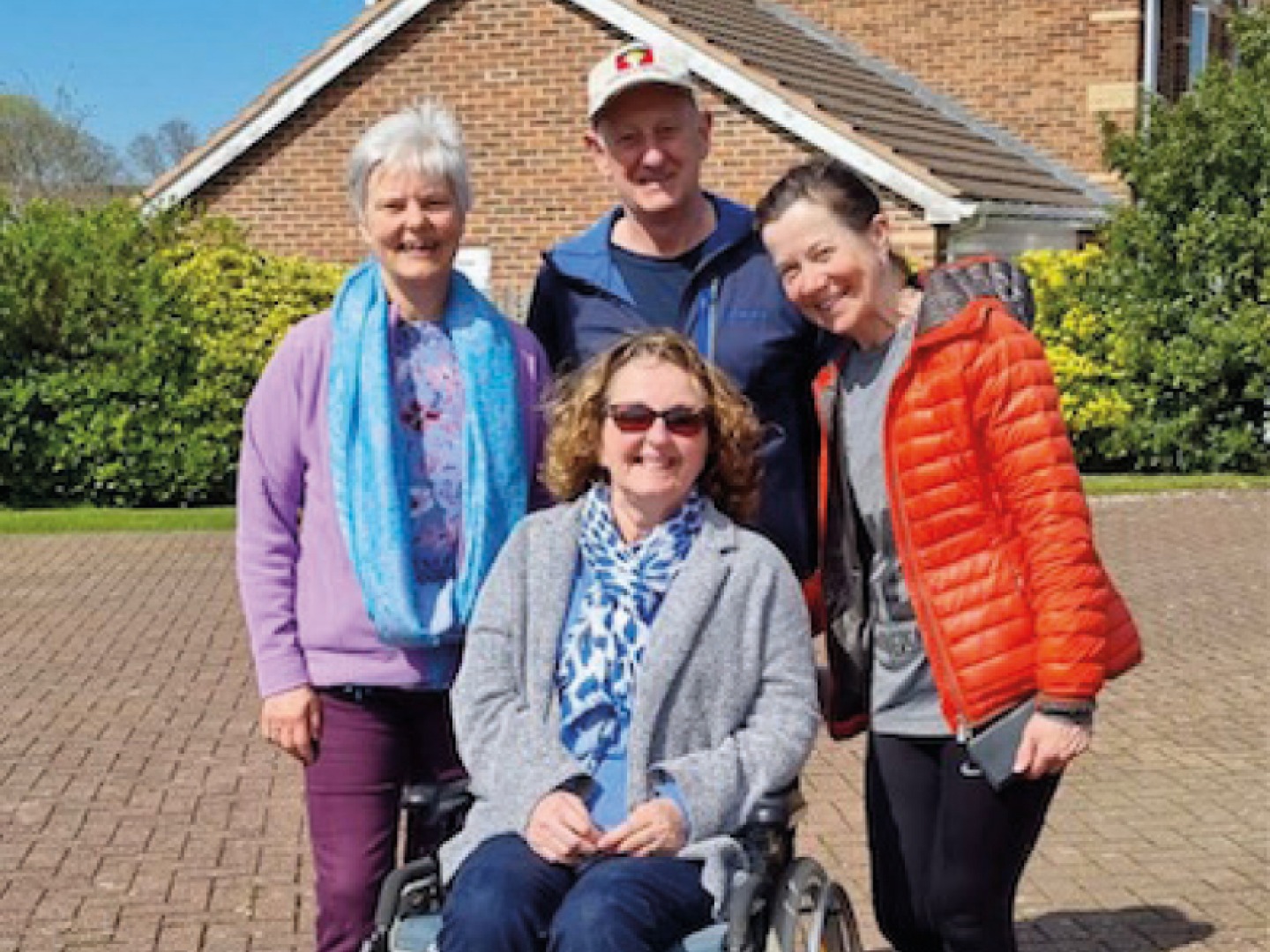 Although Sarah's strength and mobility have weakened over the years, her positive mindset certainly hasn't – and an operation in 2018 means (although she can't reverse the effects) Sarah's condition hasn't become any worse. She always focuses on her possibilities rather than her disabilities, and as part of her 60th birthday bucket list, Sarah wanted to compete in the Great North Run. She was inspired by people taking part in wheelchairs, and had taken part in the virtual version around Gosforth during the pandemic.
Now the time has finally come to try on her costume for the real thing. She'll be taking part dressed as Disney villain Cruella and her friends and family will be dressed as her Dalmatians, including Sarah's husband Keith, friends Stephen and Anna, and Sarah's best friend Sandra. 'We're going to go the full caboodle, with a wig and makeup to boot. Hopefully we'll look the part! Nuala and Fiona [who are also taking part dressed as Dalmations] are very keen to do it because they've done the Great North Run for years,' Sarah adds. 'They say the atmosphere is fantastic and they really want me to experience that too.'
'The two men are wearing Dalmatian suits which we found online, and they look absolutely amazing,' Sarah continues. 'The girls are wearing leggings and T-shirts and also look the part. It's really difficult because I wanted to wear something comfortable, but at the same time had an impact. I'm going for the black and red and the fur that Cruella is known for – and I'm also having my makeup done at my home on the morning. I've got to get up bright and early for that! The Dalmatians have decided not to because of sweat issues when they're walking. We didn't want them to look horrific at the end of the race if their makeup would run!'
Sarah (who has plenty of previous experience raising money for charities) is raising money for MS Research and Relief Fund who support people suffering with MS, as well as their carers. Sarah has personally benefitted from their exercise classes at Benmar House in Morpeth, along with the therapies they provide. 'The charity have suffered like any other charity and they've lost quite a lot of staff because they've not been able to keep them on, so it's important for me to raise as much money as I can,' she says. 'It's a lifeline for a lot of people, and their carers as well.'
The Fund are currently raising money for an anti-gravity treadmill called AlterG which can help enhance freedom of movement – therefore making exercise more effective – and Sarah is keen to do as much as possible to help.
Sarah has increased her fundraising target three times now. 'It's just amazing how generous people have been in these difficult times,' she says. 'I feel quite humbled by how many people have contributed. We ran a coffee morning which raised £1,800 so I've added that to the total. With gift aid, I think it's going to be over £8,500, which is just absolutely "wow!"'
Ahead of the race, Sarah and her team have been taking part in training walks two to three times each month. 'I think our longest walk was 10.7 miles and we thought if we can do that then we can do 13,' she says. 'We all got our numbers a couple of weeks ago, and we were very excited about that! Although people have got busy lives, we've really put our steps in and we're raring to go now. I'm looking forward to the day and I'm excited.'
Ahead of the weekend, Sarah is looking forward to experiencing the atmosphere – and seeing her family and friends along the way. 'They've all put a tracker on their phones,' she adds. 'You can tag your number and they can see where you are on the course. We also have a bucket for while we go around so we can whip the crowd up. Hopefully we'll have a bucket full of money by the time we reach the finish line!
'My husband says we're going to pass quite a few people on the way! He says we're going to keep a good pace. When we do the training walks we do hit a decent pace so hopefully we'll get a good time. I have a very fit team behind me! Those pushing are going to take it in 20-minute turns and when we hit the hills, there'll be two or three people pushing. I'm positive we'll get there in good time.'
Before they set off, Sarah wants to thank everyone who has donated, bought a cake or a raffle ticket, or simply been there to support them. 'They've all been fantastic,' Sarah says of her supporters. 'We've raised a really significant amount and it's just fantastic for the charity.'
To make a donation click here. To find out more about MS Research and Relief Fund click here.