Meet the Illustrator: Yvette Earl
Working between Newcastle and Carlisle, Yvette's illustrations are becoming instantly recognisable
Yvette Earl speaks to us about her love of pubs, the power of memories, psychedelic art, and the beauty of northern architecture as she reflects on her sudden acclaim in the Newcastle art scene.
Yvette Earl a graphic designer and independent illustrator working between Newcastle and Carlisle, has made a name for herself creating beautiful prints of pubs and venues across Newcastle. Striking and instantly recognisable by her playful characterisations of buildings, Yvette uses surreal colour patterns, psychedelic textures, and abstract use of celestial skylines to create almost dreamlike scenes of Newcastle's most iconic drinking places. The artistic lens Yvette sees Newcastle through is a love letter to its culture, as she believes the city is an artistic hotspot in the UK.
Yvette's work began to take off after she drew the Bridge Tavern during the first lockdown. 'I drew the Baltic and the Bridge Tavern because I love Newcastle architecture, and it suddenly took off – I just love pubs! I think that's what drew me to these places, they have such beautiful typography and signage, especially in Newcastle. Victorian pubs are my favourite, the windows and architecture are stunning,' she explains. 'The Crown Posada recently bought the rights to the print I made to use in their official branding, which is obviously amazing! Pubs put so much effort into their aesthetic.'
Yvette's art feels personal, it's an eclectic mix of scenes influenced by L.S. Lowry's northern charm, personal memories of the places she draws, and psychedelic colour-play.
'My work is a mix of psychedelic colours and surreal patterns with strong textures, it's a very graphic style. I don't pay attention to realistic sun positions, I'm obsessed with the night sky – exaggerated colours, lots of stars. I take my reference photos of projects in the day because I don't want to be influenced by the night sky, I want to make that up myself and have fun playing with those personal touches,' Yvette continues. 'I don't want to draw a carbon copy of the building, otherwise you could just get a photograph. I like to make lines wobbly, play with colour and lighting. On some bits I'll go into loads of detail, on others I'll make up those details with scribbles. Labouring over exact details can become a bit laborious if you do it all the time.'
'During lockdown I really wanted to be back in these places I began to draw, especially the pubs. I think that's a part of what inspired me to start illustrating them'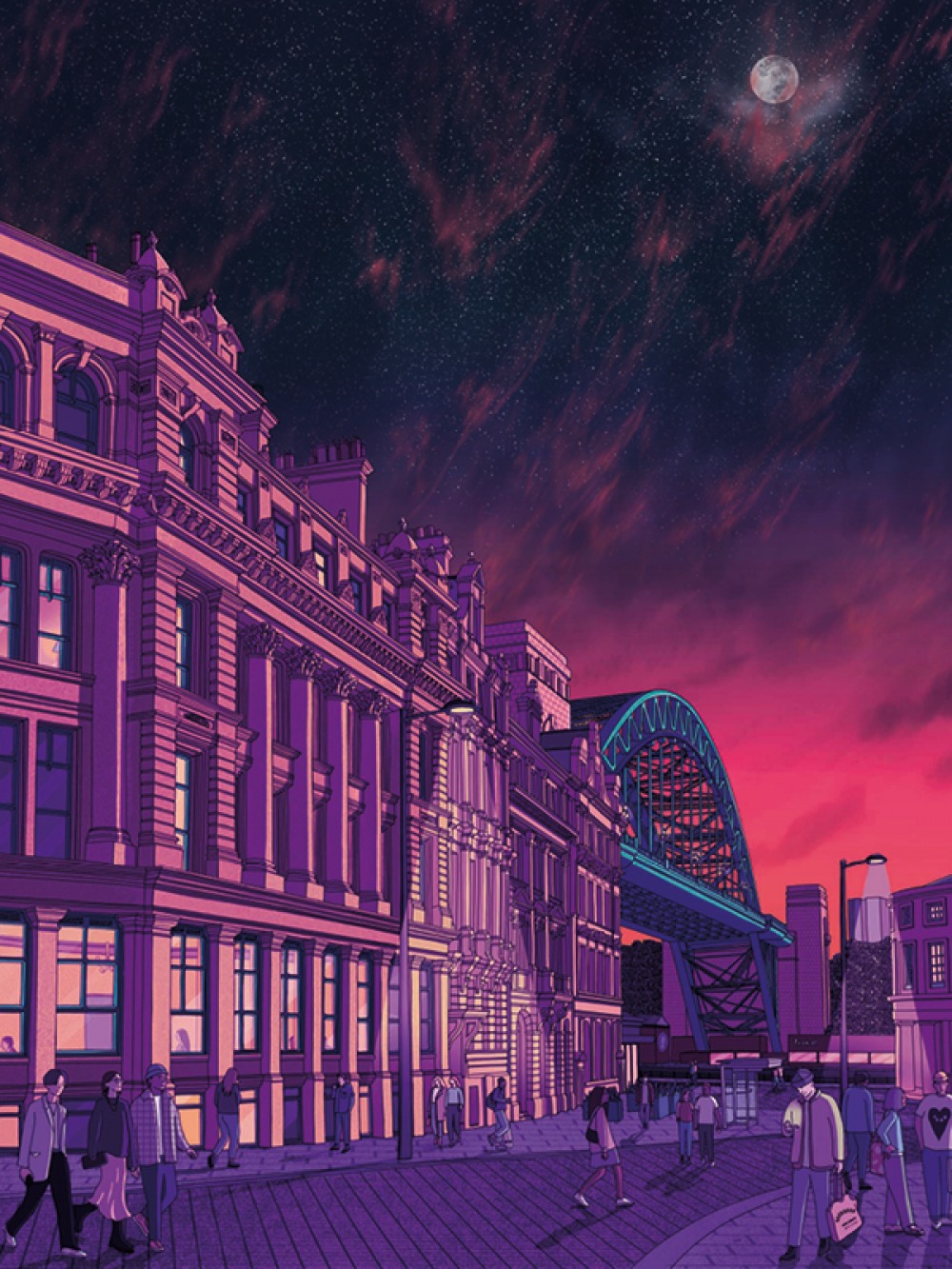 Inspired by Lowry's focus on northern characters as a child, Yvette has interpreted her love for people into her artwork, making every subject within her prints a part of the building's wider story. Bustling scenes of pubs are filled with mates chatting over a pint, petting their dog, or staring into the distance; warped slightly by Yvette with playful details such as adding herself and partner into the scenes. Like the memories she passionately wants to capture, her artwork often lies somewhere between what we remember and reality.
Two of Yvette's favourite pub drawings are The Free Trade Inn and The Tyne Bar. 'These pubs hold such a human connection, I think it's another reason why I like drawing social venues. People have often said they look at the drawings and it reminds them of a certain night – I love that,' Yvette says. 'I used to worry about drawing people, but now I think they're so important to the scenes. They'd look wrong without them.'
'I observe people a lot in the backgrounds of photos (sneaky, I know!), and I love to use them in my drawings in fun ways,' Yvette continues. 'I love fashion, I love to dress subjects in the background of my reference shots in clothes that I like – favourite band t-shirts, things like that. It feels like dressing them, it's really fun! It reminds me of playing with those little dolls that you'd dress in paper clothes when I was little,' she laughs.
Talking about Ouseburn's art scene, Yvette emphasises the importance places we love have on informing the way we create and consume art. 'The North East is what spurred me on to become an illustrator in the first place. It's such a creative art scene, especially in Ouseburn – all the street art is amazing. The architecture in the North East is stunning, especially around the Quayside where the Tyne Bridge emerges out of the buildings. It's beautiful,' she tells me. 'But people are a huge part of what gives the North East such character. It's unapologetically welcoming in a big way, especially working with businesses in the North East. I've learn that it's unique in how willing businesses are to display public art. 'The rest of the UK could really learn from that!' Yvette exclaims. 'The North East embraces art and it makes life feel like a walking gallery.'
Yvette's artistic career is consistently reaching new heights, most recently recruited by the art collective AnyForty to contribute to an arts campaign by Swedish company giant StickerApp – an online business that allows creatives to design and print their own stickers. Doing her bit, Yvette chose to give back to the community she loves so dearly, designing a loving window tribute to Ouseburn in local cafe bar, Ernest.
'I designed obscure parts of Ouseburn that I love that were then made into stickers through the StickerApp campaign, displayed in Ernest's windows. They were going to be temporary but they've kept them up permanently, which I'm thrilled about. They even made a film about it that's available on Youtube,' Yvette says. 'I was so shocked to work with such a massive company, and since then I've had quotes put in with national companies, too. None have gone ahead yet, but it just shows that things are moving in the right direction. I'm getting noticed now.'
Reinvigorated by recent success and enduring support, Yvette is excited to dive back into her work with more designs, coasters, limited edition prints and a newfound confidence. 'People always fill themselves with crippling self-doubt, you're your own worst critic. I am, anyway. Seeing your work get positive attention and making the right steps forward is a big boost. I just can't wait to do more.'