Meet the Maker: Wellness By Manuel
We caught up with Manuel Benages, the creative force behind Wellness by Manuel
His aromatherapy products that can help us stop burning the candle at both ends.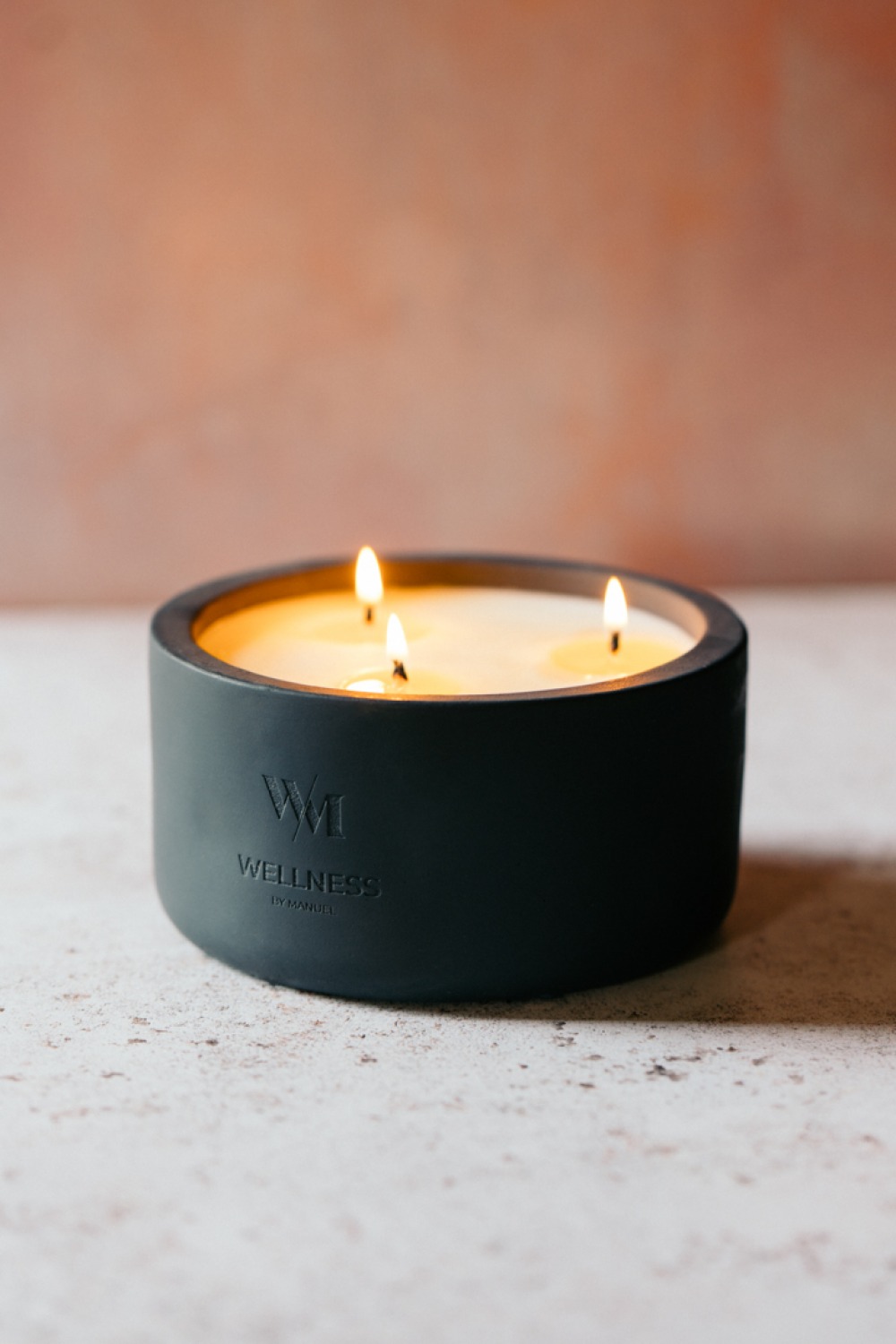 Tell us about yourself.
I am the co-founder of Wellness by Manuel and the charity Get Fit 4 Mental Wellness. I am committed to changing lives by promoting mental and physical wellness.
What inspired you to create Wellness by Manuel?
2020 was a tough year for all of us, and everyone's mental health took a massive hit. I held weekly support groups, but obviously I could no longer hold these in person – so the idea naturally came about from there. I wanted to bring a complete wellness experience into the home to help improve people's lives in whatever way I could.
How did the concept of the Wellness Candle come about?
The concept for our candles came from the overwhelming demand, and wanting to create the ultimate wellness experience. With the help of my small family team of five, we thought about every aspect of the candle, from the packaging to the scent, with the goal of stimulating mental wellbeing – and having as little impact on the environment as possible.
How do the candles help people's mental wellbeing?
Aromatherapy is really beneficial to your health. Essential oils can improve sleep, relieve stress and help you unwind. With life becoming busier these days, aromatherapy, holistic and organic remedies are becoming an important part of many people's daily routines.
Why should we get into meditation?
Meditation has changed my mental wellbeing for the better and I encourage everyone to try it at least once. Meditation doesn't have to be the clichéd version you often see portrayed – it's entirely personal preference, and can be as simple as lighting a candle after a long day and relaxing. We have guided meditation videos on our website and a QR code on the packaging of the candles that takes you straight to this.
'We thought about every aspect of the candle, from the packaging to the scent, with the goal of stimulating mental wellbeing'
You also founded a charity: Get Fit 4 Mental Wellness. Tell us more about it.
I founded Get Fit 4 Mental Wellness with the goal of helping people improve their own mental wellness, as well as that of others around them. Myself and the team have created an eight-week Mental Wellness Programme, where participants can access life-changing therapy, psychoeducation, fitness and nutritional advice. The programme has had amazing results. We also hold a weekly support group, 'Walk and Talk', on a Wednesday evening, as well as the 'Scammonden Steps Challenge' every Sunday – both are free to attend and open to anyone. You are welcome to come along on your own or with your family, meet with others and enjoy a walk and a chat. The groups bring people together who have an understanding of the difficulties mental health can create, with a focus on promoting mental wellness and supporting each other.
How has it been building your business from Yorkshire?
Amazing! Yorkshire is a beautiful place with a lot of new, developing small businesses like ours. We are lucky enough to be located in Morley, which has seen a massive regeneration project in the last year and we're just a few minutes away from Leeds city centre. We are now busy up and down the country getting our movement to a wider audience.
What does your typical day look like?
My day starts with morning meditation and a good workout or yoga session. I then head out to my work ventures and always get back and light an Unwind Wellness Candle, and have an early night.
What's your bestselling product?
The 3-wick Unwind Candle – we have had really good feedback from all of our products but people really seem to love the lavender scent and the look of the grey pot – I guess it fits well with people's decor!
What are you reading at the moment?
At the moment I'm reading Tame the Primitive Brain by Mark Bowden, which is all about managing our most impulsive behaviours.
What's your drink of choice?
Water and lemon.
wellnessbymanuel.co.uk