Meet the North East Glass Maker Who Makes Decorative Glass
Jane Charles Studio Glass is one of the last independent glass makers in the North East
With over 40 years' experience using the traditional blown hot glass method, we catch up with Jane to find out more about her glass and what we can expect from her this festive season.
How would you describe your brand?
My brand is Studio Glass so I'm making perfume bottles, vases, sculptural forms, bowls, etc in 24 percent lead crystal glass. It's a decorative glass using the traditional methods of hot glass so it's all blown. I do also do a lot of commission work where I do wine glasses or one offs, so it's right across the board.

Where do you find inspiration for your pieces?
The inspiration comes from the natural world and it also comes from the material itself. Quite often I see something happening in the glass and I think, I must go back and revisit that. You can't force inspiration, it just comes in the strangest times. It has certainly held my attention now for well over 40 years!

Where do you source materials?
Interestingly the clear glass, that's the molten glass in the furnace, is recycled because I buy cullet from Cumbria Crystal – this is broken up pieces of glass that they are literally going to throw out. So I buy it by the tonne and then when it comes to me I put it in my furnace and melt it at about 1170 degrees celsius.

Then I also use a lot of colour in my work and the colour itself comes from a place in Germany. I've dealt with them since I started the business in 1987 and I buy the colour in different forms. I buy it in what's called rod that turns up like long sticks of rock and I chop bits off then melt that onto the end of a blowing iron and encapsulate it in the molten clear glass. What that will give me is solid colour so looking at it you would think it's a piece of say pink glass but it's actually a layer of the coloured glass on the inside and I've blown it into the clear glass. Then the other way is I have lots of coloured grits and powders. I have a metal table which is called a marver and it's like an artist's palette if you like, as I lay all the coloured grits and powders, depending on what colour I want to use, out on this metal table and then I can roll the molten clear glass into it.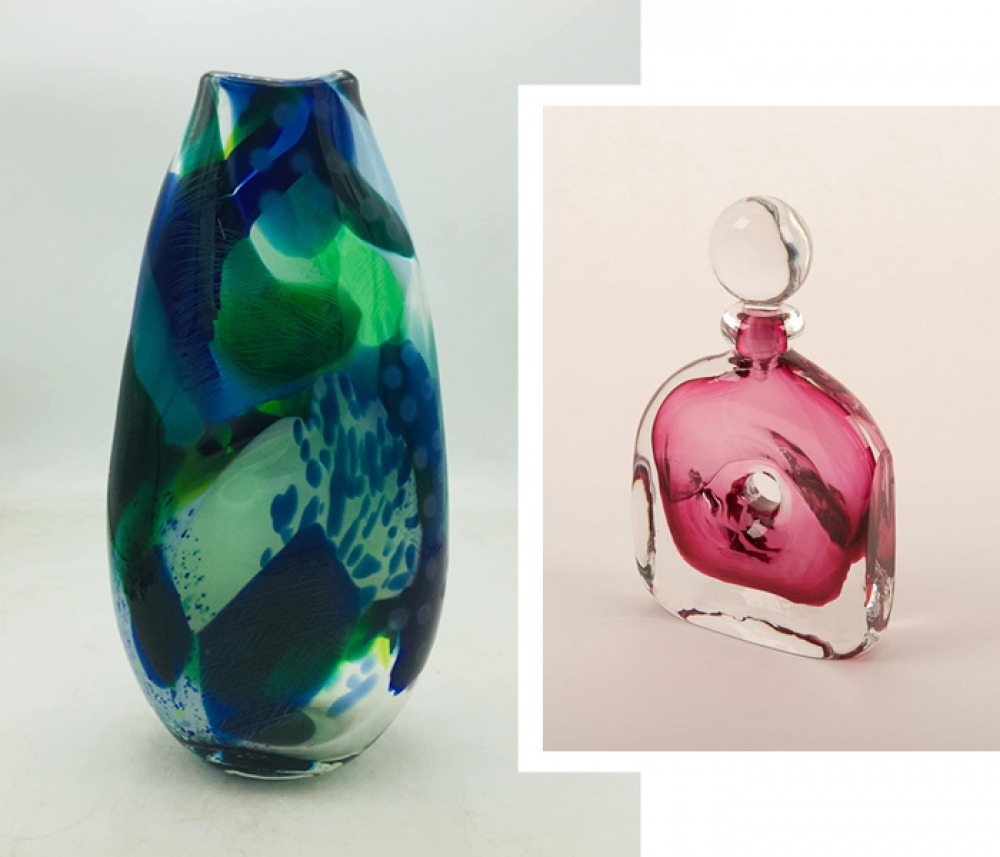 Tell us about your typical day.
In the old days I had people working for me and it was really driven and hectic, but now I'm winding down and I've really returned more to what I was meant to do really which is just working by myself. A favourite day for me is in the studio. When I get in in the morning, I open up the kiln with yesterday's work in as that has to cool down very, very slowly overnight. Then I get the furnace ready – there's a skin that forms on the top of the glass in the furnace so I've got to rake that off. I then have to switch on the re-heating chamber which is the glory hole, so it takes probably about an hour to get everything fired up and ready to work.

What I do next depends on what's happening and whether there's lots of orders but I like to keep a nice balance of what I'm doing. I do work to order which is obviously set making, so I'll put a list together and I might be making perfume bottles or I might be making bowls. But I'm not a production glass maker and I get bored if I do lots of one thing, so I like to do bits and pieces throughout the day. I like to balance it with playing about with experimentation and new work. It's really important to keep that balance because it keeps me happy and interested, and it keeps my customers happy and interested. It doesn't matter if I'm making a tiny piece or a large expensive one-off piece, I love working with glass and just enjoy the evolution.

I usually start glass making at about 10.30am and work til 1pm and I'm lucky as my unit is quite close to the river Tyne, so I love to walk my dogs down by the river. I then crack on again for the afternoon and work until either I'm finished, or sometimes work until late in the evening because I just get lost in the process. Each day is very different which is really enjoyable.
'The gifting potential of my glass is huge, whether it be a secret Santa with the small swirly bottles or potion bottles, or a special one off with the diatom bowls or ocean wave bowls'
What have you been doing to prepare for Christmas?
Working like a maniac! Working alone I need to be focussed so with my regular customers, certainly the shops and galleries, we've been talking Christmas orders since July/August time. Again, it's a balancing act of building up lots of stock for the events because basically the last six months of the year is where I make my money and so you've got to be really prepared. So I ask my regular trade customers to get their orders in as soon as possible and it doesn't necessarily mean they have to have the orders that early, they just let me know when they want them but at least I've made them.

I also spend a lot of time thinking about my stand for events I'm doing and the work that I want on it. I want obviously as much variation as possible so there's something that might interest everybody. It's a real funny thing that I sometimes think 'oh god I haven't got a bowl, that's really bad' for instance but the person looking at my stand, they don't know that there isn't a bowl there, all they see is the actual work itself. Also price points, because in this day and age you have to have something for every budget.

It's also interesting because there's always a last piece made before the show and there may be an odd piece that I'm particularly happy with, and this is going to sound nuts but these pieces seem to shine at shows. Quite often there'll be a piece that I'm really pleased with and people will be drawn to it even though I'm not telling them I'm really happy with it.

What's your favourite thing about what you do?
It's a lovely and varied mix of working to order and making work to sell in direct touch with the people that are buying the work which is nice. The good thing about doing the direct selling events compared to selling to trade at shops and galleries, you are actually meeting the people that are living with the work which is fab. There are some people that I don't even know but have been buying my work from galleries for years and years and then they might come along to an event not realising I'm there. It's great to hear how much they enjoy the work and tit's a nice feeling to know that basically I'm giving pleasure to people.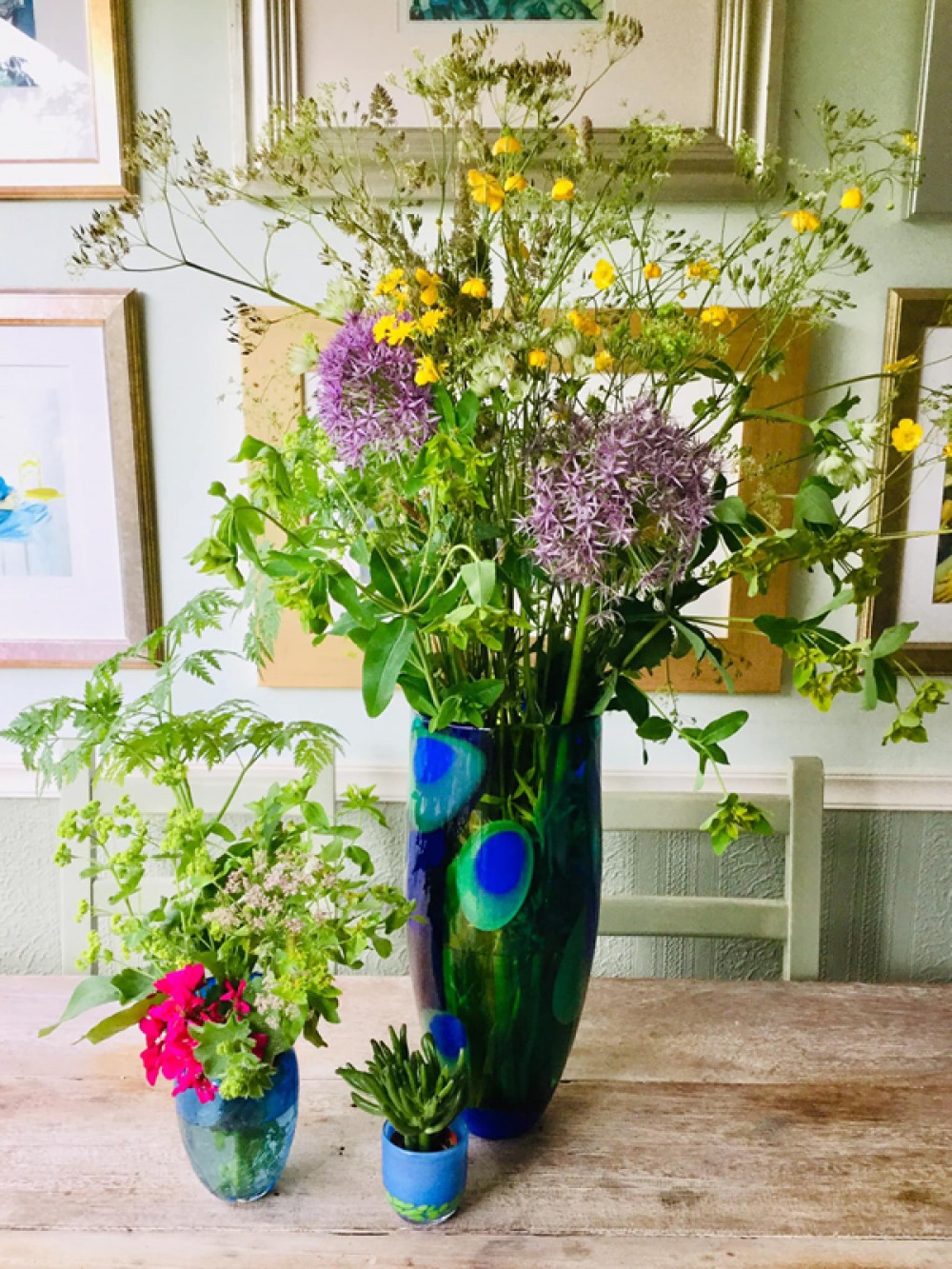 What's the hardest part?
I suppose the most challenging side is the juggling factor. Working on your own, you have to do an awful lot and the thing that's become really important, pushing on social media is so important. I'm that generation where I wasn't bought up with computers and I just missed them all the way through school and college and beyond, but I've had to learn smart-ish that you've got to do your social media and that can take up quite a lot of time. Sometimes the glass making itself is actually quite a small part of the whole business, because as well as that you've then got to do the finishing, you've then got to do the pushing of it, you've got to be in touch with the trade galleries, you've got to be looking for new shops, you've got to be dealing with social media side of things, you've got to be looking at and applying for new events, then you've got the cold-working finishing side of things once the work has been made, you've got all the packing, so there actually are so many cogs in the wheel. There is so much to do that sometimes I find it quite overwhelming and it would be lovely if I could just be glass making all the time, but sadly you can't, you've got to do all sorts of things.

It's a full time business which has supported me now since I set up in 1987 and that's sometimes a tricky one because at college they don't train you to be a business person, they train you to be an artist.

Where can we buy your work?
As far as shops and galleries, I sell to the Mick Oxley Gallery in Craster, the National Galleries of Scotland, Strathallan Gallery and the Saltwater Gallery in Arran. I sell down South as well, and I have a selling site called the British Craft House which is a new thing for me.

Anything you want to add?
I'm just very lucky to be able to earn a living from doing something I enjoy. I don't know why but it was always really important for me from being a wee girl that I had to do something that was really fulfilling and I consider myself so incredibly lucky that I bounce out of bed in the morning and I can't wait to get cracking with the day.

Sometimes if I'm driving into the studio or wherever I am I see people standing at the bus stop looking throughly miserable and I just think wow aren't I lucky that I can do what I do, and I can earn a living from it. Everyday is a good day, so I'm very lucky.