Meet the Proud Yorkshirewoman and The Apprentice Candidate Who Owns a Popular Bridal Boutique in Holmfirth
Bridal boutique owner Shannon Martin reveals her journey into the wonderful world of weddings, how her recent appearance on The Apprentice was a decade in the making, and why she's a Yorkshirewoman and proud
Shannon appeared on series 17 of the BBC show hoping to be the first business partner to bring Lord Sugar into the bridal industry. Despite an early exit, choosing to withdraw from the competition in week two, things are looking up for her multi award-winning boutique Dotty Bridal in Holmfirth (named after Shannon's late grandmother, Dorothy).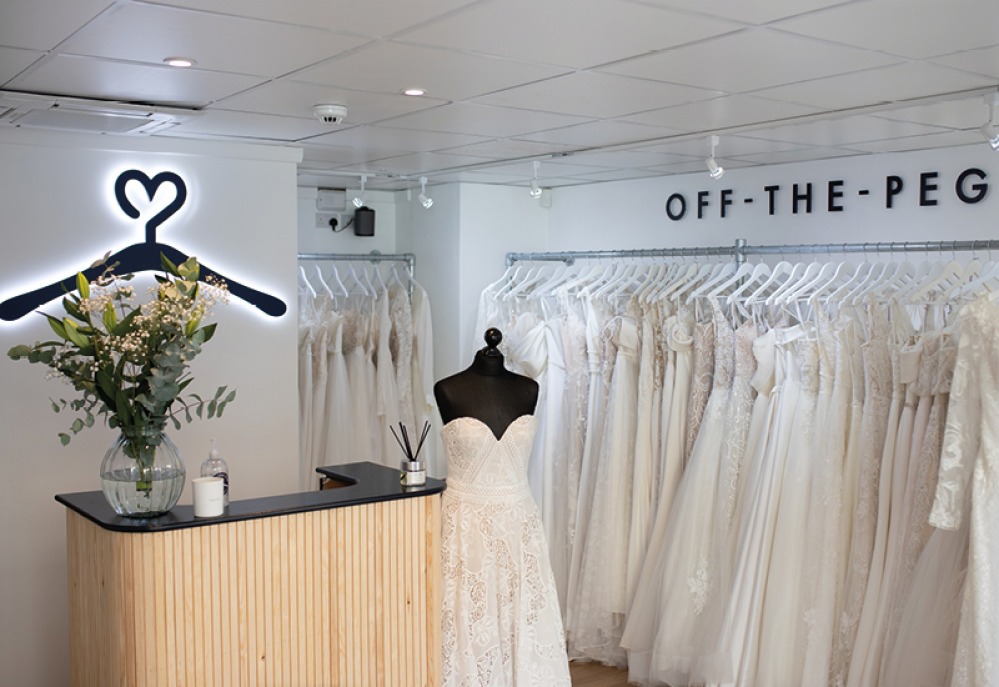 Shannon has worked in retail since the age of 18 for various high street names including Cath Kidston, Victoria's Secret and Miss Selfridge, but it was when she got married that she became interested in the bridal industry. She decided she could set up her own shop and be able to offer a better service than was already available, using what she had learned in retail.

'I applied for The Apprentice around 10 years ago,' Shannon admits. 'I got through to the interview stages and the lady interviewing me said "you've got a really great business plan here, you've not made it through this year but we would like you to come back once you've set the business up". That was always at the back of my mind and I thought one day I will… but I didn't even know then if I was actually going to set the business up.'

But Shannon did quit her high-earning job and chased her bridal dream, asking herself 'what's the worst that could happen?' And knowing that she could always go back to retail.

Her first business was called Evelyn Taylor Bridal. 'That was a pre-loved business,' she explains. 'We used to sell wedding dresses for people who'd got married. It was such a sustainable business, and I think that could be even bigger now that sustainability is so much more in the spotlight, but we faced a few issues, one being that the dresses had already been altered a lot of the time; you can't add length onto a dress that's already been worn.'
Shannon opened Dotty Bridal in 2015 selling brand new wedding dresses. 'That business really evolved,' she says. 'We went from having a tiny room with one changing room to taking on the flat upstairs, creating two more fitting rooms and knocking into next door, and today we've got four fittings rooms and up to 700 brides a year buying from us.'

'We closed down Evelyn Taylor around a year after opening Dotty, just because we found that we were sharing brides and it made sense to consolidate everything into one business. Sometimes you just need to focus on the thing you're good at instead of trying to be everything to everyone.'

Around four or five years into running Dotty, the business was continuing to grow and Shannon thought an outlet store was the best next step: somewhere to sell their lower-priced gowns. 'We did get a lot of brides coming to us saying they want to be a Dotty bride but they didn't have the budget,' she recalls. 'I always want to be inclusive, whether that's with size or price point, so we opened a sample store called Off The Peg Bridal [also based in Holmfirth] which now houses our less expensive dresses.'

A decade on from her first Apprentice application, now seemed like the perfect time to reapply. 'Dotty Bridal has evolved from being little old me to 13 team members who all absolutely adore their jobs,' explains Shannon. 'I wouldn't say that half-heartedly. They literally do love their jobs. It was their goal, their dream, to work in bridal and to be able to make that a reality is amazing. The business has evolved and grown to the turnover that it has today, and last year I decided to apply for The Apprentice again. It was a whirlwind, from the point of applying to ending up on the show. I just never thought it would happen, but it all happened very, very quickly.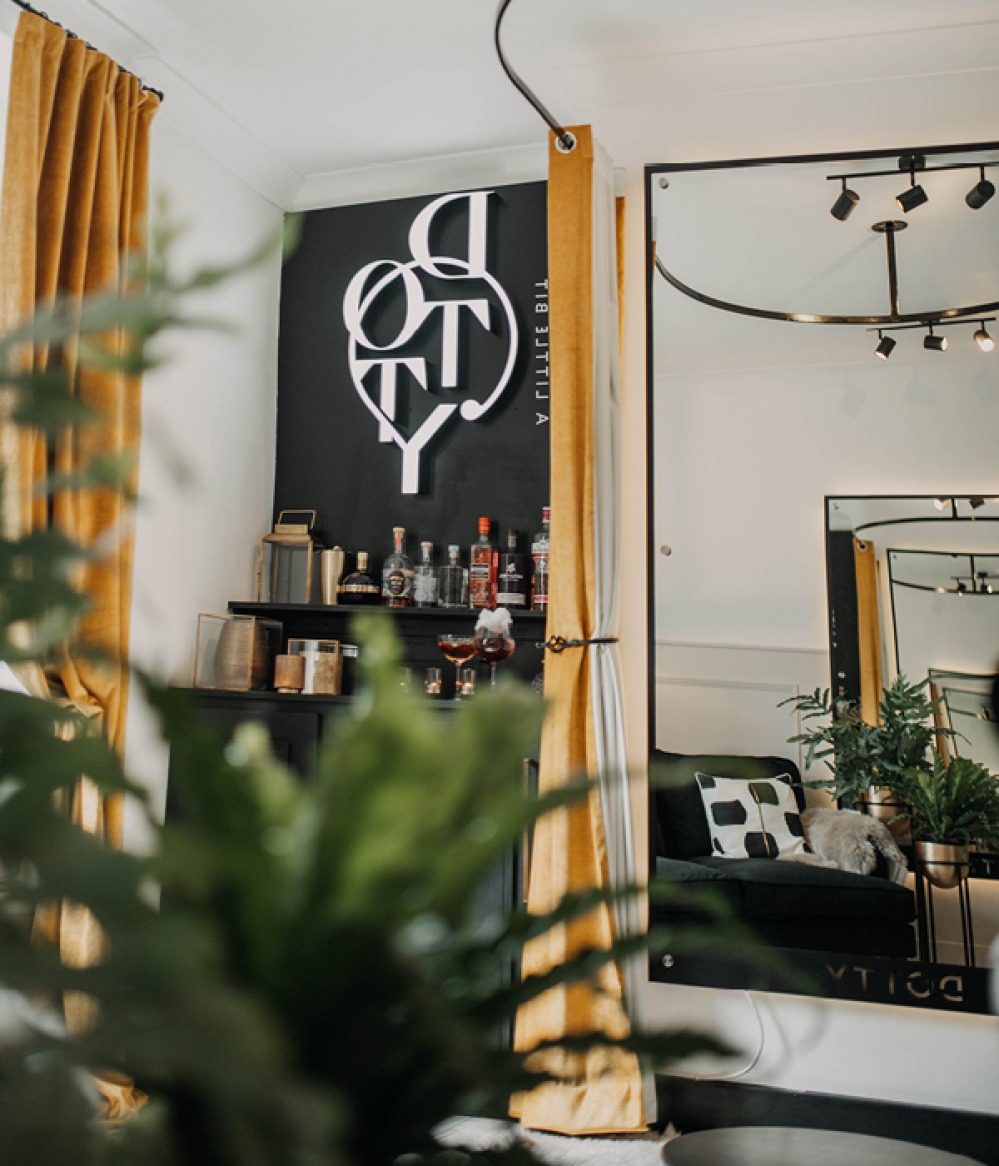 'It was an amazing experience. It's something I don't regret at all; it's been a lifelong goal. A lot of people are asking for the gossip on the candidates but they're all amazing people who have got fantastic business acumen and brilliant businesses. The process was fun and something not many people can say they've been a part of, but it was incredibly hard. It's everything you see when you're watching it. It's early mornings, it's intense and it's the hardest interview of your life – like Lord Sugar says. I've got two children, I'm used to having no sleep, but nothing can prepare you for that! You know that if you haven't had much sleep one night, you don't function very well the next day and that was certainly me.'

Out of the boardroom and back in the boutique, Shannon has plenty of plans for her bridal business. In February, she and her team are launching their new luxury boutique, Edit by Dotty, so they'll cover all three price brackets for brides. You'll find it at The Aisle Edit by Charlotte Mills, founder of leading bridal footwear brand Charlotte Mills. This is a new venue where brides and their family and friends can browse top independent bridal brands and enjoy events, afternoon tea and a Champagne bar. Housed in a unique 1840s church in Saddleworth, Dotty's luxury collections, including their new Nori Ivy collection, 'Her', will sit alongside fellow female-founded, independent bridal brands.
Meanwhile, Shannon has launched The Dotty Podcast, where each month she'll be tackling key issues facing retailers, interviewing fellow business owners and offering her tips and tricks to running a successful business. 'It was something I've wanted to do for a long time,' she says. 'A lot of people told me I should do a podcast because I've got a lot to tell and I do a lot in the industry supporting other stores to help them build their brand. A podcast is a way for me to help more people because it can be a very lonely industry. A lot of people set up bridal shops on their own and it's just nice to know that other people have gone through the same struggles that you have. I've had a lot of comments after the first episode of people saying that it's so nice to see that there were times where I was also struggling to pay the bills, and we've all been there. I just want to be honest and open with the journey.'
Visit dottybridal.co.uk, offthepegbridal.co.uk and noriivybridal.co.uk to browse the collections, and listen to The Dotty Podcast on Spotify and Apple and Google Podcasts. The Apprentice, Thursdays at 9pm on BBC One and BBC iPlayer.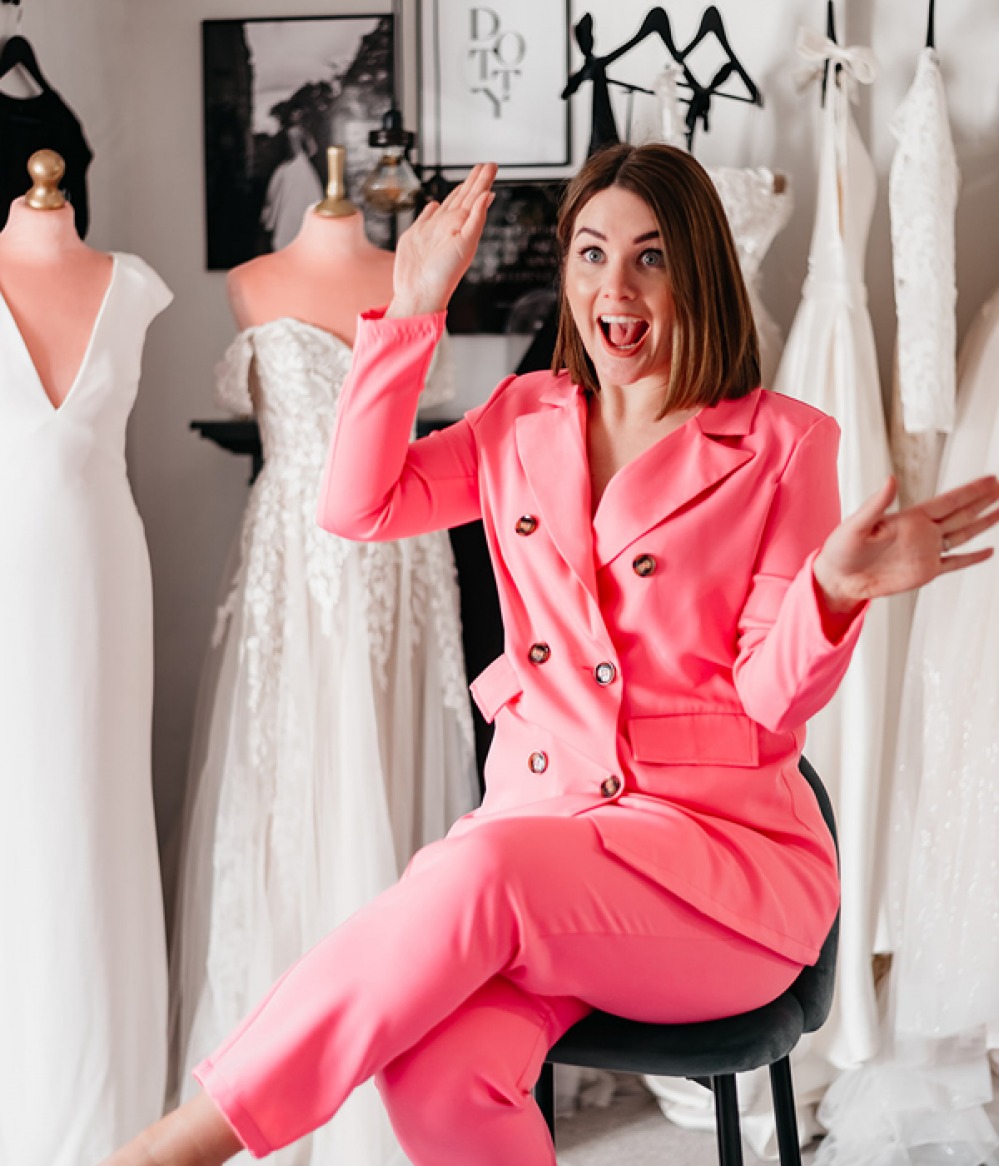 QUICK-FIRE QUESTIONS
How do you find running your businesses in Yorkshire?
I absolutely love being from Yorkshire. I'm Yorkshire and proud. For me, there's no better place. When you set up a business in Yorkshire, you get underestimated because you're not in the South where all the busy, big stores are. There were a lot of people who said to me that I'd never have a huge bridal shop in Yorkshire because the population is a lot bigger down south and bridal is a lot bigger down south, but I said I wouldn't let that stop me; I'm going to make it a huge success. People travel so far to get to us (we've had people from The Netherlands come to us). I'm so proud of that and so proud of what the team have helped me achieve.

Favourite place to walk in Yorkshire.
Bolton Abbey.

An item you couldn't live without.
I don't want to say my phone! My hair brush?

A podcast you recommend.
Well, everyone loves Steven Bartlett. I absolutely adore him. I listen to every single episode of The Diary Of A CEO and I feel like it's changed me as a person. I love all the business podcasts because you can learn so much from people.

What advice can you give other budding entrepreneurs?
I have learned a lot along the way, definitely! The main thing I've learned is to always go with your gut. If you feel a certain way and you think there's something you should be doing to better your business, then just go for it and don't look back. People say 'speculate to accumulate' and I completely agree with that. It you feel really passionately about your business, you can make it a huge success.