Meet The Young Entrepreneur Behind Leeds' Upcycled Fashion Brand TOM-O
Leeds-based fashion designer Sarah Thompson is upcycling clothes to create something new, vibrant and tailored to you with her brand TOM-O
An estimated 300,000 tonnes of used clothes (about £140 million worth) goes to landfill in the UK each year and Sarah is tackling that by bringing new life to your old clothes. She tells us more.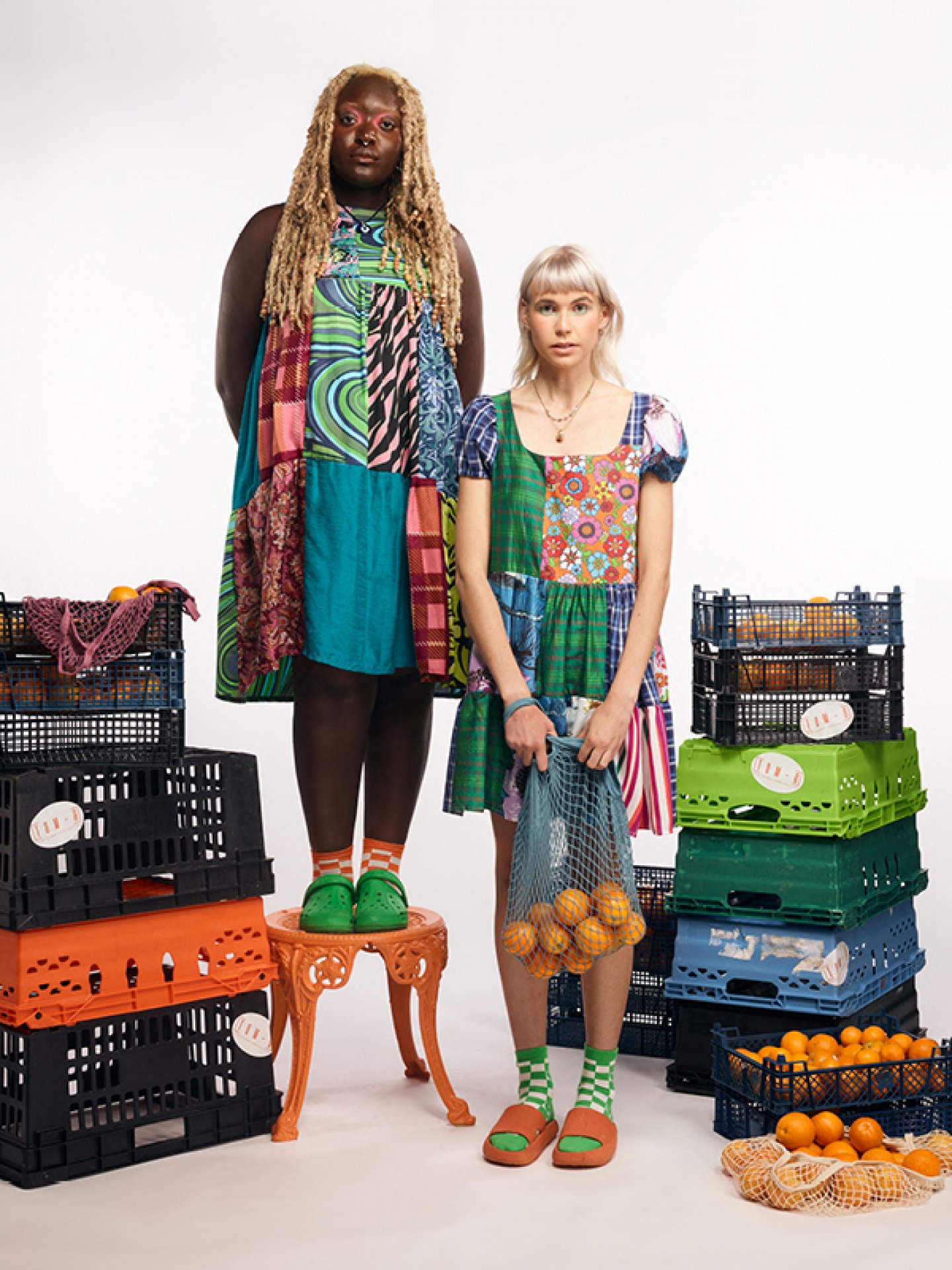 Tell us a bit about your journey into fashion.
I grew up not far from Whitby and I went to school there. I always really enjoyed art so that was always the creative line I wanted to go down. I ended up studying fashion design at Sheffield Hallam, which involved three years of studying and a placement year where I worked for three small fashion brands. In my final year we had to create a final collection. I love the fact I grew up on a farm surrounded by nature and I'm very proud of where I'm from so when it came to doing this final collection, I wanted to base it on something around that. That got me thinking about how farmers wear clothes for practicality purposes and how people like my parents, who are both farmers, wear the same clothes for years on end. My idea was to take farmers' old clothes and upcycle them into new pieces, celebrating the sentiment of what they're used for. That was a great step into my upcycling journey and I had my creations shown at Graduate Fashion Week and at London Fashion Week just before the pandemic hit. In lockdown, I started creating more from leftover fabric I had and I had some of my pieces in Selfridges in London. These opportunities led me to launching my own brand, TOM-O.

What is the ethos of TOM-O?
The whole idea is to take unwanted textiles and clothing (anything people don't use anymore that would otherwise end up in landfill) and rework that into new pieces.

What makes TOM-O different to any other brand?
Every fabric combination is completely different. If you order a dress, you pick the colours you want but we also offer a unique service. Let's say you wanted a TOM-O dress and had a dress from last summer that you don't wear anymore or maybe something more personal that you've held onto for a long time. You can send that to us and have it incorporated in. I've had some customers bring in personal items. I made a one year old a dress for her birthday which was made out of fabric from a piece that belonged to her late grandma. I guess the whole point is that you can build you own TOM-O by picking the features you like and also choosing the fabric. The idea is that you go away with a garment that you absolutely love and you'll wear forever, rather than something you wear for a year and dispose of.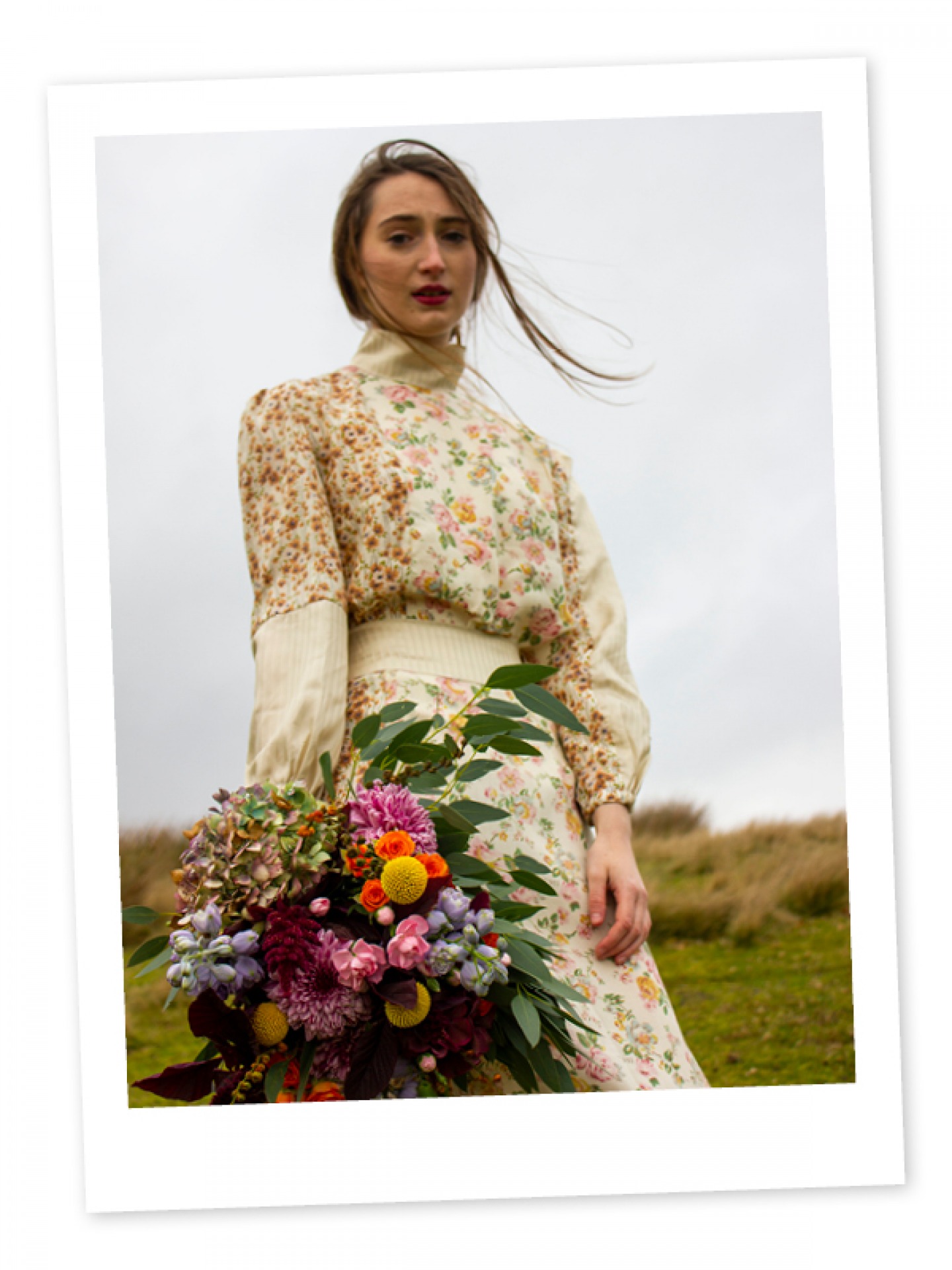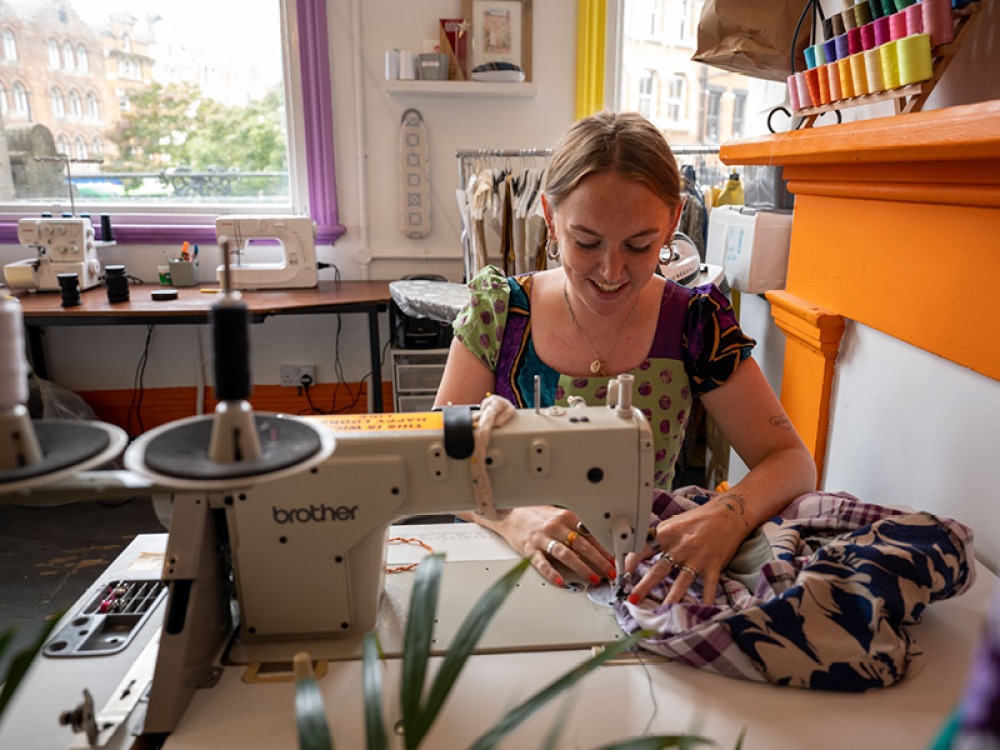 How do you create the garments?
All of the pieces are handmade by me. Upcycling is quite a challenge. If you brought me a size 8 top and a maxi dress, there's obviously a lot more fabric in one piece than there is for the other, so it's always quite a challenge putting together which fabrics are going to match, and which will also suit the customer. I come up with the patterns myself, then we cut them out and they're made in my studio in Leeds. They're either collected by customers who are local, or posted out to those further afield.

Which have been some of your favourites to make?
Recently a lady brought in a sari which we made into a suit for her. I worked on a pair of dungarees for someone which was made out of two pairs of jeans, curtains, fabric from her wedding and a dress she absolutely loved. I think these are the best pieces to make because there's a bit more of a story to them. I've got an order at the moment for a guy who's been travelling around South America and in each country he's been in, he's picked up a shirt and I'm going to make one shirt out of all of them so there's a piece of each place he's travelled to featured in that one shirt.

What do you enjoy most about what you do?
I'm very lucky that I never make two pieces the same so every order is always fun. I could be working on a floral, printed, pastel-coloured dress for someone then I could be working on a monochrome pair of dungarees. I'm lucky that I get such a good connection with my customers by doing this.
What challenges have you faced along the way?
Running my own business at the age of 25 is quite a lot! I open my shop six days a week so there is a lot of hard work. Everything is made by me so getting all the orders out on time can be a challenge because patchworking is quite a laborious project before you can even start making the actual garment. That is reflected in the price. Sometimes, compared to the fast fashion brands we see, it's very difficult to match their prices. I'm very aware, with the cost of living crisis, that I want TOM-O to be as affordable to people as possible. I love what I do and every job has its challenges.

Your favourite place to walk in Yorkshire.
I'm really lucky to have grown up by the North York Moors and have had so much on my doorstep. Walking around the moors and into Danby and Castleton is a walk me and my family do quite a lot. I worked in Sandsend for years and my favourite thing to do would be to meet one of my friends before work and walk along the beach there.

An item you couldn't live without.
My hamster. Does he count? He's called Marty and he's my team member for TOM-O.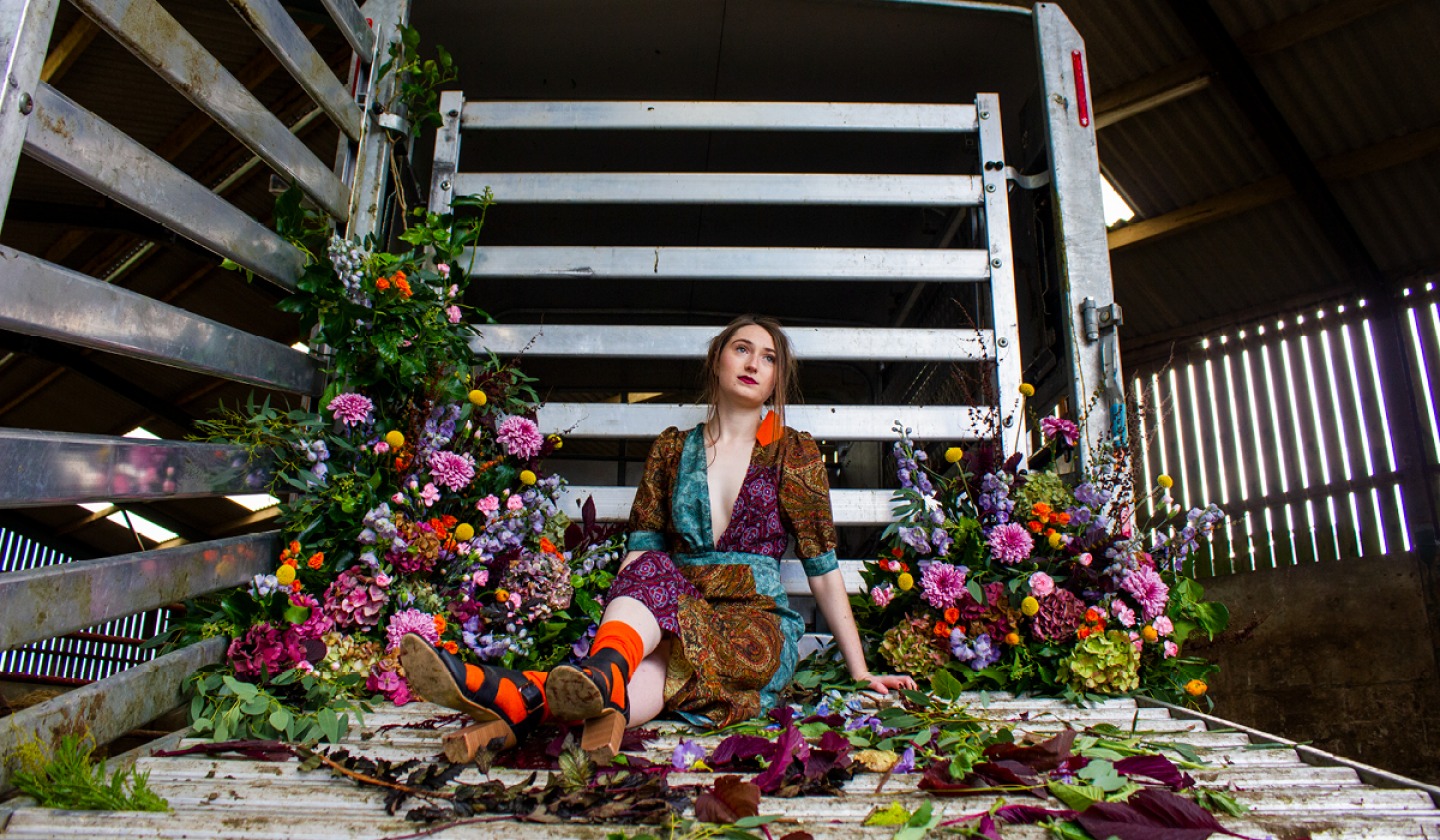 A podcast you recommend.
I've listened to a lot of A Diary of a CEO. The episodes are quite long but they're great for business owners. I also really enjoy Changes with Annie Macmanus. One that was recently recommended to me is Dish with Nick Grimshaw – that's more lighthearted. When I'm working, I'm always listening to podcasts.

Advice you'd give others, reflecting on your work so far.
I actually had a job in London when the pandemic hit and it wasn't really what I wanted to do but I didn't really know where to put myself. When you leave uni, it's hard sometimes to follow what you want to do. But looking back I'd say if there's something you really want to do, just give it a go. I'm giving TOM-O a go. It's not easy but you never know until you try.

What does the future hold for TOM-O?
Keep growing. It's been a great first year in Leeds. We want to bring TOM-O to different areas, I've got some collaborations lined up that I'm really excited about and I'm keen to teach others how to upcycle themselves so they can mend and alter their own clothes to prevent them going to landfill. Most of all, I want to continue making fun fashion for people to love, and positive and sustainable fashion that doesn't have a negative effect on the environment.
Find TOM-O in Leeds' Corn Exchange or get in touch with Sarah at tom-o.com.