The North East Makeup Artist on Her Incredible Career Working on Catwalk Shows and Her New Venture
Jo Leversuch has worked for Lancôme and created looks for actors centre stage. Now she's brought out her own range of makeup brushes
A highly successful makeup artist with decades of experience, Jo is a woman who follows her instincts, however unusual or unlikely they may be. She doesn't question them. If she has an 'epiphany' as she calls them, she doesn't look at all the reasons it couldn't work, she doesn't worry about all the obstacles in her way. Nope, not Jo. She just sets out calmly and confidently to make it happen.
When I meet Jo, I am hoping to go away with a few tips on what I should be doing makeup-wise and a bit of information on the do's and don'ts for us mid-lifers. What I didn't expect to come away with was a new appreciation of the meaning of self-care, and how the moon can affect my skin!
Jo lives in an old converted school in Gainford, a village on the north bank of the Tees, half-way between Darlington and Barnard Castle; a school that was attended by Stan Laurel of Laurel and Hardy fame. Jo has called the North East home for many years. 'My father was in the army, we moved all the time, almost every two years, and we spent a lot of time in Australia and Germany. Then I went to boarding school from 11 onward and eventually ended up here,' Jo explains.
Jo has lived and worked all over the country, including in Edinburgh and London, but she chose to settle in the North East. 'Where else would I go? My agent insisted she couldn't sign me up if I wasn't living in London but why would I want to move back to London to live in a bedsit? I have to think about my quality of life.' As I said, Jo Leversuch is a woman who follows her instincts and acts on her epiphanies.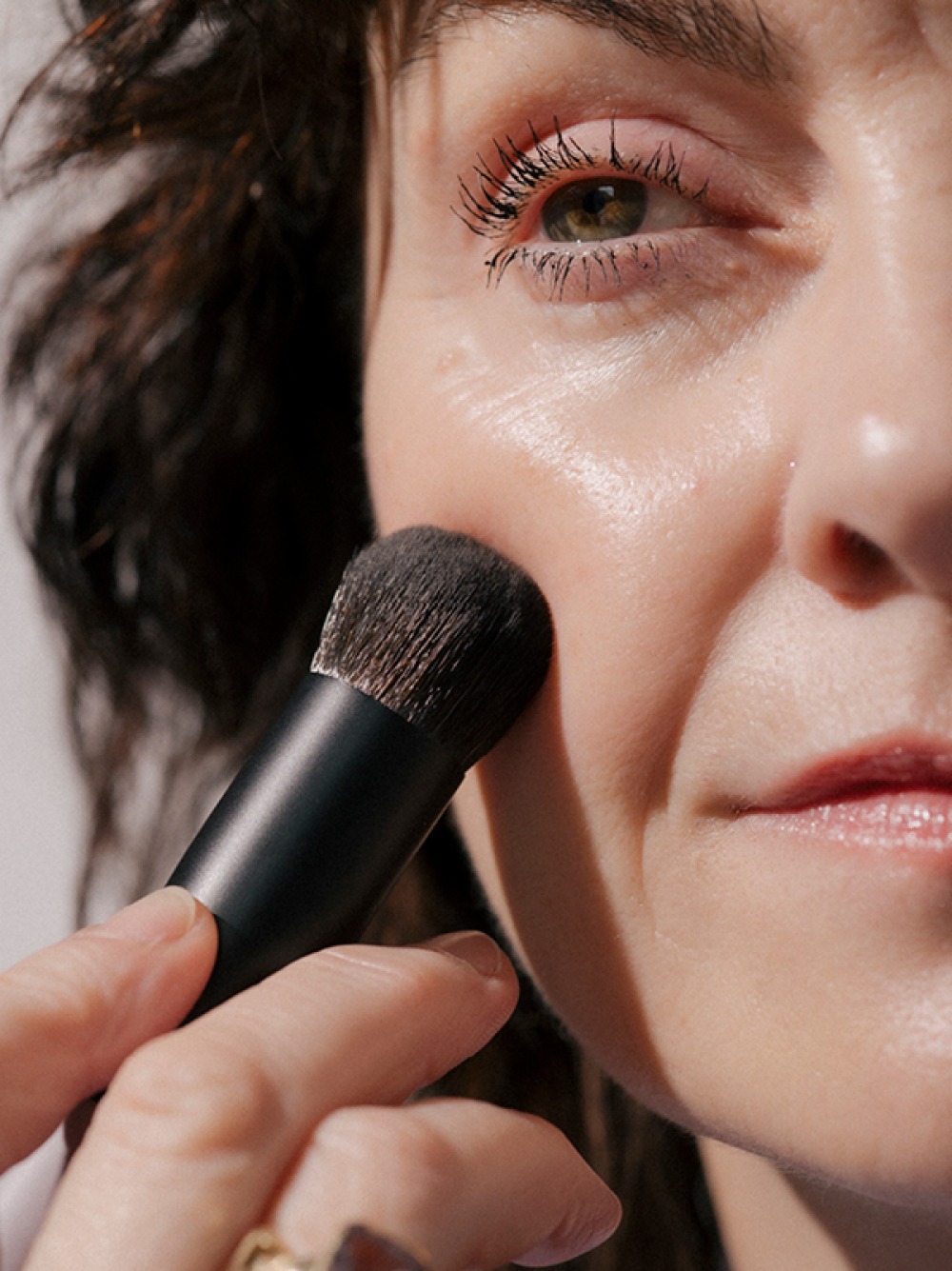 Her first epiphany came in her early twenties when she walked into a department store and saw a picture of Isabella Rossellini on Lancôme's makeup counter. She immediately thought, 'I want to be her. I want to be French. I want to work for Lancôme.' At this point Jo had zero sales experience, zero beauty experience and she couldn't speak French. She wasn't, however, about to let that stop her. She was turned down for a job at Lancôme but offered Calvin Klein instead. She turned them down. It had to be Lancôme. They gave her Lancôme.
'I worked for them for 10 years and travelled all over, it was an amazing time, absolutely amazing,' she says. Jo then went to manage a makeup counter in a department store in Manchester in the 1990s – rubbing shoulders with the likes of Take That, The Spice Girls and the Beckhams.
Jo's second epiphany came when she travelled around India for her 40th birthday. 'I thought, I want to be freelance, I want to set myself up as a freelance makeup artist. I don't know how but I'm going to wing it!' And wing it she did. At the time Middleton Lodge, 15 minutes from Jo's house, were setting themselves up as a wedding venue so she offered her services. 'It just snowballed from there, I met photographers, I applied for jobs, and I ended up working backstage on show teams for endless fantastic makeup artists. I did catwalk shows in London, Milan, New York, Paris. Everything just came together.'
Jo's most recent epiphany was during lockdown. 'When I was sitting there, like all of us, scared, depressed, not sure what to do, thinking what am I going to do with my business, I just told myself "Jo, it's fine. It's going to be fine".' Now in her fifties, Jo has embraced mindfulness and meditation and felt that this was the time to marry this approach with her work. So boldly, and bravely, she made her next move. She set up Untitled No1 – a range of makeup brushes designed with the idea of employing mindful meditation whilst applying makeup. 'It's a very Japanese/Korean thought process where it's all about slowing the process down,' she explains.
'Now in her fifties, Jo has embraced mindfulness and meditation and felt that this was the time to marry this approach with her work'
Being unable to go out and carry on with her day job did not hamper Jo's creativity. Starting in lockdown and over the next year, Jo spent time designing and trialling the feel of the brushes, the shape of the brushes, the design and quality of the brushes; even to how the brushes are washed and cleaned. Her range of brushes have carefully weighted handles, soft and precise synthetic hair and a luxurious feel. It was also important to Jo that the design of the brushes ensured they could be used for skincare as well as makeup as she wanted to create a brand that was multi use for everyone.
Not only are the makeup brushes designed to slow the process of applying makeup down to a good 15–20 minutes of self-care but they themselves are an example of 'slow fashion'; manufactured in Germany, the brushes take 8-10 weeks to make as unusually each brush is made by hand - quite the change from today's fast, throwaway fashion. Jo loves the idea that women will have the motto of the brand – BE YOUR OWN NO 1 – in their minds, as a form of mindfulness, as a technique to help slow the whole process of makeup and skincare application down into almost a form of meditation.
In fact, Jo's approach is quite different in many ways. As she explains, 'I work in equinox seasons. I believe we, as women, are focused on the moon cycle. Our makeup can never be the same every single day because we wake up every single day differently. As we enter our midlife cycles, we are dealing with hormones, water retention, blocked sinuses.' Jo believes that these changes, coupled with the moon's cycles, will hugely affect how a woman's skin and makeup looks.
Her advice to deal with these changes is to take time for self-care, to find 15 minutes in your day for you. 'Do what works for you, meditate, stare at a candle, go out for a walk, have a cup of tea, have a catnap, massage your face and put your makeup, or skincare on using my brushes!' Jo goes on to explain that just five minutes of massage each day can help to warm and plump up our skin, in turn meaning that we then don't need to put on huge amounts of makeup.
In answer to my questions on the do's and don'ts of mid-life makeup, Jo points out that we needn't overhaul our makeup completely. 'If a woman has always worn black eyeliner and pink frosted lipstick, she doesn't have to change the way she looks. We just need to work around the placement of the black eyeliner. We just need to change the colour of the blusher, or the placement of the blusher, to complement the look.' Jo feels her role is to guide a woman through these changes in life, not to take their personality away or encourage them to look the same as everyone else but to give them renewed confidence in being themselves. When age and hormones may be changing our shape and our skin, when we may be struck by the occasional hot flush, or affected by any medication we take, the key is self-care and makeup that is lighter and longer lasting.
Jo recommends looking at the texture of the products you are using, especially if you have been wearing them for decades, to see if they are still working for you. Or whether it is time to adapt the texture and the colour for your changing skin. Is your makeup too dark and therefore more ageing? Is it too powdery and therefore highlighting wrinkles? 'It's all about getting the right balance,' she says, 'as each woman is an individual.'
joleversuch.co.uk
untitledno1.co.uk