Northallerton Couple on Running a Rehabilitation and Fitness Farm for Horses in North Yorkshire
Northallerton's Thorpe Farm is a 'one-stop shop for owners who want to do their best for their horses'
Amy Fife and her husband Tommy run Thorpe Farm, a North Yorkshire-based equestrian rehabilitation and fitness farm. We caught up with Amy to find out more about their success, and why it's such a rewarding business.
Tell us a bit about yourself and your background.
Thorpe Farm Rehabilitation and Fitness is run by myself and my husband Tommy – we are both keen riders and worked in professional equestrian operations for many years before we opened our own business here. Tommy is the son of leading racehorse trainer Marjorie Fife and learnt everything there is to know about keeping horses fit and well from the family business. Meanwhile, I'm a keen event and show jumping rider and have years of experience running professional yards and working with competing horses, helping to ensure they stay fit, happy and healthy. We both share a passion for bringing together true horsemanship skills with innovative therapeutic tools to help horses perform at their best.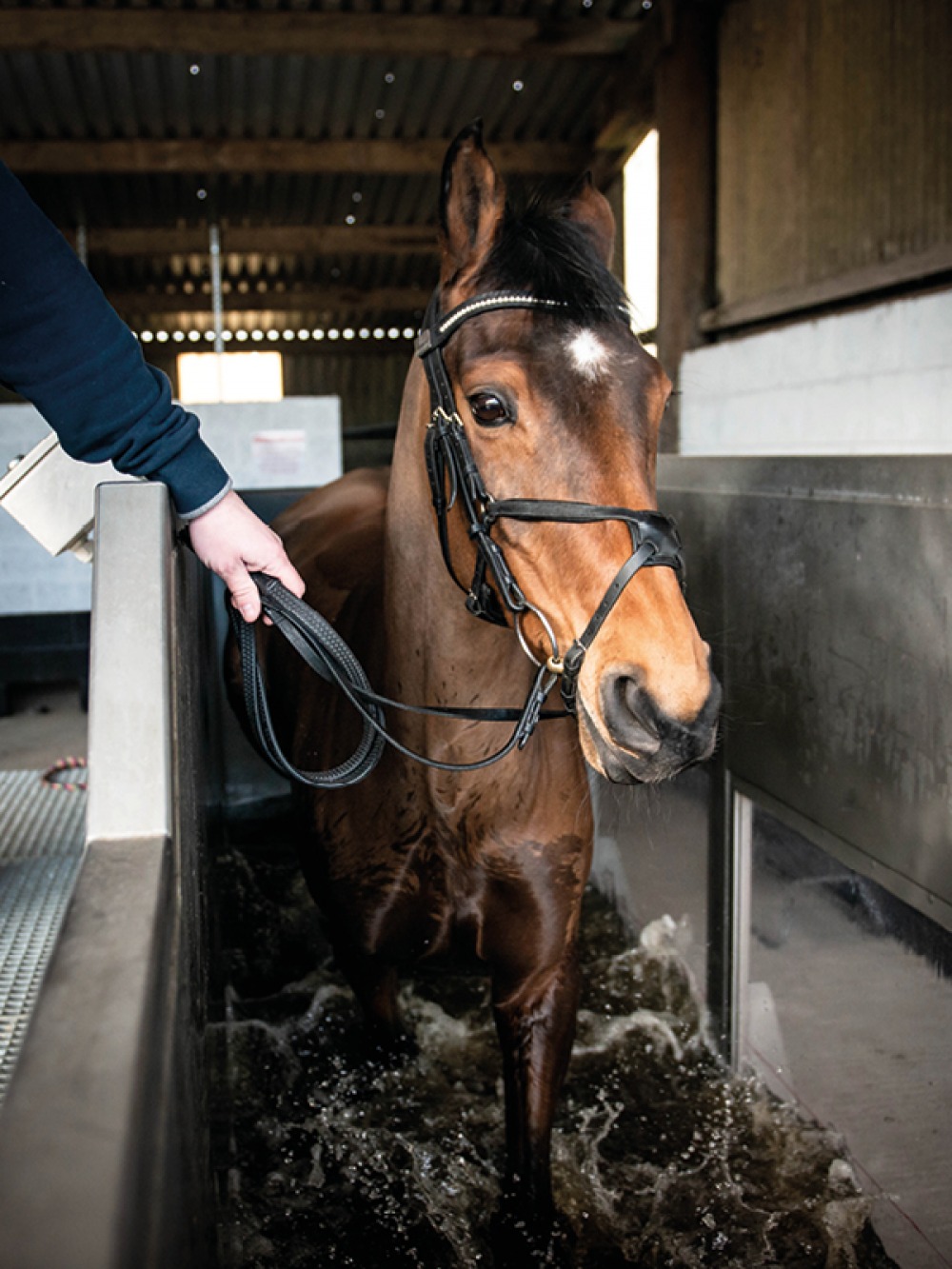 What is the concept behind Thorpe Farm?
We wanted to create a one-stop shop for owners who want to do the best for their horses and help them achieve their full potential, whether that's for a one-off session, a series of treatments or a stay for weeks or months. From therapies to support their recovery after an injury, livery (which is the full boarding, day-to-day care of horses), to facilities to get horses fit and ready for competitions, we have a range of facilities and services on offer. We have top of the range equipment, including an equine water treadmill which is a great way to give low impact resistance exercise to horses; a TheraPlate wave vortex machine which stimulates muscle contraction and increases circulation; and a salt therapy chamber for respiratory and skin disorders. Our gallops are also available for riders to hire for fitness and conditioning work, as the high-quality surface is a foot-perfect, shock-absorbing one, even when the ground around us has been baked hard by the sun or frozen solid in midwinter. We now offer a brand new cross-country schooling field too.

Where did the inspiration come from?
We know so much about how to get horses fit and well, however there have also been huge advancements in equine science and we wanted to give horse owners, both professional and amateur, the opportunity to utilise some of the new technology and tools available for horse health and fitness, and share our expertise with them. We also know that so many of our clients either struggled to find the time or suitable facilities to help rehab their horses after injury or illness, so we offer people rehab livery, where the horse comes to stay with us and have every part of their recovery managed. Holiday livery, where horses stay here while their owners get some much-needed rest and relaxation, was a natural progression from that.

Tell us a bit about the investment you've put into the business recently.
Over the past year we've invested in two areas of the business. Our new website helps inform owners about Thorpe Farm and the services we offer, and we've recently also opened our cross-country field which has a wide range of jumps designed and built by a British Eventing-accredited course builder, and is suitable for anyone from a young rider or someone riding over fixed fences for the first time, to our sponsored riders who are aiming at the higher levels of eventing. It's a great addition, giving owners a great place to work on their jumping skills with their horse or pony. We had a vision for what we wanted to achieve here and have worked our socks off to make it happen. Long days, endless hard work and plenty of seven-day weeks have got us to where we are now and luckily provided profit for us to reinvest.
'We share a passion for bringing together true horsemanship skills with innovative therapeutic tools to help horses perform at their best'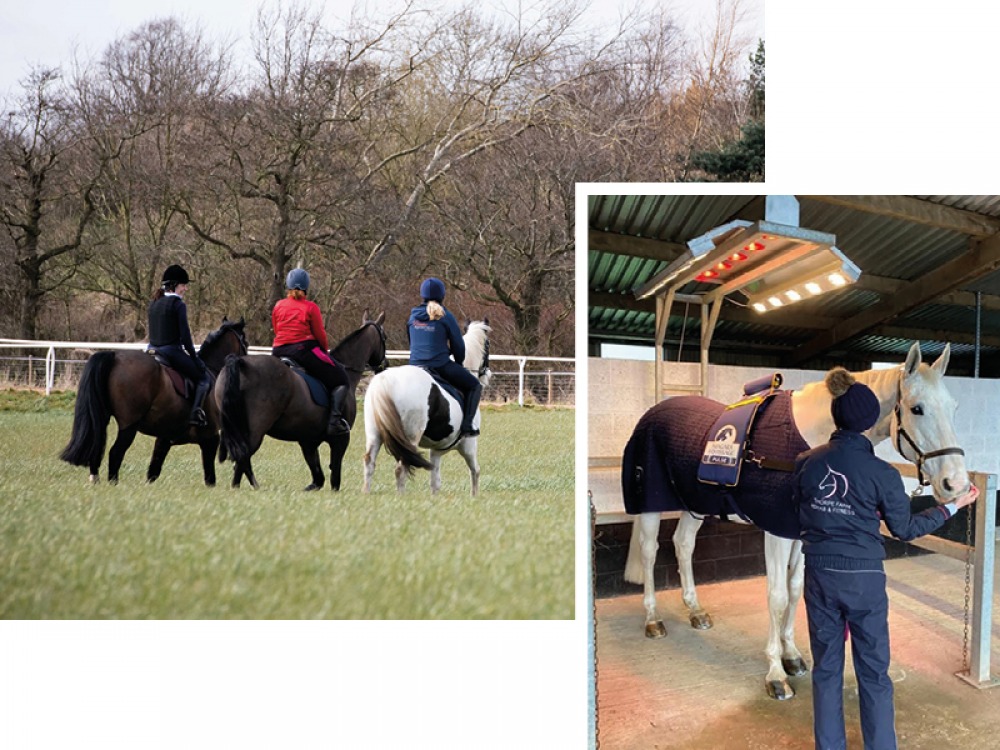 Do you have any advice for budding entrepreneurs?
First, imagine what you would do if you weren't scared of failing. What business would you open, or service would you offer? That should be the blueprint for action, and taking fear out of the equation is so liberating! The other one is to just get started. Don't sit around thinking about what you would like to do or let perfection get in the way of progress, just start! Even half an hour a day working towards launching your business will make a big difference.


What's the best thing about what you do?
Seeing horses get better after injury or illness is a big one. Horses can't speak and so often when they try to demonstrate discomfort or pain, it's written off as naughtiness and misbehaving. I love seeing horses come to us with muscle wasting or after surgery and seeing them get stronger and healthier.

What's your favourite thing about Yorkshire?
I love the people so much – they really are the 'salt of the earth' with a no-nonsense approach which comes hand in hand with the most friendly and caring personalities, even if some can be gruff when you first get to know them!
For more information visit thorpefarmrehabandfitness.co.uk, or keep up with Amy and Tommy's work at Thorpe Farm Rehabilitation and Fitness on social media.