One-Sheet Blueberry Pancakes
Meet my super-thick and fluffy vanilla pancakes that are packed with bursting blueberries - no flipping required! It's the super lazy all-in-one breakfast or brunch that's perfect when drenched with maple syrup. Of course, feel free to swap up the blueberries for chocolate chips or slices of ripe banana, if you fancy.
Ingredients
Vegetable oil, for greasing
200g gluten-free self-raising flour
1 tsp gluten-free baking powder
4 tbsp caster sugar
200ml milk
2 tsp vanilla extract
3 medium eggs
5 handfuls of fresh or frozen blueberries (around 125g), plus extra to serve
Maple syrup, to serve
Method
Preheat your oven to 180C fan/200C. Grease a 28 x 38cm baking tray with a little vegetable oil and line with non-stick baking parchment so that there is an overhang around the edges (for lifting it out later).

Add the flour, baking powder and sugar to a large mixing bowl and mix until combined. Add the milk and vanilla extract to a jug, then crack in the eggs and beat to combine, using a fork.

Whisk the egg mixture into the dry ingredients a third at a time, until you have a smooth batter the consistency of thick cream. Pour the batter into the prepared tray and spread out into a flat, even layer. Scatter the blueberries evenly over the top and bake in the oven for 15 minutes.

Using the baking parchment, lift the pancake out onto your work surface and use a pizza cutter to cut into 15 squares.

Allow to cool for five minutes before serving with lots of maple syrup and extra blueberries.

TIP: Feel free to swap the blueberries for slices of ripe banana, fresh raspberries, strawberries or a combination of whatever you fancy. You can also replace the berries with chocolate chips too if you'd prefer!

TIP: If you're egg-free or vegan, a flax egg is a great substitute for eggs when making biscuits, cookies, muffins and pancakes. Simply combine one tablespoon ground flaxseed with three tablespoon of water in a small bowl. Allow to rest in the fridge for 15 minutes before using in place of one egg. Double or triple the quantities depending on how many eggs you're replacing.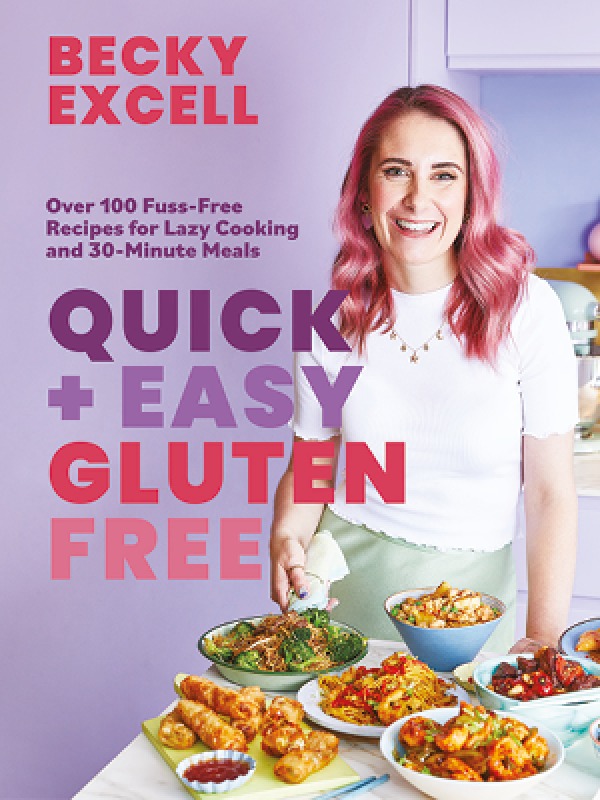 Quick + Easy Gluten Free by Becky Excell (Quadrille, £20) Photography by Hannah Hughes
This article contains affiliate links. We may receive a commission for products that are clicked on through our website.