Pea, Feta and Hazelnut Risotto
This is one of my bestie Pops's favourite meals
It's one that I cook when we're all in need of a pick-me-up; there's something about eating a vivid green bowl of food that can't fail to make you smile. The secret here is blitzing half the peas into a purée, and stirring it through the risotto at the end. It's super fresh and vibrant.
Ingredients
Large handful of hazelnuts (blanched hazelnuts are ideal, but no stress if you can't get them)
300g frozen peas
1 banana shallot or 1 small onion
1 tbsp olive oil
2 garlic cloves
Handful of mint
150g risotto rice (arborio or carnaroli work well)
150ml white wine
600–700ml boiling vegetable stock
1–2 tbsp sherry vinegar or white wine vinegar
30g parmesan or veggie alternative
100g feta
Tabasco, to serve (optional)
Squeeze of lemon juice, to serve (optional)
Sea salt and freshly ground black pepper
Method
Toast the hazelnuts in a small dry frying pan over a medium heat until lightly golden, then set aside.
Weigh out your frozen peas into a bowl and set aside to defrost.
Finely chop the shallot or onion.
Heat the olive oil in a frying pan over a medium heat. Add the shallot or onion, along with a pinch of salt. Cook, stirring regularly, for eight to 10 minutes until softened but not coloured.
Meanwhile, finely chop the garlic cloves, roughly chop the toasted hazelnuts, and pick the mint leaves.
Add the garlic to the frying pan and cook for one minute more, then tip in the rice. Stir everything together, toast for a minute or so, then pour in the white wine.
Once the wine has been absorbed by the rice, add a ladleful of vegetable stock. Cook, stirring regularly, until the stock has been absorbed, then repeat. Keep adding the stock until most of it has been absorbed and the rice is tender with a slight bite; this will take around 20–25 minutes.
Meanwhile, tip half the peas into a blender, along with one tablespoon of the vinegar, most of the mint, plenty of salt and pepper and 100ml water. Blitz to form a smooth, vivid green purée. (If you prefer, you can do this in a bowl using a handheld stick blender.)
Once the rice is tender, stir through the pea purée and the remaining whole peas. Finely grate in the parmesan and stir until everything is heated through. Season to taste, adding a little more vinegar if you like.
Dish up the risotto between two bowls, then crumble over the feta and scatter over the toasted hazelnuts and the remaining mint leaves. I like to finish it with a splash of Tabasco and a squeeze of lemon, to serve.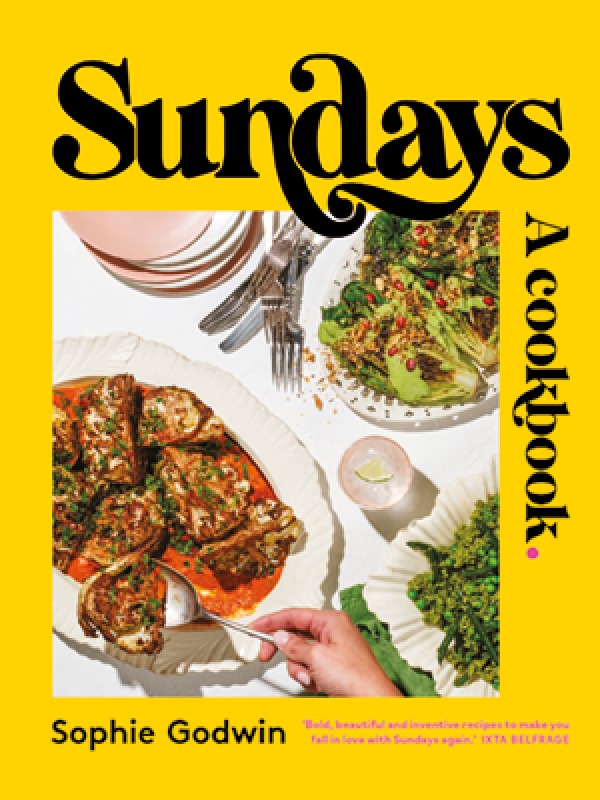 Sundays: A cookbook by Sophie Godwin (£20, Murdoch Books)