Prune Sticky Toffee Pudding
This recipe came about by accident; I didn't have any dates, so I swapped them out for prunes instead
The result was better than the original. Baking in a loaf tin then slicing and reheating in sauce gives the best sauce-to-sponge ratio; shoutout to my girl Ells for this revelation.
Ingredients
75g salted butter, plus a little extra for greasing
175g prunes (de-stoned weight)
150ml boiling water
1 tsp bicarbonate of soda
150g soft light brown sugar
2 medium eggs
2 tbsp black treacle
150g self-raising flour
Ice cream, cream or custard, to serve
Fine sea salt
For the Sauce
170g salted butter
170g soft light brown sugar
2 heaped tbsp black treacle
300ml double cream
1 tsp vanilla extract
Method
Preheat your oven to 180C/160C fan/gas mark 4. Grease and line a 900g loaf tin.
De-stone the prunes, then blitz in a food processor to a rough paste, or chop by hand. Add to a bowl, then pour in the boiling water and the bicarb. Stir, then set aside.
Measure the butter and sugar into a large bowl. Whisk together (a hand whisk is fine) until well combined, then crack in the eggs and whisk again. Add the treacle, followed by the flour and a big pinch of salt. Whisk until you have a smooth batter, then add the prunes, along with their soaking liquid, and whisk again.
Scrape the batter into the tin. Bake for 40–45 minutes until a skewer, or piece of spaghetti, poked into the centre comes out clean. Leave to cool completely in the tin.
Meanwhile, make the sauce. Combine all the ingredients in a saucepan over a medium heat. Bubble away for three to five minutes until fully amalgamated into a luscious toffee sauce. Season with salt to taste for proper salted caramel vibes. Turn off the heat.
Just before serving, preheat your oven to 180C/160C fan/gas mark 4. Line a large roasting tray with foil.
Cut the sticky toffee loaf into eight thick slices. Dollop a large spoonful of toffee sauce on top of each slice, pop on the tray then cover the tray with foil. Heat for eight to 10 minutes until bubbling. Meanwhile, reheat any remaining toffee sauce in a pan to pour over. Serve each slice covered in sauce, with ice cream, cream or custard: your choice.
Tip: This sticky toffee loaf will taste even better the next day (it keeps for a week). Once baked and cooled, wrap it tightly in clingfilm and keep at room temperature. The sauce can be made in advance and kept in the fridge. It will harden once cold, but will come back together once reheated.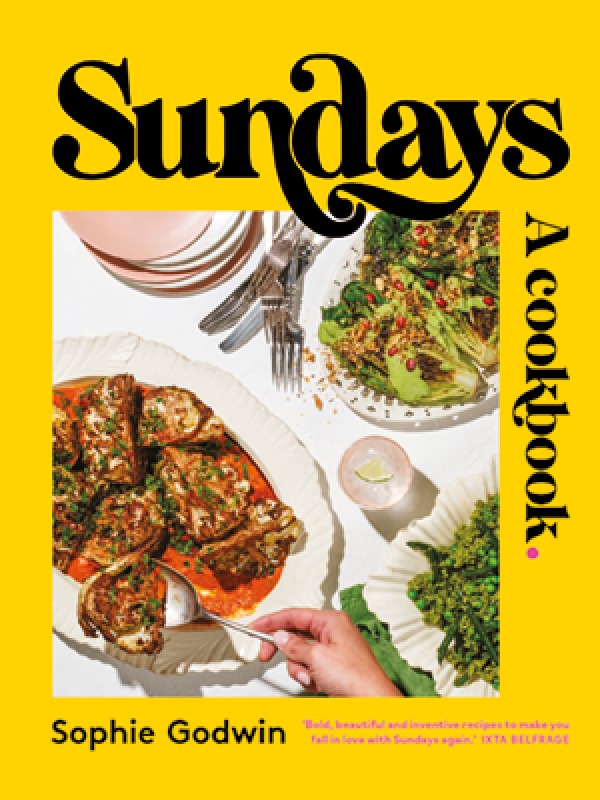 Sundays: A cookbook by Sophie Godwin (£20, Murdoch Books)