The Quirky Soapbox Racing Event Done in Fancy Dress That Takes Place in Yorkshire
Living North speaks to Andrew Pearson from the Super Soapbox Challenge, a community soapbox racing event bringing the joy of racing to Yorkshire
Soapbox racing takes the thrill of vehicle sport and the silliness of fancy dress, throws both into a big pot, and pushes the resultant mess down a massive hill as drivers dodge, weave, jump, and race the clock in a handmade cart – the crazier the better. These events encourage teams of five to engineer the best carts they can, with one or two drivers and three pushers launching the vehicle off a ramp to success. It's fun, daft, and organised by Andrew and his colleague Stuart up and down Yorkshire in spectacular fashion.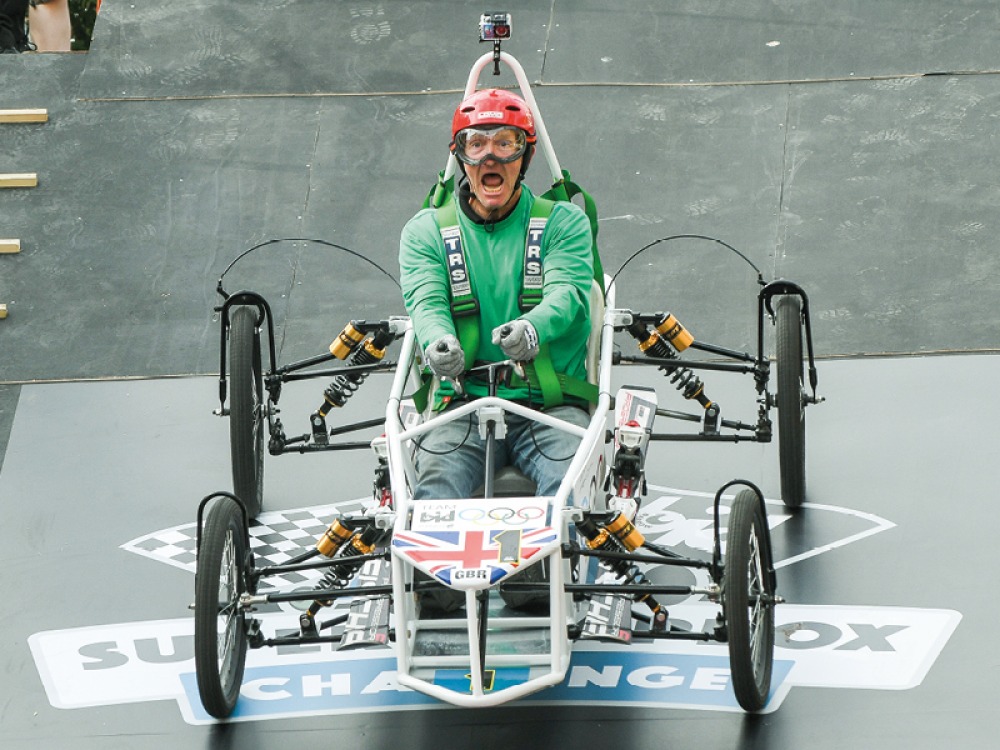 'Soapbox racing is a timed racing event using only gravity to propel homemade carts. There's no electrics, no engine – it's a freewheeling cart,' Andrew explains. 'The course has little bumps and twists on the way down, and it's essentially a race against the clock with a series of prizes for different winners.'
These prizes are awarded for lots of different reasons. Soapbox racing isn't just about speed, it equally values the pageantry and showmanship of the individual teams. Do you have matching team outfits that fit the theme of the cart? Whack them on. Have you choreographed a little dance to do before the big launch? Limber up. Have you dressed up the cart to look like a giant pumpkin? Perfect.
'The prizes aren't just for fastest times – there's scores for how well the cart is presented, the theme of the team, what they're dressed up as, joker of the day, loads of bits like that,' explains Andrew. 'Everybody who enters gets a medal, but we've had up to 79 different prizes for winners. There's also a bottle of bubbly and a cup to take home. You do notice a whole spectrum of different people, from those that just throw something together quickly to those who engineer their carts to death,' he laughs.
At every Super Soapbox Challenge there's no shortage of truly mad carts, designed in tribute to classic British pop culture icons, historical figures, and fancy-dress classics.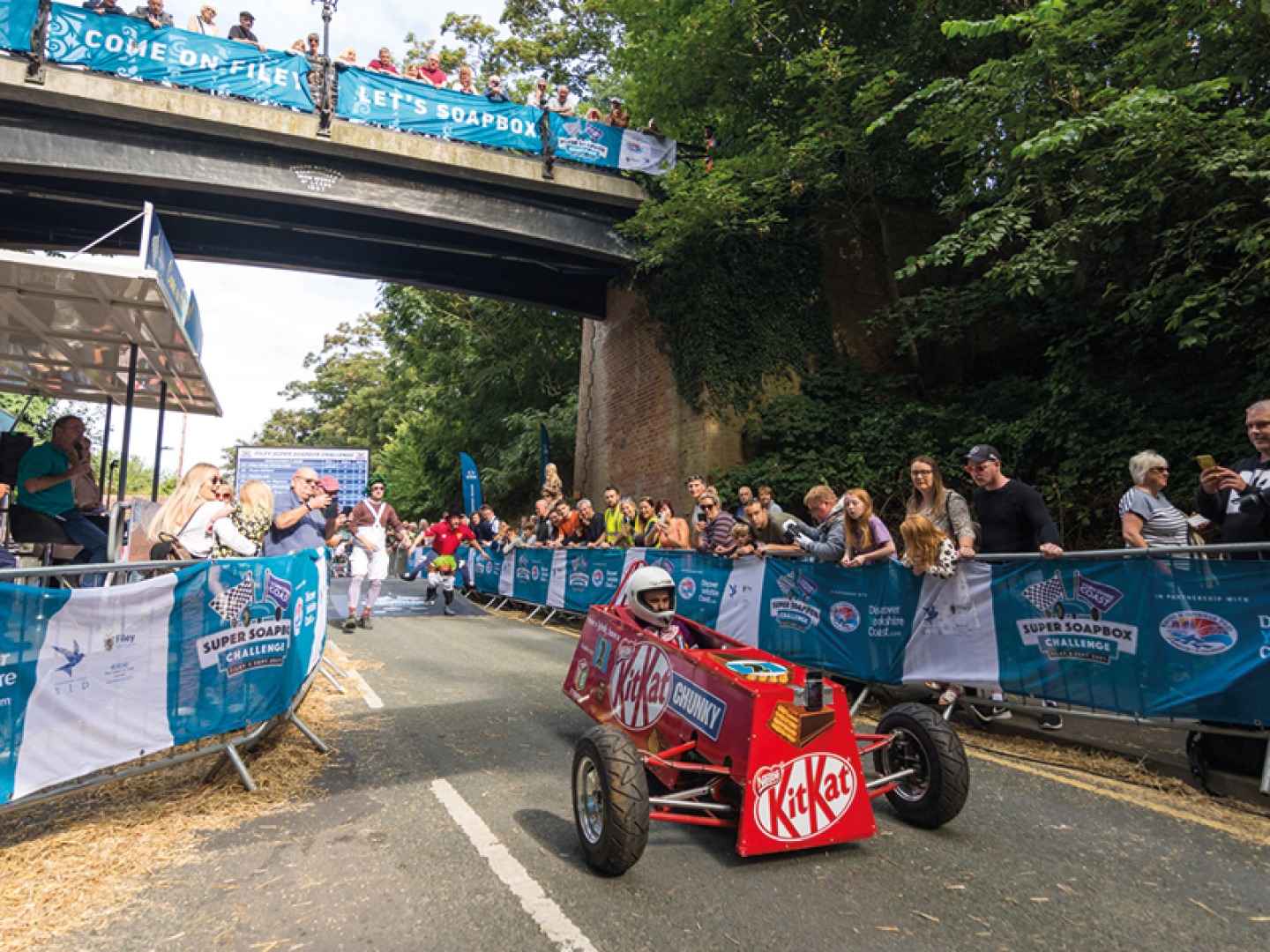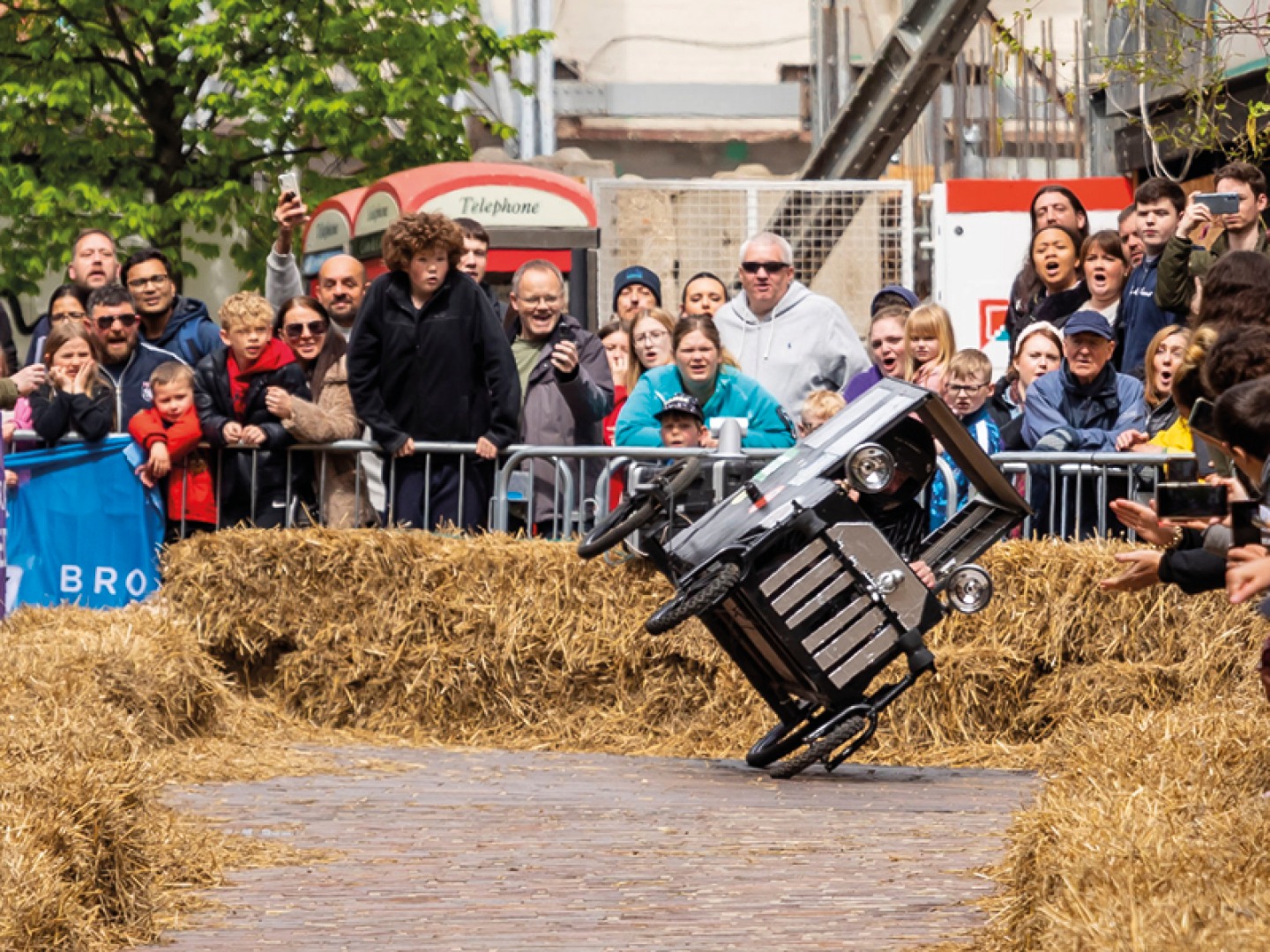 'We had an Only Fools and Horses Reliant Robin which was amazing. There was also a team from Lancaster University that made their cart into a Lancaster bomber, which was really cool. But there's all sorts of different builds there, I couldn't even begin to name them all.'
Drivers cascading down the course are met with all sorts of challenges, many of which are made easier or harder depending on the sturdiness of their cart (which may come at the sacrifice of showmanship). The sweet spot is found in building a cart that is equal parts spectacular to watch and practical to drive, tackling the hurdles thrown at them by Andrew and his devious team.
'The course varies from location to location because we're reliant on an existing road in the city centre,' Andrew clarifies. 'Usually, we have a ramp at the beginning, which is about four metres high that really gets you moving. Depending on the course, we usually put in little jumps, chicanery, twists, turns, water cannons, all sorts,' he goes on. 'We have a finish line and two huge telescopic screens, one at the start and one at the beginning, following the action. An MC at either side of the course can then give live commentary on the race. Halfway down the course the MC at the other end then takes over.'
'The sweet spot is found in building a cart that is equal parts spectacular to watch and practical to drive, tackling the hurdles thrown at them by Andrew and his devious team'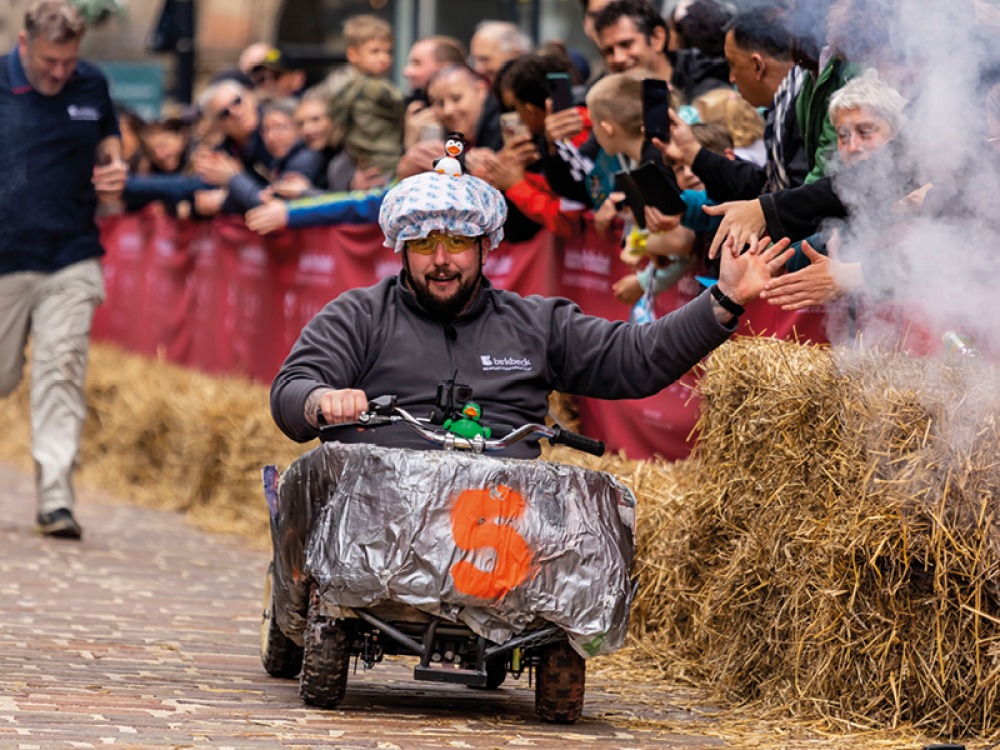 These events attract visitors from all over the UK to Yorkshire's brilliant towns and cities, as well as a few other locations in neighbouring counties. Notably there's an upcoming race in Bridlington on 11th September, and a future event in Bradford for Spring 2023 (previous events have taken place in Leeds, Barrow-in-Furness and many others).
'We've just done Barrow-in-Furness, we're about to do Colne in Lancashire, we have the Bridlington race coming up and we used to do York – but we focus on the North as we are based in Leeds,' Andrew explains. 'We usually get somewhere between 17,000–20,000 people attending, so it has a fairly major impact on wherever the event is taking place. Twenty-five percent usually come from outside the area, so it's a really big thing for the cities. Soapbox racing gets people from all over the UK visiting Yorkshire.'
If you think these events sound amazing but you don't fancy your chances hurtling down the course, spectating is completely free to the general public. Hay bales protect bystanders from the rare toppling cart and big telescopic screens make sure you never miss out on the action. Cheer on your favourite team, join in and go for glory, or just sit back and enjoy the madness.
'Back in Bradford in May, we had one poor guy whose steering just wasn't right, he went flying into the side almost straight away. The photographer got a great shot of him driving on two wheels!' Andrew laughs. 'We've never had any injuries at all, sometimes people topple but it's never an issue as we do have hay bales all the way down and the carts are properly safety checked.'
Sign yourself up for the next big race at supersoapboxchallenge.co.uk