Radio Newcastle Host Proves it's Never Too Late to Chase Your Dreams
From priest-in-waiting, to religious order member, to comedian, to actor, to impressionist, to Radio Newcastle host, to artist – Alfie Joey is the living personification of 'it's never too late to chase a dream'
Living North speaks to him for some much-appreciated advice.

Radio Newcastle breakfast host Alfie Joey is a man who's no stranger to switching lanes. In fact, just before lockdown, he even hosted a TED Talk on the subject, preaching wholeheartedly about why you shouldn't close yourself off to dreams or new opportunities. Instead of asking yourself 'what if?', Alfie tells Living North why we should all be saying 'why not?'.
'It's funny, I wanted to be a priest since I was a very young lad, but I wasn't from a religious background. My mother wasn't Catholic, my dad didn't go to church. But from the age of about seven all I wanted was to be a priest. They tried to put me off, but I just kept badgering away,' reflects Alfie. 'I heard about this school that was like a mini-Hogwarts for priests, and that was it. It was just like Billy Elliot, I'm from Peterlee and my dad was a passionate miner throughout the days of the strikes. He always supported me, but he was confused by my decision.'
As time went on Alfie committed further to a life of religious dedication whilst completing his studies at university, joining the Catholic order The Salesians of Don Bosco. Life in a quiet and tranquil monastery was at odds with his busy and hectic life at drama school.
'While I was in the order I was doing a degree in drama, and that was where I first did a module in comedy. It blew my mind,' Alfie explains. 'It was the ultimate vocational calling. I was always a performer, I just never saw it as a career until then, though. I went back to the order and told them I was leaving to pursue a career in comedy. I had to ask for permission from the Vatican and everything,' he continues. 'I told the order after an agonising year, and my parents had by this point just come round to who I wanted to be – my mum had even turned Catholic. When I told them I was leaving, they said "What?! What are you going to do?!", and I said, "Be a comedian!" They weren't laughing then,' Alfie laughs.
'The first time I did stand-up was the most nervous I've ever been in my life'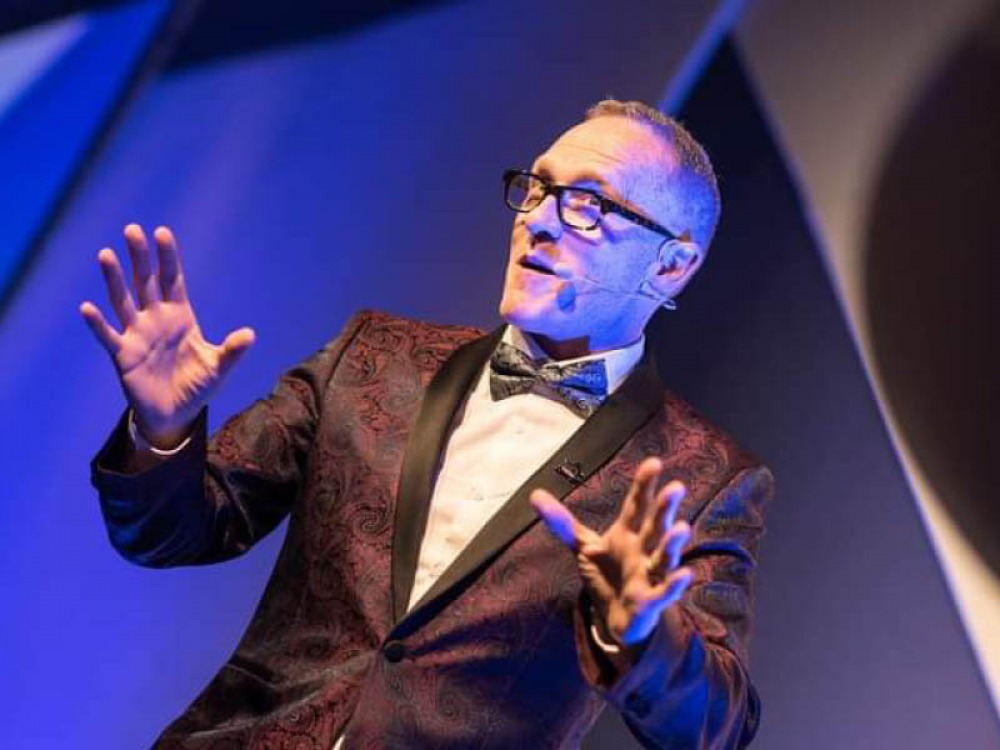 Alfie has had an established career in comedy, starting on the stand-up circuit in London. His career has gone from strength to strength, venturing out into sitcoms such as Hebburn and Ideal, performing a one-man musical comedy show, and even appearing in Netflix special Sunderland 'Til I Die as recognition of his life-long support for the team.
'The first time I did stand-up was the most nervous I've ever been in my life,' he says. 'I woke up anxious. After I finished my set, there was no feeling like it. I remember afterwards all the acts were buzzing, they were all asking me if I was coming out partying with them to celebrate and I just said, "No, I just want to walk home and take it in." I walked miles, and I tell you what, I floated the whole way.'
Currently Alfie works as the flagship presenter for Radio Newcastle, hosting their morning breakfast show. Whilst radio is a performance in itself, diving into yet another new career wasn't without its challenges.
'There's no audience in front of you with radio, it was a real transition. I was dreadful when I started, so I just made myself get better – the boss said I had to,' Alfie laughs. 'I had experience doing comedy radio shows, but it's very different to being a host. Radio is different every day, whereas with standup you do get into a pattern of doing the same set. I've met so many different, great people from it.'
All these careers have helped Alfie in many different ways. From building confidence, to nurturing a new talent – like his most recent dabbling in art. Regardless of the career, Alfie doesn't believe in looking back at a missed opportunity.
'You should never think 'what if?' and it is never too late to chase something that you love,' Alfie assures us. 'What could be the worst-case scenario if you do? There's an impulse and a desire there for a reason. I did a TED Talk called Changing Lanes, it was all about not letting opportunity pass you by. The worst thing you can do is get stuck in the middle lane, no-one hates anyone more on a motorway than the middle lane driver – they're not going fast, they're not going slow, they're just ruining it for everyone,' he laughs. 'For example, I'm doing my first ever pantomime this year, which is something I've always wanted to do! It's Robin Hood at the Customs House in South Shields – I'm playing Friar Tuck! Everything comes full circle.'
Listen to Alfie every weekday morning on Radio Newcastle.