Redcar-based Comedian on Wowing Audiences and Forgiving his Father's Murderer through Stand-Up
How do you forgive your father's murderer? Redcar-based comedian and actor Chris McGlade is wowing audiences with his show based on just that
Comedy is often used as a way of sharing controversial thoughts, talking about awkward topics and serious subjects – by making them funny. As Chris rounds off the North East dates of his Forgiveness tour, he reveals how his stand-up shows have allowed him to share the tragedy of his father's murder – and how, by doing so, he has helped others.
Chris is no stranger to the comedy circuit, having spent more than 30 years performing. 'It's the thing that's kept me going when other people probably would have packed in,' he says. 'I've just always loved making people laugh. I was bullied at school and making the bullies laugh was my defence mechanism – and that becomes a part of you. That's the thing that's driven me all these years.'
Chris started out in working men's clubs and pubs, but he's now performed in almost every type of venue you can think of. His first love isn't comedy though; it's acting. 'I was in Billy Elliot in the West End, I've been in one of Ken Loach's movies [I, Daniel Blake] and I'm currently acting in another being filmed in County Durham. I talk about this in my show: my dad stopped me from being an actor when I was 16. I got accepted into a performing arts school in Middlesbrough by a guy called Ken Parkin who taught Richard Griffiths (who was in The History Boys and Harry Potter, and was from Stockton). I'd just got my job at the steelworks in Middlesbrough and my dad said "if you pack your job in to go to an acting class I'm finished with you". It was the 1980s and the start of Maggie Thatcher's recession and jobs at that time were few and far between. Of course, I bowed to my father's wishes but when you've got the spark inside you to entertain, and to be on stage, it's like water or electricity – it has to find an outlet.'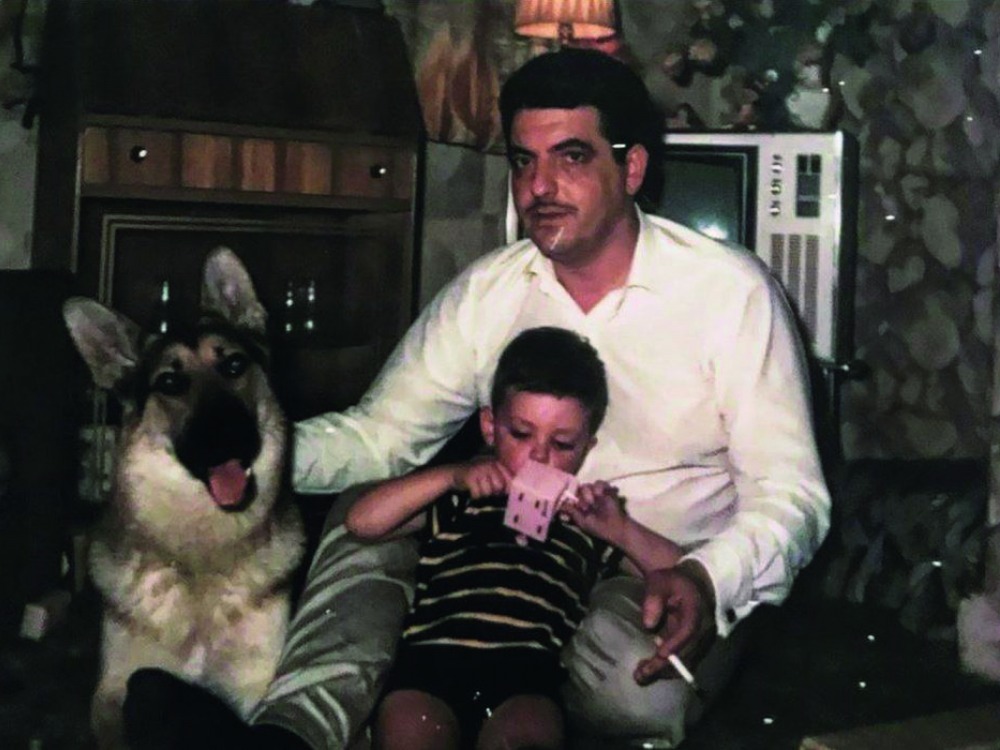 That love for performing manifested itself in stand-up comedy, which Chris has been doing ever since. 'I've never let go of what I do and what I love – and I do absolutely love it,' Chris says. 'I've always thought if you do something because you love it, and you're good at it, then eventually the financial reward or the recognition will come. The comedy is an extension of me. It's a part of me. I don't know whether this is going to lead to any recognition or any financial reward (I'm not bothered whether it does or doesn't), I'm just getting out there and expressing myself in the way that I know best, and in the way that I love most.'

In 2019 Chris wrote a show about his father's murder, and forgiving his killer, using conscientious comedy and cutting-edge poetry. Terry McGlade was murdered in his own home in 2011 by a friend he had taken in. The man who murdered Terry was jailed for life, and in extremely difficult circumstances Chris instinctively chose forgiveness, but of course remained deeply affected. 'It was the writing of it that kind of made me make sense of a lot of things,' Chris says. 'It made me understand a lot of things.' Chris recalls one of his proudest moments taking place the following year when he performed the show at London's Soho Theatre. 'My story is a very working class story,' Chris says. 'I try and explain, on behalf of working class people, a lot of different things. I believe, and so do a lot of other people, that working class people are terribly discriminated against, but as we bring down barriers people are starting to ask questions, which is great.

'Soho Theatre is a really cutting-edge venue. The typical audience is progressive, middle class, and liberal. Yet, as the director of the theatre told the promoter of the show, they had people in the theatre that they'd never had before. That made me feel so very proud because it wasn't just about bringing black and white, or old and young, or male and female together; this time, you had middle class people sat alongside working class people and they were all laughing and crying together – and they all stood and applauded together. That made me feel really proud because my show is a mixture of working class, working men's club humour (that doesn't take much thinking about) and thought-provoking, progressive, liberal circuit comedy.'
'People say if you can make a difference in one person's life then that's enough, but it seems like the show has made a difference in quite a few people's lives so that's like – job done for me'
Chris has received plenty of feedback following his stand-up shows – and it's even helped others who have been in similar tragic situations. 'It's influenced people, it's changed people's perceptions and it's even set people on the path to forgiveness themselves,' he says. 'I couldn't tell you how many people have messaged me directly who can't forgive but who want to. That's one of the main powers of the show. When I started to write it I was just trawling my experiences and trying to put my ability as a comedian to best use. I had no idea what kind of reaction it was going to have. I didn't know how people were going to receive it. I just felt like it was right to write this and to get it out there. I suppose that took a bit of courage, but I did it and the effect it's had on people is massive.'

Chris has even influenced other comedians to draw on their own experiences. 'Mike Milligan is a fantastic comedian from Newcastle and he's been on the tour with me, particularly for the Northern dates,' Chris says. 'We did a show in Hull and he stood and watched for a while and said I'd inspired him to put his own thoughts and feelings into his comedy more. A lot of comedians often toe the line but you've got to have the courage and convictions to stand up for what you think and believe. That's what I try to do.

'People say if you can make a difference in one person's life then that's enough, but it seems like the show has made a difference in quite a few people's lives so that's like – job done for me,' Chris says. 'When the tour's over, as long as I can keep on working, and as long as I can be happy, I can shuffle off this mortal coil and not have any regrets really.'
Chris' Forgiveness tour runs until 18th September. Get your tickets at chrismcgladecomedy.com.
Your favourite Northern comedians?
'Roy Chubby Brown. When I saw him for the first time in a working men's club in Dormanstown in Redcar, I actually think he was a better comedian then than in the videos you see today. He was absolutely magical. The magic of it all, as with all comedy, is based in the timing – and his timing was absolutely perfect. When I saw him I thought to myself – that's what I want to do. He had complete control of this audience. He's followed by Billy Connolly (I know he's Scottish!) for different reasons because he's more of a storyteller. My final favourite is Les Dawson. He was a working men's club comedian too.'

Your favourite places in the North East?
'I know this sounds sad, but I'm a creature of habit. There's a little town about two or three miles from Redcar called Marske and there's a bakery there called Cooplands. During the dark days of lockdown I'd sit in the cul-de-sac round the corner in my car drinking tea and eating cake and vegetarian sausage rolls and I'd write. I love it there! There's also a place in Redcar called the South Gare which is a Site of Special Scientific Interest, a protected beach that goes round to the old lighthouse, but on the other side is the old blast furnace and all the heavy industry of British Steel. It's magical. I love to sit there too.

'Apart from the Riverside Stadium, which is a Teesside Mecca, I also love Newcastle, mainly because I've loved Bruce Springsteen all my life and the first time I saw him live was in 1985 in St James' Park. It was the second night of his shows and the concert was off the scale. Afterwards, I went in a pub called The Strawberry and we got two pints and someone had put Hungry Heart on. From that moment, I've loved the city. I was fortunate to see Lindisfarne in the City Hall in 1986 and that was absolutely fabulous too. Newcastle really has a vibe, but it's not as good as the cul-de-sac next to Cooplands bakery, of course!'