Review: A Cornish Clifftop Escape near Newquay
Direct flights from Newcastle to Newquay mean you no longer have to spend eight hours in the car in order to visit Cornwall's stunning coastline. We flew down to check it out
On a cliff top above the rolling waves of the Atlantic, on a peaceful headland overlooking the surfers' paradise of Fistral Beach, there are few more beautifully-set hotels than Lewinnick Lodge. Just 20 minutes' walk from the centre of Newquay, this Cornish cliffside escape is the perfect base for a few days of exploring the vast beaches, hidden coves and bustling town - all of which are within easy reach.
Landing mid-afternoon after a quick and hassle-free flight from Newcastle to Newquay's small but perfectly formed airport, a 20-minute drive takes us to Lewinnick Lodge. Our spacious room is a dream in Farrow & Ball, with a free-standing bath, monsoon shower, vast bed and plenty of little luxuries – from homemade biscuits to organic toiletries. Lovely as all this is, it pales in comparison to the view from the huge windows: the Atlantic Ocean stretches, uninterrupted, in front of us, while to the right we can see Newquay and the pale sands and crashing surf of Fistral Bay. We've arrived on the summer solstice and soon discover that due to its unique position, the hotel enjoys stunning views of both the sunrise and the sunset at this time of year. Everything is positioned in such a way that there are incredible views around every corner, from the restaurant and bar to the terrace.
Keen to explore, we change and head along the clifftop path which leads to the town (we're taking the scenic route). This is actually part of the South West Coast Path (England's longest way-marked walking route) and the temptation to keep following it is strong – if it wasn't so hot. As it is, with the sun beating down and barely a breath of wind, we're glad to reach our destination for dinner, The Harbour Fish & Grill.

This welcoming little spot seems to cling to the side of the cliff which backs the harbour here, sitting above the action and offering perfect views over the bobbing boats and the beaches beyond the harbour wall. On the way in, we're greeted by the chef-owner, Aaron Janes, whose open kitchen overlooks the harbour and the waters he sources so much of his menu from. Removed, but still feeling like part of the action, as we sit down we can hear people laughing as they dive into the harbour, and the call of the rowers who are setting off below us.

With a cold glass of dry white wine collecting condensation in front of me, I'm unable to resist ordering the 'seafood knickerbocker glory' to start. This delightful concoction of salad, shellfish and juicy prawns is served in a traditional sundae glass (with various seafood sauces taking the place of syrups) and there even appears to be a cherry in the bottom of the glass – which thankfully turns out to be a cherry tomato. The presentation is fun and whimsical – but more importantly, it tastes great. My partner's crispy fried shellfish is in a delicate batter and comes with a generous helping of rich lobster bisque, so you can dip, dunk or pour as you choose.
Next up, my partner's juicy cod loin is served with garden vegetable fondue, sun-blushed tomatoes and a Veuve Cliquot and chive beurre blanc. A side of new potatoes are generously buttered. My Cornish sole, meanwhile, is served with garlicky king prawns, clams, samphire, watercress and rocket. It's buttery, delicious, and falls off the bone at the mere touch of a fork.

As the shadows lengthen over the harbour in front of us, our desserts arrive. There's some truly original presentation here, but not at the cost of flavour. I've chosen a 'West Country cheese high tea' and it's served appropriately on a tiered stand, with generous wedges of cheese, crackers, buttery mini scones, fruit cake, pickle served in an onion skin, and a chutney rolled into thinly sliced carrot. My partner's Cornish cream tea trifle looks like something Alice might have eaten in Wonderland – a trifle / Eton mess hybrid complete with meringue, fruit and a mini jam tart.

After taking the time to compliment the chef (profusely), we make it back to Lewinnick Lodge just in time for sunset. Grabbing a drink from the bar, we make the most of the still-warm evening and choose a table on the terrace, watching as the sun sinks into the waves and colours the sky with streaks of purple and pink.

Following the most peaceful night, with the windows open to let in the sound of the sea, we're up and about early. To add an extra element of relaxation to a day which already consists of nothing more than coastal walks, ice cream stops and drinks in the sun, I've booked a massage at Fistral Beach Hotel & Spa, which is set in a brilliant spot above the famous sands. The modern spa here has a large pool with massage jets, a hot tub and steam room (access to which is included with my treatment). After I'm collected from the comfortable relaxation room by my therapist, the 60-minute 'balancing journey' begins. Using natural British-made products from GAIA, the journey begins with a hot stone massage, relieving aches and pains and soothing muscle tension (as usual, the knots in my shoulders require extra work). After this, a facial involving jade crystal wands is beautifully cooling. I'm normally wary of facials, but this one leaves my skin noticeably fresher and brighter (with no annoying redness).

That night we decide to try the restaurant at our hotel, and are seated at a table by the floor-to-ceiling window where we can look out over the sea. My partner starts with char sui pork (ribs and belly) with spiced slaw and crackling, while I've chosen a Lewinnick fish cake with sweet chilli jam. Next up is a dish of linguine in a spiced tomato sauce – it's generously packed with clams, prawns, mussels and chunks of pollock. Across the table, my partner is devouring a large pan of moules marinière, and we mop up the delicious sauce with homemade garlic focaccia.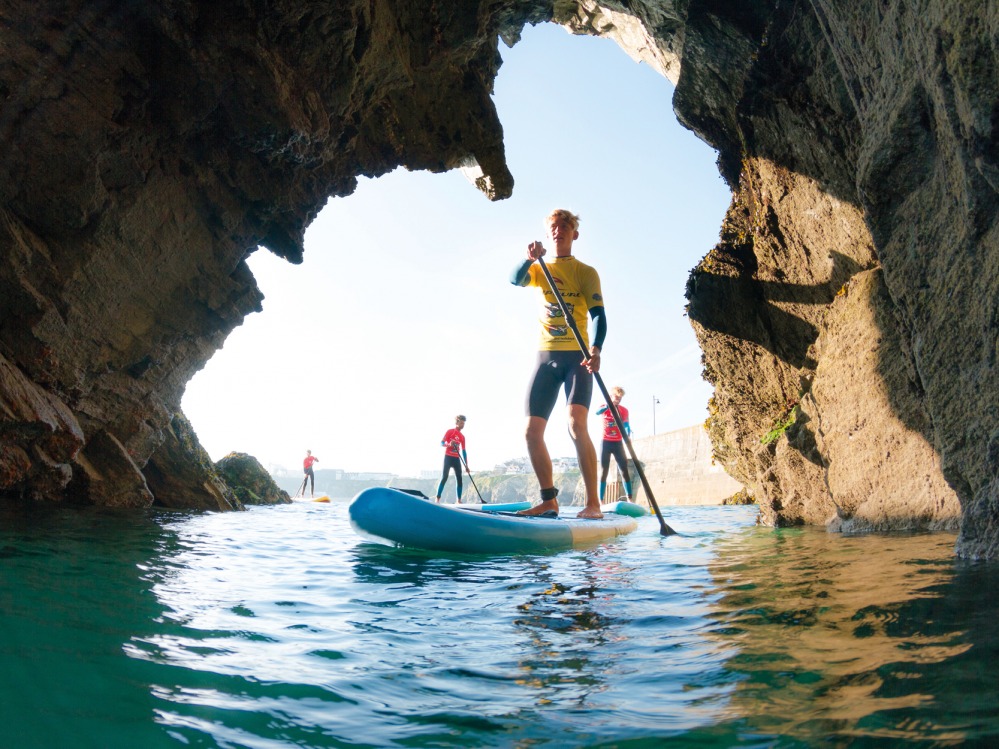 Having only been in up to our ankles so far, the following day we decide we really must get in the sea while we're here. It's still hot, and the sea isn't actually that cold – not compared to what we're used to up north in any case.

Our paddleboarding instructor Sarah is waiting for us outside Newquay Activity Centre, and once we've donned wetsuits, helmets and buoyancy aids it's a short walk down to our setting off point in a rocky cove just beyond the harbour. While we're still on dry land Sarah demonstrates various techniques for paddling, including how to change direction and how to turn around. By the time we get going, paddling like crazy out of the cove and practising our technique, we're starting to boil in our wetsuits and the prospect of a cold dip is genuinely appealing.

It's a good job too, as each of my various attempts to stand up ends in a sudden splash as I topple off the board and into the sea. A couple of the group manage to stand up without incident (including, irritatingly, my partner), while others won't even attempt it for fear of falling in. We may be lacking the 'stand up' part, but I can see why paddleboarding has taken off so much in recent years. It's fun, easy to get the hang of (on your knees anyway) and is a perfect way to see parts of the coast you otherwise might not. In our two hours on the boards we explore hidden coves, clamber into a sea cave to find a freshwater spring, and even spot a few seals passing close by.
In the late afternoon, appetite well and truly built up, we take the 10-minute walk from the town centre across the headland to Fistral Beach for lunch at The Stable. This is part of a collection of shops, restaurants and bars at one end of the bay, and the curved front of the restaurant looks out over the beach and the water. It's a cool, relaxed spot with a menu focusing on sourdough pizza, hearty sharers, salads and sides. My 'Slice of Fistral' pizza is topped with Cornish gouda (who knew?), roast garlic mushrooms, truffle oil, parsley and a sprinkling of Cornish sea salt. I also manage to swap a slice of my partner's 'Pesto La Pizza, Baby', with tomato sauce, pesto chicken, roasted artichokes, rocket and basil. To round things off, we're sharing a portion of garlic and herb dip and a dish of 'Green Light' mac n cheese, which is creamy yet packed with greenery (think broccoli, peas and spring onions). The Stable also does a good line in local lager and cider, and all in all it's just what we need after the adventures of the morning. It's nice to spend what's left of the afternoon in a more relaxed fashion, moving from beach to bar, watching the surfers riding the waves and enjoying a cocktail or two at Fistral Beach Bar.
'In our two hours on the boards we explore hidden coves,
clamber into a sea cave to find a freshwater spring,
and even spot a few seals passing close by'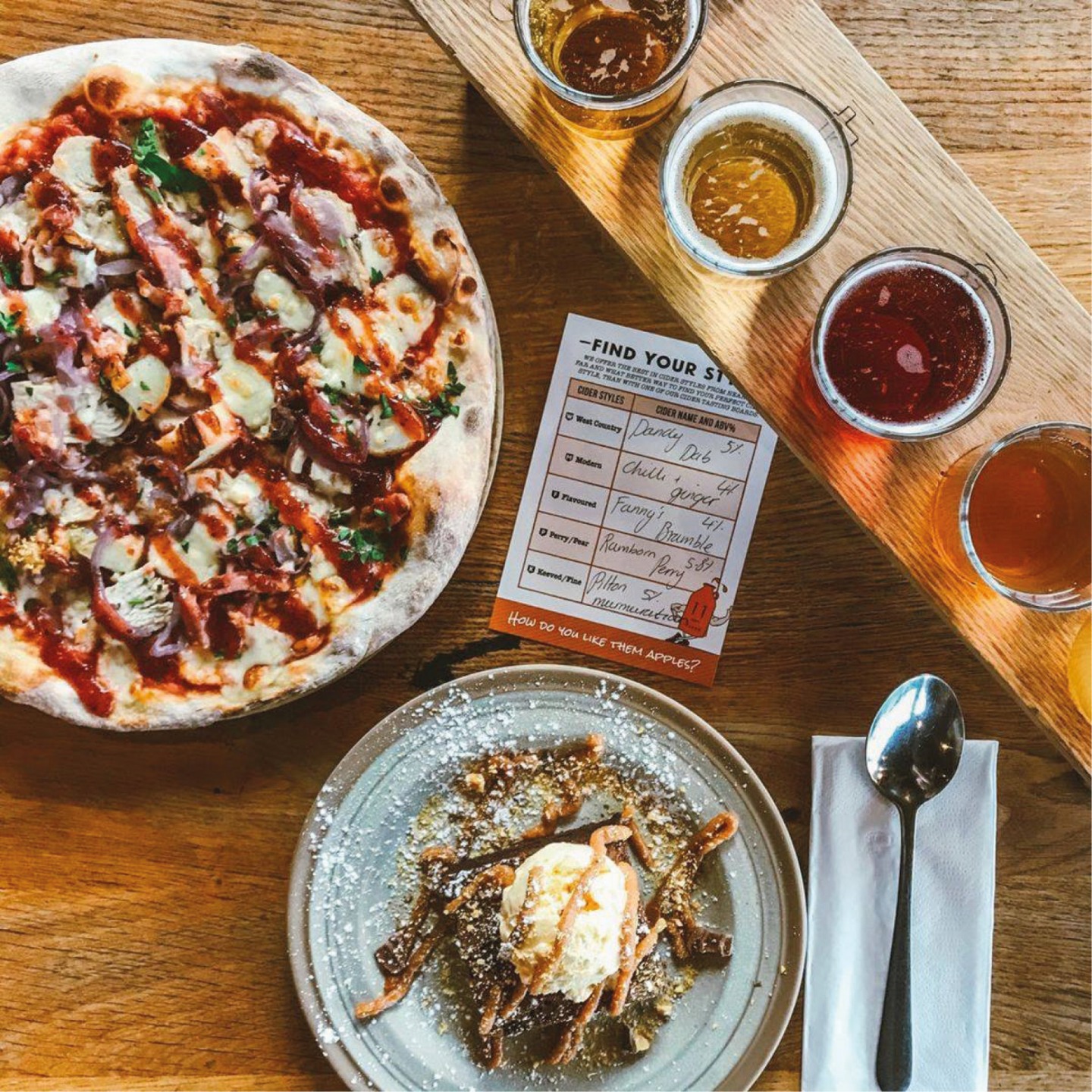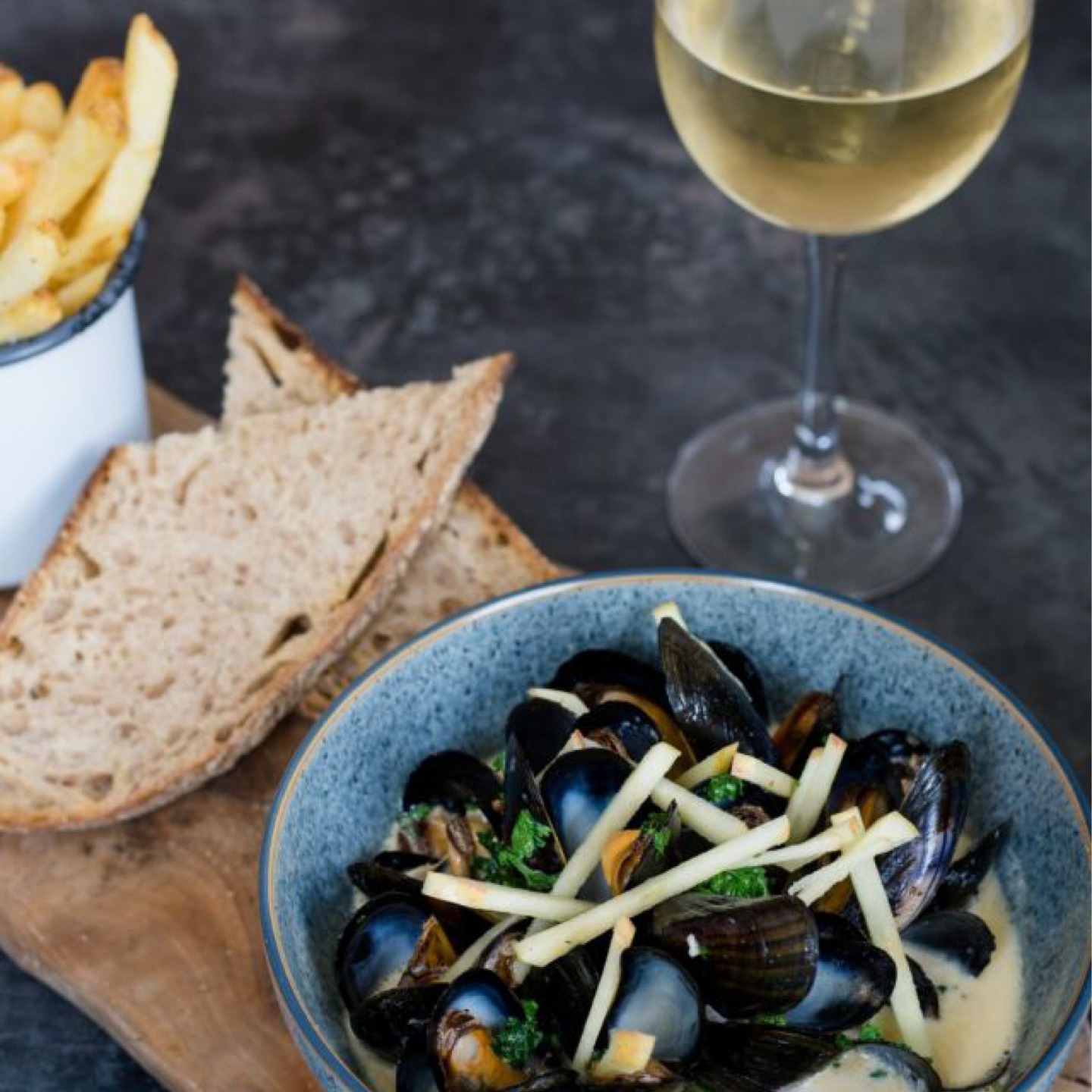 Once again, we can't resist ending the day with sundowners on the terrace back at the hotel. On our final morning at Lewinnick Lodge we enjoy a leisurely breakfast. A perfect plate of eggs Benedict for me, and a full Cornish for my partner, are accompanied by tea, toast, juice, and that picture-perfect view. It's a little cooler today and a brisk breeze is whipping up the waves below us, so perhaps it's the right time to leave Cornwall and head back north before the crowds of summer holidaymakers arrive. After all, the flights run from Newcastle to Newquay until October – so we can always come back.
Loganair fly between Newcastle and Newquay twice a week all summer, loganair.co.uk.
Rooms at Lewinnick Lodge start from £294 in the high season (June–Aug). Go to lewinnicklodge.co.uk for more.
Newquay Activity Centre is open seven days a week all year round, newquayactivitycentre.co.uk. theharbourfishandgrill.com
fistralbeachhotel.co.uk
stablepizza.com