Review: Newcastle's new Greek restaurant The Real Greek
In the heart of Newcastle city centre, the popular Greek food chain have opened their first North East restaurant
We went along to try their offering of authentic Greek cuisine.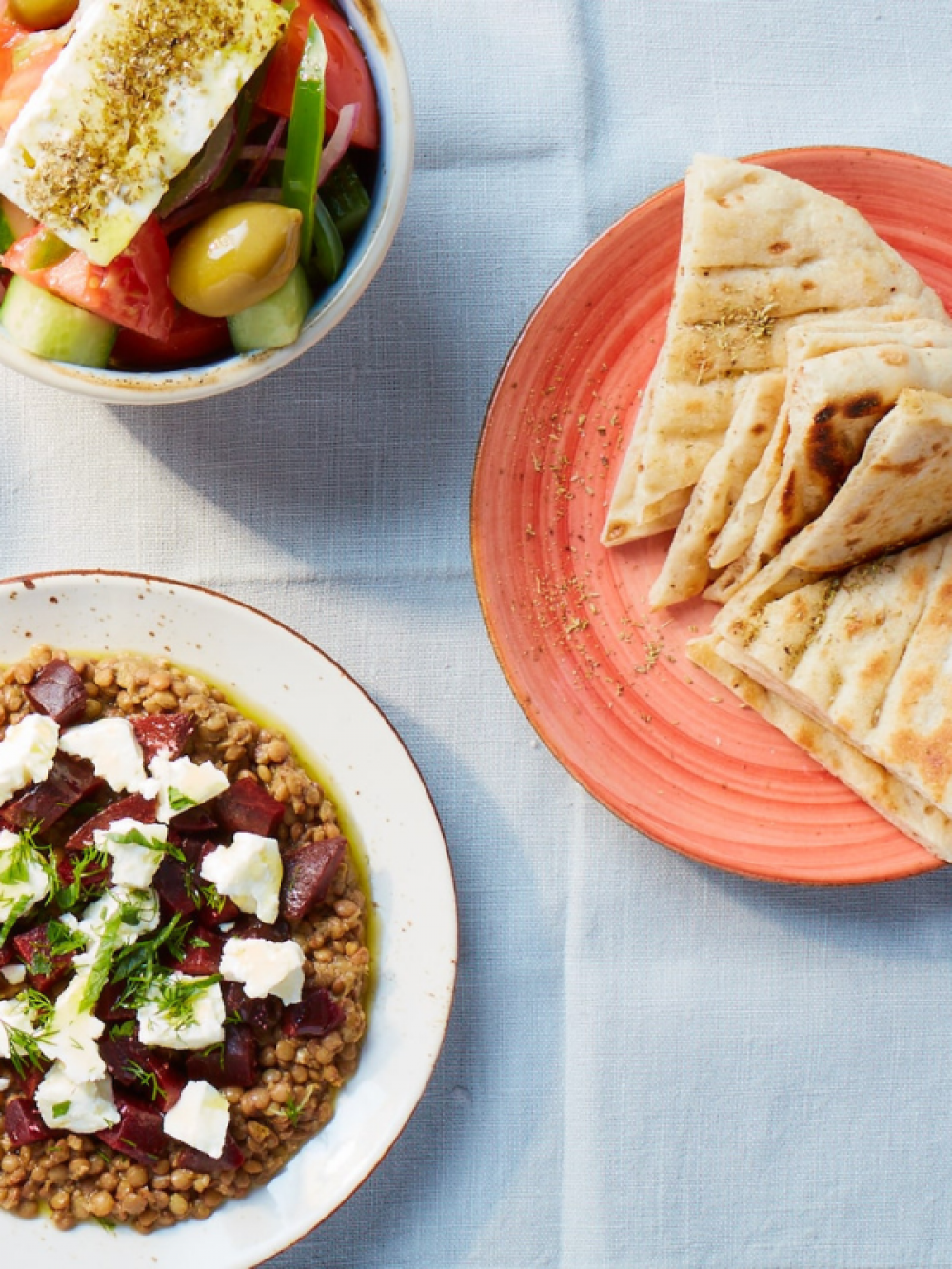 Walking through the doors of The Real Greek from Old Eldon Square you're immediately greeted with the bar which leads off into the light and airy restaurant. While the decor is traditional (think white, blue, and coastal tones throughout) there is a Mediterranean feeling created by the calming atmosphere and floor-to-ceiling glass windows.
We're seated at one of the tables on the lower floor of the restaurant which overlooks Old Eldon Square (although more intimate tables on the mezzanine level are also available). We order a Hugo cocktail with Prosecco, soda water, elderflower syrup, mint and lime which is the perfect drink to sip on as we take a glance over the menu.
There are plenty of dishes to choose from – both hot and cold meze (cold being served first), as well as authentic Greek wraps, salads and a selection of set menus which are great for a larger table of diners. We settle for Greek olives and flatbread as appetisers and help ourselves to the olive oil already on the table.
It's recommended that three or four meze dishes each are perfect for dinner time, so we each choose a souvlaki wrap, with three meze plates to share. They soon come presented on a five-tiered tray and we lift the plates off so we can easily share our food. The salt cod with a crispy beer batter casing is perfectly tender and light, whilst the halloumi and vegetable skewer on a bed of Greek slaw is juicy and flavoursome.
We move onto our authentic souvlaki wraps, one filled with chicken, Greek mustard sauce, tomatoes, red onion, sweet paprika and chips, the other with calamari, taramasalata and cucumber ribbons. Both wraps are full of flavour and the chicken has a nice kick of mustard too. Our final sharing dish is the Greek moussaka – a hearty lamb mince Greek-style lasagne which is my dining companion's favourite of the three dishes.
We take a break to sip on our drinks and enjoy the (still) buzzing atmosphere of the city centre and before we know it, we're looking over the tempting dessert menu wondering if we could manage something sweet.
We go for the portokalopita – a traditional orange cake with layers of homemade filo pastry baked in Greek yoghurt, soaked in orange syrup and served with vanilla ice cream. A delicious dish, but perhaps save some room if you're trying this sweet treat as the pastry is rather filling. We also sample the dark chocolate mousse cake which is light yet rich and moreish.
There's nothing we could fault after trying some of the authentic Greek dishes on the menu. The Mediterranean-style decor in the light and airy restaurant, combined with authentic Greek food and friendly staff make for a great dining experience – and we already have our eyes on a couple of the other cocktails to sample in their outdoor area.
The Real Greek is open now. Book your table at therealgreek.com