Review: A Perfect Weekend at Keswick's Skiddaw Hotel
A weekend at Keswick's Skiddaw Hotel puts us at the heart of the action – but there are still plenty of chances to enjoy warm hospitality and fabulous food
On a hot summer Friday tea time, we arrive in a busy Keswick, passing numerous event signs and warnings of road closures along the way. None of this impedes our progress to a car park just off the Market Square, where we park easily directly behind The Skiddaw Hotel – our home for the weekend. At this point, with the town getting busier all the time, we decide to abandon the car until Sunday, and explore the area under our own steam.
The Skiddaw is the perfect base for this, with its front door depositing you directly onto the Market Square just below the instantly-recognisable Moot Hall. Having checked in and tidied ourselves up in our room (a roomy, light-filled space, with two windows offering views over the town and to the hills beyond), we head back downstairs to the hotel's bar. The Skiddaw has recently undergone a renovation which saw the whole ground floor given a complete revamp – following which it was awarded a fourth AA Star – and the bar is now a smart but welcoming space, where a mix of walkers and early evening diners are enjoying the atmosphere. In the adjacent conservatory, you can sit and observe the goings on in the bustling square outside. From here you also have a perfect view of the Moot Hall, and as we have a drink we witness a few hardy souls setting off on the Bob Graham Round. This is an epic challenge in which people cover a 66-mile circuit, taking in 42 of the highest peaks in the Lakes, all within 24 hours. Friday night, it seems, is a popular time to set off.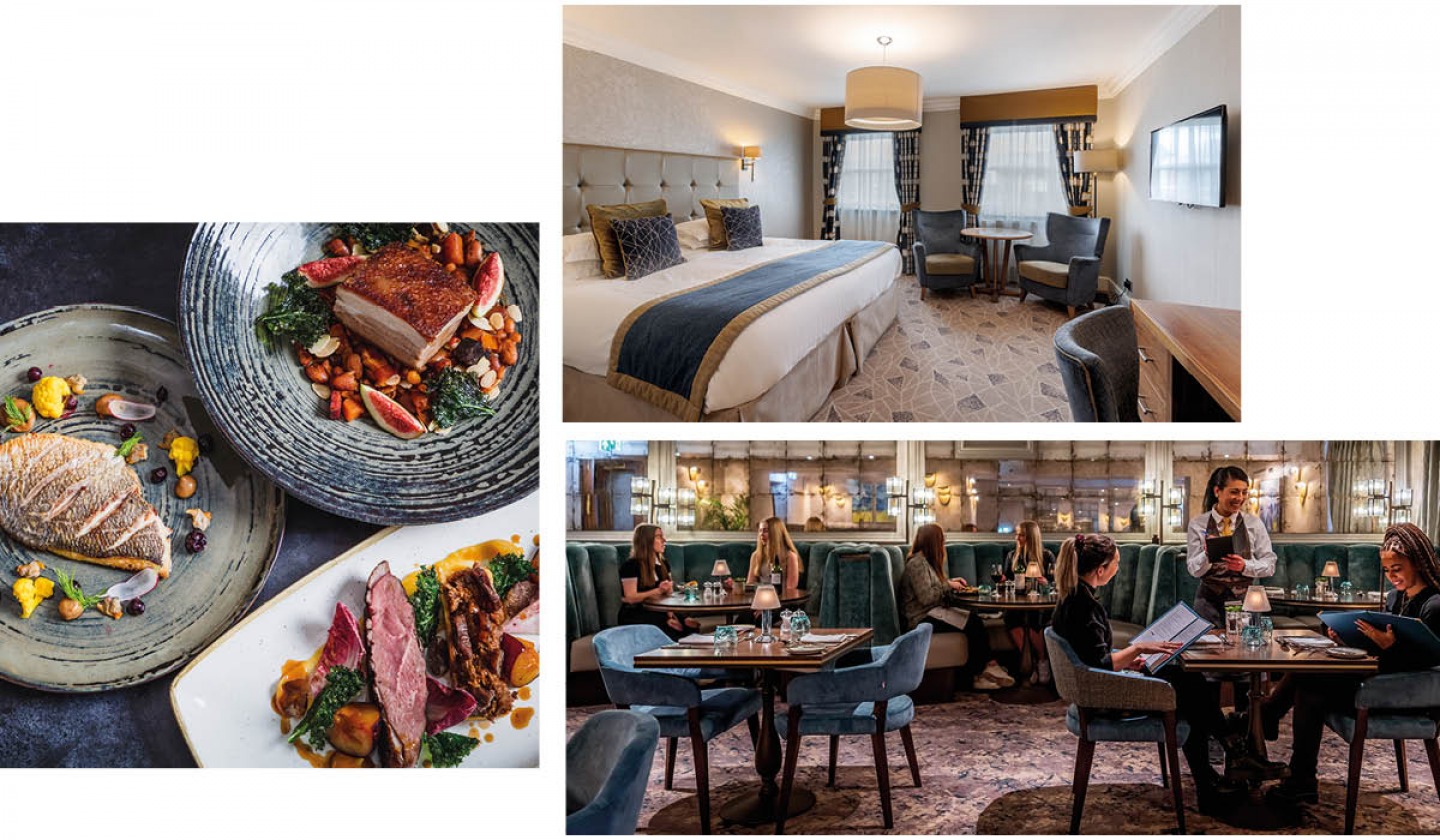 Rather them than us. Instead, we're heading for The Skiddaw's newly-refurbished restaurant, Brasserie 31. This is a sleekly-designed space where we're given a warm welcome and seated in a round booth before promptly being offered drinks and menus. Alongside a chilled bottle of white, we start with more-ish garlic king prawns (with a touch of warming chilli and crusty bread), and perfectly-seared yellowfin tuna (this comes with a peppery mustard and herb crust, pickled vegetables and a spiced aubergine purée).
I stick with fish for my main course too, and I'm pleased to have done so when my roast monkfish arrives. It's wrapped in Serrano ham, with a zingy purée of lime, yellow pepper and sherry, globe artichoke and roasted vegetables. It also comes with a side of buttery new potatoes, which while welcome, I probably don't need (I eat half of them anyway though). Next to me, my partner tucks into pink fell-bred lamb, with charred roscoff onion purée, roasted plums, a pressed potato terrine, seared Tenderstem broccoli and a minted jus.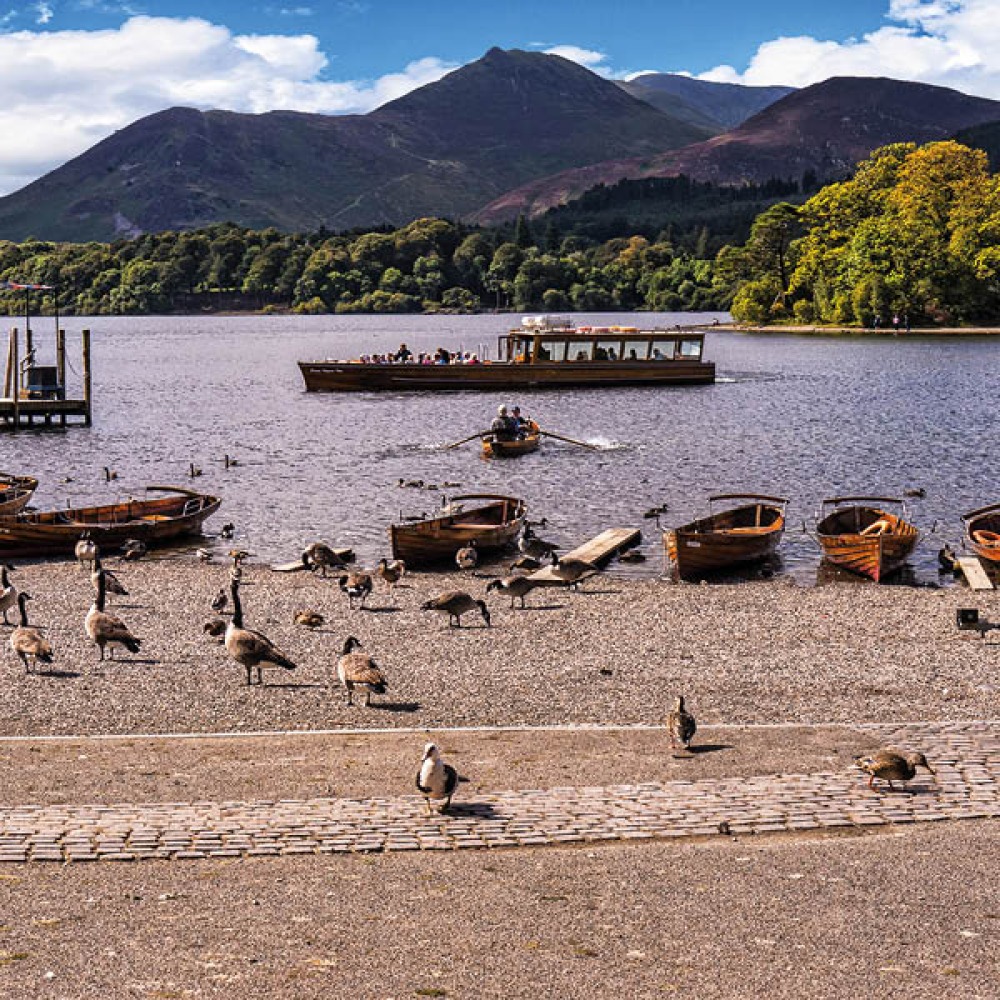 We round off the evening with a caramelised white chocolate parfait with drambuie liquor raspberries, raspberry sorbet and orange nougat (for him), and a Brasserie 31 cheeseboard (for me), which includes a particularly good Black Dub Blue and delicious candied walnuts.
Despite being just off the potentially-noisy square, we're able to sleep with the windows open to make the most of the cool night air. In the morning, back in Brasserie 31, we opt for a full Cumbrian breakfast each alongside pots of tea, toast and cereal. I'm not usually one for a full breakfast, but we've got a lot of miles to cover today, and by 9am, walking boots on, we're on our way down to the lakeshore.
Our plan to leave the car where it is doesn't limit us – one of the best things about Keswick is that you get the advantages of a buzzing little town, but you're always only moments from the hills and water the Lakes are loved for. Today, we walk down to the jetty and catch the special walkers launch service across the water. Instead of circling the lake and stopping at various jetties along the way, this one heads straight from Keswick to Hawse End, depositing us on the west shore of Derwentwater, directly beneath the imposing slopes of Cat Bells.
'Getting into the swing of things, we order a jug of sangria to share and a whole heap of small plates from the menu'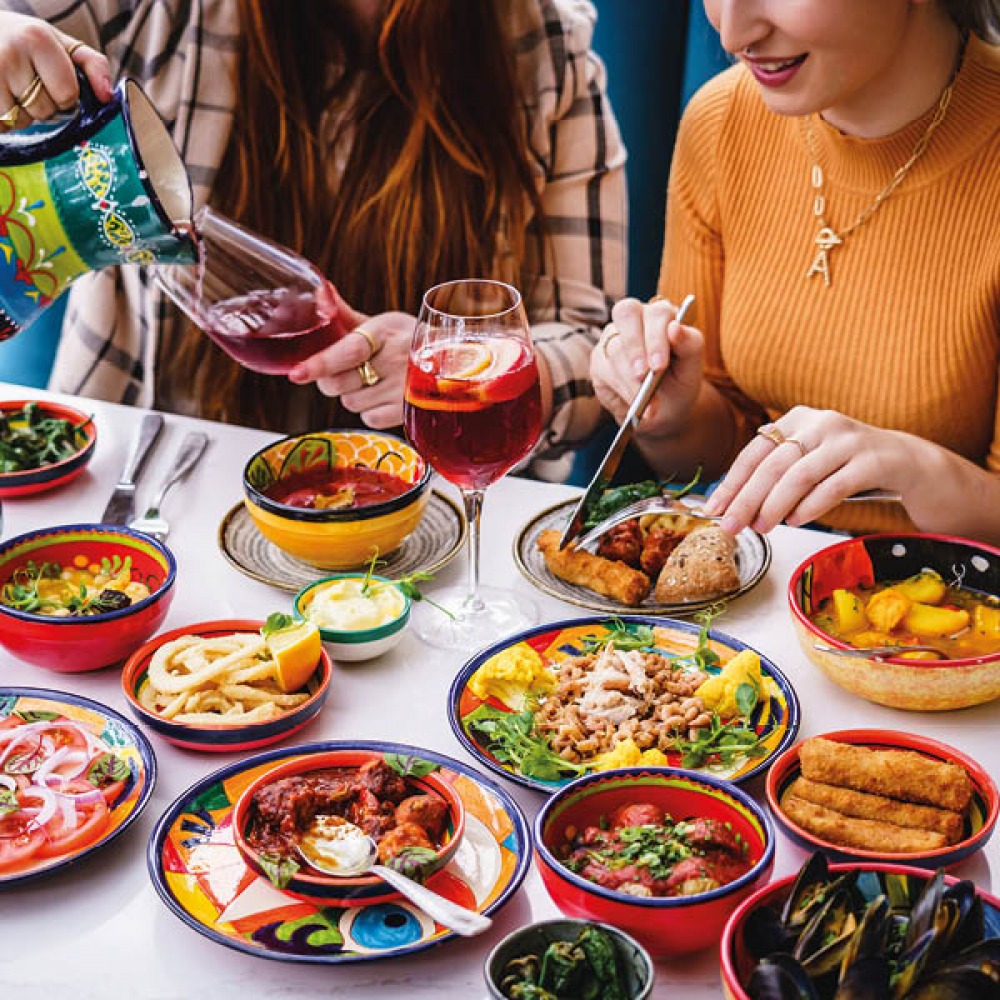 Four hours, 13 miles, and countless Sports Mixtures later, we couldn't be happier to finally stumble back into the welcoming arms of The Skiddaw Hotel. As exhausted as we are after our exertions, we're determined not to waste our final night in Keswick, so cleaned and suitably refreshed we head straight out. Keswick has seen the addition of some decent café-bar style places in the last few years, and we spend an enjoyable couple of hours exploring some of these, ducking in and out as we wander around the town centre. Our picks would be The Pocket Café Bar, and The Round, but we can't speak for the food in either of those places, as tonight we're booked into the conservatory at The Skiddaw for dinner.
The menu here is very different from the fare on offer in Brasserie 31, offering a good selection of classic tapas dishes. Getting into the swing of things, we order a jug of sangria to share and a whole heap of small plates from the menu. Padron peppers sprinkled with flaky sea salt; patatas bravas in a spicy chilli and tomato sauce; breaded ham croquettes; spicy pork meatballs in a herby tomato sauce; deep fried squid; finely sliced cured ham with crusty bread and olive oil for dipping; plus a glorious dish of slow cooked squid, prawns and saffron potatoes in seafood sauce. If eating Spanish tapas in Keswick is a little incongruous, who cares when it's this good?
As we, finally, tuck into a plate of fried churros with warm chocolate dipping sauce, we have the perfect view of the intrepid runners as they return from the Bob Graham Round, 24 hours after we watched them set off. As each one enters the square, a ripple of applause follows them up the final stretch to the door of the Moot Hall, before they collapse upon the steps and are revived, for the most part, with a pint (hurriedly delivered from a nearby bar). Along with our fellow diners and drinkers, we're happy to join in with the applause.
The Skiddaw Hotel, Keswick
lakedistricthotels.net/skiddawhotel