See the Amazing Animal Art Inspired by North Yorkshire that has the Queen's Approval
Laura Pennell creates animal art inspired by her North Yorkshire surroundings – and now she's got Her Majesty The Queen's seal of approval
Laura's detailed and vibrant artwork depicts wildlife and the countryside. While she's only been practicing art professionally for four years, she's always had creative bones. She spent time dabbling in paints (mostly acrylic and oil) before picking up pencils. 'That's when things really started to change,' she says.
Laura works part-time as an Operating Department Practitioner, and while she loves the job she has reduced her hours to fulfil her growing art career. 'Even though I always wanted to be an artist, it never really happened,' she says. 'But one day I picked up pencils and soon I started to get commissions for horses and pets and it's really grown from there. I still do commissions (mainly of horses) but the rest of the time I'm creating original work and limited edition prints.'
Detailed sketching allows Laura to draw her subjects as realistically as possible – but making sure they have character is key. 'I always try to get the personality of the animal across,' she explains. 'As realistic as I want it to be, I still want it to look like a piece of art, not like a photo.' Turning to pastels this year has really helped with that and also means that Laura's artwork is bursting with colour. 'It's only a little change but actually it's made quite a big difference to my work,' she continues.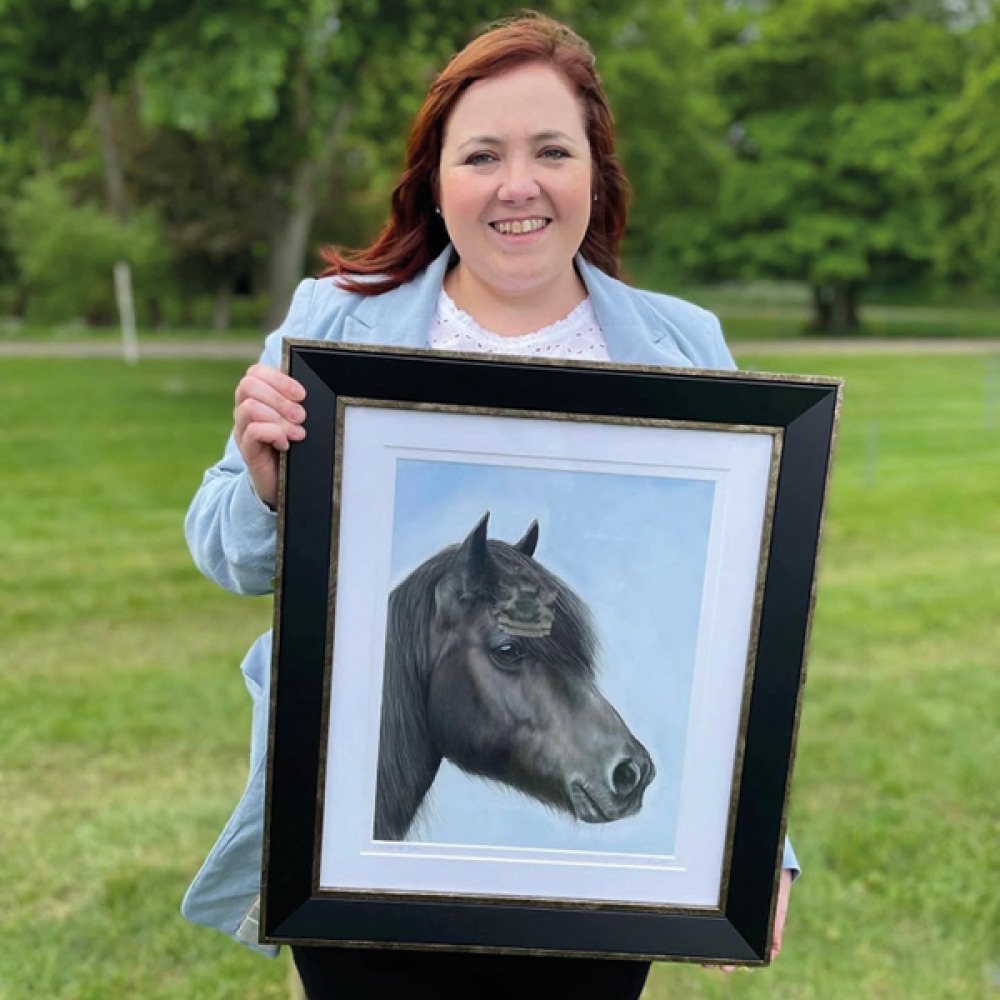 Proving the importance of community as she reflects on her artistic career so far, Laura highlights the support of a fellow North Yorkshire creator. 'I've had a lot of help from a really amazing coloured pencil artist – Bonny Snowdon,' she reveals. 'She has been an amazing mentor and I couldn't have built up my business without her support.'
Building confidence and altering her mindset have been in key in Laura's progress as a professional artist. 'Having a business mindset and thinking of it as a business rather than just a hobby is something I've really worked on over the last few years,' she explains. 'I've gained confidence to try different subjects because for a while I was in the pet and portrait bracket (which is absolutely fine) but I always wanted to create originals. Having the confidence to do that was something I had to work on – especially when going to fairs and putting myself out there to promote my own artwork.'
Living on a farm Laura is never short of inspiration, and she's always observing animal behaviour and characteristics. 'We have sheep and horses and I've always been surrounded by animals,' she says. 'I live in an amazing setting just outside Richmond and that's a really inspiring place to live and to draw. I like to create pieces of work that showcase the connection that animals have with each other. It's always about their personality and their own little characters that come through.'
'I don't think I'll ever have an honour like that again but it's just an amazing boost for me, and my confidence as an artist'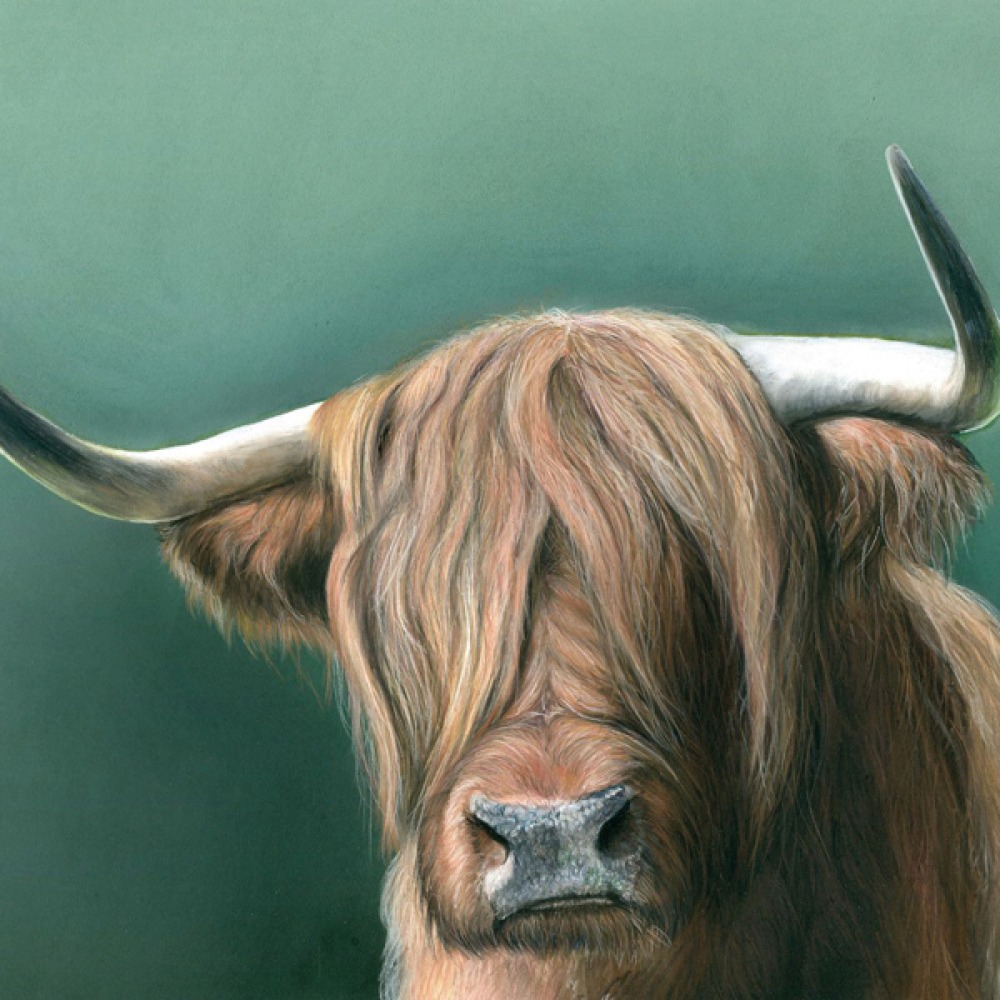 Hares, foxes, stags, and even a Scottish wildcat: Laura has drawn it all but says one of her favourite creations is Peace, a beautiful illustration of two giraffes. 'That was a turning point because it's the biggest piece I've done and I wanted it to be a showstopper on my trade stand,' she says. 'It turned out even better than I expected and it's been really popular for prints.'
But the biggest highlight for Laura so far has been her drawing for someone very special. She was asked by The Fell Pony Society to provide artwork for their centenary celebrations for a special gift for the Queen. The idea was to create a usable item that would have special meaning to Her Majesty – a silk headscarf featuring the Queen's own fell pony Carltonlima Emma, and elements from the Queen's racing colours. 'I was approached by the society about designing some artwork with the idea of presenting something to the Queen at the Royal Windsor Horse Show,' Laura says. 'The brief was to link together her love of horses (and particularly fell ponies) because she's been their patron for 40 years. I was really lucky that we found a great photographer called Bob Langrish and he allowed me to use a photo of the Queen's own fell pony. I created the portrait and we used that as the framework for the rest of the elements of the scarf. It even has a flower motif on it which is the flower of Cumbria, where fell ponies originate from. We wanted it to be emblematic and just really special for the Queen.' The headscarf, as well as Laura's original framed drawing, were presented to Her Majesty at the Royal Windsor Horse Show.
'It was an amazing day,' Laura adds. 'I never in a million years thought I would have that honour. I still haven't come down to earth about it. It was also an amazing opportunity to get my work seen.' Looking to the future, Laura wants to take on more commissions and continue developing her work. 'It's all about trying to get as many people to see my work as possible,' she says. 'I don't think I'll ever have an honour like that again but it's just an amazing boost for me, and my confidence as an artist. It's something I'll never, ever forget.'
Find out more about The Fell Pony Society at fellponysociety.org.uk and browse Laura's work at laura-pennell.co.uk.