Why this Newcastle Woman Began Cold Water Swimming and Set Up a Tynemouth Swim Club
Heather Garret first took the plunge into open water swimming to relieve the overwhelming feeling of pressure during the pandemic
That was in 2020, and since then she has never looked back, taking daily swims in open water and even starting her own social swim club. We catch up with Heather to find out more.
Cold water swimming has become incredibly popular over the last few years and whilst for some of us the thought of getting into icy cold water for quick dip sends shivers down the spine, there are those who get a real buzz from taking the plunge. And it's no surprise that there has been a surge in the number of open water swimmers, considering the health benefits that come with this unique sport.
Studies have shown that immersing your body in cold water increases your white blood cell count and therefore boosts your immune system. The lower temperatures also improve circulation as your body requires your heart to pump more blood to your organs, and some people even swear by cold water swimming as an effective way to target cellulite. The high amount of calories you burn is also an attraction, as the temperature shock sends your heart racing before you've even started swimming.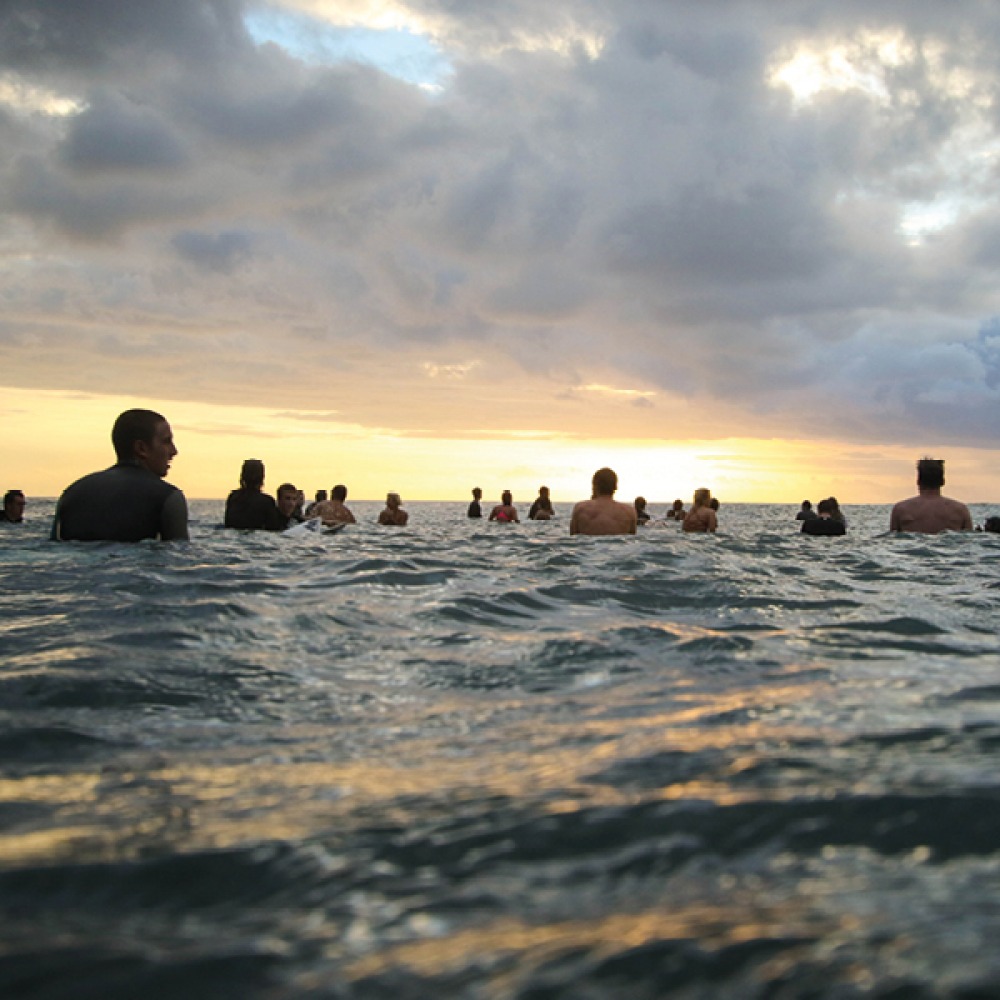 It's not just physical benefits though – open water swimming is also good for our mental health. It's a well known fact that getting out in natural open spaces helps clear our minds, and studies have shown open water swimming relieves stress, crushes fatigue and activates endorphin chemicals which makes us feel happy. These benefits were part of the reason Heather Garrett, founder of the Feel Good Swim Club, dipped her toe into open water swimming in the first place. 'When I started I would drive myself to Tynemouth or Druridge bay, put my swimsuit on and dive in. I just felt like I was having an hours worth of therapy after just 10 minutes [of swimming] – it was amazing,' she says.
Heather is originally from Newcastle and had spent the last 10 years in London working as a festival director – when the pandemic hit, her job was naturally put on hold. 'I ended up moving back to Newcastle and my anxiety went through the roof – it was such a scary time and no one knew what would happen next,' she says. 'I decided to take myself to the beach and thought I would try a swim. It was something to do and it got me out of the house, and obviously I couldn't meet anyone so it was quite solitary. However, it was a really lovely experience and [it became a way] to help me navigate through that really stressful time.'
After 10 years of living and working in London and then being stuck indoors because of the pandemic, Heather felt a sense of freedom when she got into the sea. 'It was such a different and amazing experience,' she explains. As Heather started to swim more regularly, she decided to share her experience on social media, which caught the attention of friends and family who wanted to get involved. 'All my friends would message me saying they wanted to go swimming and when the restrictions lifted it meant we could meet up. I then decided to start a swim club.' Lockdown had been a lonely time, and when restrictions eased Heather found this was a great opportunity to connect with people.
In December 2020, Heather posted on social media about the Feel Good Swim Club's first community swim at Cullercoats Bay. 'I think there was 15 of us, it was freezing and pouring with rain, but I looked around and thought, if people are keen to do this when the weather is this bad then they would obviously be keen to come outside in better weather on a regular basis,' Heather says. The Feel Good Swim Club hosted their next swim a few weeks later, by which time even more people had heard about the social club and came down to dip their toes into sea swimming.
Open water swimming might sound daunting to many, especially the thought of being in icy open water alone, but the Feel Good Swim Club offers that comfort blanket of knowing there is a group of people around you, looking out for you in the water. 'I think going in a group really allows you to push yourself out of your comfort zone, get into the cold water, have a swim and also chat and meet new people too. The promise of a hot chocolate and some homemade cake after helps too,' Heather laughs.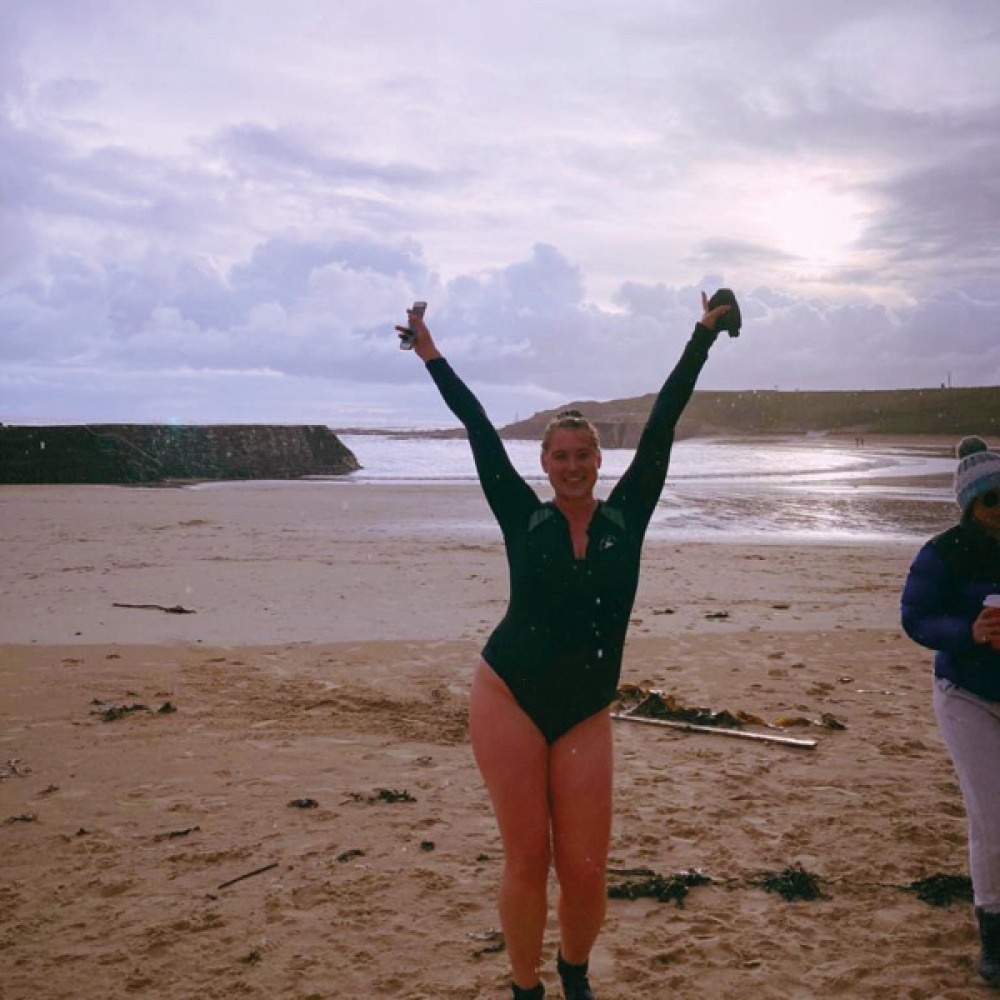 'I think there was 15 of us, it was freezing and pouring with rain, but I looked around and thought, if people are keen to do this when the weather is this bad then they would obviously be keen to come outside in better weather on a regular basis'
Heather says a wide variety of people have joined the social swim club. 'Everyone and anyone is welcome. We have a young demographic but that's maybe because we started on Instagram, but we do have a good mix of ages – we have older women who come alone, people who bring their mums or dads and now we have people who often bring their kids too,' she says.
The great thing about open water swimming is that very little equipment is needed to get you started. For some, a wetsuit would be a must whilst others (bravely) head into the water with just a swimsuit on. 'There is a real mix at the club, some head in with a wetsuit, I just wear my swimsuit like many others, but it's obviously about making sure you're comfortable and you certainly don't want to push yourself too much too soon,' Heather says.
It's also important to be aware of the differences between open water and swimming in a controlled environment like a swimming pool. 'You have to be very mindful of the tides and the riptides, as well as hypothermia – that's why it's better to go out in a group than going alone. You're obviously safer when you've got other people around you,' she adds.
The Feel Good Swim Club usually meet at King Edward's Bay in Tynemouth on the first Sunday of every month. 'We tend to do King Edward's Bay because it's nice and sheltered, plus it's easy for people to get to,' Heather says. She prefers going open water swimming in the sea, but has recently set a personal goal to explore more open bodies of water. 'Any opportunity I have to mix it up I take, but we're so lucky to have such amazing places on our doorstep.'
For those thinking of getting involved in open water swimming, Heather recommends joining a club. 'I think a little community where there is a friendly face and you can have a laugh is important. Also, if you're nervous of the cold I recommend getting some neoprene gloves and socks or boots – they aren't the coolest [looking] but they really help,' she says. 'I'd also say take something warm for when you get out, and a hot drink in a flask always takes the edge off.'
To find out more about getting involved in the Feel Good Swim Club, follow their Instagram page @feelgood_swimclub.
Where to Go
• Linhope Spout, Breamish: A beautiful waterfall with a ledge from which you can jump into the deep plunge pool (but it is a three mile walk to reach it).
• Beadnell Bay: This relatively sheltered bay, backed by sandy dunes, has the only west-facing harbour on the North East coast. The gentle slope makes getting in and out easy. It's a popular spot so you're likely to have plenty of company in and out of the water.
• Ellerton Park, Ellerton: A 60-acre lake popular with triathlon and open water swimming, plus lots of water sports too. This one is only suitable for competent open water swimmers or those under supervision.
• King Edward's Bay, Tynemouth: A 300-metre stretch of golden sand enclosed by cliffs and grassy banks, with clean and safe waters.
• Seaham Beach, County Durham: The waters between the piers in Seaham are ideal for swimmers, with lots of local swim clubs to get involved with too.
• Seaburn Beach, Sunderland: This wide, sandy beach has an RNLI lifeguard (April to September) so is a popular one with sea swimmers and water sport enthusiasts, and there's plenty of parking nearby.
Top Tips
• In the colder months wetsuits are advised and if you're new to open water swimming, ease yourself into it. Wear brightly-coloured swim caps, whistles, lights and safety buoys are advised, plus a waterproof watch should be considered so you can keep an eye on the time you spend in the water.
• Never go alone, no matter how safe you think it is. Ideally join a swim club (there are plenty around the North East,) or get a friend or a beach spotter to keep an eye on you, and always tell someone where you are swimming.
• Know your surroundings in terms of tides, rocks, currents and depth – temperature is an important factor too so be sure to test the waters before diving straight in.
• Ease into the water so you don't send your body into shock, and make sure to keep your breathing relaxed before you submerge.
• Avoid canals, urban rivers, stagnant lakes and reedy areas.
• Always plan how you are going to get out – before you get in!