Rheal Superfood's Ambition to Help People Become Healthier Through the Power of Superfoods
We spoke to Rheal Superfood's Sean Ali following their rebrand from Super U
Catching up with two of the North East's most impressive young entrepreneurs as they expand their ambition to help people become healthier through the power of superfoods.
Since Rheal Superfoods (previously Super U) began to take shape as a concept in 2015, creators Sean Ali and Charlotte Bailey have seen four years of rapid business growth, unanimous praise from BBC One's Dragon's Den, and personal battles with their own health which have inspired them to produce a superfood product range that they can personally vouch for helping them make their lives fuller, healthier and happier.
'The reason superfoods sparked our interest was originally through Charlotte's battle with coeliac disease,' explains Sean. 'It has a really dire effect on the immune system, it made her feel fatigued a lot of the time, but when we lived together in our final year of university I really started to notice those effects on her body. I decided to introduce the superfoods I found during my second year studies in America into our diet and we noticed a huge difference in our health. After a few weeks we just had the idea, "Why don't we create some easy and convenient superfood blends?" and the rest is history. We took the idea to the university and worked with their nutritionists in the food science department to develop our first range of products.'
Sean and Charlotte's determination to find natural solutions to health problems comes from a personal need to improve their own wellbeing, and find solutions which they feel compelled to share with the rest of the world. In an age where foods that have positive effects on body, mind and immunity are more important than ever, Rheal Superfoods offers a unique range of products.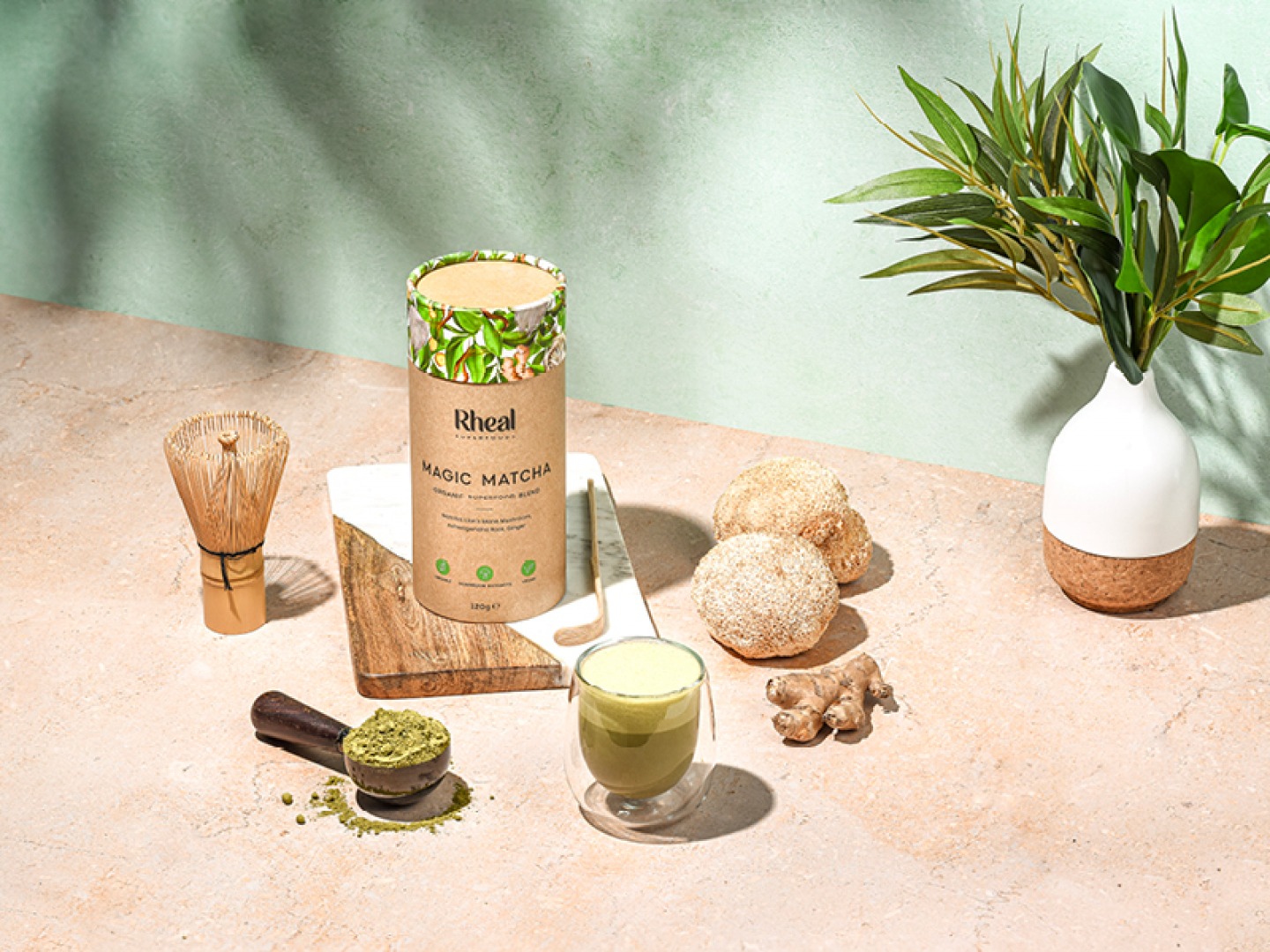 'Our mission is to encourage more people to live healthier and happier through the power of superfoods,' says Sean. 'Introducing superfoods into your diet means you'll see improvements in your focus, immune system, digestion, energy levels, and these benefits all cross over. What makes us unique is that each product has a specific function – Clean Greens for the immune system, Shroom Coffee for energy and focus, Berry Beauty for anti-oxidants and skin health – they all have their own purpose,' he continues. 'We're all about making superfoods more accessible for people to use everyday.'
Accessibility is the name of the game for Rheal Superfoods. We've all been there before – hauling home a shopping bag full of greens, telling ourselves we're going to start a health kick before inevitably falling back into old habits. Sean and Charlotte are busy people too, so they understand that it takes time to look after yourself, which is why they aim to create seamless superfood replacements for 'unhealthy' diet staples which don't require you to switch-up your normal routine. Taking the example of coffee, Rheal Superfood's Shroom Coffee is a direct response to the desire for a seamless transition from negative to positive lifestyle choices, without sacrificing your morning ritual.
'Charlotte and I felt like even with one coffee, we loved the taste but it always made us feel awful 10 minutes later. From one cup you get a massive amount caffeine that causes a huge energy crash not long after. It doesn't do you any good,' says Sean. 'Our mushroom coffee is your normal arabica coffee, but because of the mushrooms it has half the amount of caffeine (around 50mg). But in addition to the coffee, you're also getting lions mane mushroom which is amazing for focus and brain health, chaga mushroom which is amazing for your immune system, and cordycep mushroom for energy and stamina. Also, no – it doesn't taste like mushrooms. It just tastes like normal coffee,' he adds.
'We just want superfoods to be convenient and accessible for everyone'
Whilst Rheal's journey originally began in an attempt to help with Charlotte's health, Sean too has had hurdles to jump regarding his physical wellbeing, a period he is now in recovery from.
'We started the business based on Charlotte's story and then one year into our journey I was diagnosed with Hodgkin lymphoma – a kind of rare blood cancer. I went through six months of chemotherapy and it was a pretty rough ride. Thankfully I got the all clear but it has given us 100 percent more drive to spread the message of looking after yourself.'
The odds have been relatively stacked against Rheal Superfoods, with two co-owners battling illness while keeping pace with a promising business, starting with no business connections and without the privilege of seed capital to invest. But Sean and Charlotte have overcome all of these challenges.
'There's been so many challenges since we started. I think a big one for a lot of businesses is raising capital, especially as young entrepreneurs. Out of university we had very little savings, we just had to grind away those first few years doing different market stalls across the UK. It's crazy thinking back over how much work we put in every week for a couple hundred pounds, but it was amazing for the customer feedback,' Sean recalls. 'You really have to grind to get those sales initially and improve the concept.
'We went down the crowd funding route, managing to raise £160,000 for 15 percent of the business which allowed us to kick off into our second year stronger, going into our third year during Covid. Another issue is our supply chain,' Sean continues. 'We've had a lot of bumps in the road with our supply chain – starting out you're not a priority for suppliers and manufacturers. Now we've grown more, we have much more purchasing power.'
As evidenced by their rebrand from Super U to Rheal Superfoods, self-evaluation and improving the concept of the brand is something that Sean and Charlotte are constantly working at – redesigning their product range to accurately reflect their sleek, clean, forward-thinking values. Now with increased support from Vitabiotic's and Dragon's Den's Tej Lalvani, Sean and Charlotte are nearly ready to catapult their superfood products onto the world market.
'Looking to the future, I hope we'll be a global superfood brand. We have a strong foothold in the UK, we have a lot still to do here but we're going to start expanding internationally soon. We have some good investment behind us now, including Tej from Dragon's Den,' Sean continues. 'We're also now hiring in quite a few new roles – if people have something to offer the team we'd love to hear from them.'
If you'd like to follow Rheal Superfood's journey go to rhealsuperfoods.com or contact info@rhealsuperfoods.com.