This healthy spinach pie is as Greek as it gets! And the good news is that it's packed with vitamins and minerals, especially iron from the spinach. Eat it as a snack, with salad as a light meal, or take a slice to work as a packed lunch
Preparation Time:
20 Minutes
Cooking Time:
45–50 Minutes
Ingredients
4 tbsp olive oil, plus extra for brushing
1.5kg spinach, washed and trimmed
2 bunches of spring onions, finely chopped
2 garlic cloves, crushed
1 small bunch of dill, finely chopped
300g feta crumbled
100g grated Kefalotyri or Graviera chesse
Grated zest of 1 lemon
½ tsp freshly grated nutmeg
2 medium free-range eggs, beaten
300g (or 12 sheets) filo pastry
Freshly grated black pepper
Method
Preheat the oven to 190C/gas mark 5. Lightly brush a deep 30x20cm ovenproof dish or baking pan with olive oil

Put the damp spinach leaves into a large saucepan. Cover with a lid and cook over a
medium heat for two to three minutes, shaking the pan a few times, until the spinach wilts.
Drain in a colander, pressing down hard with a small plate or saucer to extract all the
excess water. Put the strained spinach between two large pieces of kitchen paper and press down lightly. When cool, chop coarsely.

Heat the olive oil in a frying pan (skillet) and cook the spring onions and garlic for four to five minutes, or until tender. Remove and cool.

Put the spinach, spring onions, garlic, dill and cheeses in a bowl. Stir in the lemon zest, nutmeg and beaten eggs. Season with pepper – don't add any salt as the feta is salty.

Place a sheet of filo pastry in the oiled dish and brush lightly with olive oil. Add five more sheets, brushing in between in the same way, so you end up with six layers.

Spread the spinach mixture over the pastry and level the top. Cover with a sheet of filo pastry, brushing it lightly with oil, and then add the remaining five sheets in the same way

Brush the top of the pie with oil, then bake in the preheated oven for 30–40 minutes until crisp and golden brown. Remove from the oven and stand for a few minutes before cutting into squares or slices. Serve lukewarm or cold.

Variations: Use grated Parmesan if you can't find any hard Greek cheese for grating. Cook a sliced leek with the spring onions and garlic.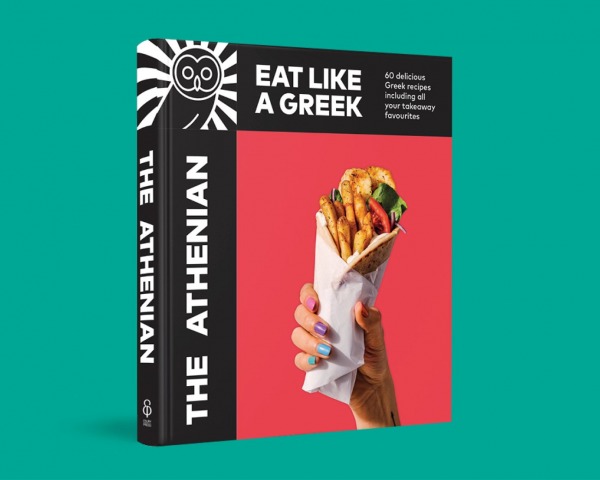 The Athenian: Eat Like a Greek by Tim Vasilakis (£14.99, Ebury Publishing)
This article contains affiliate links. We may receive a commission for products that are clicked on through our website.