Three Easy and Speedy Vegan Recipes to Try This Veganuary
Try these easy recipes from award-winning Yorkshire cook, Katy Beskow
As the new year fast approaches, we're all looking for new challenges to tackle – and for some, Veganuary will be the first. In her new cookbook, Easy Speedy Vegan, award-winning Yorkshire cook, writer and cookery tutor Katy Beskow shows how plant-based cooking can be packed with flavour and substance with 100 recipes which can be made in under 30, 20 or 10 minutes. She shares three of her favourite recipes with us to give us some food for thought this January.
Mango and Coconut Curry
Mango is a versatile fruit, perfect for enjoying at breakfast, or chopping into a salad for lunch. It is also delicious and tender cooked into a creamy coconut curry, made with gentle spices, green beans and wilted spinach. If you're serving more people, or to increase the protein content of the dish, throw in a can of green lentils along with the coconut milk. Serve with fragrant basmati rice.
Crispy Popadom Balti Pie
I used to make this spicy pie with vegan filo pastry, then one day, halfway into making the recipe, I realised that I had no filo pastry (it happens to us all!). I did have a pack of ready-to-eat popadoms at the back of the cupboard, some of which had been broken on the way home from the supermarket. So I topped the pie filling with roughly crushed popadoms – and it became an accidentally new and improved family favourite!
Spiced Bhaji Naan Wraps
Pillowy naan breads are loaded with hot, spiced onion bhajis, minty yogurt and mango chutney. I like to throw in some shredded lettuce and coriander for crunch, too. It's worth making these onion bhajis from scratch, as they are full of flavour (and easier to make than you'd think). They're worthy of being the star of the show – instead of always the side dish!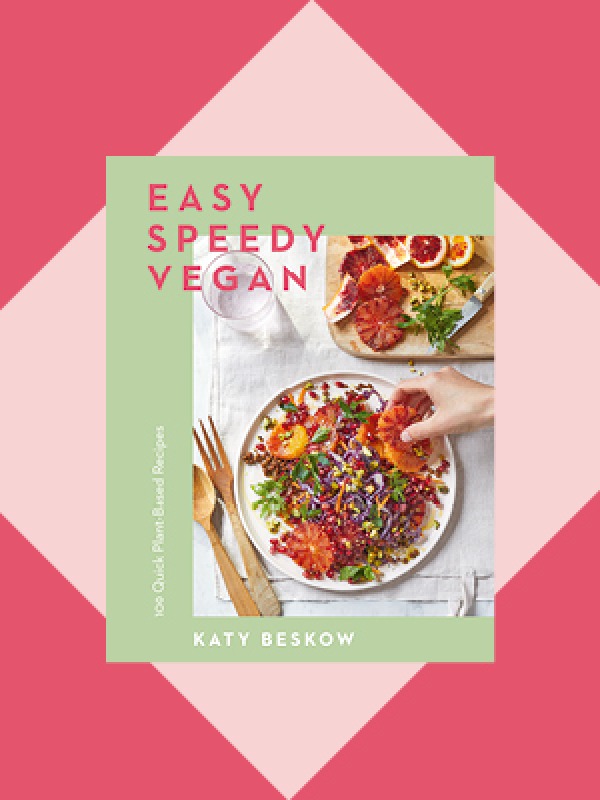 Easy Speedy Vegan by Katy Beskow
(Quadrille, £20)
Photography © Luke Albert