Top Tips for Birdwatching During the National Big Garden Birdwatch 2023
Back for its 44th year this January, the RSPB national Big Garden Birdwatch gives an important insight into how our country's garden birds are faring. Local RSPB expert Kay Hyde tells us what it is, why you should take part, and shares her top tips
As the largest nature conservation charity in the country, the RSPB has developed to meet the growing threats to our native birds, and a key part of that process is their Big Garden Birdwatch. The world's largest wildlife survey, it is a chance for people of all ages to count the number of birds that visit their garden, helping the RSPB get a snapshot of how they are doing. This year's event takes place from 27th–29th January and you are being asked to spend just one hour watching and recording the birds visiting your garden, balcony or local park, before sending the results to the RSPB.
Explaining why it is so important for as many people to take part as possible, RSPB Communications Officer Kay Hyde says: 'The Big Garden Birdwatch is great fun but crucially it provides us with a scientific snapshot of how garden birds are faring in the UK. Birds are now facing so many challenges, such as climate change and the loss of natural habitats, so every count matters. Because we run the Big Garden Birdwatch at the same time of year every year, we can look back on previous years to see what has changed and hopefully take appropriate action.

'It's also a brilliant way to inspire our next generations to help save nature, and by getting involved in the birdwatch everyone can play their part. We know that if people feel connected to nature they're more likely to want to help save it, and this annual event sees up to a million people across the UK all caring passionately about nature and doing something really positive to help.'

The birdwatch has hundreds of thousands of people taking part, watching and counting the UK's garden birds over the weekend in question – nearly 700,000 people took part in last year's event, counting 11 million birds altogether, and 172 million birds have been counted since the first RSPB Big Garden Birdwatch in 1979. However, the fact that we've lost 38 million birds from UK skies in the last 50 years underlines that nature is in crisis, and it needs our help.

Evidence of the importance of this event can be seen through previous year's findings. Over four decades, Big Garden Birdwatch has highlighted the winners and losers in the garden bird world. 'As an example, back in 1979, when Big Garden Birdwatch began, greenfinches came in at eight, but in 2022 they were down to 19 on the list of most spotted birds in the survey,' Kay explains. 'This demonstrates the devastating population declines seen in these charming little finches, caused by a disease called trichomonosis, and we now know that we can all help stop the spread of this disease by removing old food and cleaning our bird tables, bird baths and feeders weekly.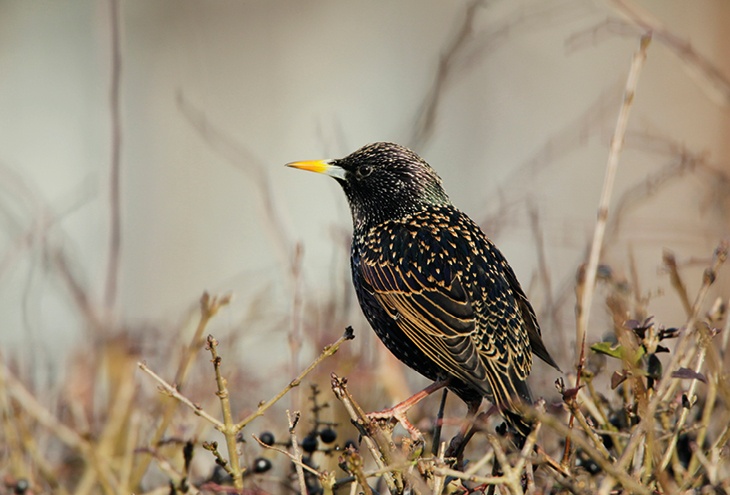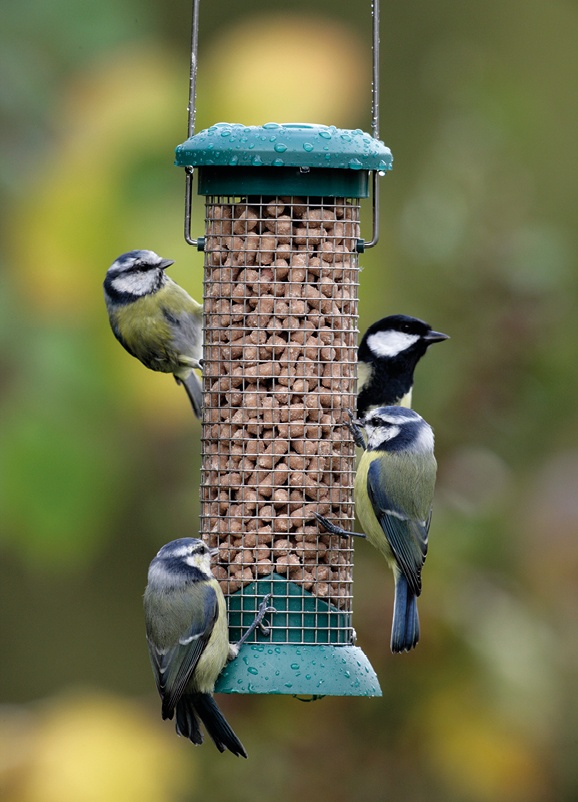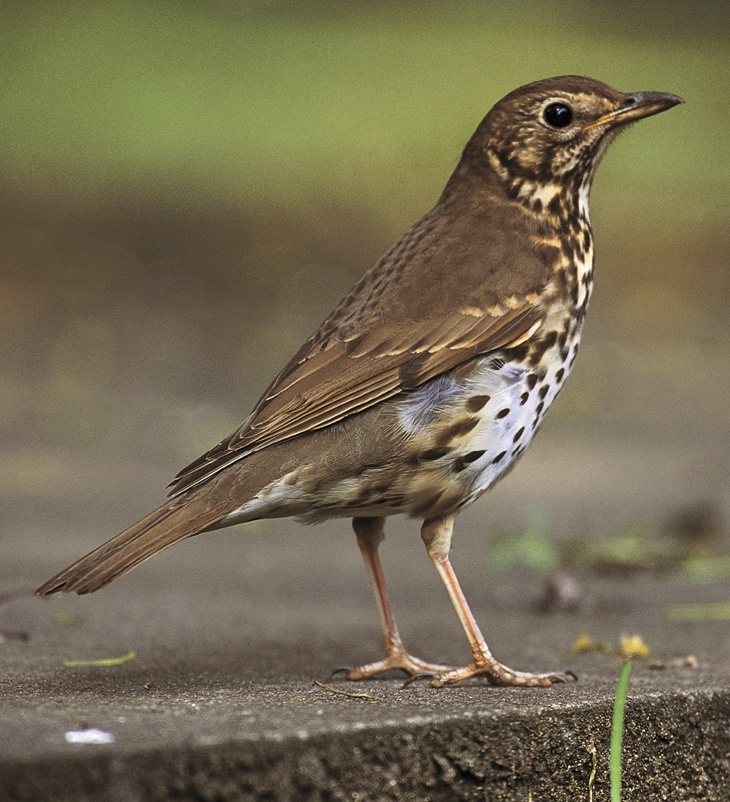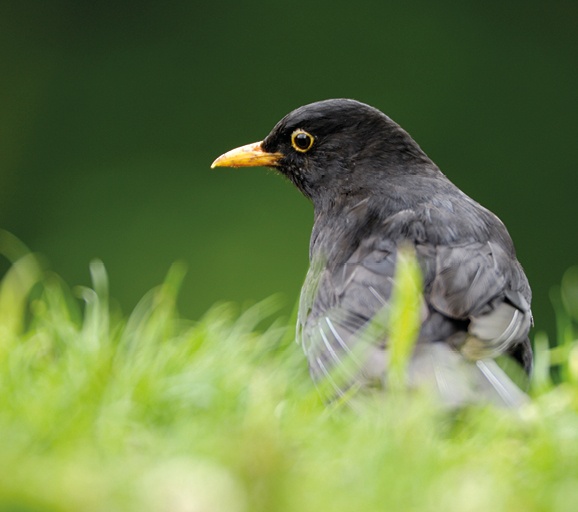 'House sparrows are also declining seriously across parts of the UK as a result of changes in the wider countryside, especially farming methods, so nature-friendly farming is a key part of the solution. Meanwhile, there are also natural ups and downs in garden bird populations, created by natural events like a really cold snap of weather.'

So with a wide variety of threats facing our native birds, taking part in the Big Garden Birdwatch is more important than ever, but much to our delight it also couldn't be simpler. Simply sign up online for your free pack which explains everything. Then all you then need to do is choose your day over the last weekend in January and count the different species of garden birds you spot for one hour, before reporting your findings on the RSPB website by 14th February.

'Counting the birds where you live is great fun, and apart from cheeky blue tits and busy blackbirds, which you might recognise already, you might find other birds landing on your patch that you don't know,' Kay says. 'In previous years black redstart and brambling have been spotted. Once you sign up to take part you'll receive a complimentary bird identification chart that will help you tell our feathered friends apart.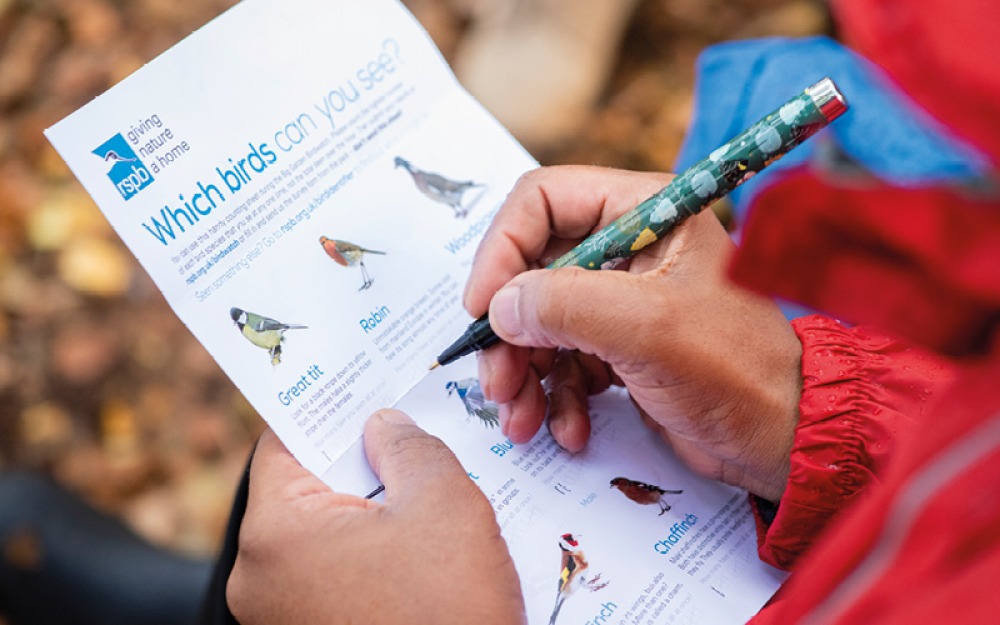 'What's great about it is that you don't even need to have a garden to take part,' Kay continues. 'You can choose a spot in your local park and it's free for everyone to take part and enjoy. Even if you see one blackbird, 20 sparrows or nothing at all, that still counts. In fact, it's really important to still submit your findings as whatever you see will give us crucial information about how our garden birds are doing.'

As well as taking part in January's birdwatch, there are plenty of things we can do to help our native birds all through the winter. 'You can make sure you put out clean water, bird baths and good quality bird seed. Birds need high energy food during the cold winter months to help them survive so a plentiful supply of food will help garden birds get through the cold winter,' Kay explains.

'Water is especially important in the winter when natural supplies may be frozen, and water for bathing is just as important because it helps to keep their feathers in tip top condition. Dampening the feathers loosens the dirt making feathers easier to preen, and preening helps spread their natural oils, keeping the birds insulated from the cold, keeping them warm. Nest boxes are another great way to help birds. For example swifts are in decline in the UK due to modern building design and an increase in the use of plastic facias on houses, but you can install a specially designed swift box to give these amazing birds a ready-made home.'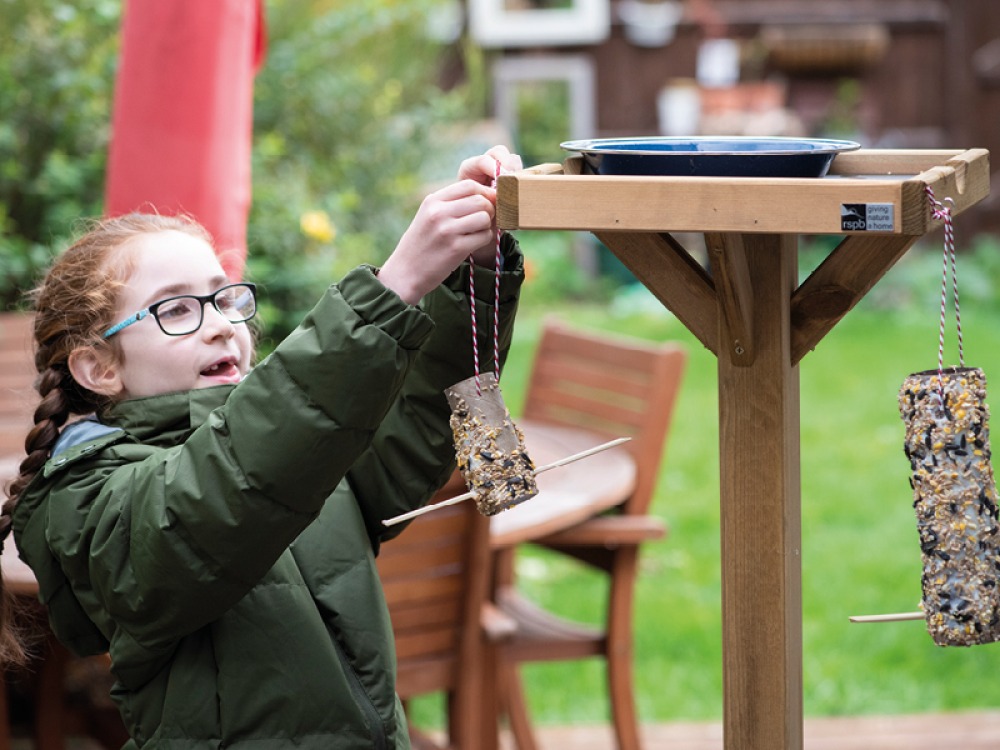 However, it's important that you know that there are also things to avoid. 'You should avoid using peanuts, split peas, beans, dried rice or lentils as these can be harmful. If you do put them out, then only in suitable mesh feeders that will not allow sizeable pieces of peanuts to be taken, reducing the choking risk to chicks.

'Keep feeding and bathing stations clean, washing them at least once per week to help avoid the spread of disease. Don't ever destroy an active bird nest; you must allow the young to leave a nest before making any changes. If installing a bird box, face the box between north and east, so avoiding strong sunlight and the wettest winds. Make sure birds have a clear flight path to the nest and place it high enough to be away from predators.'

While it is important to care for all of our native birds, Kay admits she does have a favourite garden bird – for reasons much closer to home. 'My favourite garden bird is the blue tit. I think it's because I have a nest box in my garden and I love to watch these birds visit it each year to breed and raise their chicks. The blue, yellow, white and green plumage makes them look really attractive. I can easily spend a couple of hours on a Sunday watching them fly in and out of the bird box, bringing tasty titbits back to feed their young. It's the best meditation ever.'

So, you see, there's a lot more to keeping your feathered friends happy than just sharing a few bread crumbs. Follow these simple guidelines and take part in the Big Garden Birdwatch to help the wildlife in your garden weather the winter safely.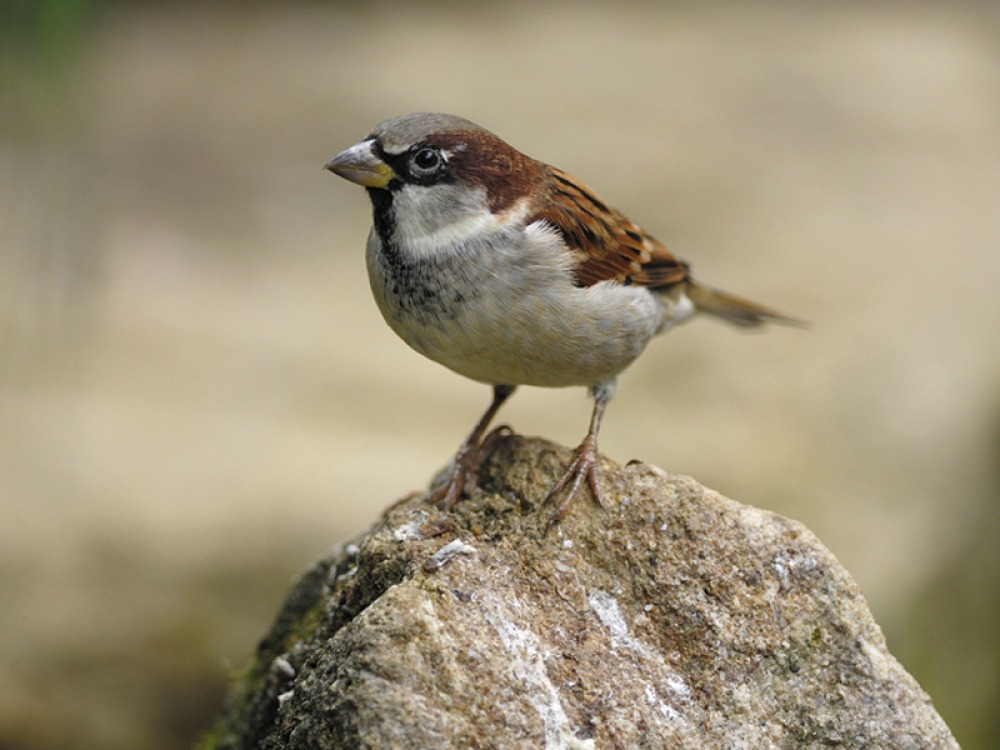 THE PECKING ORDER

Eleven million birds were sighted in 2022's birdwatch, and these were the species flying high in our gardens last year.
1. HOUSE SPARROW
House sparrows are top of the flocks for the 19th year running, but it's vital we continue to look out for sparrows as there are far fewer around now and the population has declined so much that they are on the UK Red List for birds.

2. BLUE TIT
A firm favourite on the feeders, blue tits have retained their number two position in the Birdwatch.

3. STARLING
Another non-mover at three, but like house sparrows, starling populations have actually declined.

4. WOODPIGEON
A bird that is bucking population declines seen in other species, woodpigeons have increased by 25 percent in the last decade and were up one place for 2022.

5. BLACKBIRD
Blackbirds have slipped down one place to number five, but they're still a common garden bird.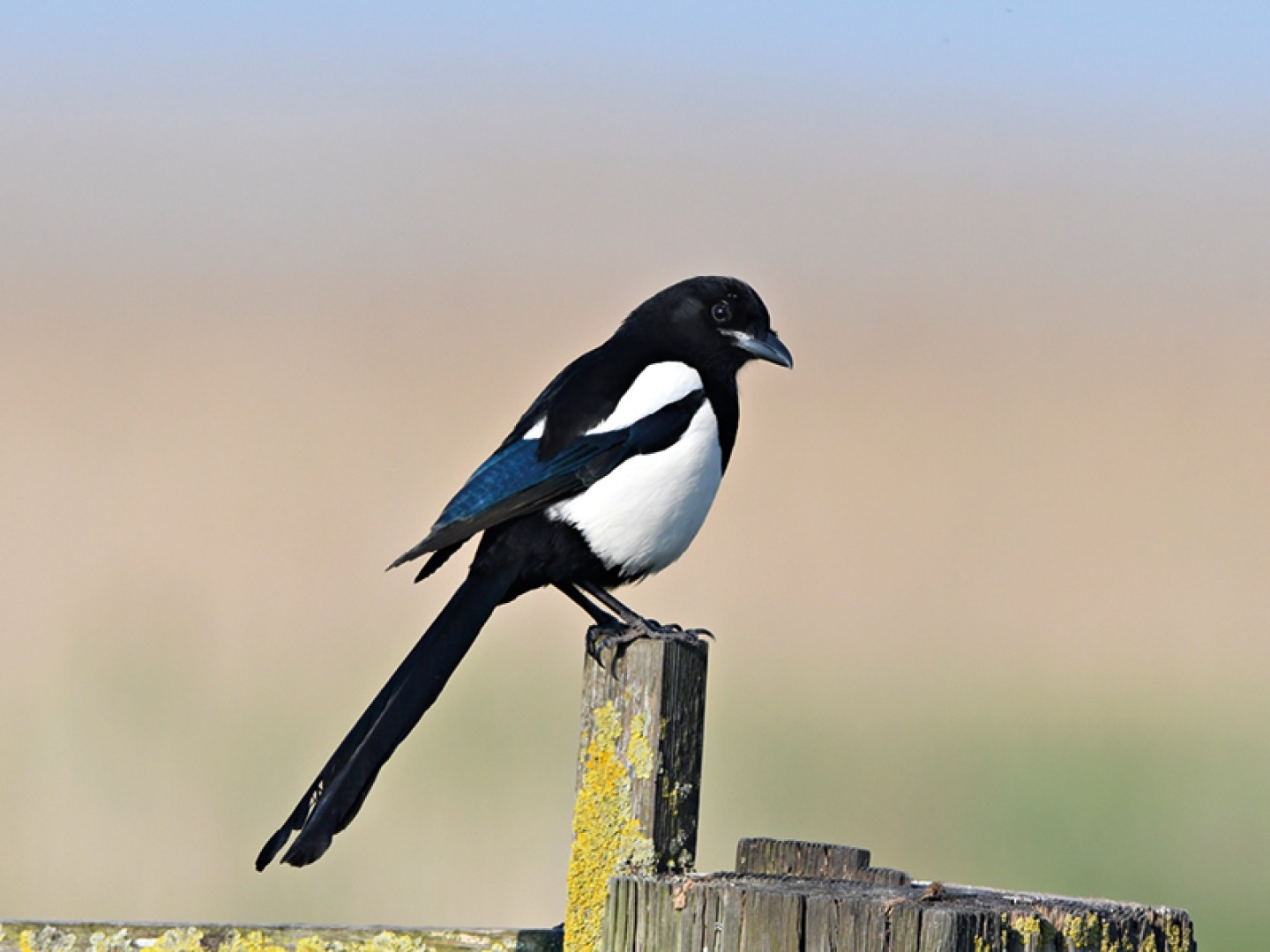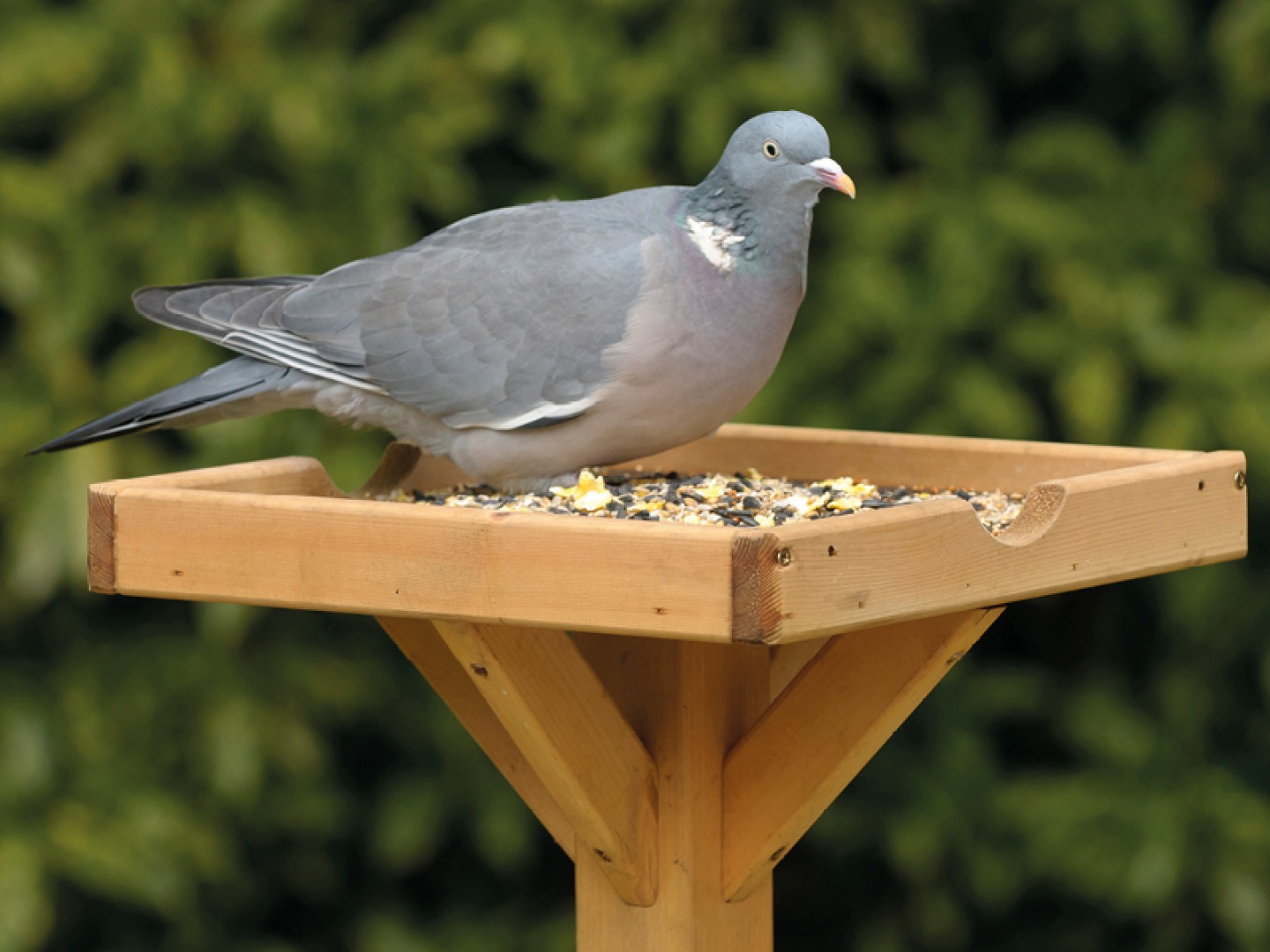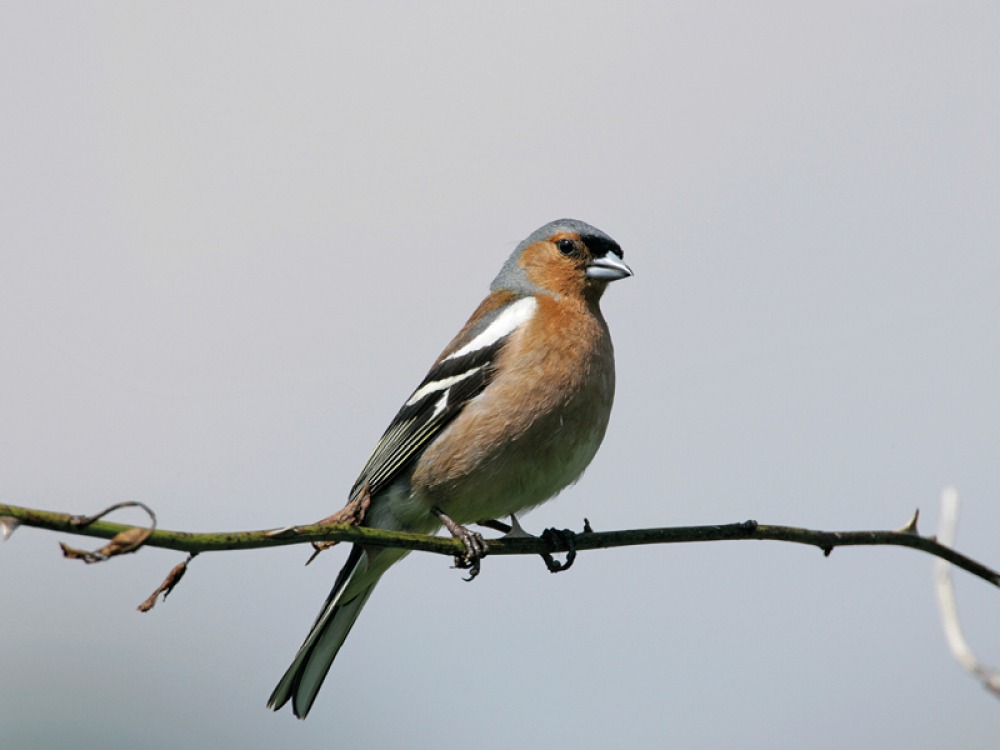 6. ROBIN
The Birdwatch might take place after Christmas, but these much-loved, red-breasted birds were still hanging around in your gardens, retaining their spot at number six.

7. GOLDFINCH
Climbing slowly up the rankings, these seed-eating goldfinches have moved one spot, from eight to seven, in 2022 thanks to your bird tables and feeders.

8. GREAT TIT
Great tits are down one place this year, from seven to eight. Were they finding food elsewhere this winter?

9. MAGPIE
This colourful corvid is a non-mover in the Birdwatch, retaining its place at number nine for 2022.

10. CHAFFINCH
Climbing one spot from number 11, the chaffinch just hops its way into the top 10 this year.

We wonder how 2023's rankings will look…
For more information head to rspb.org.uk.