Try These Easy DIY Inspirational Ideas for your Wedding Day
Costs can quickly add up when you're planning a wedding, but as small touches really make a huge difference to your day, it shouldn't mean you forget about them all together
From chalk boards to floral backdrops, we have you covered with these inspirational ideas to DIY your wedding.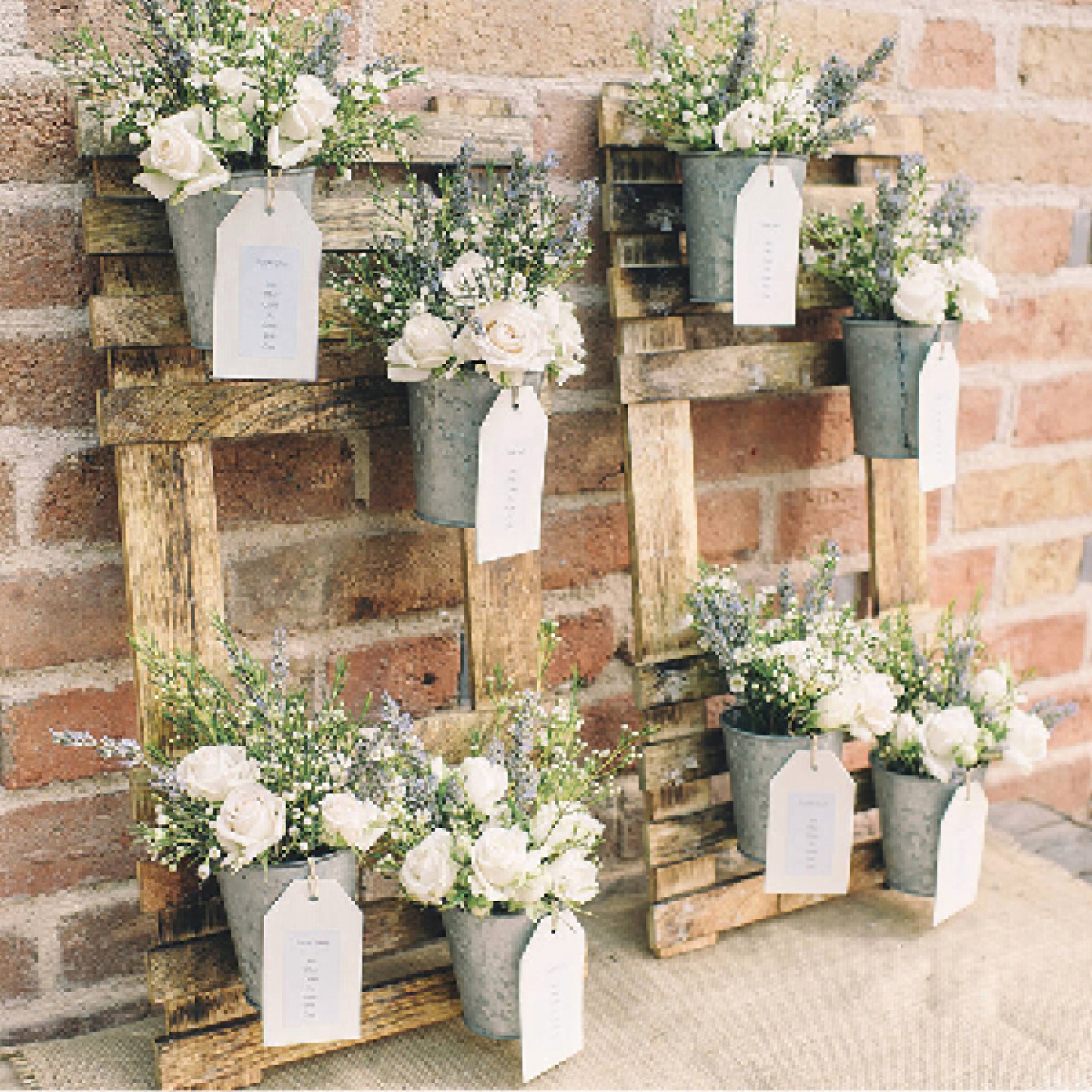 Flower Power
Flowers speak from the heart and say so much about you as an individual, so in that sense it makes sense to create (some) of our own arrangements. A casual bouquet of foraged flowers, greenery from your friends and neighbour's gardens, with a few additions of your favourite blooms from your local florist make it a very personal statement, and keeping it casual means it's easier than you might expect. Secure with a simple ribbon, or use a sentimental piece of fabric from you family, or groom's family (a strip of old wedding dress or a favourite shirt cuff) and pin with an heirloom broach or special piece of jewellery. And you can easily carry the theme through into the bridal party's corsages and button holes, and even the chairs.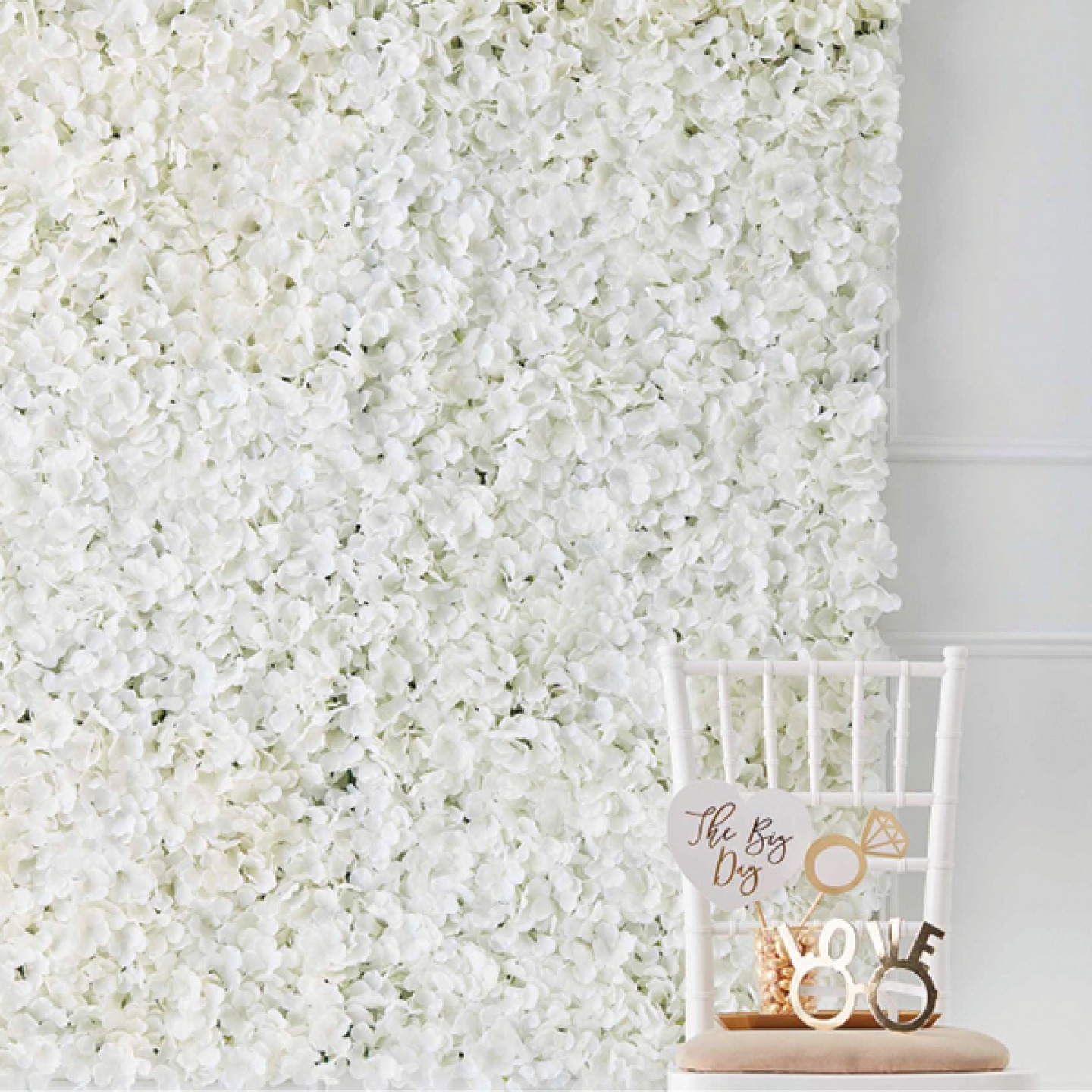 Picture This
Save on wedding photos by getting your guests to take their own against a DIY backdrop (or hire a flower wall). By having a unique place designated for photos guests will make more of an effort to take lots of fun photos and the consistency of the backdrop will make your photo album look far smarter.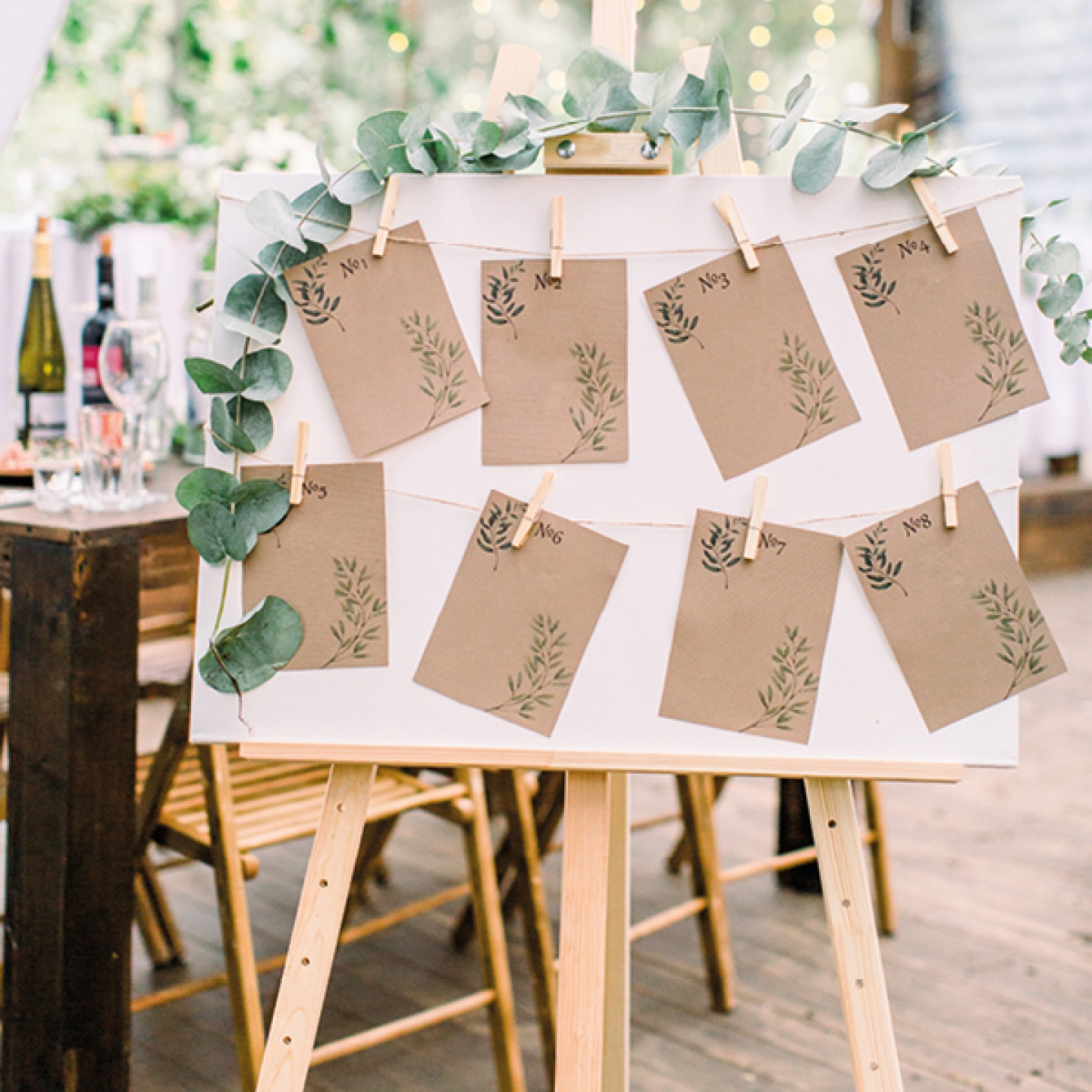 Talking Tables
Table plans can be complex but this option is easy to make, easy to alter, and looks stunning too. All you'll need is an easel and canvas, some twine, pegs and a few sheets of your choice of paper. Start by attaching your twine to the canvas, then write the name or number of your tables on to each sheet, followed by the guests who will be sitting there. All that's left to do is decorate with foliage or florals. Plus, if anyone drops out last-minute, or you make a mistake there's no need to re-do your whole table plan, simply re-do the sheet as required.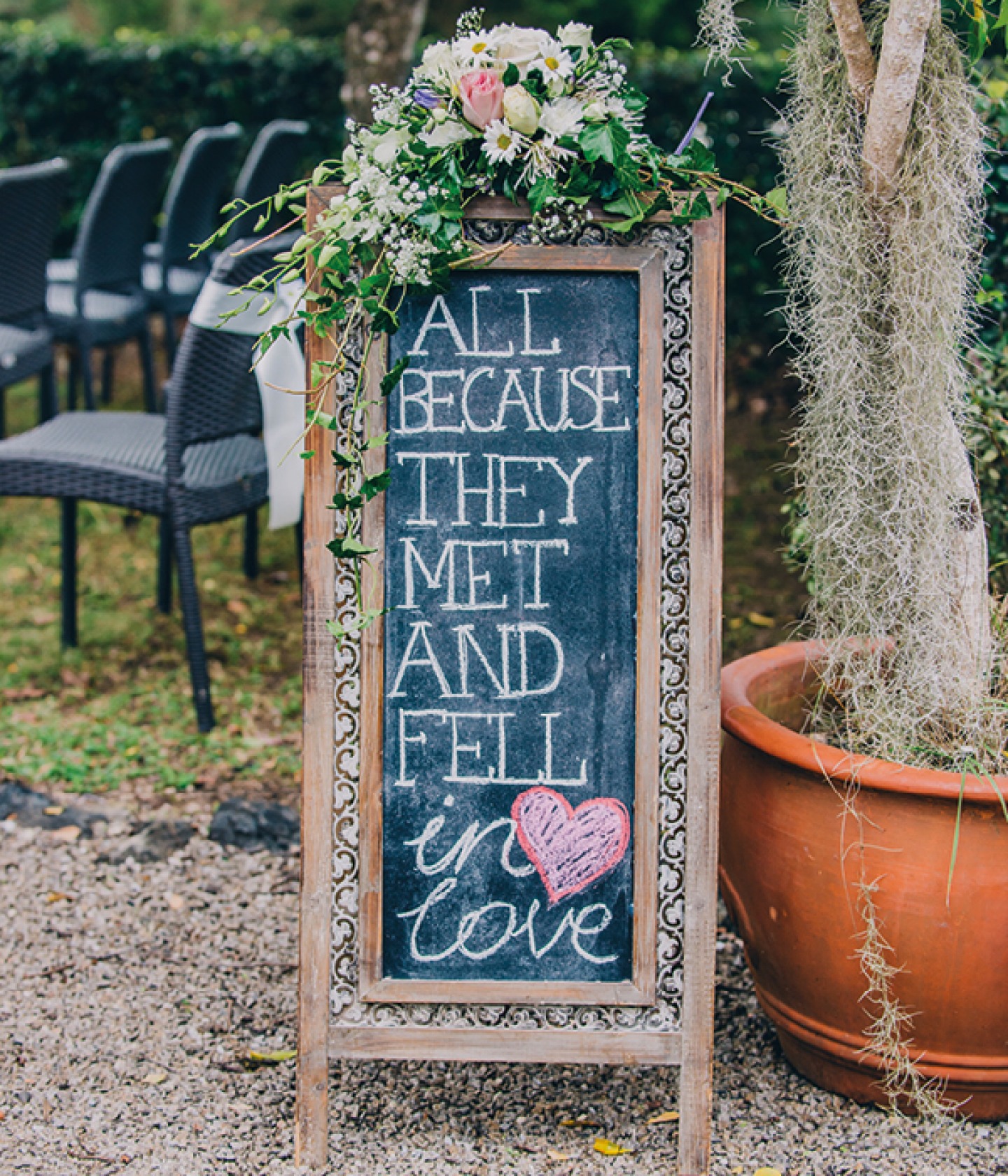 Let's Chalk About It
Chalk boards are super handy for displaying all kinds of signs throughout your wedding. From pointing people in the right direction of the toilet, to simply displaying a heart-warming quote – plus, they're easy to decorate with simple foliage and florals too.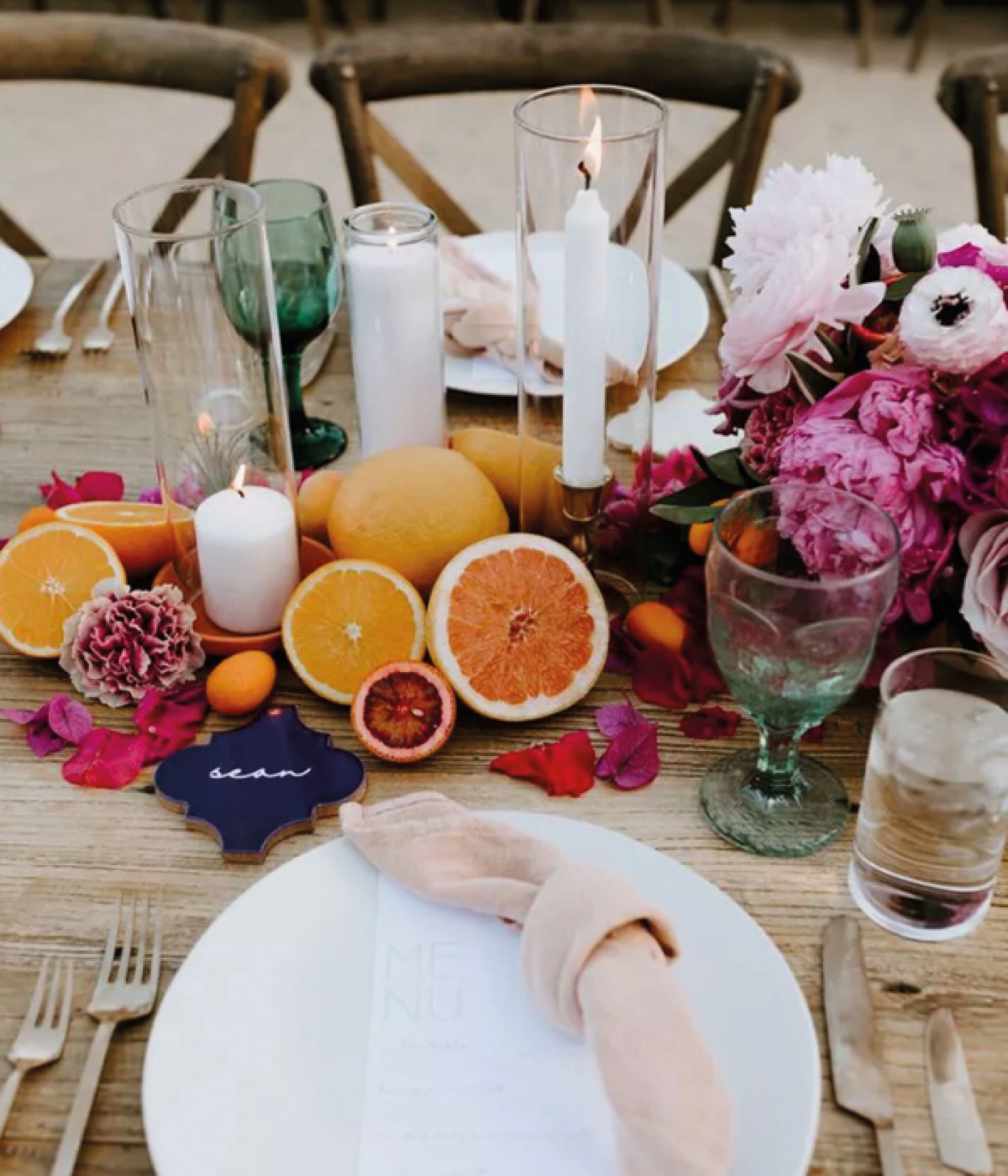 Fruity Number
Bulk out your tablescapes and centrepieces with seasonal fruit and veg which is much cheaper than more flowers and will add a punch of citrus-inspired shades in summer with oranges, lemons and limes or autumn-inspired tones if you choose pears, apples and artichokes for example.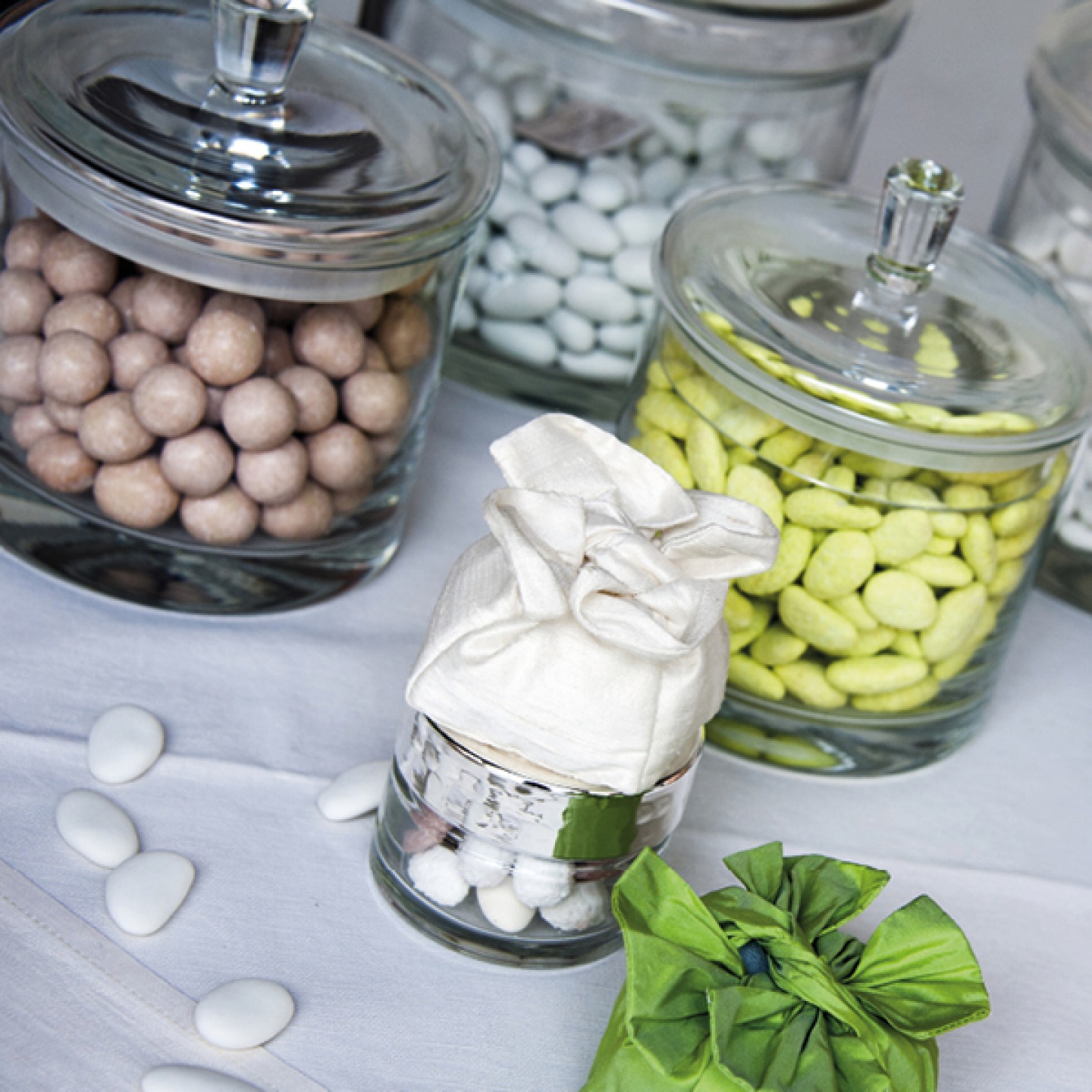 Sweet Touch
Ask any wedding guest and we guarantee they'll love the idea of a help yourself pick'n' mix to keep energy levels up. Fill pretty glass jars with sweets, mini biscuits or bite-sized cakes and watch them be devoured by the late night dancers.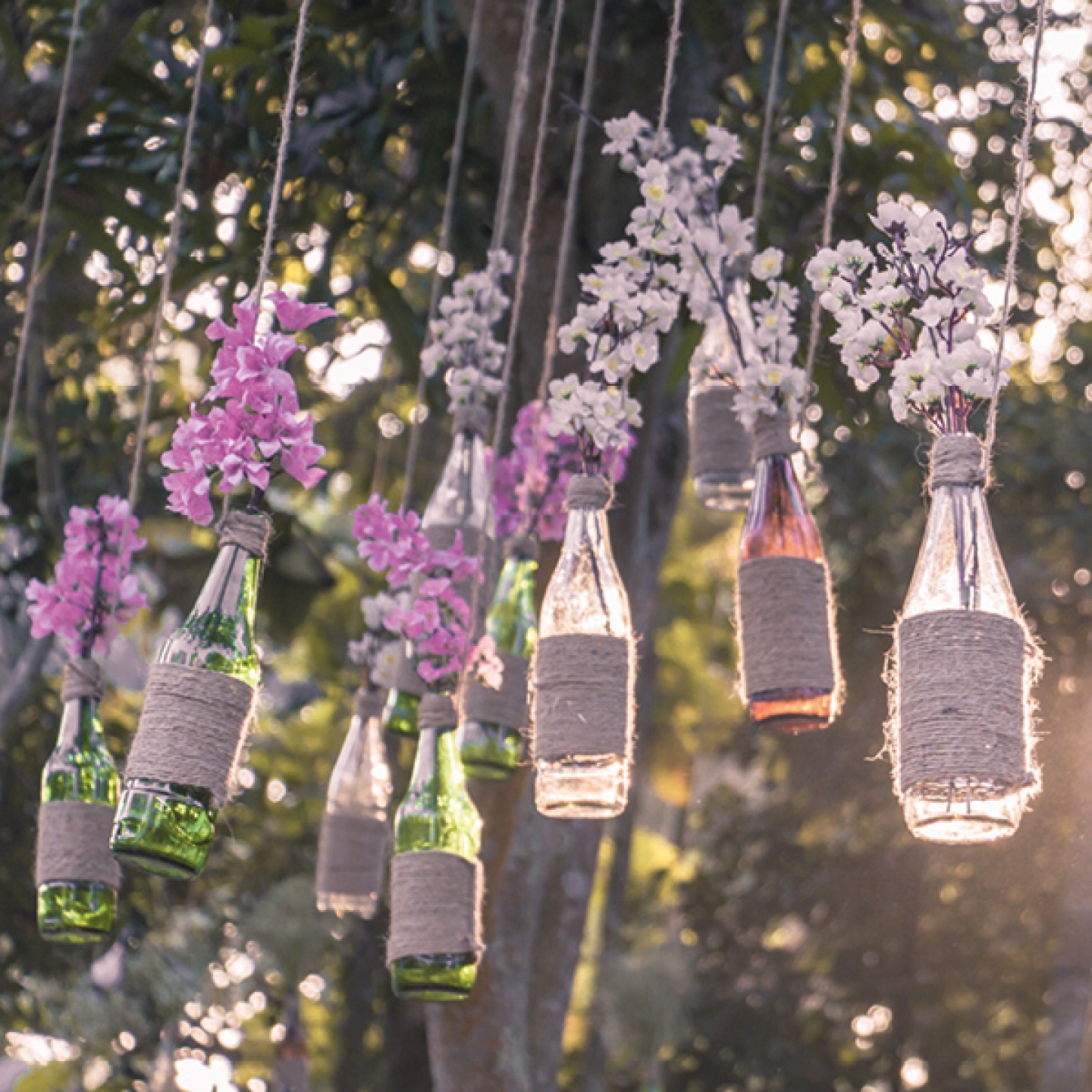 Glass Act
Save used glass bottles, mason jars and jam jars ahead of your big day, then clean and fill them with pretty floral stems, candles or foliage and hang them with twine from trees or display them on your tables as centrepieces, or extra decoration.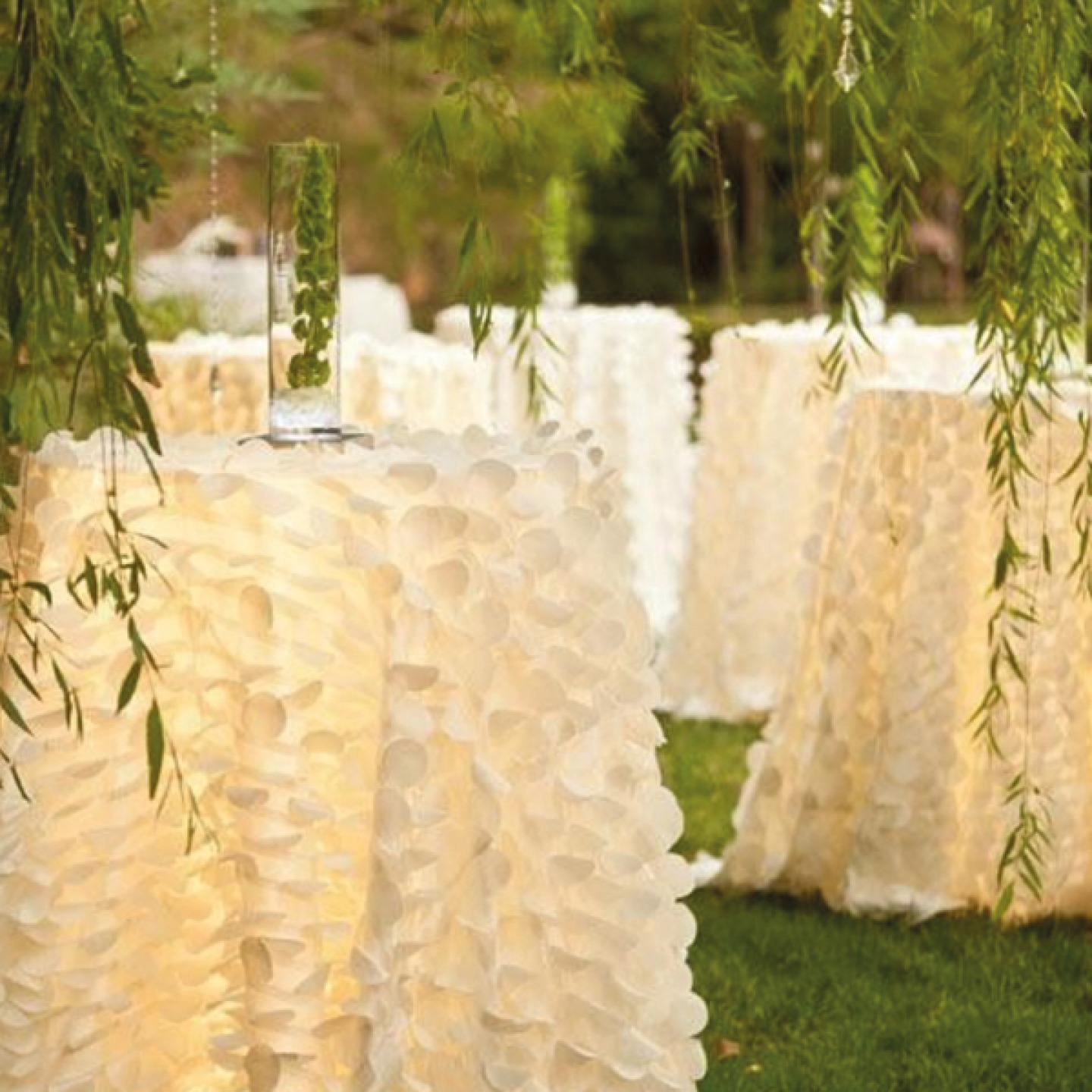 Light Touch
Having an evening wedding? Light up your tables from beneath (fairy lights beneath the table cloth are best) for an easy but dramatic effect.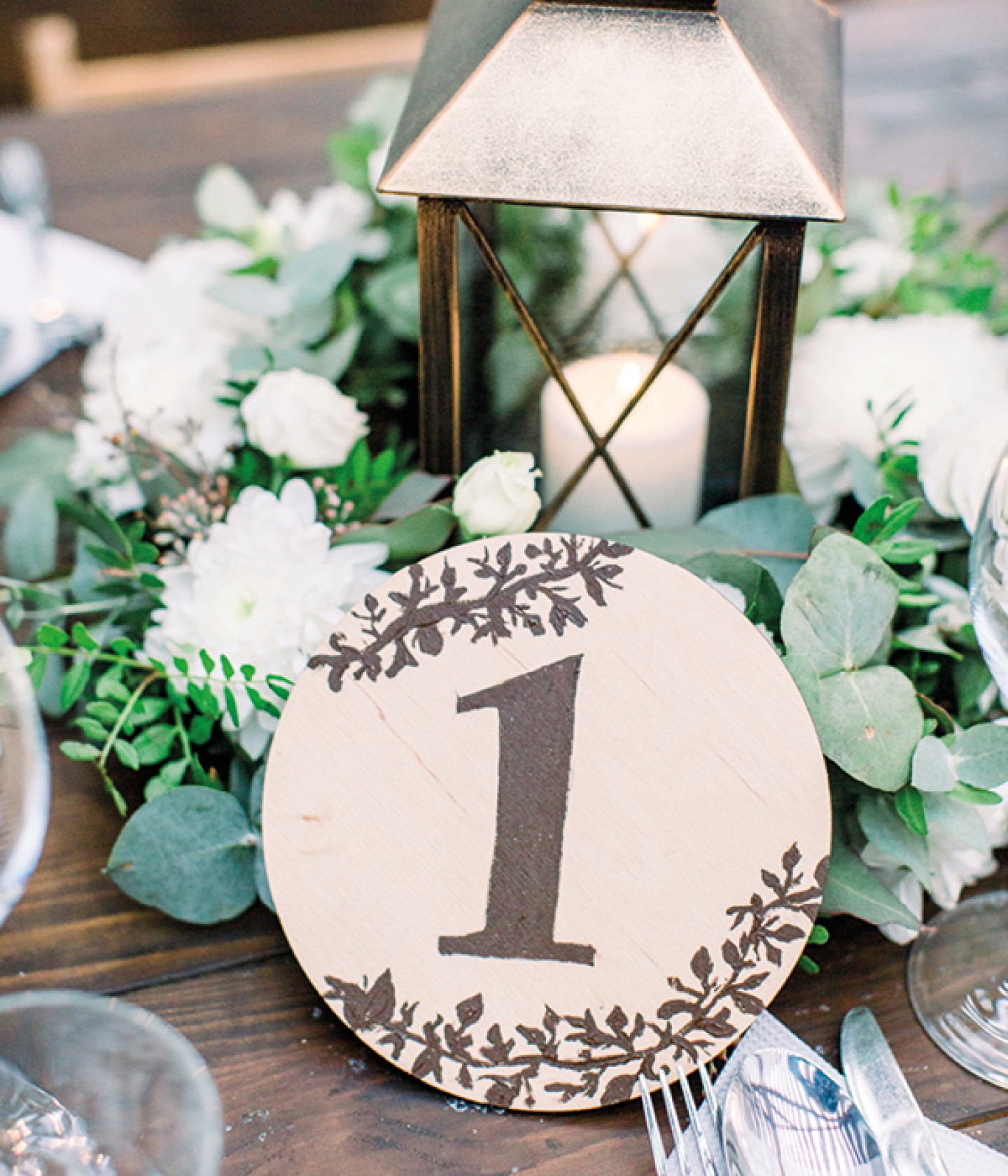 Numbers Game
The possibilities are endless when it comes to table numbers. But these simple card discs with black hand-painted numbers and detailing are easy to recreate, and look great propped up against your centrepieces.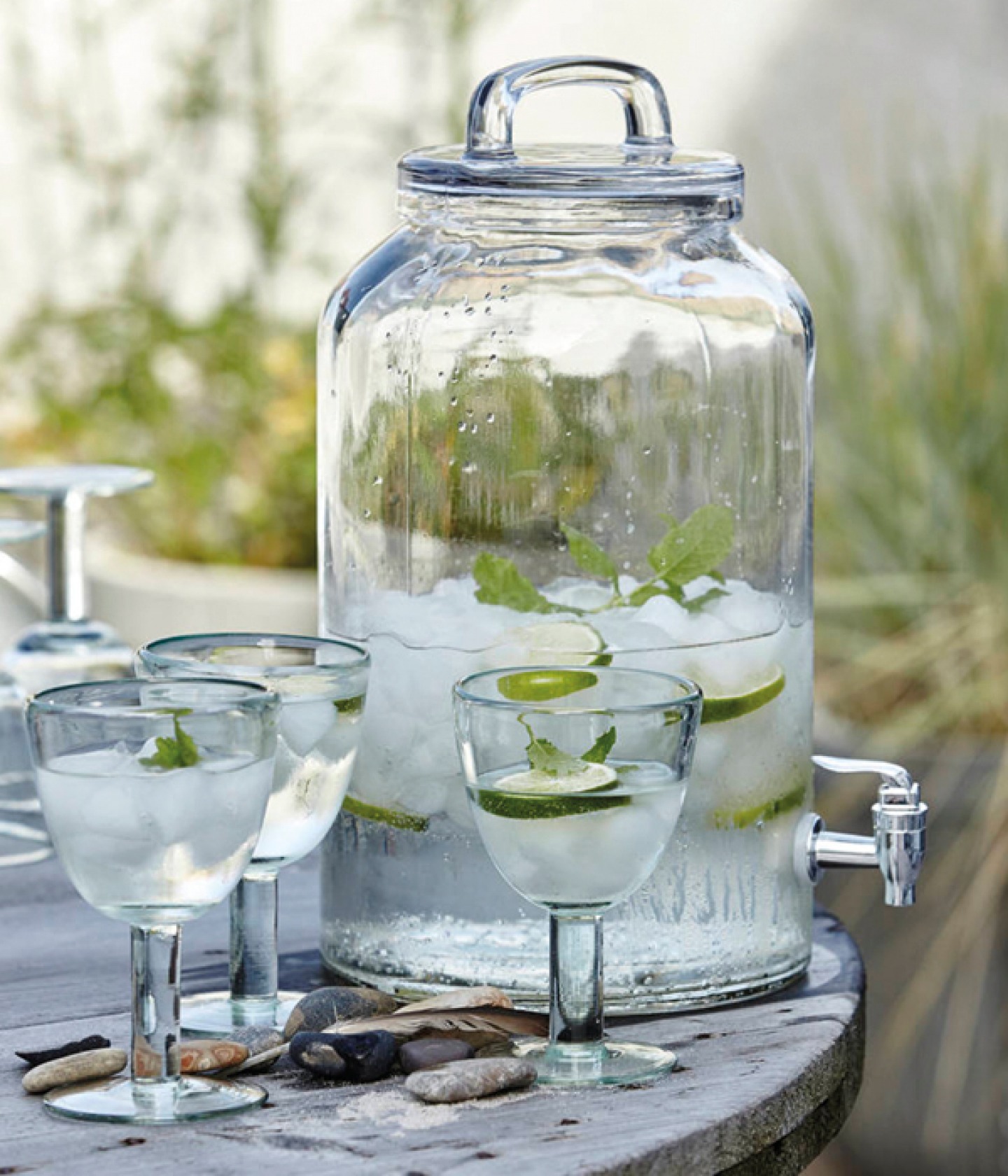 Self Service
A self-serve beverage station is an easy win, saving on staff and ensuring guests can always be topped up without worrying over trays and trays of drinks being spilt or guests going parched. Pre-mix cocktails in kilner jars, and let the glassware dictate the theme. Mini bottles or jars for a rustic theme, or sophisticated champagne flutes for a more refined touch.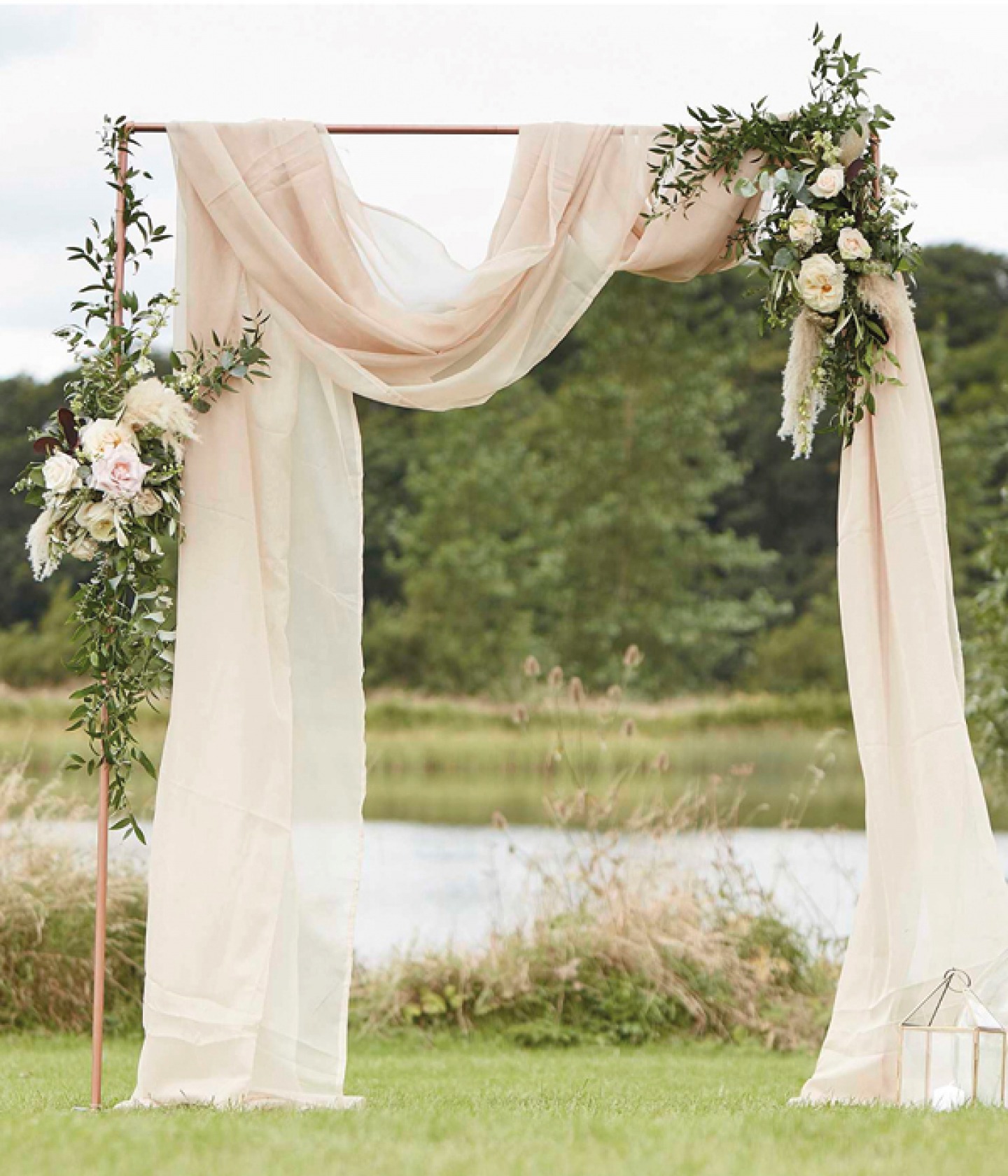 Curtain Up
This simple fabric drape over a metal arch is pretty and romantic, and means you can cut down on the cost of lots of additional flowers.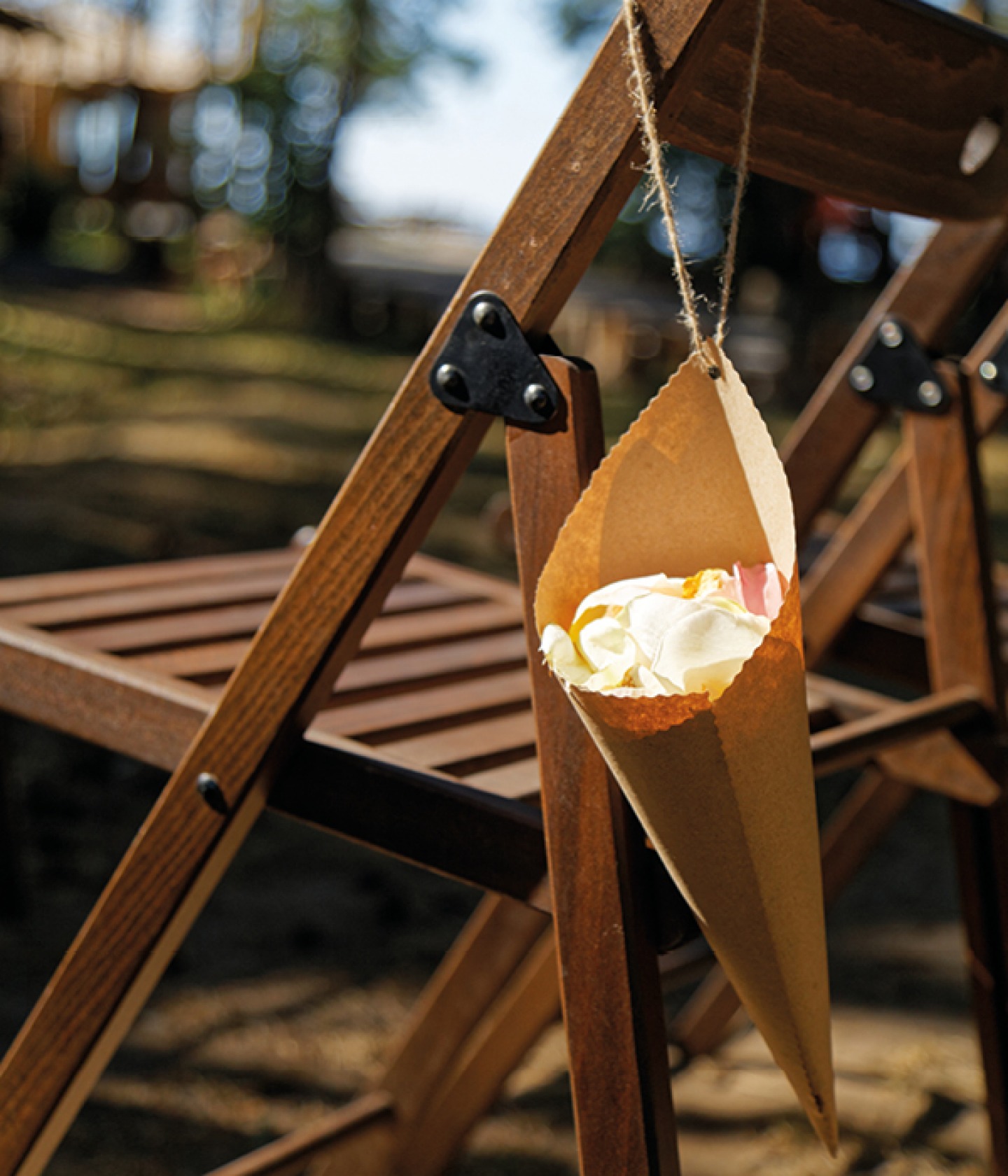 Pretty Petals
Don't pay eye-watering amounts for confetti for your big day. Dry out your own rose petals and pop them into cones, made using anything from palm leaves to newspaper. Attach them to your guest's chairs, using twine or ribbon, for them to use as you leave your ceremony.