Ukrainian Man Who Fled His Country Moves to Yorkshire to Set Up New Businesses
After escaping the Russian invasion of his home country Ukraine, entrepreneur Fedir Haidai has begun setting up new businesses here in Yorkshire, hoping to support friends and family back home
We speak with Fedir to find out more .
On 24th February, just a few hours before the war in Ukraine started, Fedir Haidai managed to meet his family on the border of Moldova to escape the Russian attacks. 'I was on a business trip in Kherson and made a call to my wife to tell her to pick up our son from nursery and head to Moldova,' he says. It was on this same day, just hours before the Haidai family fled Ukraine, that Russian missiles began striking some of Ukraine's major cities. 'We initially thought [the conflict] would maybe last for one week, but it became clear it would be longer.'
Like so many Ukrainian civilians, Fedir and his family had no choice but to move to another country to find safety. 'Our first thought was Germany, but we don't know the language and we didn't have any friends there, plus we understood it would be too hard for our son to adapt. So, we came to England after a family in Harrogate invited us to stay in their home,' Fedir explains. At the end of March, the UK Government launched the Homes for Ukraine scheme allowing UK citizens to sponsor and welcome Ukrainian nationals to stay in their homes, and at the end of August, the government had received 210,800 visa applications under the scheme.
'Fedir now hopes to start two new ventures in Harrogate, importing Ukrainian vodka and sunflower oil'
Back in Ukraine, Fedir was in charge of two businesses, one of which was a distribution company. 'We imported steel pipes for central heating from the Belarusians,' he says. 'My other business was destroyed by Russian bombs near Kyiv, and that was manufacturing.'
Using his business knowledge and experience, Fedir now hopes to start two new ventures in Harrogate, importing Ukrainian vodka and sunflower oil. 'I have 12 years' business experience – I know how to organise businesses and companies, and I believe Ukraine vodka and sunflower oil, are both good products to bring to the British market,' he says. 'Of course, the British market is much bigger than in Ukraine, and I think it will grow every year. I can organise big businesses and wholesalers here and I think after one month I will import my first truck.'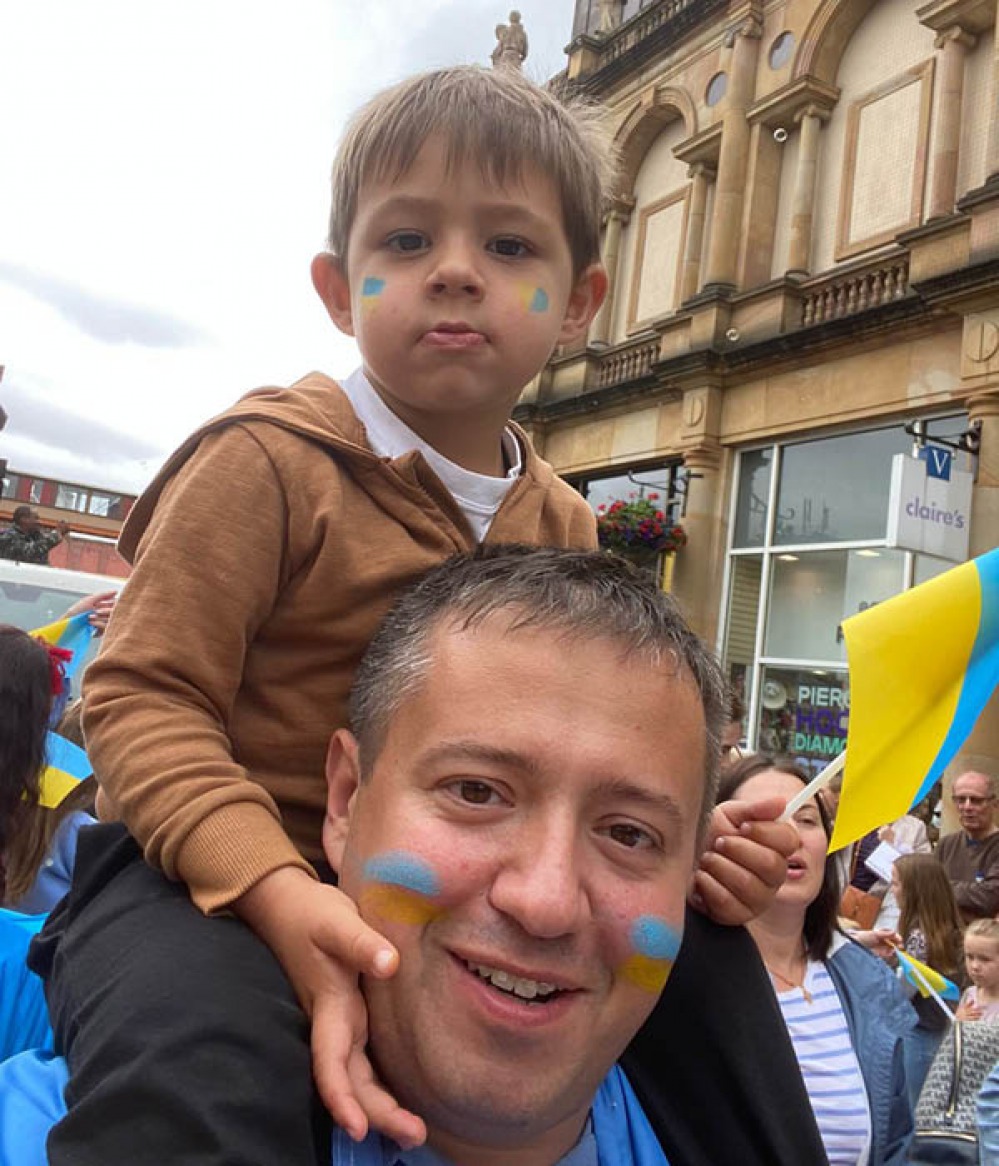 Along with importing sunflower oil, which he hopes will be used in catering and cooking, Fedir feels now is the right time to break into the British market for importing vodka, particularly Ukrainian vodka. 'Last year Britain bought Russian vodka, but now I know a lot of people who don't want to support, buy or drink vodka from Russian businesses; so it's a great time for me to do this,' he says. Importing produce from his home country to sell to British businesses and wholesalers will also allow Fedir to give work back to Ukrainian manufacturers. People back in Ukraine will get work through orders, and those seeking refuge in the UK will have an opportunity to work here. 'My idea is to give jobs to a lot of Ukrainians and of course, British citizens too. I will need workers with an excellent understanding of the market and warehouse workers. When I import vodka to the UK it will be exported from Ukraine and orders will support Ukrainian manufacturers – I see it as a win-win.'
Despite moving almost 2,000 miles away from home, Fedir expresses his gratitude over the support he has received from Yorkshire locals so far. 'People who started as our sponsors are now our friends,' he says. 'They've helped us arrange everything from finding a GP, to a nursery for our son. Harrogate is a really special place.'
Of course Fedir and his family naturally want their own home once again, but as Fedir explains, it's difficult to find a place of their own. 'It's really hard to find somewhere, and if you do find a place it's hard to rent because letting agencies want a [UK] credit and salary history of at least six months – but we've only been here three months. So, I think this will be a problem for all Ukrainians here.'
Despite having been forced to leave his home and begin life in a new country, Fedir is determined to make his businesses a success. 'I want to organise businesses here because it will be my only money for the future of my family. Nobody in Ukraine expected [the war] to go on for six months – I just hope it will all be over soon.'