What to Expect From Newcastle Quayside's New Sea and Spice inspired Bar and Restaurant, Chart House
Here's what to expect when you visit
Ahead of its official opening (on 7th September), we take a peek inside Chart House (previously home to Charts and Flynn's bar) and are treated to a taste of their nautical and spice-themed menu and delicious new cocktails with fabulous views of the river.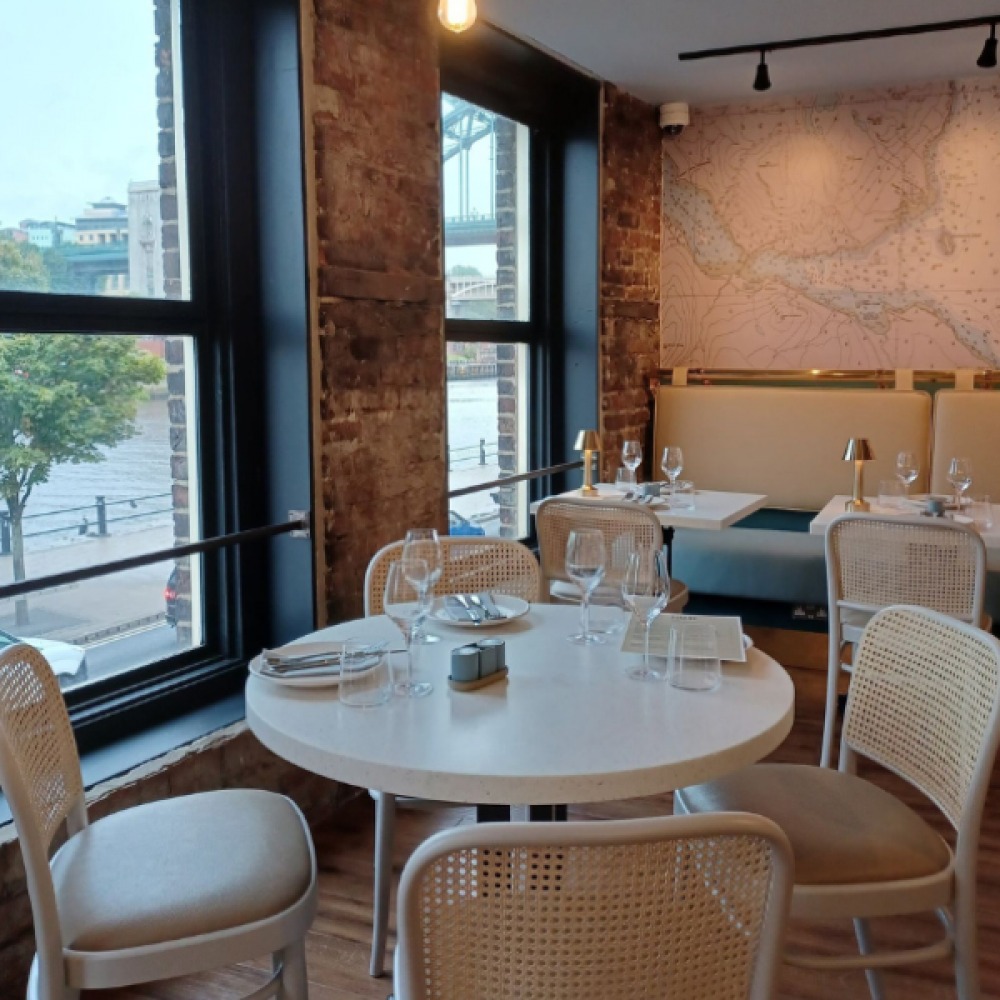 On Newcastle's Quayside, between the Tyne and Millennium bridges, is Chart House, the newly refurbished bar and restaurant which now offers a modern culinary journey through the Maritime Spice Route – inspired by the building's fascinating history. Rhys McKinnell, CEO of Pub Culture (owners of Chart House) explains more as he shows us around.
'This building is a really important part of the Quayside,' he says. 'It's one of the oldest buildings on the Quayside, built in the 1800s. And what's special about it is that it's one of the few buildings that survived the great fire of 1854. This was a huge fire that started in Gateshead and engulfed the whole city in flames.'

The building was home to Matthew S Dodds, a printer of books, maps and charts that sailors setting out to sea would buy. 'He put a sign on the front of the building that reads "Charts" and that's still there to this day,' Rhys adds. 'That showed mariners, as they came up the river, that this was the place to go if they needed new charts.
'We love its history. This is a Grade II-listed building and we're really proud to be a custodian of this space. We've been running a successful business here since 2017 but we really felt that the upper floor would be a perfect dining space. We had a look at what else was available (it's a really mixed bag here on the Quayside) but we wanted to create something that was unique to this space and that would be interesting and appealing to the people who come here.'
To do that, Rhys and his team took inspiration from Charts' maritime history. 'Rather than going for a straight-forward fish restaurant, we thought we would explore its maritime journey,' he explains. 'Most of the boats passing at that time will have been moving coal from here to London but some of them will have travelled further afield and we imagine some of these mariners will have bought the charts and navigated the Maritime Spice Route through the Mediterranean and ancient ports.
'They would go to places like Bombay and Madagascar, and all of India and into the Far East. We imagined the haul of spices and ingredients they would have experienced and used that to inspire our menu.'
Entering through the alleyway from the pavement terrace, we pass by the kitchen and are invited into the stylish bar serving bespoke cocktails. Upstairs is a bistro serving large and small plates (a relaxed seating area up one flight, and a more formal dining space above that).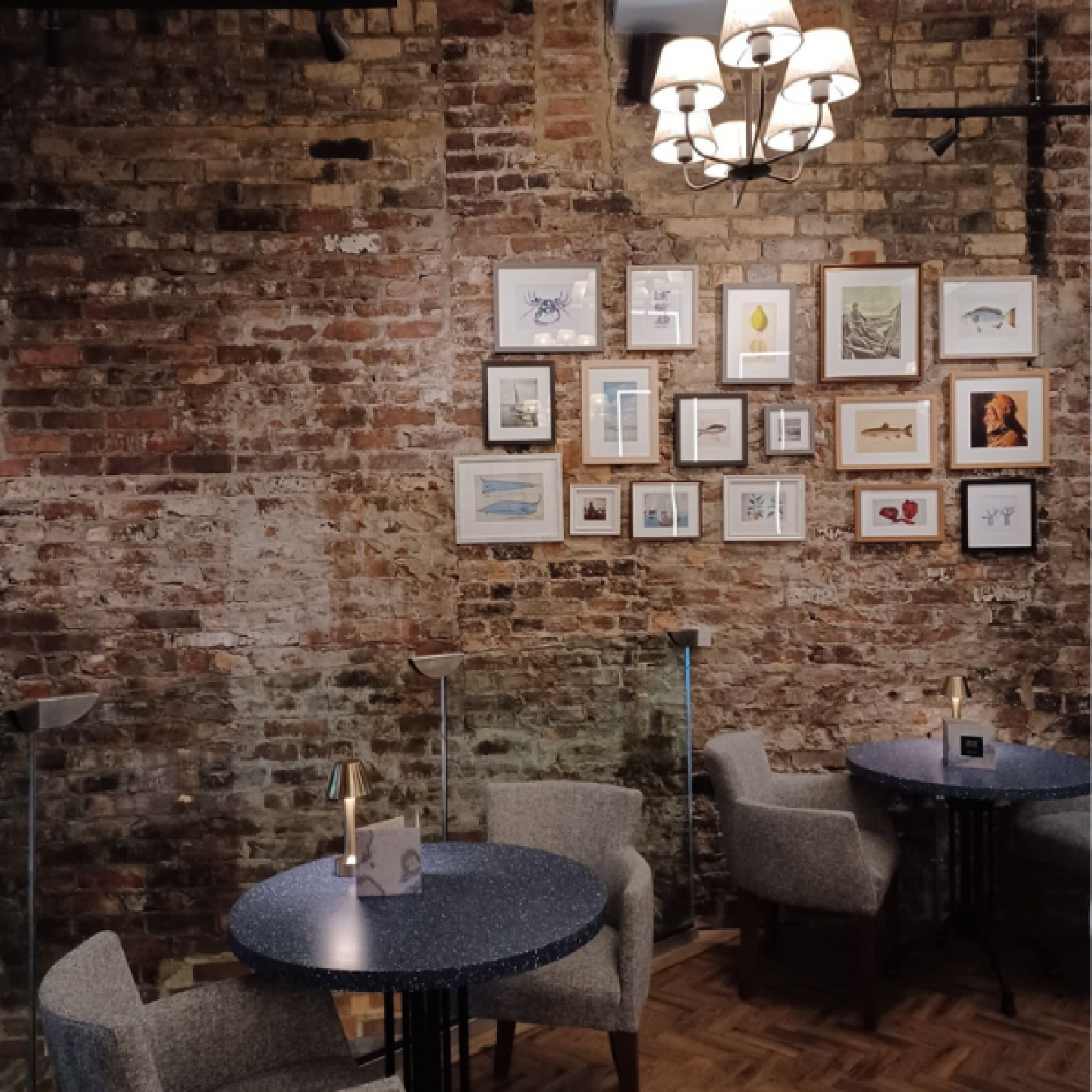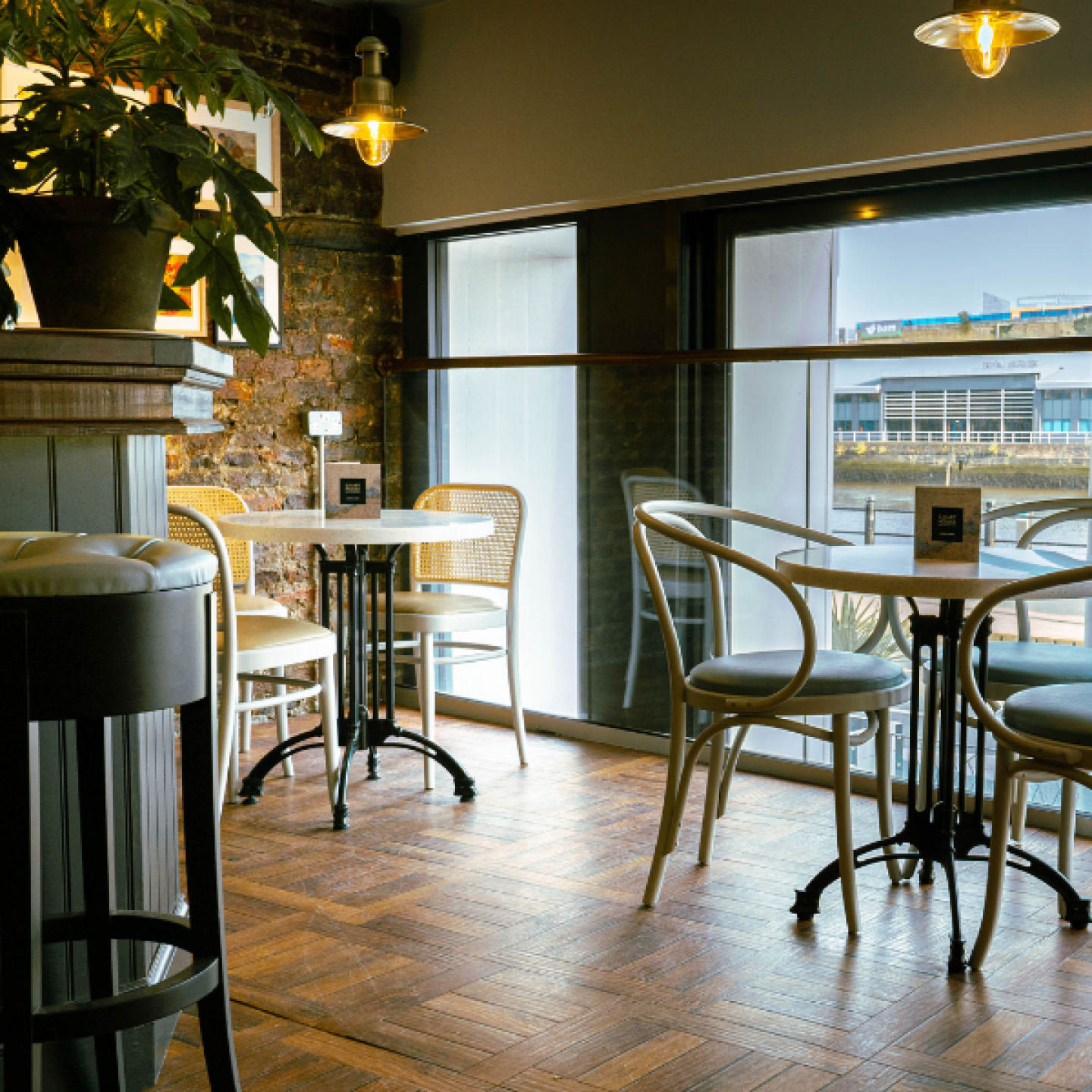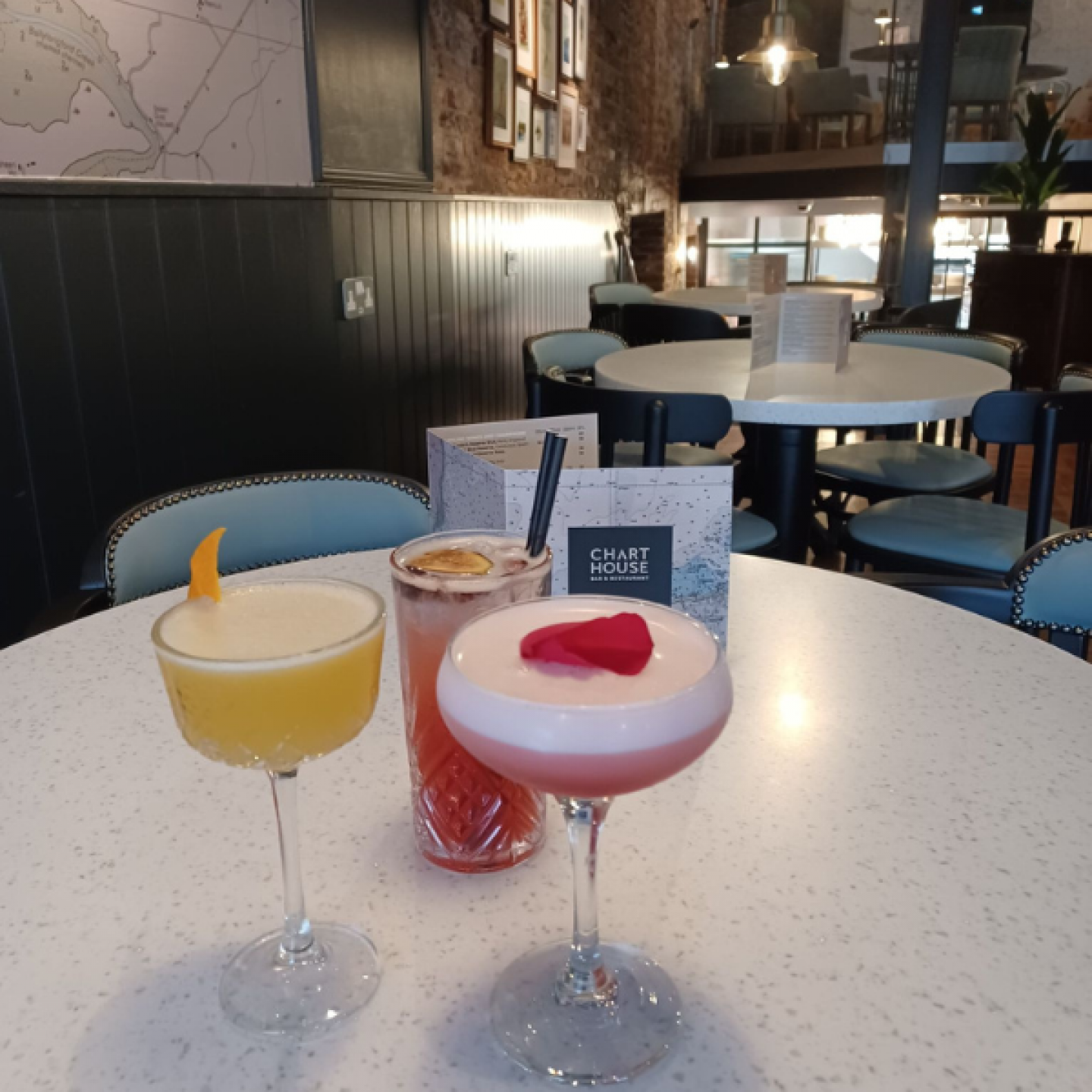 It's clear they've worked hard to bring the nautical history into the building, but the only lasting feature they had is that Charts sign on the front of it. 'The building has been stripped back to bare brick and that is how it may well have been back then,' Rhys suggests. 'We've introduced sea charts as full scale graphics covering the walls. These are really interesting historical documents that will have been used on boats to navigate and find safe passage through shallow waters. We purchased old sea charts and had those recreated to decorate the walls. We've also curated over 100 pictures – a mixture of maritime-themed fishing scenes but also some spices and ingredients, for example some lemongrass from the Far East.'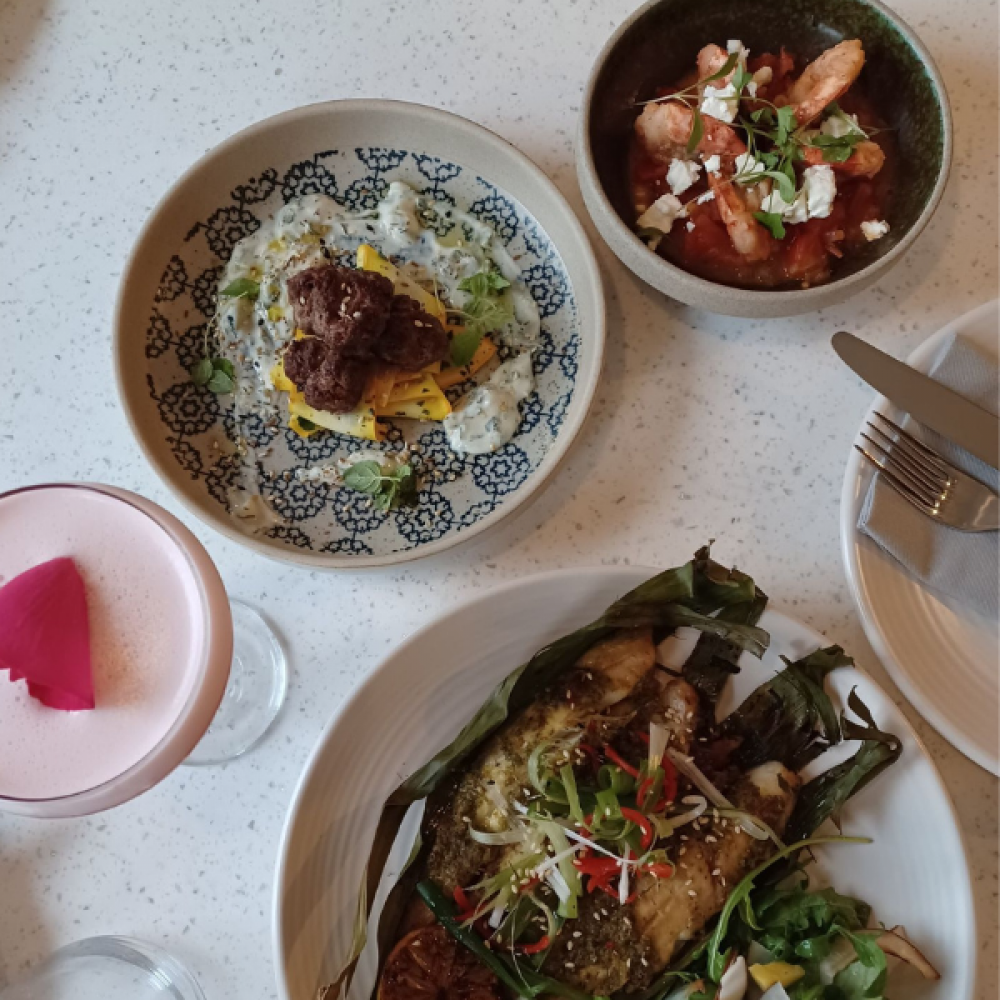 'We love its history. This is a Grade II-listed building and we're really proud to be a custodian of this space'
At the bar, we're talked through the process of making a Golden Clover Club (coconut washed plum and rosehip gin, St. Germain elderflower liqueur, lemon juice, foaming bitters, grenadine and jasmine syrup) and find out more about what makes these cocktails bespoke. The team have hand-selected the bottles that sit behind the bar and they add their own ingredients to some of the drinks to create unique flavours.
The food is just as delightful, and we enjoy a taste of some of the menu's offering on the top floor, overlooking the river. The seared tiger prawns with crumbled feta, spiced tomato and ouzo salsa are cooked perfectly and meat-eaters will love the spiced lamb meatballs with lemon and courgette salad (the head chef's favourite small plate) but our highlight (and what we'll be going back for) is the Thai spiced seabass fillets with mango and coconut salad. The seared halibut served with lemon zucchini noodles and sweet cherry tomatoes is also highlighted as a must-try, and we eye up the apple tarte tatin with spiced rum caramel sauce and vanilla bean ice cream.
Rhys hopes guests will enjoy everything the space has to offer. 'Being here on the Quayside, it's a wonderful cultural venue with the Sage, BALTIC and Live Theatre just a stone's throw away,' he adds. 'We've also worked really hard to reinvigorate the front of the venue which now has a nice paving terrace where you can watch the world flow by.' That's our plans sorted for our next visit (on a less stormy day).
Monday and Tuesday: CLOSED
Wednesday: 5pm–9pm (bar open 12pm–10pm)
Thursday 12pm–9pm (bar open until 10pm)
Friday and Saturday 12pm–9pm (bar open until midnight)
Sunday 12pm–6pm (bar open until 8pm)