Review: Gino D'Acampo Restaurant Quayside Afternoon Tea
We check out Gino D'Acampo's Italian take on a quintessential British classic – because there is simply nothing better than tucking into afternoon tea on a sunny afternoon
After visiting a few times for evening meals, we're familiar with the restaurant's spectacular setting where diners can sit back and enjoy the riverside views overlooking the Tyne Bridge. Our most recent visit is no exception and the blue sunny skies light up the dining area and bar, with the floor-to-ceiling windows flooding the space with light.
We're seated at one of the tables in the restaurant area just off the side of the bar, and these tables have clearly been reserved for diners indulging in afternoon tea as we soon realise almost every table around us is tucking in. The low-down dining/lounge chairs provide comfortable seating as we look over the afternoon tea menu.
There are three options to choose from; Franciacorta Rosé afternoon tea served with a glass of Franciacorta Rosé Brut, Champagne afternoon tea, or loose leaf tea with a choice of English breakfast tea, Earl Grey, camomile, green or peppermint – we opt for the latter and order a pot each of peppermint and English breakfast tea.
Being seated at a table opposite the kitchen gives us a great opportunity to watch the chefs in action, creating the bases of the freshly-made signature pizzas we have been lucky enough to sample before.
We don't wait long though as our three-tiered tea swiftly arrives alongside our tea pots and we're talked through the tower. The bottom tier includes two of each savoury option; Clarence court egg mayonnaise sandwiches served with watercress and mustard butter on white bread, as well as truffle cream cheese and pickled cucumber sandwiches on brown. The cucumber ones are my favourite as they are light and delicate – just how afternoon tea sandwiches should be served.
The other savoury samples on the bottom include a selection of Italian deli favourites – four slices of bruschetta (two topped with lightly cured Loch Duart salmon with crème fraîche and dill), and two slices of toasted ciabatta topped with parma ham, spicy 'nduja, honey and pistachios. The salmon is creamy and smooth with a smoky flavour, whilst the 'nduja with parma ham has a subtle kick of heat which works really well with the sweet honey and crunch of the pistachios.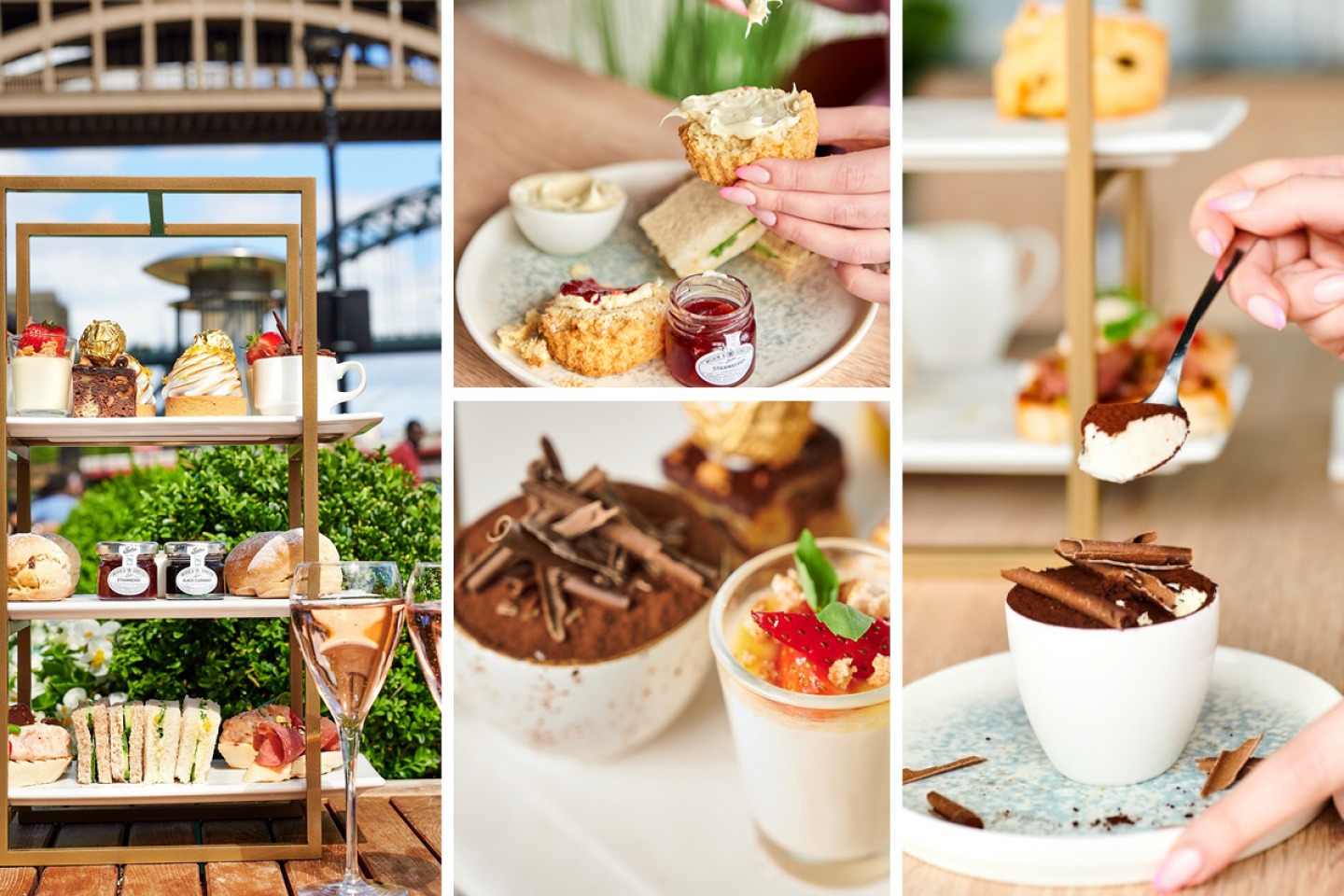 Most of the other diners around us seems to have opted for a glass of Franciacorta Rosé Brut to sip on as they indulge in their afternoon tea, and they too follow our route of working from the bottom of the afternoon tea to the top tier – savoury then sweet. Once we polish off the deli selection and small finger sandwiches we make way to the middle tier, where traditional afternoon tea commences with two miniature scones each. The fruit and plain scones are left for us to cut ourselves and pile on the clotted cream and choice of strawberry or blackberry jam. Both flavours are delicious and easily my favourite part of our whole experience. The scones are fluffy and soft and there is ample cream and jam (which I often find lacking with afternoon tea).
After a short breather and several cups of tea later, we take on the mini desserts which are loaded onto the top tier. There are four each, including an espresso-sized mug filled with Gino's famous tiramisu and topped with chocolate shards; a strawberry and amaretto pan cotta with crushed amaretti biscuit; and a square of chocolate cake decorated with a Ferrero Rocher – although this is more of a soft tiffin than a cake. Our favourite dessert is the lemon and blueberry tart which is sharp and fruity and the perfect palate cleaner to finish our experience with. The torched meringue which sits on top adds a sugary sweetness and melts in your mouth.
Neither of us manage to finish everything on the afternoon tea tiers, and we could easily sit in the bright restaurant enjoying the vibrant atmosphere all afternoon. Whilst the restaurant is mainly known for its Italian dinner dishes, we think Gino's Italian take on afternoon tea might become just as popular with diners as his hearty and homely dinner menu.
Gino D'Acampo Quayside Restaurant
Bridge Court, The Quayside, INNSiDE by Melia Hotel, River view, Newcastle upon Tyne NE1 3BE
0191 933 6994