Swap screen time for solitude and escape the high-tech world for a few days
After binge-watching series after series and spending our lives on Zoom calls over the past year, here's our top picks of where to go off-grid.
These luxury geodesic domes are set on the edge of the North Yorkshire Wolds. It's all about farm life here, but without the muck and early starts (unless you want to be up with a cup of fresh coffee to watch the sunrise from your decking). Each dome has proper loos and piping hot showers (no traipsing across the yard to a communal shåower here). Wake in your big bed to the sound of sheep before heading to Jane's Dome for a hearty Yorkshire breakfast, or simply wander along for coffee and cake at your leisure (traditional afternoon tea, homemade pizzas and a three-course dinner with a fully-stocked bar is also available at Jane's). You do have your own minibar fridge and kitchenette with everything you need but if you want company, there's a central barbecue area where you can get together with your dome neighbours for some al fresco dining before heading back to your private fire pit for a cosy nightcap. The farm has alpacas and you can meet them in person, or head to nearby Malton and Castle Howard – both worth exploring should you ever wish to leave the comfort of your dome and its breathtaking views.
Thrussendale, Acklam, North Yorkshire
theprivatehill.co.uk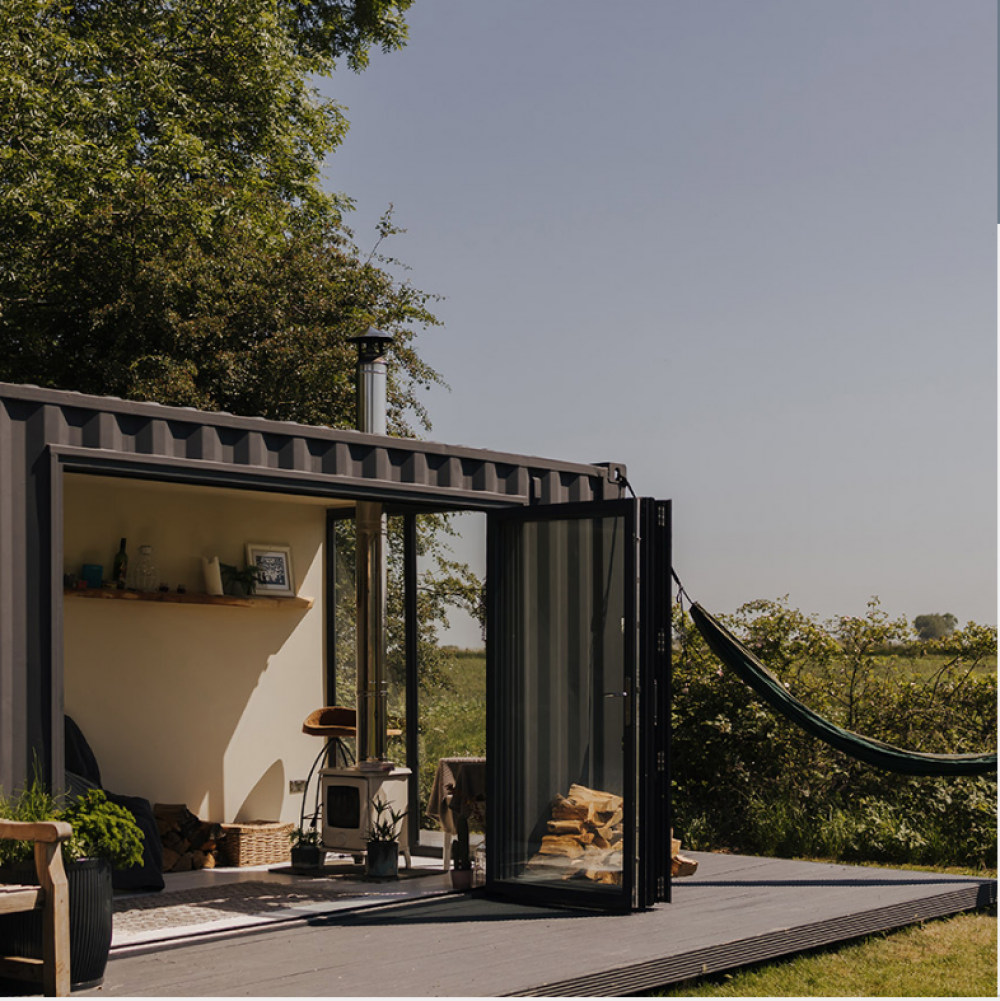 Kip & Nook
This new retreat, nestling amongst the trees in a field on a farm, is the ideal getaway for anyone wanting to enjoy peace and quiet and be surrounded by nature. Cosy up in the 20ft converted container cabin, relax in the log-burning hot tub or snuggle up by the fire pit – there's everything here you could possibly need for a luxurious off-grid experience. Fall asleep in the comfiest bed watching the stars through the skylight, and wake to incredible views of the countryside. Outside there's wrap-around decking, with a separate building for the kitchen, bathroom and outside/in shower.
Mansfield, Darlington
kipandnook.com
Climb the wooden staircase to this cute little cabin which featured in George Clarke's Amazing Spaces. Perched on a wooded bank, it has a stream flowing down the hillside and underneath its overhanging platform, meaning you are constantly soothed by the sound of running water. Floor-to-ceiling windows wrap around this colourful cabin allowing you to immerse yourself in nature, even from the generous double bed, a wood burner keeps things cosy and a compost loo is just a few steps outside. It's off grid but don't panic, civilisation in the form of the nearby mill's campsite is a mere 200 yards away, where you'll find a great little café for breakfast, and shower facilities too. Just off the Pennine Way, there are plenty of walks on your doorstep. There's a great award-winning pub, named after Emily Brontë's only book, just a few minutes walk from the cabin but if you'd rather stay in, then sitting quietly out on the cabin's deck at dusk drinking in the peace and quiet might be the best thing you do.
Ponden Mill, Haworth
canopyandstars.co.uk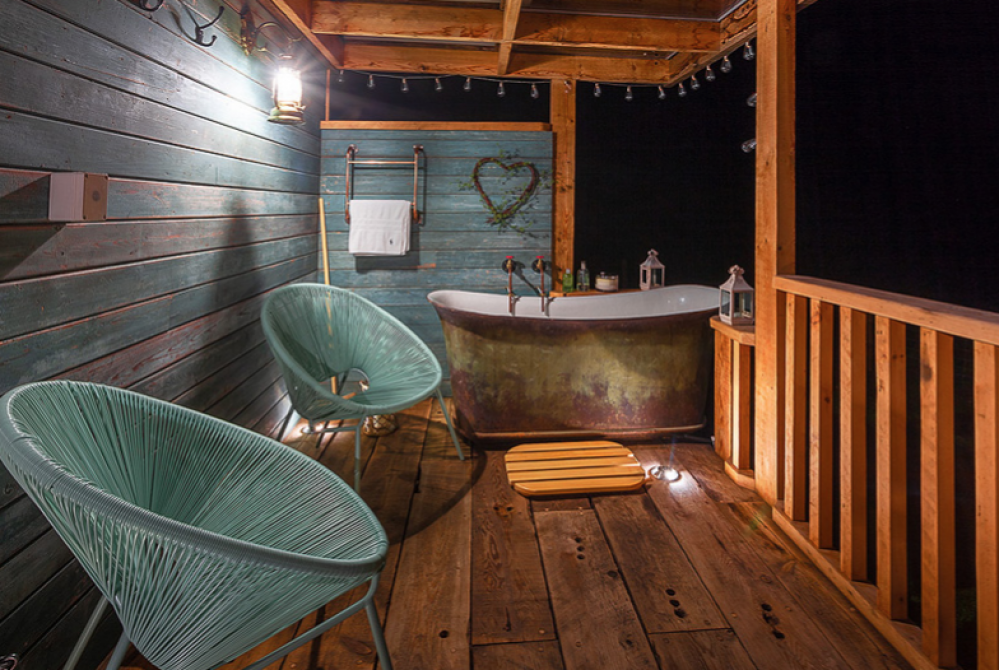 Hedgehope Shepherd Hut
Made from solid reclaimed oak, with sheep's wool insulation, you'll certainly feel at one with nature in one of Huts In The Hills' four hand- crafted and beautifully-furnished shepherds huts. Set in their own secluded area within the spectacular surroundings of the Cheviot Hills, each of these charming huts is designed to provide utter tranquility and luxury for its guests. Outdoor fire pits accommodate al fresco dining, and the antique French cast-iron bath outside the Hedgehope hut certainly offers a bathing experience with a difference. Each sleeping two (except for the Maylies hut which sleeps four) any of these individualistic retreats offers a perfect place to rest your head while exploring the beautiful Cheviot countryside.
Huts In The Hills, Prendwick Farm, Alnwick
hutsinthehills.co.uk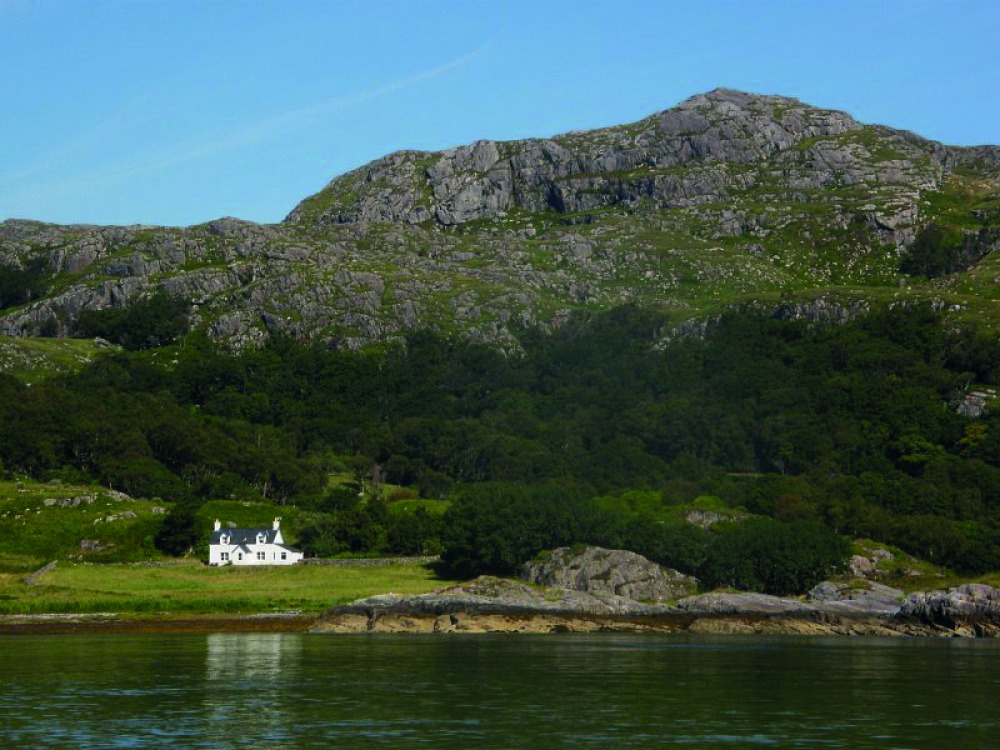 Laggan Cottage
Only really accessible by sea (boat and outboard engine provided), this pretty whitewashed cottage is about as far away from it all as you can get. On 3,500 acres of private land, there is no electricity, and paraffin lamps provide a romantic glow and keep the place cosy, while the antique-filled sitting room has plenty of games and playing cards. There's a calor gas stove and fridge and two wood burners to keep you snug after dinner. We are talking total digital detox here. Your nearest neighbour (apart from the seals) is a three-hour walk away (or a 10-minute boat trip), so the only sounds you will hear are those of the surrounding nature. The use of a boat is included in the rental price but you can explore this beautiful coastline on foot too. Within a stone's throw of the sea, the cottage has incredible views over the bay to the islands of Eigg and Muck, and seals, white-tailed eagles and divers are likely to be your constant companions as you roam along the deserted beaches and clifftops.
Ardnish, West Scotland
ardnish.org
The tiny hamlet of Kidlandlee sits 1,400 ft above sea level, surrounded by the rolling landscape of the Cheviot Hills. Beautiful, remote Kidlandlee really is a place where you can find your inner escape from it all. The magical light of breaking dawn gives way to evenings of star gazing, and for lovers of the great outdoors, or those seeking a blissful escape from it all, the beautifully secluded location of these luxury holiday cottages offers peace and tranquillity, where the landscape takes centre stage (we love the Old Barn which sleeps four and has breathtaking views over the hills). The cottages are all about sustainable tourism, and the owners are totally committed to improving and lowering their environmental impact on what is one of the most beautiful hamlets of the Upper Coquet Valley. This is an off-grid experience but without compromising on luxury; the cottages and barns are powered by solar trackers and wind turbines, water is pumped from two bore holes and filtered on site, two bio waste systems naturally treat and dispose of your wastewater, and they encourage wildlife habitats too, so watch out for the deer, pheasants, grouse and red squirrels. Guests will soon have the option to plant a tree or scatter local wild-flower seeds to off-set their carbon footprint too.
Harbottle, Morpeth NE65 7DA
kidlandlee.co.uk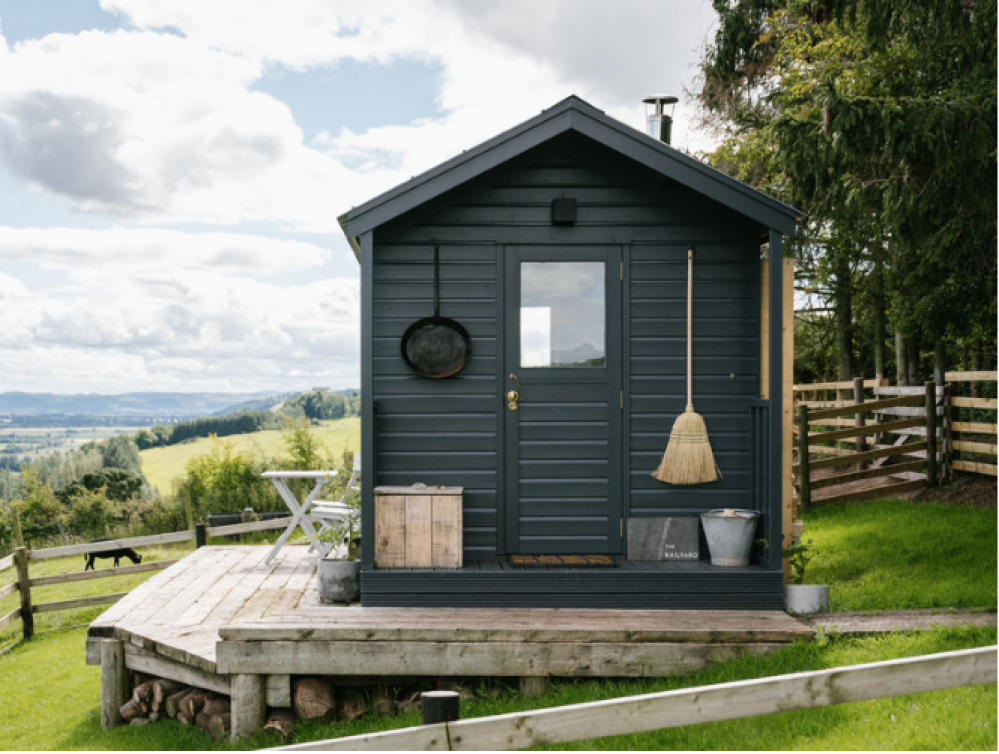 Guardswell Farm
With no wifi (or TV) on the site, guests here are encouraged to switch off completely and spend their time soaking up the jaw-dropping views along the River Tay, over to the North of Fife and down to the Carse of Gowrie. On a south-facing hilltop between the small villages of Abernyte and Kinnaird, there's a choice of self-catering options across the farm which covers 150 acres of rolling grassland, including romantic cabins sleeping two and the big farmhouse which sleeps 10. The snug Kailyard, on the south side of the Farm Wood, is the favourite for a real shepherding experience with your own Hebridean flock surrounding the hut, plus two donkeys over the fence. With huge south-facing double doors which you can throw open to let the sunlight in, a blanket-laden bed and wood- burning stove, it is the perfect hideaway. There's solar power for lights (but no fridge), a gas stove and small sink, and it's just a short walk to the wash shed and showers.
Kinnaird by Inchture, Perthshire PH14 9QZ
guardswell.co.uk
At the foot of Sugar Loaf mountain's 596-metre peak, this remote wooden cottage in the Brecon Beacons may seem like it's cut off from the rest of the world, but in fact it's just a little over three miles from the shops and pubs of Abergavenny. Originally a writer's cabin, it sits in a wooded valley and has its own spacious outdoor deck with a hammock, table and chairs and chiminea, a snug double bedroom and a living area, a cosy wood burner, and plenty of board games and books to read on the rug-covered sofa. There's a mini kitchen with a hob and fridge, and the small shower room also has a composting loo. Spend your quiet time exploring the surrounding woodland or simply swinging in the hut's hammock listening to the bird song from the canopy of trees above you. There are stunning trails right from the door, including Sugar Loaf mountain, and the Wye Valley is within easy reach. There's a good pub at Pantygelli, a 30-minute walk away, and Michelin-starred dining nearby at The Crown at Whitebrook.
Abergavenny, Brecon Beacons
sugarandloaf.com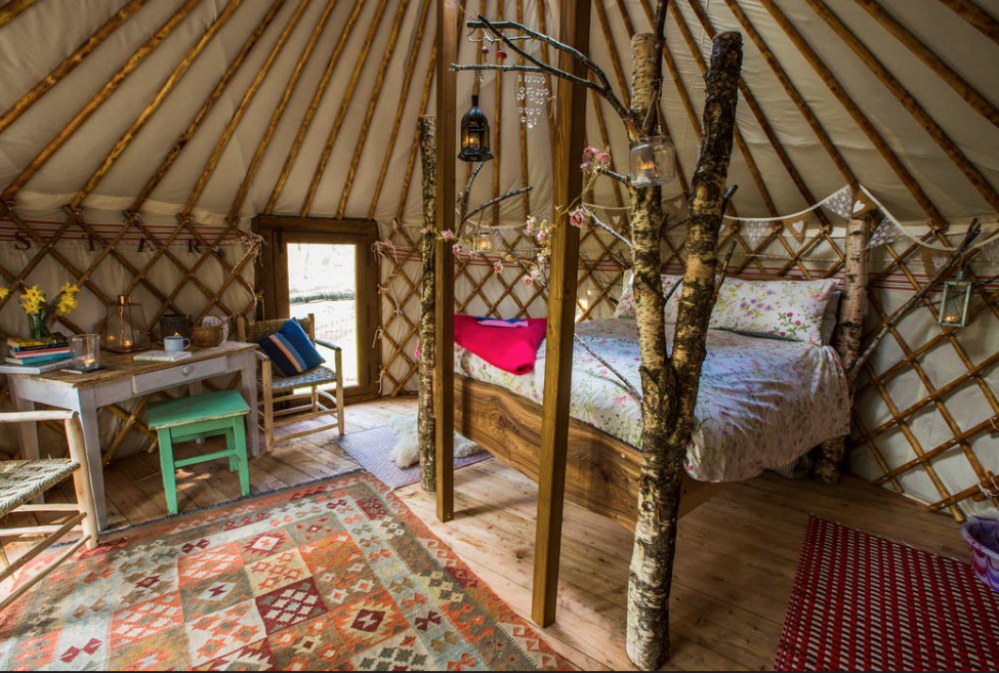 Houlet
This humble, handcrafted home on stilts is the place to switch off for just a few days. Set on an elevated platform, Houlet is a treetop yurt with a wraparound balcony and a skylight window for stargazing. The furniture is all locally made or upcycled, and there's a huge handcrafted bed, table and chairs and a wood-burning stove to keep you toasty, and for keeping the kettle hot. There are basics for cooking too, but the site has a kitchen area where you can whip up something when your stove doesn't quite suffice. The shower and toilet block is by the main house and the yurt has its own dedicated bathroom. But the real charm of Houlet is its proximity to nature. When you do come down to ground level, there's a fire pit, a seating area and hammock in the shade for snoozing in, and acres of countryside to explore.
Thorneyburn, Hexham
wildnorthumbrian.co.uk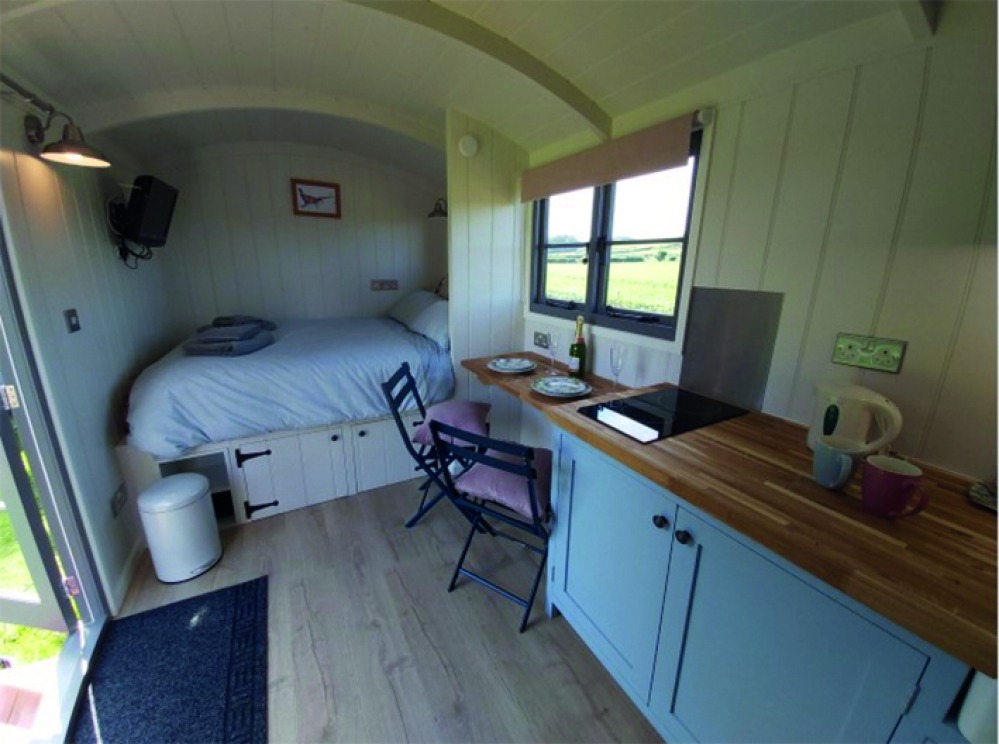 Pheasant's Roost
With its own private log-fired hot tub, Pheasant's Roost is perfect for keen glampers looking for a bit of bubbling romance. On its own in a small paddock, surrounded by farmland, it is perfectly private (although you can invite friends to pitch a tent beside the hut if you really want). There's a little log burner to keep you cosy, and a two ring hob and mini fridge to work with (but great pubs nearby too). There's also an ensuite shower and loo. If you're walking the Wold's Way then it's ideally situated and is happy to be home to two dogs as well. Sit back and soak in the hot tub with just the sound of the countryside for company, before heading off into nearby Rillington where you'll find two pubs, a fish and chip shop and a butcher to provide meat for the barbecue (if the weather is good enough). Pheasant's Roost is midway between York and Scarborough, near the A64, which means that you are within easy reach of lots of local attractions – whether you're heading to the coast, want to take in historic York, ride the North Yorkshire Moors Railway to Whitby, wander around Castle Howard or simply take the dogs for a long walk.
Thorpe Bassett, Malton
yorkshireshepherdhut.co.uk
This homely treehouse on the Netherby Estate, with its jaw-dropping views across the Scottish Borders, is rustic but cosy, with lots of home comforts. A wood burner and snug corner seating make downstairs the perfect place to relax, while the modern kitchen means you can whip up a simple meal or a cup of tea and be back out on the high-rise balcony soaking in the view in minutes. Solar panels produce energy for the lights, there is a wood-fired oven inside the cabin which provides heating too, and the well thought out kitchen area is equipped with everything you'll need. With just two electrical sockets (for smaller electricals only) there's no fridge, microwave or TV (or wifi signal), but you'll want to be outside exploring anyway. Outside on the deck there's a large gas BBQ with a side hob for the kettle. There's also an outdoor sink with running cold mains water, and a bathroom pod with a hot shower facility, loo and sink, and a strategically placed wood-fired hot tub from where you can watch the river run by. The hot tub will be lit before you arrive as it takes time to heat up, and then you just need to keep it stoked during your stay. Longtown is a 10-minute drive away, where you'll find an array of shops and an excellent fish and chip shop called the Border Cod, but the real attraction here, apart from the sense of seclusion, is the wildlife, with roe deer, otters and kingfishers frequently spotted in the surrounding woods.
Netherby Estate, Longtown, Cumbria
coolstays.com