Why Acclaimed Author S.G. MacLean is so Inspired by York
S.G. MacLean (Shona) is a twice-CWA winning author, currently long-listed for The McIlvanney Prize alongside Ian Rankin
In her new book The Winter List, which is set at a turbulent time in English history, Shona returns to the world of Damien Seeker, through the eyes of his daughter Manon who is living in York. Living North find out more.
Tell us a bit about yourself and your background.

I grew up in the Scottish Highlands, the middle child of five. Our parents were hoteliers, so I was always surrounded by lots of people (I think that might be why I have a lot of characters in my books). The most interesting thing anybody ever knows about me is that my dad was the writer Alistair MacLean's younger brother. I studied history at Aberdeen University, have four grown-up children, my husband is a secondary school headteacher and we live in the Highlands with our Labrador.

Tell us about your new, York-set historical thriller The Winter List.

It's set in 1662, two years after the Restoration of the Stuarts following the Cromwellian Protectorate. It's a standalone mystery, but features several of the subsidiary characters from my Damian Seeker books on both sides of the post-Restoration hunt for the killers of Charles I. The majority of characters are fictional, but there are brief cameos from Samuel Pepys, Andrew Marvel, and the Duke of Buckingham.

Why did you choose to set it in York?

It's the second book I've set in there (the other being the Seeker book, Destroying Angel). My fascination with York began a few years ago when, travelling home from the Theakstons Old Peculier Crime Writing Festival, I had a couple of hours to kill between trains on the way back to Inverness and so walked into the city for the first time. It literally took my breath away. I was determined to set a book there, and I enjoyed my research trips to York and the North York Moors so much, I wanted to come back and do another one. Lawrence Ingolby, my favourite character of the Seeker series, emerged from that book, and he was only ever going to go back to Yorkshire.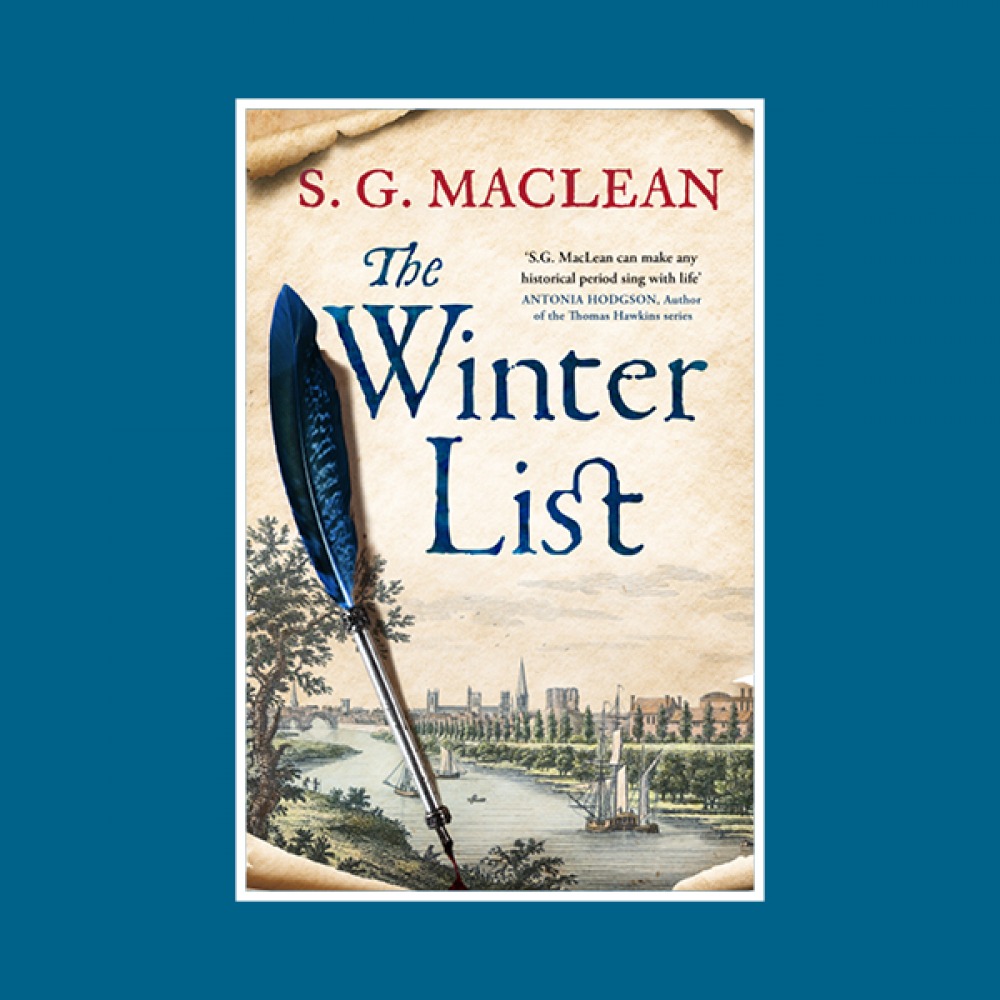 What was your inspiration behind it?

I think the Cromwellian era is the most fascinating of English history, and my interest was never really taken by the Restoration, other than by one aspect of it – the hunt for the regicides. I first read their almost unbelievable story in Jordan and Walsh's The King's Revenge and Charles Spencer's Killers of the King, and wondered how it would have affected the characters from my Seeker books. I agreed on the phone with my editor that this was what my next book would be about, then the next day started making notes under the heading 'Act of Oblivion'. That very day I opened up the Bookseller bulletin in my emails to read, 'Robert Harris new title for next year – Act of Oblivion.' I panicked, but my editor assured me it would be okay and we wouldn't write the same book. I avoided reading Act of Oblivion until The Winter List had been safely printed and sent out, and of course, they tell quite different stories.

What led you to writing crime fiction?

I'd always enjoyed reading crime fiction, but came to write it by accident. I had a PhD in history and was working towards an academic career, but family logistics and four young children made this very difficult. When my third child was a baby, we lived in the historic Scottish town of Banff, and an idea for a novel came into my head, featuring the kinds of characters I'd studied for my PhD. I started sketching out ideas for what would become The Redemption of Alexander Seaton, but I needed a catalyst for major events in the story and I decided to make it a murder, not realising that that would henceforth make me a crime-writer!

Did you ever think your books would be as successful as they have been?

Like most writers, my first aim was to finish writing a novel, then it was to get it published, then it was, 'if just one person reads it and enjoys it, I'll be happy,' … and so on. A big dream was to win the CWA Historical Dagger. The first time I won that remains the biggest buzz of my career. I don't think any writer feels they're quite where they want to be yet, though, and I still have a lot of goals to reach.
Any advice you'd give budding writers?

First write the book. Then put it away for a while. Then look at it afresh and edit ruthlessly. And don't give up – it took me a year and a half and at least 13 rejections just to get an agent.

A crime fiction writer who inspires you.

Am I allowed to say Robert Louis Stevenson? I love the darkness and the sense of adventure of his stories. I also find Ann Cleeves inspiring – a generous and encouraging writer enjoying huge and well-deserved success.

What's next for you?

I'm currently working on a non-crime historical novel set in the 1830s, in a small town just along the road from where I live. I've always found the 'murder plot' aspect of my novels the most difficult to get a handle on, but not having a murder as the driver of the plot is forcing me to think about and structure the story in very different ways.
The Winter List publishes on 7th September.