Yorkshire Brothers on Running the Biggest Independent Plant Milk Business in the UK
Becoming tired of plant-based milks which lacked flavour, nutrition and a positive impact on the planet, brothers Tom and Nick Watkins decided to create their own alternative plant-based milk
Now MIGHTY is one of the biggest independent and family-run plant milk businesses in the UK.
Born and bred in Yorkshire, Tom and Nick founded MIGHTY, a yellow split pea-based plant milk business, four years ago from their basement in Leeds. 'At the time it was the first pea milk in the UK, so it was a pretty out-there idea,' Tom says. Although alternatives to dairy were on the rise, Tom and Nick weren't looking to make the next almond- or soy-based milk. 'We had this idea for [yellow split] pea milk and we'd seen it kick off in the US, so we decided to quit our relatively successful jobs to start selling it,' he explains.
Neither Tom nor Nick drank dairy milk and both were passionate about consuming sustainably-sourced food and drink as much as possible. 'We are both very conscious about improving the sustainability profile of what we're eating and drinking, and one of the biggest personal choices anyone can make is to mix up their diet to try and reduce the amount of meat and dairy they consume – and plant-based alternatives are a really great way to do that,' Nick says.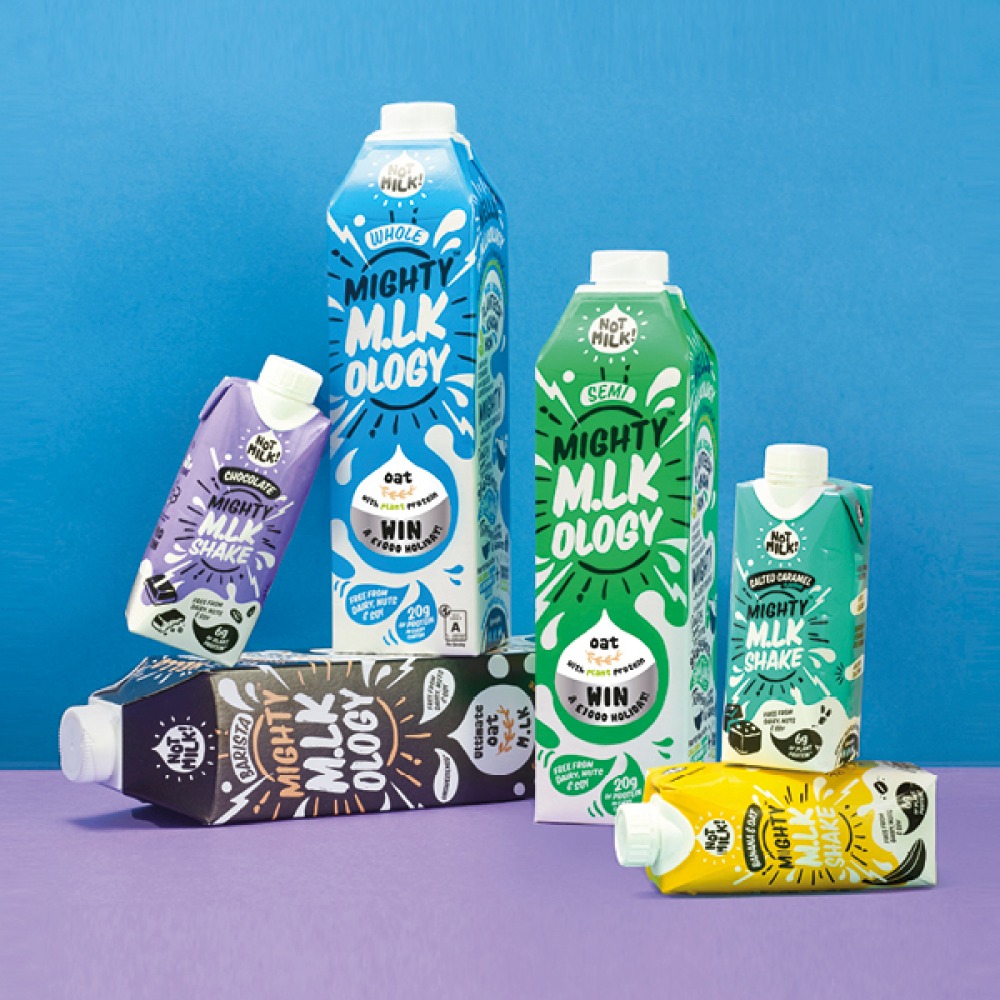 MIGHTY M.LK is made using yellow split peas, squeezing 24 grams of plant protein into each carton, and with the help of a dash of grape juice, MIGHTY drinkers get a slight natural sweetness which makes M.LK a great alternative. 'We've integrated other sustainable ingredients and we use a lot of oat-based products, all of which have the best sustainability ranking out of everything such as almond (which has real issues with water usage) and soy (which has massive issues around deforestation),' says Tom. 'We therefore primarily use a blend of peas and oats, which is sustainably and nutritionally far superior.'
Taking a sustainable route is something Tom and Nick are incredibly proud of, so much so that they include eco-decks on the packaging of their products. 'In the same way nutritional decks show fats, sugars and salts [on the side of food packaging] we have eco-decks which talk about water usage, land usage and biodiversity, so we can really quantify the positive impacts our MIGHTY consumers are having on the environment,' Nick explains.
Having an eco-deck on their packaging allows the brothers to understand from start to finish the impact their consumers are having when making the change to MIGHTY M.LK. 'MIGHTY are really proud of this and alongside Foundation Earth (a not-for-profit organisation) we were the first brand to launch an eco-deck on our products on shelves within the dairy alternative industry,' Nick continues. 'So to put that into perspective, a punnet of blueberries are rated C and a carton of 500 grams of mince would be rated F,' Tom adds. 'Oxford University do the statistic modelling behind it and in comparison, all MIGHTY products are rated A.'
So, not only are Tom and Nick industry leaders with their pea-based plant milk, they're also part of the driving force towards transparency on sustainability. 'It's about telling customers the environmental and sustainability impacts moving away from dairy can have,' Nicks explains. 'And one of the biggest things we're doing at the minute is trying to educate people on this message.' Having just teamed up with Leeds United Football Club as one of their digital partners, Tom and Nick are hoping this will really push home their message, fighting the misconceptions of plant-based milk.
One difficulty many people have with plant-based milks is the flavour. But Tom and Nick are one step ahead. 'We have three core pillars at MIGHTY – taste, sustainability and nutrition,' Nick explains. MIGHTY's most recent launch of M.LKOLOGY milk, a range of semi and whole M.LK that tastes as close to dairy as you can get, demonstrates those pillars perfectly. 'We've created a recipe using peas and oats using our exclusive Plantech to make semi and whole M.LK which acts like milk, looks like milk and tastes like milk, but it's made entirely from plants,' Tom explains. 'Some plant milks haven't got the greatest reputation for taste, but for us, having that hyper-realistic milk taste has been really important and it's quickly become our best-seller.'
'We've created a recipe using peas and oats using our exclusive Plantech to make semi and whole M.LK which acts like milk, looks like milk and tastes like milk, but it's made entirely from plants'
Since launching their business in 2018 Tom and Nick have quickly expanded their range and their stockists, with their products now found in 14 countries worldwide. 'We've got a fairly significant presence in Australia and products in Hong Kong, and we're hoping to expand more rapidly in Europe,' says Nick. 'We absolutely want to make more plant-based products too. We've just launched one of the first no-milk milkshakes in a carton and anywhere you'd find a dairy or cows' milk product, be it ice cream or cheese spread, that's very much on the agenda for us going forward.'
As the plant-based industry rapidly expands and the demand for alternatives continues to grow, Tom and Nick are proud to be amongst some of Yorkshire's trailblazers. 'The Guardian recently called Yorkshire the plant-based Silicon Valley which is cool because there's so much talent here and a lot of businesses are looking northwards,' Tom says. Alongside the likes of Meatless Farm and Northern Bloc, MIGHTY are keen to pave the way from within Yorkshire. 'We're often explaining to investors how great the North is, and there's lots going on here – which is something we're very, very passionate about.'
mightydrinks.com