How Four Rugby Players Became Newcastle Beer Brewers
When discussing the future over a cup of post-training coffee, four professional rugby players had a lightbulb moment and Manuia Brew Co was born. We caught up with one of the boys, Micky Young, to find out more about their new venture
Carl Fearns, Michael Young, Will Welch and Logovi'i Mulipola (better known as Carl, Micky, Will and Logo) first formed a bond over their shared love of rugby. However, the professional sportsmen have now taken on a new challenge, to brew their very own beer.
Explaining how four rugby players ended up entering the world of craft beer, Micky says: 'It was as simple as we were having a coffee one day after training, and discussing what we might do in a life after rugby because we're all at that similar age, where we have perhaps a few seasons of playing left.
'One of Logo's friends has a gin business so basically we were thinking would we be interested in something like that, and then we realised we'd all actually quite like to make beer. Enjoying each other's company on and off the pitch daily, and knowing each other's values, made it an easy decision to give this a crack!'
The boys wanted to create something unique, something cool and something that would help them stand out from the crowd. While three of them are from the North of England, Logo grew up on the sunny island of Samoa and this unique combination is what they decided could make them different.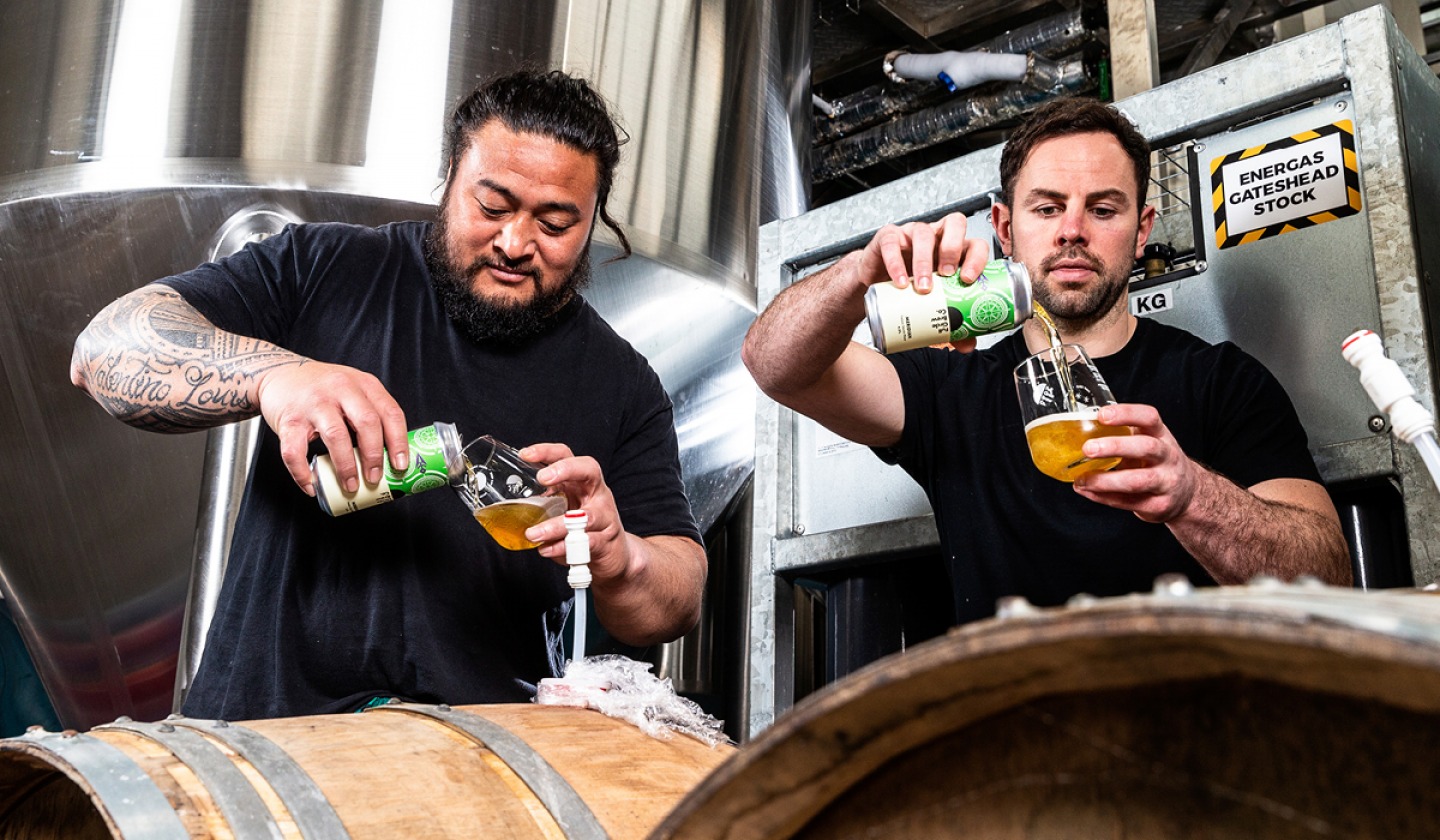 'We asked Logo how to say cheers in Samoan and when he said it was Manuia, we instantly knew that was the name of our brand,' explains Micky. 'Then I have a friend who owns Full Circle Brewery so we decided to go and see how easy it would be to contract brew with them.'
Brewing their beer in Newcastle, combined with the Samoan name and branding, allows them to incorporate both their Northern roots and Logo's South Pacific origin. By no means experts in brewing, the team were happy to instead put their trust in one of the region's best breweries.
'The boys have tried quite a lot of beer, but never brewed it!' says Micky. 'But obviously Full Circle have got a great reputation and they've been brewing beer for a long time, so we sat down with them to discuss what the recipe would be for a basic pilsner and just went from there really.
'We really trusted them and were guided by them in terms of making something pretty simple that everybody could enjoy. It takes about six weeks to brew – it's lager that's why the process takes a bit longer than normal – then basically it's ready to go and we get it canned and kegged there too.'
'We're four professional rugby players, who've played together at Newcastle Falcons for a number of years, but none of us were businessmen up until now so we're learning as we go'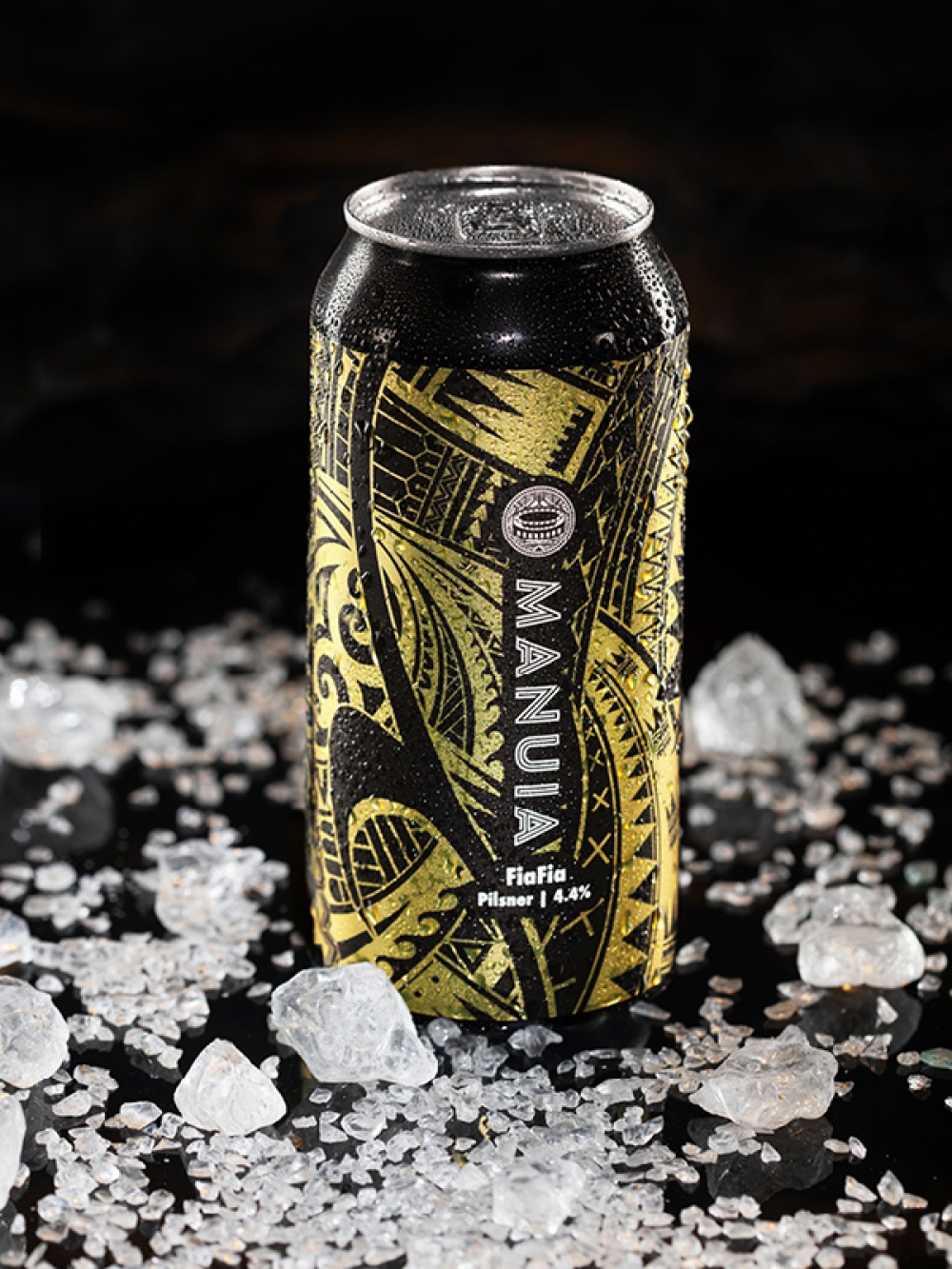 The beer Micky is describing is Manuia's first product, FiaFia, a pilsner using Tango hop which has traditional lager hops notes such as floral and grassy, but with additional hints of stonefruits and passionfruit. 'It's a refreshing drink with a hint of fruit in it. It has a little bit of a crafty taste to it, but again we wanted it to appeal to a mass audience so it isn't overbearing either,' says Micky. 'It's one of those drinks that you can potentially have quite a few of – but not too many because we don't encourage binge drinking!'
Micky says one of the things which makes Manuia unique comes from their story. 'We're four professional rugby players, who've played together at Newcastle Falcons for a number of years, but none of us were businessmen up until now so we're learning as we go,' he explains.
'At the moment we're still finding our feet but we all have individual qualities that we need for the business. Logo is very much the face of it, with his traditional tribal tattoos that stand out and give that big image. Then you've got Welch who's very good on the admin and accounts side.
'Carl is also very good on the admin side too, getting things done and signed off, all that kind of stuff. I'm the one out and about developing the customer relations side of things. So we each bring different qualities but we all come together as a great team, as we do on the rugby pitch.'
The other thing which makes the beer stand out is Manuia's Samoan branding. 'The branding is very cool. We've gone down the route of having all the tribal designs where Logo's from and the brand image we have is of the kava bowl which is traditionally used when Samoans get together as a family or a tribe. They will drink what is called kava and it's how they bring each other together, so we wanted to base our beer around that, combining where Logo's from in Samoa with how we do it in the North of England.'
South Pacific theme in the future. 'Bigger picture would be to eventually have our own premises and bars where we can use the whole South Pacific theme and integrate it with our Northern heritage as well,' says Micky.
'Also we'll add more drinks to the range. With Samoa being a South Pacific island we want to bring more beers out down the line with some sort of a tropical twist to the flavours. We'll be looking at that in the next six months maybe, potentially less, but we haven't decided on an exact time yet.'
Discussing the best things about being based in the North East, Micky says: 'It certainly wouldn't be the weather! But effectively it's home. I'm originally from Hartlepool but my parents are here, and the big drive for me is that it's my home area.
'Also it's a great place to run a business. It comes down to the Northern mentally and looking after each other. Everyone's just very caring and supportive of each other's ambitions.'
To find out more about Manuia and shop their beer head to their website manuia.co.uk and follow them on Instagram @manuiabrew, or if you are interested in stocking their products email them on info@manuia.co.uk.