The Yorkshire Charity Helping Sufferers of the Complex Language Disorder, Aphasia
Aphasia Support help people with aphasia to communicate with confidence by offering one-to-one and group support across Yorkshire. Chief Executive James Major shares why their work is so important
Aphasia is a complex language disorder which can be caused as a result of a stroke or head injury. It affects a person's ability to speak, read, write and understand language, and can have a devastating impact on a person's life. Aphasia Support, previously known as Speak With IT, pride themselves on improving the lives of those living with this condition.
The charity works in various locations across Yorkshire to help people with aphasia to achieve their communication goals. 'I've been working with the charity for five and a half years,' says James. 'The charity started as Speak With IT, and it was volunteer-led until we received some National Lottery support and that's when I got involved as the first paid staff member. Five and a half years down the line, we've now got six staff members with two more due to start in April so we're growing nicely. My background is working in the charity sector, and I've got an interest in supporting charities to grow sustainably.'
Aphasia Support's key aims are to reduce the isolation of people with aphasia, to improve their communication skills and wellbeing, to raise awareness and understanding of the condition, to improve the knowledge, skills and confidence of carers and volunteers and to work with NHS services by providing long-term support. To do this, they provide both one-to-one support and group support.
'With the one-to-one support we receive referrals, mainly from speech and language therapists at the NHS, and depending on where they are with their diagnosis of aphasia, we look to focus on language outcomes,' James explains. 'One third of the 1.2 million stroke survivors in the UK have some form of aphasia. Of that group, between 30 and 40 percent will still be aphasic six months after a stroke, and there are those who will need support for the rest of their lives. We've got two speech and language therapists who work for us and create a therapy plan. Sometimes we're focusing on language outcomes and sometimes we'll change our focus to wellbeing and quality of life.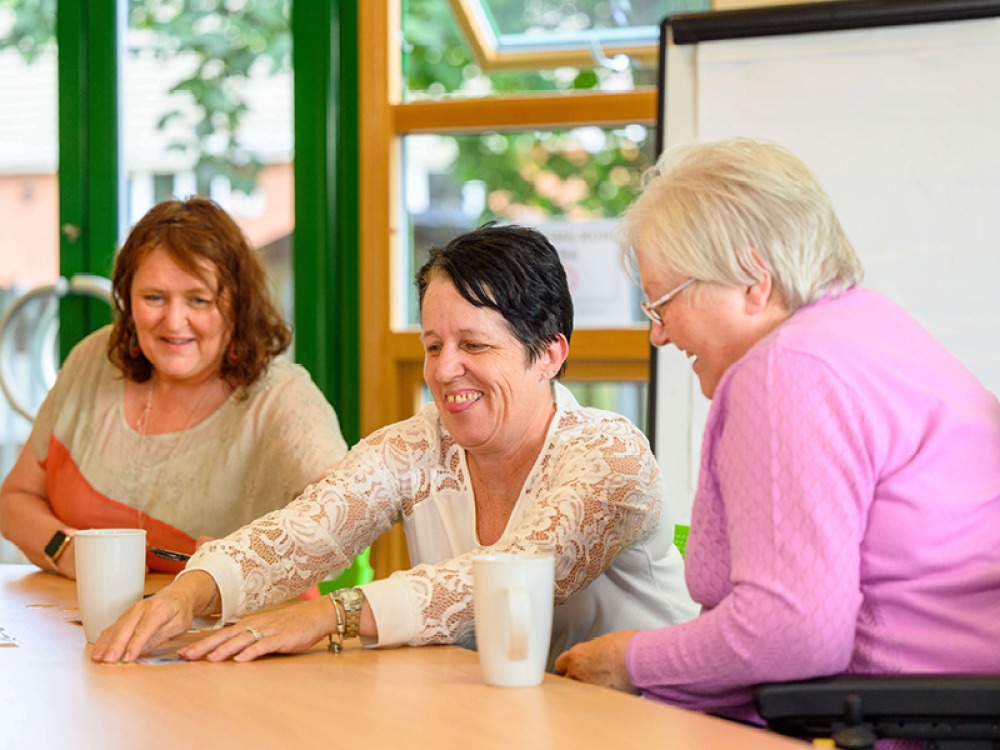 'For one-to-one support, we loan people iPads which are preinstalled with a series of leading therapy apps, with speech and language exercises to do. They'll receive support from a volunteer or a staff member to use those therapy apps. It's a bit like doing exercises, for example going for a run every day at a certain time. With this kind of thing, we ask people to think about a time of the day where they're most energetic and spend maybe half an hour or 40 minutes working on these targeted exercises.'
The group support is more of a social exercise and peer support is encouraged through the aphasia cafés. Those cafés have been successfully running in Leeds and Wakefield and Aphasia Support recently launched another in Halifax – The Calderdale Aphasia Café. 'Rather than a permanent café, they meet every two weeks for two hours. The one in Halifax meets in a church hall,' James adds. 'The Halifax group is run by speech and language therapists and it's going really well. The idea is that it gets those who attend out of the house and builds up their confidence of being around other people. We see that the communication difficulties that come with aphasia can make people become quite isolated but this is about improving confidence and resilience and helping them reconnect.'
James says he finds this connection that people form the most rewarding part of his job. 'There's not a great understanding of aphasia so we often find that although the immediate family are supportive, people often lose friendships because of this lack of understanding or knowing how to talk to people who have communication difficulties,' he says. 'Seeing a person go from that situation, to attending a café, and building a whole new social network for themselves, that's what the whole charity is about. It does happen and it's great to see how our Calderdale group has grown so quickly and you can already see friendships beginning to form.'
Aphasia Support are applying for more funding and hope to continue expanding their offering. To help, donate or to find out more head to aphasiasupport.org
CHARITY CALENDAR
KYRA'S INTERNATIONAL WOMEN'S DAY
8TH MARCH
Central Methodist Church, York
kyra.org.uk
This fair is open to all and you can browse the stands, sample cakes, take part in activities and chat to Kyra's staff and volunteers. In their women-only space, there will be tasters of different activities available at Kyra, who provide non-judgmental support and information to all women.
BURROW'S BALL
16TH–17TH MARCH
Headingley Stadium, Leeds
eventbrite.co.uk
Join Rob Burrow and his family and friends for a night of fundraising at the home of Leeds Rhinos to raise funds to fight MND and for Leeds Hospital charities. Enjoy drinks overlooking the famous Rhinos pitch, followed by a three-course dinner, a celebrity host, a Q&A with sporting legends and live music. Take part in the raffle, silent auction, live auction and the 'golden envelope'.
SHEFFIELD HALF MARATHON
26TH MARCH
Start line: Arundel Gate, Sheffield
runforall.com
The Sheffield Half Marathon is South Yorkshire's biggest event of its kind, and a major event in the UK's running calendar. Thousands of runners will be taking part, raising money for a variety of great causes. Online entries for the Sheffield Half Marathon are now open and entrants must be 17 years or over on the event day.