12 Must-Try Local Gins from Across Yorkshire and the North East
Here are our top 12 from across Yorkshire and the North East
To celebrate World Gin Day why not try a tipple or two from these local artisan gin makers and distillers?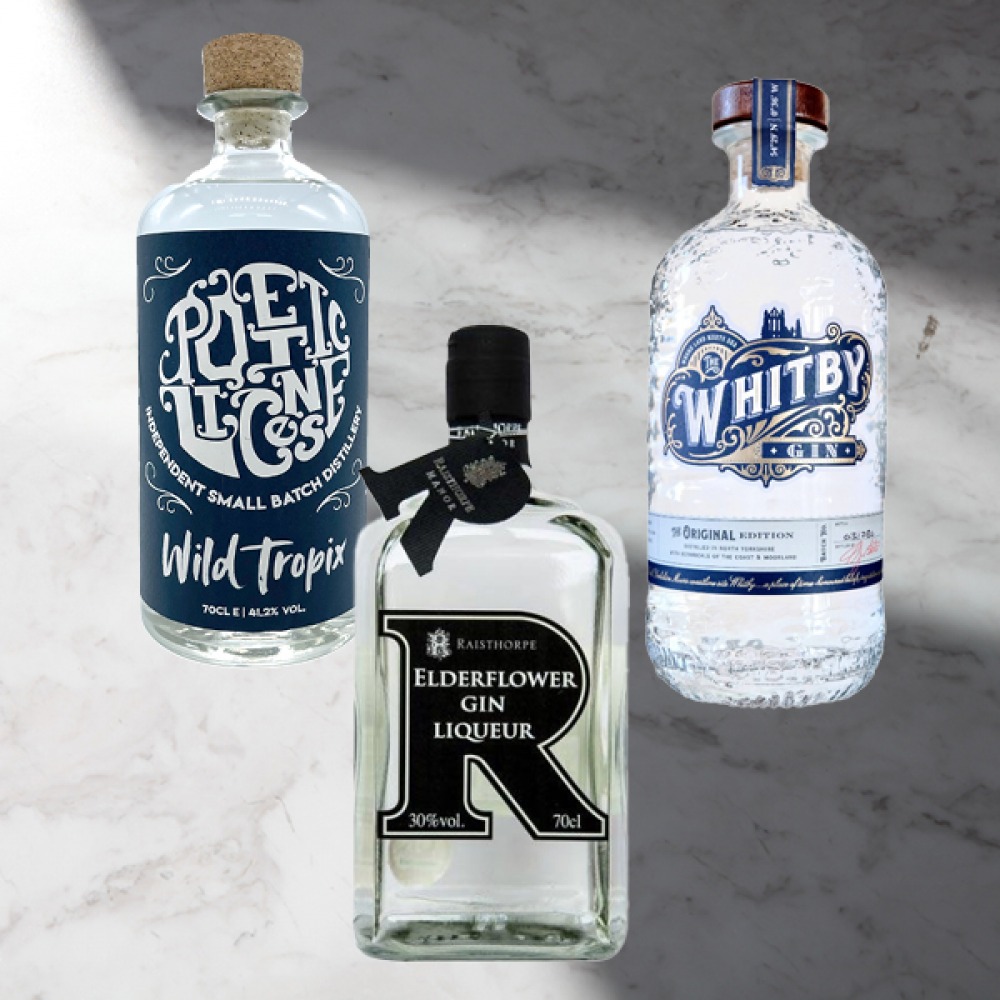 Wild Tropix 70cl, £29.95 Poetic Licence
A burst of tropical fruit hits the nose immediately. The sweetness of mango and lychee complements the tang of pineapple and passionfruit, and a hint of juniper follows with a smooth lasting fruit finish. Enjoy Wild Tropix with a Mediterranean tonic and garnish with fresh mango slices.
Elderflower Gin 70cl, £27.95 Raisthorpe
This award-winning gin is created with hand-picked elderflowers and made using traditional infusion methods. The finished product has a delightfully delicate taste combined with a subtle aroma.
The Original Edition 700ml, £39 Whitby Gin
Distilled with locally-foraged sugar kelp, heather and honey The Original Edition offers a bold yet balanced flavour. Using 12 traditional gin botanicals alongside their signature ingredients, the finished spirit is perfect served over lots of ice, with a Mediterranean tonic and garnished with pink grapefruit and a sprig of rosemary.
Hepple Gin 50cl, £30 Hepple Spirits
Founded in one of Britain's last wild sanctuaries of the Northumberland Moors, Hepple Spirits bring a true taste of wild juniper to their classic gin range.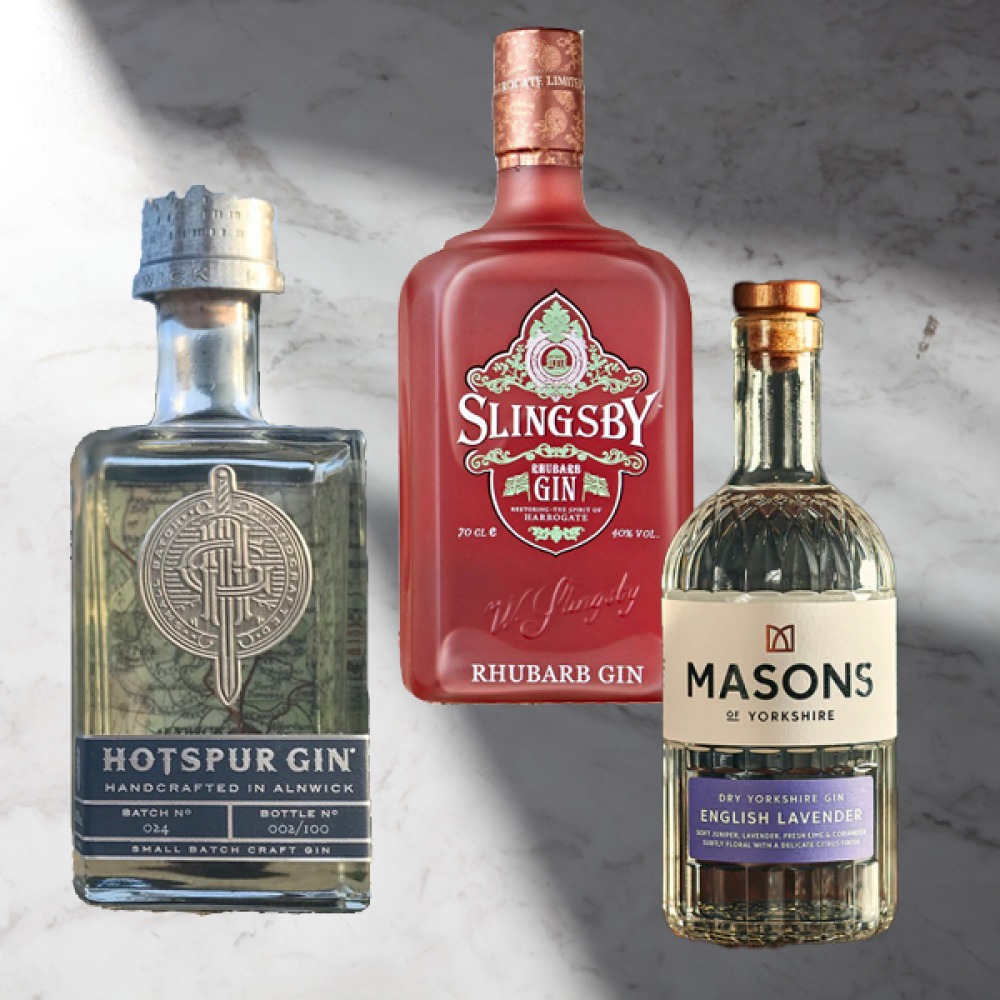 Hotspurs Gin 70cl, £44.75 Hotspurs Gin
Having taken a year to perfect, Hotspur Gin is a unique blend of history, chemistry, alchemy and passion. The distillers have focused on traditional Northumbrian botanicals to give a smooth and delicate flavour.
Slingsby Yorkshire Rhubarb Gin 70cl, £30 Slingsby
Taking their London Dry, which is crafted using locally-sourced botanicals, and infusing it with the finest Yorkshire rhubarb sourced from the famous Rhubarb Triangle, Slingsby Gin have created an award-winning spirit.
English Lavender Gin 70cl, £30 Masons of Yorkshire
Masons English Lavender balances soft juniper, lavender, fresh lime and fragrant coriander for a sweet, subtle flavour and a delicate citrus finish. For the perfect gin and tonic, they recommend serving with plenty of ice, a premium Indian tonic water and garnishing with a twist of lime zest.
Newcastle Pink Gin 700ml, £30.45 Newcastle Gin
A twist on their original award-winning Newcastle Gin, this pink gin is created at their distillery within the ancient Newcastle city walls at Bealim House, and has subtle notes of raspberries and strawberries.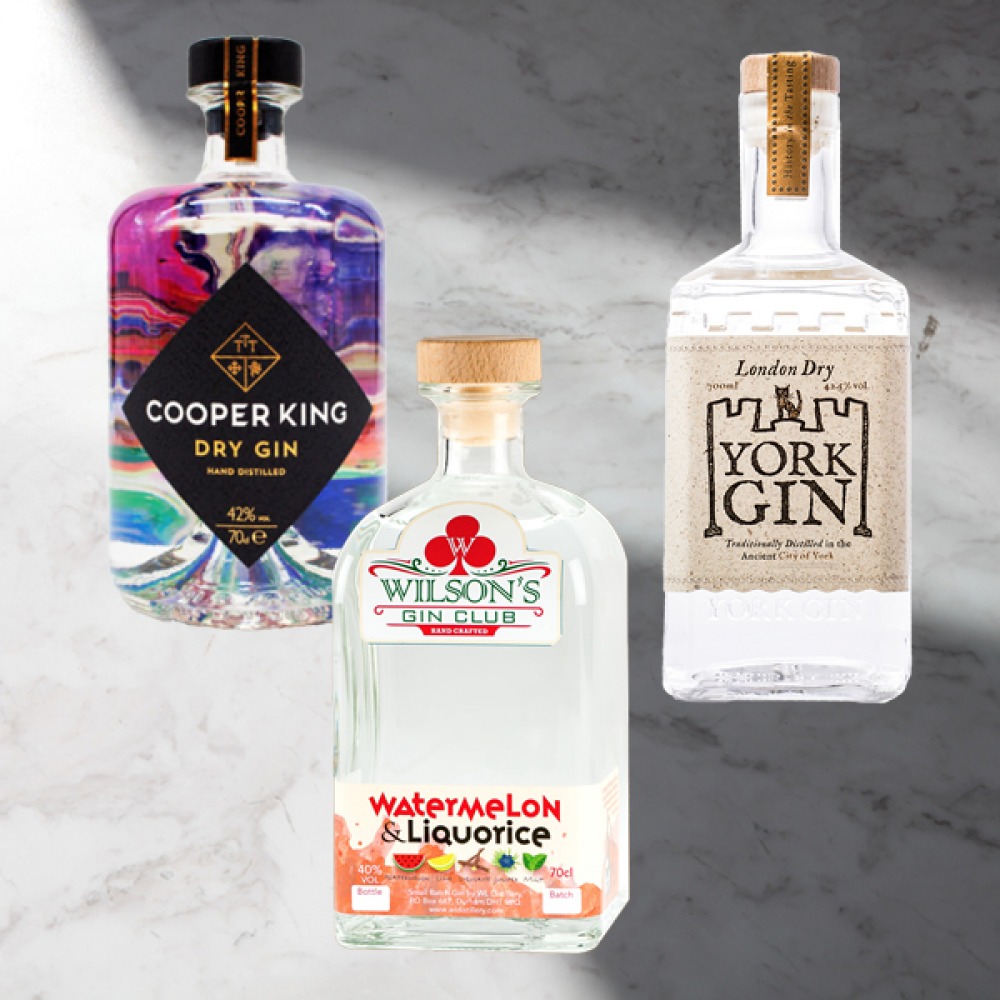 Dry Gin 70cl, £39 Cooper King Distillery
This gin not only tastes great but it's good for our planet too. Being carbon-negative means each bottle removes 1kg more carbon dioxide from the atmosphere than it emits, and Cooper King also plant one square metre of native UK woodland for each bottle created.
Wilson's Gin Club Watermelon and Liquorice 70cl, £37.99 WL Distillery
WL Distillery's first flavour, Watermelon and Liquorice, is a premium gin craft using juniper with the cool refreshing flavours of watermelon and mint, balanced with the crisp taste of lime and expertly finished with a twist of liquorice.
York Gin London Dry 70cl, £39 York Gin
This award-winning classic London Dry gin is traditional, smooth and rounded. For the perfect G&T, serve with a quality light tonic, lots of ice and garnish with a lemon peel curl.
793 Spirits
The team behind Holy Island's first and only distillery (once known as Holy Island Gin) have rebranded and launched new flavours as well as a new vodka line. 793 Spirits now produce small batch spirits such as their wild flower honey vodka, Mjødka, which has a nod towards the island's history (with Mjødka being the old Norse word for mead), as well as Creed & Tide gin, which uses 13 botanicals including sweet orange peel, cardamom and liquorice.