All Greeks have a sweet tooth, and they love pies, especially when the filing is wrapped in crisp, feather-light filo pastry. In Athens, the bakeries and pastry shops are always busy and long lines form on holidays and feast days. Depending on what fruit is in season, you could substitute plums, peaches or pears for the apples in this recipe.
Ingredients
50g unsalted butter, melted, plus extra for greasing
800g firm dessert apples e.g. Granny Smith, peeled, cored and cubed
50g currants or sultanas
grated zest of 1 lemon and a squeeze of juice
50g soft light brown sugar
40g ground almonds
1 tsp ground cinnamon
a good pinch of freshly grated nutmeg
8 sheets ready-rolled filo pastry
25g flaked almonds
icing sugar, for dusting
thick and creamy Greek yoghurt, to serve
Method
Preheat the oven to 190C/gas mark 5. Lightly butter a baking tray.

Put the apples, dried fruit, lemon zest and juice, sugar, ground almonds and spices in a bowl and mix well.

Spread a sheet of filo pastry out on a clean work surface and brush lightly with melted butter. Place another sheet on top and brush with more butter. Continue layering up the sheets in this way until they are all used. Cover the unused sheets with a damp tea towel while you work, to prevent them drying out.

Spoon the apple filling lengthways, along the centre of the filo pastry, in a long strip, not quite reaching the edge of the pastry at each end. Fold the ends of the pastry over the filling, and then fold one of the long sides over the filling, tucking it in neatly underneath. Brush with melted butter and then cover with the remaining pastry to make a sealed lang parcel.

Lift the filo parcel, seam side down. on to the buttered baking tray. Brush with the remaining melted butter and sprinkle with flaked almonds. Bake in the preheated oven for 30–35 minutes, or until the pastry is crisp and golden brown.

Dust with icing sugar and leave to cool a little. Serve the pie warm, cut into slices, with a
dollop of creamy Greek yoghurt.

Variations
: Add some chopped walnuts to the filling.
Add some ground allspice or cloves.

Tip: While you assemble the pie, make sure you cover the pack of filo pastry with a clean
damp cloth to prevent it drying out and cracking.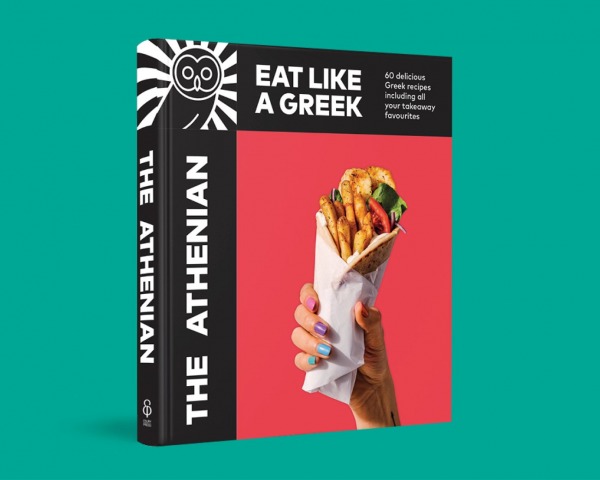 The Athenian: Eat Like a Greek by Tim Vasilakis (£14.99, Ebury Publishing)
This article contains affiliate links. We may receive a commission for products that are clicked on through our website.