Canine Partners: Transforming the Lives of People with Physical Disabilities
As featured in issue 70 (2019)
Starting in 1990 with the ambition to transform impaired people's lives by partnering them with expertly-trained assistance dogs, Canine Partners has spread across the county, recruiting members of the public to help raise a nation of clever canines. When we spoke to Canine Partners in 2019, they needed more Yorkshire volunteers to raise suitable puppy recruits until they were old enough to start their training. We spoke to Canine Partners' Puppy Training and Development Manager, Lisa Chapman, to see how the charity has grown.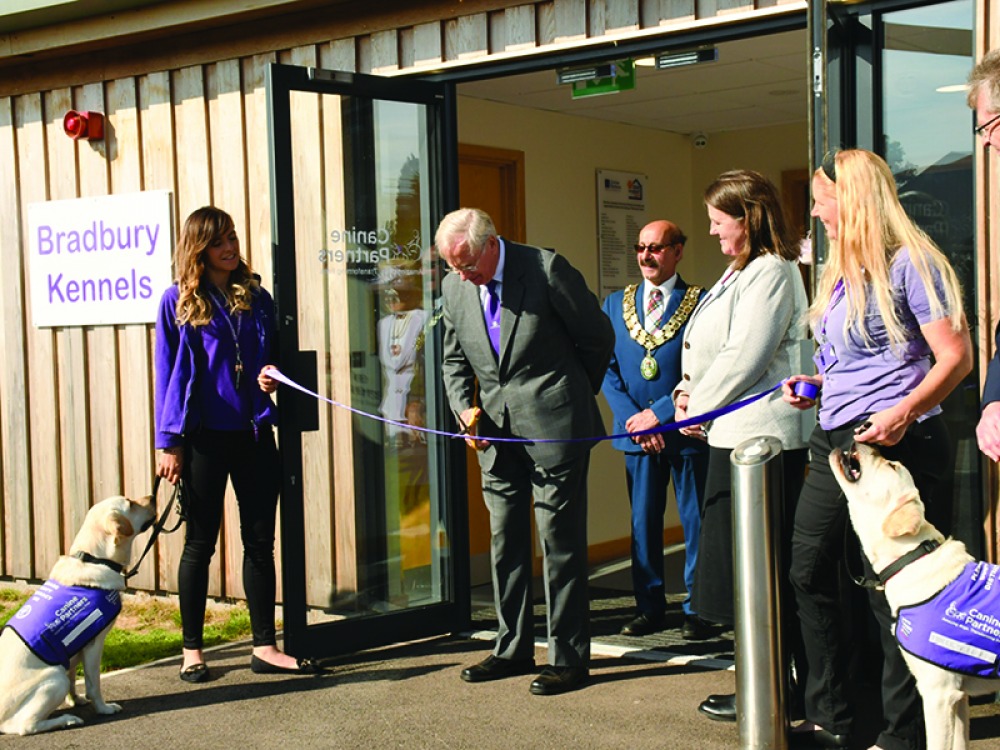 'We currently have over 400 working partnerships throughout the UK, and our amazing dogs bring a greater independence and quality of life to their partners, offering security, companionship, and practical help with everyday household tasks,' Lisa explains. 'Since 2019, we have also developed new methods of supporting the welfare of our partners and dogs, particularly through the Covid-19 pandemic. We have been looking at ways to offer new and different services so that we can support a wider range of people in the future, which we hope to launch soon.'

Canine Partners' five-year plan aims to build their relationships and skills with volunteers and dogs, develop the impact these dogs have on impaired communities, and evolve to become more resilient and relevant to society's needs. Evolving to meet the demands of society is a goal they've already had to start working on, with the pandemic causing new trials and tribulations for the charity and their puppy volunteers.

'We quantify our success by how well we have been able to adapt and flex during ever-changing circumstances, particularly during the pandemic,' Lisa says. 'Covid has encouraged us to innovate as we seek to support our dogs and vulnerable partners by offering more video support around face-to-face aftercare, as well as online training materials to help our volunteers and partners develop and stimulate our dogs,' she continues.
'Our volunteers play a crucial role in allowing us to train our assistance dogs and transform the lives of disabled people'
'As well as supporting the needs of more than 400 active partnerships, we've also successfully placed many more successor partnerships, meaning we're providing a second or third dog to a partner whose previous dog had retired, rather than focusing on new partnerships.'

Canine Partner's Puppy Parent volunteers are crucial in the success of their dogs, socialising the puppies so they can grow into happy and healthy support dogs.

'Our volunteers play a crucial role in allowing us to train our assistance dogs and transform the lives of disabled people,' Lisa says. 'We are currently looking for Puppy Parent volunteers to help. Being a Puppy Parent volunteer is highly rewarding, challenging and fun, offering a chance to learn new skills, meet like-minded people, and do something really amazing by helping to transform the life of an adult with disabilities. However, in order to grow our programmes, we're looking for more lovely caring people who love puppies in the Yorkshire region,' Lisa adds.

If you want to help these brilliant dogs get the training they need to change someone's life, but don't have the time to
commit to training a puppy, there are plenty of other ways you can show support in Yorkshire, such as hosting a doggy Jubilee party with their Paws for a Party event. 'Volunteers are the lifeblood of our charity, and there are so many ways that you can get involved. Whether looking after our puppies, becoming a speaker, or donating your professional skills, every minute of your time you volunteer will help us to continue transforming the lives of people with physical disabilities.'

caninepartners.org.uk